Reviews
5.0 out of 5 rating
Quality of service

5 out of 5 rating

Average response time

5 out of 5 rating

Professionalism

5 out of 5 rating

Value

5 out of 5 rating

Flexibility

5 out of 5 rating
100%
Recommended by couples
107 User photos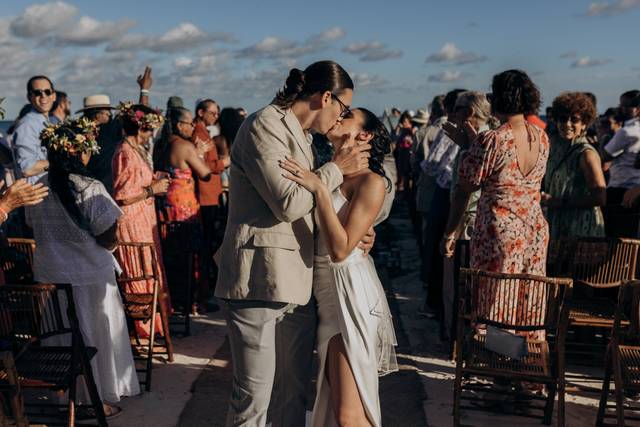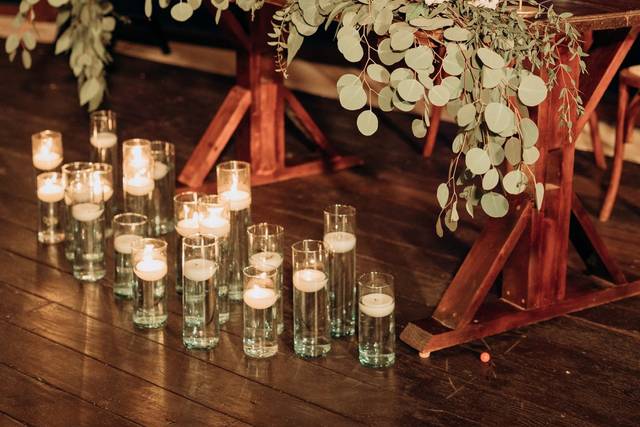 + 103

photos
Featured

Athena T.

Married on 05/05/2020

Simply outstanding white glove service

From the instant we met Maryta, her sincerity, honesty, communication and alignment to move mountains in creating our dream wedding was evident. Planning such an event for a destination wedding is not a small task, yet one that she methodically guided us through. Sourcing local vendors and being our literal right arm at the point of destination was AMAZING! Her coordination and guidance on sourcing vendors and taking us through alternatives was so helpful in maintaining our budget. With the unforeseen changes to our wedding due to COVID 19 Maryta offered routine local updates from the Mx. government and our vendors. With much sadness the cancellation of the event was hard for us to come to terms with, but with Marytas support, working backwards to contact vendors and make alternate arrangements was something we're grateful we had her support with. If you have a vision and need a helping hand to bring it life, this woman is everything you can hope for; a wedding god-mother! Thank you Maryta!

Maryta Osorio Weddings & Events's reply:

Thank you so very much for your kind loving words, I really hope the best for you both and when the time comes I am sure you will have a beautiful celebration.

Maryta

Sandi A.

Married on 11/13/2023

Cancun Wedding Planner

Maryta was instrumental in turning our dream wedding into a reality. Her dedication and hard work truly stood out throughout the entire planning process. We were particularly impressed by her availability and responsiveness—whether it was a call, video call or a text, she was always there for us.

One of Maryta's remarkable qualities was her proactive approach. She went above and beyond to ensure everything ran smoothly, especially when dealing with vendors who were initially unresponsive. Her persistence in reaching out to them showcased her commitment to making our special day flawless. Not only did she make calls, but she also went out of her way to visit the hotel in person when they weren't responding, demonstrating a level of dedication that exceeded our expectations.

Furthermore, Maryta's commitment to perfection was evident when she spent one weekend running around different stores to make sure we had the specific alcohol we requested for the wedding. This kind of personalized effort made a significant impact, and we are truly grateful for her going the extra mile to make our celebration exceptional. Overall, Maryta's professionalism, responsiveness, and these additional efforts made the wedding planning journey enjoyable and stress-free. We are immensely grateful for her role in creating the perfect wedding for us.

Stan B.

Married on 10/20/2023

Fantastic!

Maryta and her team were outstanding from start to finish. She has excellent taste, knows what to anticipate and guides you through every step including many things that may not come to mind. She stays on top of every detail and is focused on producing a classy and comfortable event so that you can enjoy the evening. I highly recommend Maryta if you are planning a Mexico wedding.

+ 7

photos

Maryta Osorio Weddings & Events's reply:

Thank you Stan, it was a wonderful weekend no doubt! all of us enjoyed all the fun moments. Wishing you only the best for years to come. It was a pleasure to meet the whole gang :)

Are you interested?

Send a message

Savannah K.

Married on 10/20/2023

Maryta… How can I recommend her enough?

Maryta… How can I recommend her enough?
We live in the US and decided we wanted to have our large wedding in Mexico.
We thought it would be a great idea to have it at the Club Med in Cancún where my family had vacationed before.
This turned out to be very complicated, and Maryta is the reason that this was made possible. I don't think I could have done it myself. I cannot imagine the countless hours of work she put into our events–negotiating fiercely on our behalf to save us money where possible, ensuring there was enough staff to run everything smoothly, recommending amazing vendors to work with (while communicating directly with them, herself), fulfilling each promise of things that were important to us. There were around 170 people at our wedding. And it was described by all as the best wedding ever. As the bride, it felt incredible, and I didn't need to stress because she had everything handled to a tee. From my perspective, nothing could have gone better, which surprised me, as I expected lots of mishaps with such a large group.
Maryta is funny and great to work with. We had so many conversations together over zoom, each time alleviating my concerns and laughing. She wants you to get what you want out of your wedding, but she will also give you her honest opinion as a seasoned professional in her field. She recently represented the Riviera Maya at an international convention for event planning, and if I had to guess, she is the best wedding planner in the area.

Maryta, my family and I just adore you and are so so grateful to you for everything you did for us. Our "wedding week" in Cancún, and especially our welcome party and wedding day, was indescribably special. You went above and beyond and we will never forget it.

Debbie B.

Married on 10/19/2023

Mother of the Groom

Maryta, and her staff, were invaluable in assisting my husband and I in planning and implementing the welcome dinner for 160 guests at our son's destination wedding in Cancun. Maryta is a warm, very thoughtful and organized planner who made everything work beautifully (despite an unexpected rainstorm minute before the dinner!) and made sure that the families and guests were not stressed. She also worked with the bride and groom on a lovely outdoor wedding ceremony, as well as a fantastic and fun reception. Highly recommend Maryta- she is special!

Maryta Osorio Weddings & Events's reply:

Dear Debbie, thank you so much for your kind words. it was a beautiful celebration filled with love and laughter, wishing you keep those moments in your heart for ever.

Katie R.

Married on 07/04/2023

Worth it 1000%

Maryta has over 16 years experience. She made the wedding planning experience a piece of cake. She was so easy to work with, gave good feedback from her years of experience, and she helped take the stress off my shoulders of planning a wedding so that I could instead enjoy the process. I would recommend her to anyone wanting a wedding in Mexico. Our wedding turned out way better than I envisioned. It truly was a memory for a lifetime.

Maryta Osorio Weddings & Events's reply:

Thank you so much Katie, I loved being part of your wedding. Best wishes for years to come. That TikTok was such a blast on our instagram feed, loved that everyone was up for it, thanks!

Caren S.

Married on 02/18/2023

Don't look at further- Maryta is AMAZING

Maryta is INCREDIBLE. She pours so much love, passion, energy and patience into her planning process. Our wedding was magical and beyond my wildest expectations. We were on a tight budget compared to most of the weddings I see on her instagram, and she did everything she could above and beyond to make ours perfect. I will forever treasure my time with her and hope to see her again. Don't look around. She is THE ONE to plan your dream wedding.

Maryta Osorio Weddings & Events's reply:

Dear Caren, what can I say. You two were absolutely amazing to work with every step of the way. Wishing you always the best on this new journey, may it be filled with travels, joy and laughter.

Vanessa M.

Married on 02/15/2023

Amazing wedding experience

One of the most professional and amazing event/wedding planners. Everything was beautiful and could not have asked for better

Maryta Osorio Weddings & Events's reply:

Awwwww....my dear new friend, so nice to be able to share with you these days and looking forward to many things coming our way. Lovely time and lovely company.

Maryta

Breanne C.

Married on 02/15/2023

Genuine and amazing

Maryta is a true wedding professional… and by that I mean she truly values the couples she works with. Her talent is extraordinary and she is just a genuinely kind and caring individual. I would not hesitate to hire Maryta for your wedding planning.

Maryta Osorio Weddings & Events's reply:

Lovely to meet you, please return soon! it was so fun to spend these days with you all, good things are coming for everyone involved.

Maryta

Samantha G.

Married on 02/15/2023

Club Med Cancun Wedding

Maryta and her team did a beautiful job planning and organizing a wedding week celebration, starting with a sunset cruise the first night - with perfect weather and sunset! Rehearsal dinner decor and location and food were fantastic. The wedding ceremony, cocktail hour, and dinner reception was in a gorgeous setting with lovely company. Highly recommend Maryta and her team for your next group event and wedding!

Maryta Osorio Weddings & Events's reply:

Dear Sam, this will always be your home away from home.
Don't ever hesitate to reach out and let's do things together there is a lot going on in our industry let's explore it !!

Loved meeting you,
Maryta

Jessica

Married on 02/15/2023

Beautiful design!

Loved seeing Maryta's design and execution at two events at Club Med Cancun! She brought so much beauty, color and custom design to enhance the location! She's so kind and genuine and would highly recommend her!

Maryta Osorio Weddings & Events's reply:

Dear Jessica thank you so much for your kind words, it was an absolute pleasure to meet you and spend time with you.
Hope you get to come back soon and take some time to explore Riviera Maya. I am always a text away ;)
Maryta

Liz

Married on 02/14/2023

Beautiful event

I attended several events that MO weddings planned and decorated at the beautiful Club Med Cancun. The attention to detail, the creative and beautiful decor and how Maryta worked with her team was executed expertly! I would highly recommend MO for any of your event needs.

Dora G.

Married on 02/04/2023

Riviera Maya Destination Wedding Must

We virtually interviewed 3 wedding planners based in Riviera Maya before deciding to go with Maryta's services. She's local to the area, fully bilingual (English/Spanish) after years of living in Florida before moving back to the area in Mexico, and has so much event and wedding planning experience that we felt she was the right person to help us with our destination wedding in the Cancun area.

We worked with her for just over a year and are so glad she was on our team! She was able to recommend local vendors, give advice on wedding package selections and buying things like votives, cloth napkins, and other day of items locally in Mexico to avoid customs issues/delays. She also helped navigate and negotiate items with the hotel's wedding team.

On our wedding weekend, the weather forecast called for rain all day on our wedding day for our outdoor ceremony and reception at the resort. Maryta helped us pivot by moving the events indoors into ballrooms with one day notice. Things went smoothly and everyone had a great time!

Planning a destination is not easy, but with Maryta's help, we had a wonderful wedding weekend with our family and friends that no one will forget anytime soon! We highly recommend Maryta's services. Thank you Maryta!

Maryta Osorio Weddings & Events's reply:

Dear Dora, you are so sweet. Thank you for making me part of such an amazing event. Best wishes for you both!

Cody H.

Married on 12/19/2022

Amazing experience planning Destination Wedding!

Maryta was an amazing coordinator for our wedding this past December. We currently live in Washington but were having our wedding in Tulum, Mexico. Maryta was invaluable in making this wedding be magical and in coordinating all of the vendors and the vision from two timezones and a language away. She was always readily available for texts, calls, or email questions we had, as well as always having dedicated time for us to go through the different aspects of the wedding. Her and her team executed a beautiful ceremony and were even able to work with the groom secretly to surprise the bride with a Pinterest worthy cocktail hour and reception that wasn't originally planned. Maryta made us feel cared for and handled all of the intricate details that go into the actual event of a wedding day and we wouldn't have had the same special day without her. We would recommend her and her team to anyone considering a wedding in Quintana Roo, Mexico.

Maryta Osorio Weddings & Events's reply:

Thank you Cody and Ellie, you are the best!
Best wishes on this new adventure! ♥️ it was an amazing wedding.

Sarah B.

Married on 12/03/2022

BEST Wedding Planner in Mexico

I got married at Secrets Moxche in Playa del Carmen on 12/3/22. Hiring Maryta was the best decision I made in this process! Maryta helped us plan our wedding every single step of the way. She answered all my texts and emails in a timely fashion for the 10 months leading up to the wedding. We had multiple Zoom meetings, and Maryta was nothing but helpful and professional at every moment. Maryta being a part of your wedding will allow you to enjoy your expereince - she took care of EVERYTHING.

While Maryta was extrememly helpful to bounce ideas off of, get feedback on local vendors, share ideas on Pinterest, etc. leading up to the wedding ... I will say that the week of the wedding and having her at the wedding events make it worth every single penny.

Maryta was at every wedding planning meeting with the resort. She took inventory of all the decor we brought, and handled every single detail. She was present at all of our wedding events throughout the weekend and honestly took care of EVERYTHING.

On our wedding day, I was very anxious about the weather - Maryta calmed me down and was SO REASSURING and CALM. She helped us navigate difficult weather and I felt she was our advocate in all communication with the resort. Her and her team were WONDERFUL.

I cannot put into words how grateful I am for Maryta, and I HIGHLY recommend her to other brides considering a destination wedding. She has your back, knows the industry so well and is just a genuine, honest person. Having her as a part of your day will allow you to enjoy and not stress about the decor or logistics. She is AMAZING and I will forever be grateful to her and her team.

Maryta Osorio Weddings & Events's reply:

Dear Sarah and Andy, all I have to say is that you were such an amazing couple and guests, I am so happy you all enjoyed yourselves because we sure did. It was an AMAZING wedding!! Thank you for your trust and kind words. Please send my love to you beautiful Mom ♥️ hope to see you again.

Cynthia F.

Married on 11/27/2022

We recommend Maryta unconditionally and without resevation!!

We loved working with and getting to know Maryta. She was exceptionally friendly, helpful and creative in all aspects of our wedding week and wedding. She worked tirelessly in the planning and in overseeing every detail. And she never failed in going above and beyond in helping us and our guest with things not related to our wedding. Thanks to Maryta- we will cherish the memory of our wedding always!

Lauren R.

Married on 11/10/2022

Exceptional Planner - Just WOW!

Where do we begin....after interviewing several vendors, the minute we spoke to you we knew you were our person! Maryta, your professionalism, knowledge, advice and expertise is second to none. You help our hand through this entire process and never let go! Your communication and response time is superior. Without you and your amazing team, our 3 days of events would not of been possible. Every one of our functions were exceptional from the Welcome Reception Party (yes it included a mariachi band and a donkey with flowers named Frida for the best photo op ever), Wedding Ceremony, Cocktail Hour and Reception (which was the absolute perfection), and a Final Fiesta Pool Party never once were you not available to us or within 10 feet if we needed you. You never steered us wrong. Your honest opinions were always right and we valued that in you. Almost every one of our guests told us this was the best wedding weekend that they had ever been too, the attention to detail was phenomenal. We even had couples ask you for your information because they are re-thinking their future plans! Thank you from the bottom of hearts, we never had to worry about a thing. We truly feel like we gained a friend. Saying goodbye was really hard, but we know we will see you again soon. Thank you again for EVERYTHING, you are a perfectionist and an absolute gem Maryta! XO

Maryta Osorio Weddings & Events's reply:

THANK YOU!!! because without knowing anything about me you opened your hearts right out.
I am sure going to miss our chats and our laughs.
Of course we are seeing each other again ♥️ always in my heart!

Stephanie

Married on 10/21/2022

Look no further for a wedding planner⠦. Hire maryta!

There are no words to describe just how amazing Maryta is. My husband and I just hosted an amazing wedding weekend in beautiful Tulum. We have been planning this wedding for 2 years and 3 months. Hiring Maryta was hands down the best decision we made throughout the entire process.

Not only is she the absolute sweetest human being who genuinely cares about her clients (bride and groom) and their guests, but she is a masterful wedding planner. She got to know us as a couple and she made our weekend the best weekend of our lives. She made decisions on my behalf when she knew I had decision fatigue and I was able to trust her to create and design the most beautiful wedding, welcome party and booze cruise for us and our family and friends. All of our guests have said that this was hands down the best wedding they have ever been to and that wouldn't have happened without Maryta. We are so grateful to have met her and she made our weekend so amazing! We love her so so much.

Maryta Osorio Weddings & Events's reply:

Thank you so much, it was such a pleasure to be part of your special day. My love to both of you and best wishes for this new beginning.

Kaylee F.

Married on 07/22/2022

You will not regret this decision!!

You will not regret hiring Maryta & her team!!
Our initial plan was to plan everything ourselves…quickly after our first phone conversation with Maryta we realized we could not have pulled off our small international wedding celebration of 28 people without her! Do not hesitate to hire her, she has great connections, all recommended services and vendors were amazing! From airport transportation and food, to decor and set up, she did not let us down.

+ 3

photos

Maryta Osorio Weddings & Events's reply:

Thank you so so much! You looked so amazing, and are so beautiful inside and out, enjoyed very much working with you .

Anni Y.

Married on 05/13/2022

Wonderful experience, wedding planner, and person! Maryta is the best! and threw us a wedding beyond our expectations!

Maryta was our INCREDIBLE wedding planner for our 45 person, 3 day wedding in Tulum (May 2022). I intereviewed 7 wedding planners before choosing Martya and I am SO grateful we found her. We planned our wedding from the US with ease because of Maryta. If you are thinking about working with Maryta, I highly recommend her! Over the 9 months that we worked on the wedding, Maryta was always professional, responsive, great at problem solving, and so easy to work with. I will truly miss talking with her almost every day! Her vendor recommendations (transportation, florist, rentals, hair and makeup, spray tan, etc) were also top notch! She also worked easily and seamlessly with a few new vendors that we found (photographer, caterer). We had 3 days of wedding events and I was stress free for all of those days because she took care of everything! Maryta is truly great at what she does and I cannot recommend her enough. During our 3 day event, she managed every detail and made sure I was enjoying myself. She was also so wonderful with our guests and my parents - everyone remarked at how wonderful she was at what she does.

+ 2

photos

Maryta Osorio Weddings & Events's reply:

Anni, thank you so much for your beautiful words, you and your family were absolutely amazing. I am so happy to read that you had a memorable weekend. Hope to see you again soon :)

Astrid A.

Married on 04/15/2022

Maryta and Diego helped us plan the wedding of our dreams!

My fiancé and I got engaged in August 2020 and we were excited to start planning our destination wedding for May 2022 at Club Med Cancun. After so much turnover with the wedding planning staff at the resort leaving us with essentially nothing planned in January 2022 (wedding less than 6 months away!), we decided to reach out to other wedding planners in the Cancun area to help us plan our event.

After reading some reviews on wedding wire, we reached out to Maryta and her partner Diego who responded within 24 hours. We had a call the next day and we knew right away that we wanted to hire them. The resort where we got married was challenging to work with and had little to no experience hosting a wedding of our size (~100 people). Maryta and Diego did an incredible job navigating the resort and were so responsive throughout the process - we had a WhatsApp group and we could expect that they would get back to us within 12 hours.

Our biggest concern was that all of the good vendors would be booked especially since we were getting married over a popular long weekend. Maryta and Diego helped us find two (!!) incredible bands (one for the rehearsal and one for the cocktail hour after the ceremony), a DJ, an amazing florist, and a spectacular photographer.

We are so happy with how everything turned out and give Maryta and Diego so much credit and praise for stepping in and planning the wedding of our dreams in less than 6 months. They truly are the dream team!

+ 8

photos

Laura B.

Married on 02/26/2022

Absolutely Amazing!!!!!

I found Maryta after having bad luck with a previous planner and less than 6 months from the wedding! From the first time we spoke, Maryta had all the bases covered!

She is super detail oriented, super professional, and did everything in her power to make sure our wedding weekend went off without a hitch!

She communicated super well with the hotel and worked through every detail to make sure our vision came to life!

Our wedding week and weekend in Cozumel was perfect and I have Maryta to thank for it!

She is awesome and I hope I get to work with her again in the future for another event!

+ 3

photos

Maryta Osorio Weddings & Events's reply:

Dear Laura and Jon, you are the most fun and loving human beings. Thank you for letting me part of your AWESOME WEEKEND!

Kelly P.

Married on 02/09/2022

Jackson Wedding!

Fantastic! We put 100% trust in this process. Everything went as planes and the day couldn't have been better

Maryta Osorio Weddings & Events's reply:

Thank you so so much! it was a real pleasure to meet you and be part of your celebration. Wishing you all the best in this new adventure.

Maryta

Ajia A.

Married on 11/21/2021

Great planner!

Maryta and her team were lovely to work with. My wedding day was smooth and I was virtually stress free! Very easy to work with and made sure I didn't have to worry about a lot. She has great relationships with vendors so that was also very helpful. Would 100% recommend! Thank you Maryta!

Maryta Osorio Weddings & Events's reply:

Thank you so much, it was a real pleasure :) my best wishes to you and you beautiful family. It was the most fun wedding!

Rebecca P.

Married on 11/06/2021

Wedding planner

Maryta was so great to work with. She made everything very easy on us. She was easy to communicate with and very responsive.
Everything was even more beautiful than we imagined it would be.
It truly was a perfect day and we give all of our thanks to Maryta!

Maryta Osorio Weddings & Events's reply:

Thank you so so much, you were absolutely wonderful ❤️ It was a real pleasure to be part of your wedding.
Are you interested?
Send a message