19 Reviews
Recommended by 100% of couples
Quality of service

5 out of 5 rating

Average response time

5 out of 5 rating

Professionalism

5 out of 5 rating

Value

5 out of 5 rating

Flexibility

5 out of 5 rating
Awards
3 User photos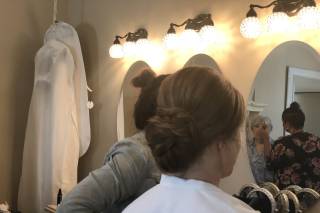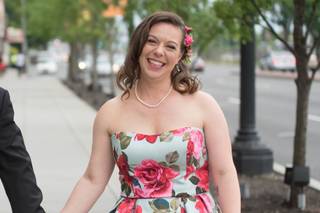 Arielle

Married on 06/01/2018

Mandy is an absolute pleasure to work with. She did my hair a few years ago for my sister's wedding so when it came time for my special day I knew exactly who to call. She did not disappoint. My hair was everything I asked for and it looked incredible! I could not be happier with choosing Mandy for my wedding day.

James

Married on 05/27/2018

Mandy has excellent beauty intuition!

I know nothing about hair and makeup, so having Mandy do mine for the wedding was the best decision I could make! She got to know me and listened to the vibe we wanted for the wedding and she created a look that was perfect. I felt so comfortable and confident that I felt worry free and was able to relax and really enjoy the day! I think it is such a skill to be able to make someone look glamorous without feeling "made up." I still felt like myself and like a beautiful bride :)

Megan

Married on 03/19/2016

Mandy is awesome! She did my bridal make-up and did hair and make-up for my mom and two sisters for my wedding. I rarely wear make-up so I knew I wanted someone else to do it, but the search was a bit overwhelming. A good friend of mine recommended Mandy, and I'm so happy she did. When I went for my trial, Mandy immediately made me feel relaxed and did a great job translating what I wanted, which included a dark lip and strong eyebrow to go with my black wedding dress. In prepping for the wedding day, she was really flexible about working with various schedules, and was right on time to the hotel in DC where we were getting ready. On a day that could have gotten very stressful, Mandy was a great, calm presence. My mom is a talker while my sisters can be pretty shy, and Mandy worked really well with all of them. She tailored each of their hair and make-ups to their style, which is pretty different from mine. They were all very happy. I loved my make-up so much. It was very dramatic, which I wanted, and lasted through a rainy first look, lots of eating and drinking, and a big dance party. I also really loved that she gave me the lipstick so I could touch up if necessary. I felt beautiful, and was thrilled to see how great it looked in our photos.

Are you interested?

Send a message

Anna

Married on 07/20/2014

I contacted Mandy on EXTREMELY short notice as a bridesmaid for my friend wedding. She was very accommodating of my very last minute requests. Mandy turned up perfectly on time with all her equipment in order and was ready to go in minutes. She had an excellent sense of humor and she probably had a hard time doing my make up because we were laughing so much and having such a good time! I felt like she was an old friend. I also could see that she adjusted her jokes and conversation for each person she was working on so everyone felt comfortable. I would absolutely recommend her to anyone!

Biz

Married on 06/14/2014

Mandy was flexible, honest, and really listened! She took her time and I felt beautiful on my wedding day.

Monica

Married on 05/03/2014

I first worked with Mandy on my engagement pictures last year and I had a great time hanging out with her while she did my makeup! I knew I had to book her for our wedding.

Mandy was so patient with me at the trial when I kept changing my mind as to what I wanted style wise. I kept apologizing because I thought it was probably frustrating, but she was totally cool about it and was focused on making sure I got the look I wanted. I ended up e-mailing her a few weeks later with an additional change and she asked a few questions to make sure she understood my vision.

On my wedding day, she was a blast to work with and all of us had a great time with her there. She is very professional but also fun to be around. She did makeup for 7 of us that day and everything started and finished on time. My look was EXACTLY what I wanted despite the fact that I'd changed my mind so many times.

I'd highly recommend Mandy for makeup for ANY event!

Mandy is awesome! She did my hair for my wedding and it was beautiful. She also did all my bridesmaids hair as well and everyone looked amazing. Mandy is so sweet and so good at what she does I could not be happier with my choice to book her. In fact I am in a wedding next month and trying to book her for that as well as a wedding I'm attending in September! You will not regret it if you book her for your wedding.

I am very thankful I found Mandy Hollinger to do my hair and makeup for my wedding day. She was very responsive to ideas, pictures and listened. After, she gave ideas and talked about what might work best.

During my run through, before the wedding, she did the hair and makeup as asked, but after seeing it altogether I decided it would be best to go another direction with the makeup. She was very flexible and redid everything, making it perfect. I was so happy with the results.

On my wedding day, she was professional, responsive and even changed the time a week before. I was very thankful for all her qualities, however what amazed me the most was her ability to work with hair. My sisters and I all have a lot of hair, and I do mean a lot. It also is a mix of wavy, curly and out right unruly. Her ability to "tame the beast" in a very quick and beautiful way amazed us all.

We were very happy with the results and enjoyed our time with Mandy. I will recommend her to all my family and friends. Thank you Mandy!

Fantastic. One of the best decisions I made during the whole wedding planning process. Mandy did a great job under pressure, and the hair/makeup she did was beautiful. I honestly think I've never looked better, which is exactly what a bride wants for her photos!
I was concerned because my hair is kind of thinning, and I wanted to find a stylist who would make me look beautiful even despite that. Needless to say, I didn't even have to think twice about my hair "issues" on the day of the wedding, because she did such a great job.
Also, it was unbelievably windy for our outdoors ceremony, and my hair stayed in place perfectly.
If you are even thinking about asking Mandy to be a part of your special day--do it without hesitation!!!

Mandy was a delight to work with: she was calm, focused, and willing to go with the flow of the afternoon. All my fiancee and I wanted to do was hang out in the hotel room and watch Clueless while I got my make up done and Mandy was a great addition to a very mellow, small crew. She was also happy to make changes to my hair and makeup as we went along to ensure that everything was exactly as I wanted it and worked diligently to make sure that I got the right look.

I was impressed by Mandy's confidence in working with my naturally curly hair, and her desire to go with my rather non-bridal ideas. With just a look at my Pinterest boards and a quick consultation, she pulled together the most beautiful hair I've ever seen in person. The style was curly, architecturally interesting, and made the most of my volume and texture, while still being an up-do that did not fall and did not quit! Some of my guests were so impressed with it at the wedding reception that they made me stand still so that they could take pictures from every angle!

My hair and makeup did not budge, even after hours of strenuous dancing. The dress was practically drenched, but my face looked just as great at midnight as it did when it was composed at 2.

I also appreciated Mandy's generosity with her knowledge and time. I did my fiancee's makeup for the wedding (we figured that a trip to Sephora and a practice session the night before was enough for her) and realized that I forgot to get setting powder. Mandy was kind enough to answer that the setting powder she applied to me would probably work for my fiancee and even offered to dust some on her, despite the fact that my fiancee was not included in the contract.

Mandy does hair and makeup like a dream–I highly recommend her to all brides who want someone to listen and give them something a little more special than the typical bridal look.

Kristen

Married on 09/29/2012

Mandy was great to work with for my wedding! She was very responsive and easy to work with. She did my hair and makeup and also my mom's hair & makeup. The trial was great as she did a couple different hair styles since I wasn't sure if I wanted it up or down. She was absolutely fantastic on my wedding day. I knew at the trial that my hair & makeup would be amazing, but she surpassed my expectations. I loved that she was willing to come to my hotel so I didn't have to travel to a salon since I wasn't too familiar with the area. I would highly recommend Mandy!

Catherine

Married on 09/08/2012

LOVED Mandy! I am very particular about my hair and she did an amazing job, she was open to giving suggestions and being patient as I was trying to decide which hairstyle to go with. I highly recommend her!

Mandy provided the hair and makeup services for myself and my three bridesmaids last July. I cannot rave enough about how awesome of a job she did, and how many compliments we received throughout the entire night! She was extremely flexible, professional, offered suggestions, and took our pictures of ideas and made them reality. Her work was of a high-quality value, and lasted long through the night.

Elizabeth

Married on 07/06/2012

As a military spouse, I had to plan a wedding within 3 months and waited last minute to find a hair and make-up stylist. Mandy was very flexible and patient with my bridal party of 9. Though I'm sure it had to be stressful preparing such a large party, she made it seem effortless, as she was very personable, professional, and of course talented. I highly recommend her services. Thanks again Mandy!

Emily

Married on 06/24/2012

Mandy made me look and feel beautiful for my wedding day. I am not a person who ordinarily wears a lot of makeup, so I needed professional help! Mandy completely understood my retro vision for both hair and makeup, and during our initial consultation made sure that I was happy with the look, adjusting things until I was truly happy.

Mandy was professional and flexible in accommodating a couple members of my bridal party who changed their minds about whether to receive beauty treatments in the week before the wedding. She also worked really well with my mom, who was really nervous about wearing makeup at all, and my in-laws, some of whom do not speak English.

Her prices were on par with other salon services, if not slightly below other professional rates. Since I was trying to keep costs down I almost didn't hire a professional. I am SO happy I did, and so glad I chose Mandy!


Amanda

Married on 05/05/2012

Mandy did my hair and all the hair of my bridesmaids for my wedding. She did an excellent job and everyone was thrilled with how it turned out. Two of my bridesmaids were trying out up-do styles for their own upcoming weddings, and they looked like it could have been their wedding day as well their hair looked so good! If you have a picture, Mandy can essentially duplicate it if you hair will cooperate. :) She had great time management, but still did a thorough job with my hair and with all of the ladies in the bridal party.

Heather

Married on 06/25/2011

I was lucky enough to book Mandy for my wedding makeup! I wanted someone who was certified in air brushing and Mandy is the best at it! She was even able to cover up my peeling shoulders from a mini sunburn. I trusted her professional opinion on what colors worked for my skin tone and she was right on. I have never felt more beautiful than I did that day. I wish she could do my makeup everyday! Just to let you know how above and beyond she went for me: In the midst of the hectic, last minute details and running around I forget to get my eye brows waxed and she plucked them for me before my Big Day!

Thanks to Mandy I have gorgeous pictures of myself to cherish forever!


Thanks to Mandy, I loved my hair and makeup for my wedding! She was able to do exactly what I had pictured and it looked perfect! I would definitely recommend her!!!

Elise

Married on 12/22/2013

Mandy did my hair for my wedding through Bridal Artistry. Mandy did a fabulous job on my wedding day and really listened to what I wanted. I looked awesome. She also came back during my reception for a hair and makeup touch up, which we had pre-planned because I had a costume change. I greatly appreciate the flexibility.

I took off half a star because Mandy seemed a little frustrated during the trial when I didn't like the hair styles she did. For my wedding, I actually went with the first hair style she picked during the trial. Mandy has a good eye and was correct about what would look good; I just wish she had been a little more sympathetic. On the day of the wedding, her attitude was fabulous so she may have just been having a bad day when I met her for the trial.
Are you interested?
Send a message