83 Reviews
Recommended by 98% of couples
Quality of service

4.9 out of 5 rating

Average response time

4.9 out of 5 rating

Professionalism

4.9 out of 5 rating

Value

4.9 out of 5 rating

Flexibility

4.9 out of 5 rating
Awards
1 User photo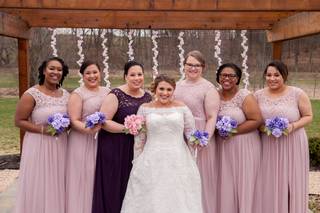 Butta

Married on 02/15/2022

Best makeup artist!!!

I first worked with Dina on my engagement! And she did such an amazing job. I have never loved my make more! So I booked her again for my Henna & wedding days and couldn't have been happier or more obsessed with my look on both days!! Despite her amazing talent, she's so sweet and makes you feel as if your getting your makeup done by your friend!!💓💓

Michele

Married on 04/07/2018

I try not to give 5 stars across the board when reviewing someone, because I know some people may think it's dishonest, but Dina and her team truly do deserve it! My original make up artist cancelled three weeks before my wedding and I was scrambling to find a replacement. I had already had a very difficult time finding a hair and makeup person in the first place because my bridal party was very diverse and I needed someone that could work with all skin tones and hair textures. Well Dina and her team delivered ten fold! As you can see from the pictures her team was able to work on all of us without issue and she is so easy to talk to and communicate with. She was so responsive to texts and emails, and she even went above and beyond by going to the store for me to get touch up lipsticks for all the bridal party and family members. Thank you Dina, Sana and the rest of your team, you were great!

Husna

Married on 03/24/2018

I've never had my makeup done professionally and I've always been really hesitant doing so; however, as I was doing research I saw Dina's page on Instagram and loved her work instantly. I needed my makeup done professionally for my engagement party and wanted my look to be very classic and chic. Dina did just that and more! I absolutely love her work and her professionalism. Everyone complimented me, and loved how clean and beautiful my makeup was done. If you're looking for an amazing and professional makeup artist, Dina is the one to contact! I would recommend her to everyone I know.

Are you interested?

Send a message

Lauren

Married on 10/14/2017

Dina is SO talented! Sana did my hair and I was equally pleased. 100% recommend!!!

Lindsay

Married on 10/15/2016

Five stars all around! I left researching my makeup artist for my wedding until the last minute. Thankfully, Dina and Shameem were free on that day and able to do my wedding. They did hair and makeup for me, my bridesmaids, and both mothers. Shameem and her assistant worked magic with several types of hair and in record time! Bridesmaids who weren't used to make up complimented Dina and her assistant on their gentleness and fast work. My pictures from the wedding came out not too long ago and countless people have complimented my makeup. I was amazed at Dina's knowledge about different products and what would look great in pictures. I was completely in Dina's and Shameem's hands for the look and style (I didn't really have a good idea of what I wanted) and they were fabulous and so creative! I only had one trial and knew right away I was in great hands.

Jessica

Married on 09/25/2015

Dina is an incredible makeup artist and she did a 5 star job for my wedding day! She is upbeat and positive and very professional. I highly recommend her for any occasion makeup!

Dina and her business partner Shameem came highly recommended by friends, and I could not be happier about hiring them for my wedding hair and makeup. They made me look beautiful on my wedding day and not only did the hair and makeup look great in person, it also photographed well and lasted the entire afternoon and night. Dina is very organized and prompt with her responses, as well as professional. As silly as this sounds, I felt reassured by the fact that Dina and Shameem had beautiful makeup and hair themselves and looked so beautiful and put together. They really are experts in their profession, and I would gladly hire them again for another event!

Kerry

Married on 08/31/2014

Dina did an excellent job on my makeup! I would highly recommend, she is extremely professional and was always quick to answer any questions I had via email or text. One of my concerns prior to my wedding was whether or not the makeup really would stay all day, Dina assured me it would and it totally did! I got so many compliments on my makeup and even in 90 degree heat on my wedding day and a few tears it held up so well. She did an amazing job on me, my mother in law, all my bridesmaids and my flower girls and her prices are great too!

Emmy

Married on 06/28/2014

I hired Dina to do my bridesmaids and my make up for our wedding day. Ever since the trial, I was in love with her work! The day of the wedding she did not fail to please me, my make up looked fabulous and I received so many compliments on it. She really takes her time and is very professional when applying the makeup, even with a large group she kept calm and completed her work in time. She was even cooperative when my photographer and videographer wanted to take a shot of her applying make up on me. I would recommend her to anyone for their special day.

Sunana

Married on 06/07/2014

Dina is VERY talented. She doesn't get offended when you ask her to change something and her work is flawless. I felt like a princess on my wedding day because of how she did my makeup. I hired her thanks to all her great reviews on here, and I was NOT disappointed

HAIR CAUTION: If you are a bride that needs your clothes pinned (Indian, Pakistani, etc.), the hair person Dina worked with WAS a problem. Find a hair person on your own or figure out someone else that can help you pin (or have a trial practicing this!). If the person doesn't know what she's doing on the day of, it can be a problem!

Daphne

Married on 05/31/2014

A good friend of mine referred me to Dina. I received a trial run early November 2013 and was more than satisfied with the final result. I wanted a subtle smoky eye - clean bridal look and she delivered it exactly how I envisioned it with the sample pictures I showed her. The products used were all by MAC which lasted long as I had it on all day from 12-9pm through my engagement photo session without any smearing or needing any touch-ups. I absolutely loved Dina and her professionalism, knowledge, flexibility and ability to deliver.

Jenna

Married on 05/18/2014

Dina did a great job with makeup. She provide my bridesmaids and I with a natural look that looked great for the wedding and looks great in the pictures. For the trial she came out to my house and tried out the look to let me decide if I liked it. The hairstylist she works with, Maria, was also great and created beautiful styles for both me and my bridesmaids. They were both very professional and showed up on time.

Mary

Married on 05/17/2014

Dina was fantastic to work with! I had a trial with her leading up to the wedding and on the day of, I changed the look we had originally decided on and she was able to deliver!

She arrived on time and was easy to get a hold of throughout the process. And of course, the make-up looked beautiful!

Her work speaks for itself! Just look at her pictures!

I highly recommend her as she does great work and is able to work with many different budgets!

Ekaterina

Married on 05/04/2014

I found Dina on Weddingwire. She was very professional and very easy to work with. I wanted a very natural makeup with mostly pastel colors. My biggest fear was to look like I have a mask on, I didn't want to have layers of foundation, which make you look perfect on pictures, but visible for people around you in real life. I explained it all to Dina and she did an amazing job. I looked very natural but at the same time she did all necessary accents on eyebrows, eyes and cheekbones. She also did an individual lashes for me, which took longer time to glue, but nobody could ever thought that they were fake. Dina did lashes and some makeup corrections for my bridesmaids, It was not planed from the beginning, but she had no problem doing it. She charged them very reasonably too. We all were very happy. Thank you, Dina, for helping me to build a perfect look on my big day.

Dina did my wedding make-up, and her friend, Shameem, did my wedding hair. These girls are just incredible!! I loved what they did at the trial so many months ago, but what they ultimately created for my wedding look was beyond remarkable! I got so many praises for my beautiful makeup and hair, and my bridesmaids looked like a million bucks! There is no question that these women are incredibly talented at what they do - they are definitely artists, and we were all blown away by their work!

Dina responded to my emails very quickly, and she's very good about getting back to you more in-depth later if she's responding while on-the-go. She's also wonderful because of how calm and professional she is. You sit down to get makeup, and she's in the zone. She knows what she's doing, she can handle keeping calm with a bunch of stressed out girls hovering around, and she can knows how to handle photographers intercepting her own lighting. And what she does with makeup is ridiculous - she can do ANYTHING!! My eyelashes stayed put all day, and the colors she put on my smokey eye didn't smudge, fade, or smear. I can't get over how AWESOME the makeup was for me, and my bridesmaids also just looked stunning!! Dina is so talented!

Shameem is also just fantastic! She can do anything to any hair, and she's really great about making adjustments based on what a girl says she needs. I just can't believe how she just did hair after hair after hair and didn't even bat an eye! All of her work looked fresh, beautiful, and you would never guess that she had done 4 other girls' hair before! She's just great!

Dina and Shameem were great work with, and they really did an outstanding job of creating my wedding day look! I would highly recommend them!

For those of you who are wondering who to go to for getting your make up done professionally for an important event or even bridal. Well don't look any further because you are in the right place and found the perfect person! Madina iis a total pro, and her prices are very reasonable.

We got Madina to do our hair and makeup for my best friends wedding. It was about 4 bridesmaid on June 16. She did an absolutely great job. She was very helpful and very understanding. Since there was 4 bridesmaid she made all of our looks look different but wonderful at the same time. She said she wanted all of us to have our own look and we all looked amazing at the end. It was a long day and the make up lasted until 2 am.

Madina is a good communicator, very straightforward, and really professional. We did not want to look too over-done and didn't want to go overboard with the makeup and she ended up respecting that, but still giving us the perfect amount so it lasted all night.

We all received so many compliments on our makeup. She came really early to our location and made sure all the bridesmaid were ready in time.
She is affordable, professional and It is worth every penny. Thank you Madina for making all of us look Fabulous. You were amazing and have such a wonderful personality. All of us did not just have our make up done but had a great time while at it.

Khan

Married on 01/17/2014

All I can say is that Dina is AWESOME!!!! She did my make-up for a wedding party, and I have never got so much compliments in my LIFE!!!! I just loved her work, and God has given her that gift. Thank u Dina for making me so so beautiful. I have recommended u to all my family and friends, and will definetly be using u in the future.

Dina is a fantastic, professional, and creative makeup artist. She is communicative, and highly personable. She can craft amazing looks for weddings and is highly recommended. The makeup that she puts on her clients in there to stay and it is done in the most beautiful way. She makes her clients feel comfortable and look amazing! I would recommend Dina to everyone without hesitation.

I've worked as a professional model for 13 years and have worked with countless makeup artists. As a result, I consider myself very picky when it comes to how my makeup looks and know when someone is not doing a good job (with sanitation, contour placement, etc). Of course, I'm going to be even pickier when it comes to how I Look for my wedding. Dina and I first did a trial and let me tell you... Dina is an AMAZING make-up artist. We worked on my look for about an hour on the trial until we perfected it. She truly understands placement and color, which is not an easy task when you're constantly working with new clients. She also works quickly, which is another sign of how talented she is. She applies makeup with the proper tools and knowledge and has great, lightweight lashes. She has a true passion and gift for makeup and I was absolutely amazed with her services. She also knows hair stylists that have worked with her many times. Both she and the hair stylist she knew worked great together and had positive synergy. Because her and I had gone through the trial, the day of flew by and the application was really fast. I was so pleased with my look and the looks of my bridesmaids. There were 7 bridesmaids, myself, my mother and a flower girl and all of us looked amazing. Additionally, since we were such a large group, Dina was very nice in giving me a bulk discounted rate. Finally, I want to add that I have recently gotten into the world of wedding planning. Dina will be the first person I contact for all of my brides. I couldn't have had anything or anyone more perfect for my makeup on my special day and I look forward to referring her to future brides to have the same experience as me.

Rarely have my makeup done due to being picky. But Dina did an excellent job on my makeup. I told her exactly what I want and it is exactly what I got. Couldn't have been more satisfied!

Tran

Married on 12/31/2013

Dina is great!!! I needed a make up artist last minute for a big new years event and she came through with exactly what I wanted! She was very responsive, and made sure I liked what she was doing throughout the process. I highly recommend her! She is now one of the very few people I trust doing my make up (I am very picky).

Meena

Married on 12/19/2013

Ms. Dina is an amazing makeup artist. She does makeup exactly the way you want it. I gave her a picture if how I wanted my makeup and she did exactly that. She is extremely professional, punctual, and sweet. It took her about 17 mins to do makeup on me that others would do in at least an hour. She also gave me very helpful tips on skin care which was great! She's awesome and really makes you feel at home! I highly recommend her!!

Dina came to do my makeup and hair for an important photo shoot of mine. She was on time, professional, and very knowledgable. She did a great job on both my makeup and my hair AND was reasonable in her prices. These things are hard to find around here. She did exactly what I wanted. I was very very pleased with her services. I highly recommend Dina, I imagine she will soon be discovered and picked up by a celebrity or something, so get her while you can!!!

Nami

Married on 11/09/2013

Dina was great.! I have never really had my makeup done professionally before so I was little warry..but she did amazing job!!
I highly recommend!!!

Dina is great! She did an amazing job. She is professional, punctual and highly skilled. Really listens to your needs and concerns. Thank you, Dina, for making me feel I looked my very best!
Are you interested?
Send a message