75 Reviews
Recommended by 96% of couples
Quality of service

4.8 out of 5 rating

Average response time

4.7 out of 5 rating

Professionalism

4.9 out of 5 rating

Value

4.8 out of 5 rating

Flexibility

4.8 out of 5 rating
31 User photos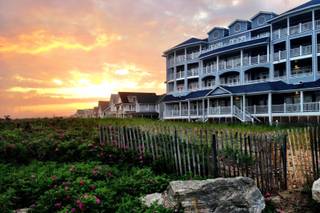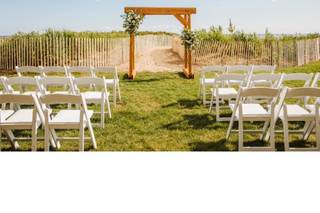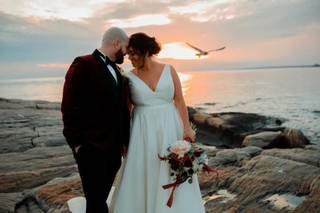 + 27

photos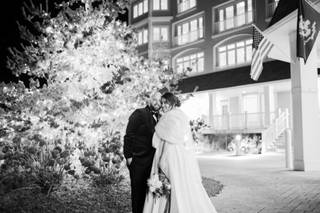 Featured

M. Greenwood

Married on 10/06/2022

Beach Wedding Perfection

We wholeheartedly recommend the Madison Beach Hotel in Madison, CT. My husband and I have been parents of the bride 3 times and, while we've had fairly good experiences in the past, no other venue measures up to the Madison Beach Hotel. And I mean in every way! From the early planning phase and expert advice from Amanda Toner and Lisa Freund over the last few months to the actual event in early October, with Heather showing us the way – all was extremely professional. Heather was at our elbows for the rehearsal and during the entire evening of the actual wedding showing us where to be, when to move, and granted every wish and need we had through the event. The wedding ceremony, the glorious setting, and the wonderful dinner afterwards were all perfect. We had family members attending from all over the country who, to a person, said how helpful the hotel staff was for the whole event, as well as during their room stays and meals at the hotel. Most of these people are world travelers with extensive experience abroad, so their comments meant a lot. The venue itself is lovely and peaceful, with every room looking upon the sea. Most of our guests mentioned that they'd had their best sleep in months in their individual rooms. My husband and I are local and occasionally have dinner at the restaurant so we knew the venue and setting on the shore would be spectacular; however, we have never had the occasion to stay overnight before this week. We were a bit worried about how our 18-month-old granddaughter was going to deal with sleeping in a strange room with us, but everyone was so kind and helpful that we really enjoyed our time. In the future when we have guests that we can't fully accommodate in our home, we will place them at Madison Beach Hotel. As stunning as the venue is, it is the staff that really made this entire wedding a success for everybody. They were all fantastic!!

Kaitlyn

Married on 10/07/2022

Best Day Ever!

We did some things differently but you listened to exactly what we wanted and it really was the best day/night ever. Everyone at the hotel was so amazing to us and every guest keeps raving about the location, food, and staff. From the valet being the best ever, to the bartenders being so happy and helpful, I could go on and on.

Heather and Val took extra care of us and it was so comforting to have someone close by. I really didn't think some of the details would matter but every little thing you all did made it amazing. I would turn around and someone was there if I needed something. The place looked amazing and so special.

It's didn't feel like a typical venue and was so special. We will definitely be back for anniversaries.

Schuyler

Married on 09/10/2022

Dream wedding!

We had the most amazing wedding in Sept 2022 at Madison Beach Hotel. Coordinating with Amanda ahead of time was seamless. Amanda was amazing, she answered all questions and made our planning process easy. The day of coordination was equally as amazing. Heather did such an amazing job with our final meeting and day of coordination, she thought of it all. Lisa and her team were great with service. They had servers making sure my husband and I were having drinks and food. It was truly amazing. We can't thank all of the staff for everything they did to make our day perfect.

Are you interested?

Send a message

Christine P.

Married on 07/09/2022

Fantastic Experience

Madison Beach Hotel was the perfect place for my wedding. The staff was absolutely wonderful in every capacity, the food was superb and the view unbeatable. I recommend this hotel a million times over.

Alissa M.

Married on 11/21/2021

Magical Wedding for Two Crazy Kids

My husband and I are still on cloud nine following this weekend, and so blown away by the magical Madison Beach Hotel. From getting engaged at MBH this past June, to coming back for an intimate wedding with our immediate loved ones--the hotel is a beautiful oasis to escape from the trying times of 2020. Our family members were so in awe of the amazing night, and had such a fun time. The beautiful views and aesthetics were an amazing backdrop as we ate, drank, and celebrated the night away! From the bottom of our hearts we thank Nicole, Amanda, and the rest of MBH team for exceeding our greatest dreams to make our day so special. Their flexibility, enthusiasm, and unwavering support to meet us where we were at with our wedding plans, truly means a lot. Our vendors also loved working with the MBH team. Throughout this process they allowed us to be vulnerable, ask questions, and address real concerns in regards to planning a wedding during a pandemic. We originally had our wedding scheduled as a Christmas wedding in December. As cases started to increase again--we called Amanda and Nicole and asked if the wedding can be pushed up. They quickly responded and were so accommodating! They helped us crazy kids get everything together in ONE week to have a our wedding! The stars truly aligned for us to have our wedding day this past weekend. We were able to enjoy all of the available amenities at the hotel during our stay. Besides the wedding. my husband and I thoroughly enjoyed the bonfire set up on the beach with a hot cup of clam chowder in one hand and a beer in another. We also loved connecting with the locals and employees! You can see the love and work that goes into making this hotel so wonderful. Our beautiful memories made this year are the start to a wonderful tradition at MBH--as we look forward to coming back to reminisce and create more memories in the future.

Preston M.

Married on 10/30/2021

A Perfect Seaside Venue

If you are looking to leave your guests totally speechless, while being taken care of so effortlessly, look no further. I cannot imagine having our wedding at any other venue in Connecticut, as nothing compares. The staff are courteous and professional, so much so that your guests will mention them in their myriad of compliments.

Wedding food can be tricky, but the Hotel will knock your guests' socks off. Delicious food all evening, open bar, incredible staff and accommodations, and don't even get me started on that view!

If you want to host the event if a lifetime, Madison Beach Hotel is the venue.

Melanie C.

Married on 10/24/2021

Wedding Venue of our Dreams!

Where to even begin with how incredible our experience was at the Madison Beach Hotel?! To start off I want to note that my partner and I are an LGBT couple, and often times felt a bit uncomfortable when searching for venue's. From the moment we first toured the Madison with Amanda, we immediately felt a sense of comfort, and it was the most enjoyable venue tour by far.

My wife and I truly fell in love with the space. It was the perfect size for our wedding of 110 guests, the views were stunning, and the attention to detail given by the staff was unmatched. Along with Amanda, we worked with Nicole and Lisa for so many tiny details and big moments of the day. I cannot rave about them all enough! They were so attentive, professional, kind, and most of all FUN to work with!

Out guests could not stop talking about how beautiful the room was, how amazing the food was (seriously....SUCH good food), and just generally how the evening flowed with such ease.

I would book this venue a hundred times over. It was so unbelievably perfect!

Meg P.

Married on 09/09/2021

Incredible Experience!

I cannot say enough good things about the Madison Beach Hotel and their entire team. From all of the planning before-hand with Amanda, to the entire day of coordination process with Nicole and her team, the day couldn't have gone more flawlessly. The day of our wedding it ended up raining (like heavy rain the whole day kind of rain), but Nicole was constantly checking in with me to figure out contingency plans and was willing to do whatever we asked. We originally had planned on a ceremony on the beach, but with the weather, Nicole suggested doing it on the balcony outside of the ballroom, as we only had about 20 guests, and it ended up being everything we could have ever asked for! Throughout the night Nicole and her team were flawless, providing everything we needed before we could even think of it ourselves. I could not recommend the Madison Beach Hotel more for a great wedding experience!

Jonathan G.

Married on 09/04/2021

Perfect Venue

Great experience, beautiful venue and Amanda and Nicole were on top of everything from start to finish.

Emma T.

Married on 08/02/2021

Perfect beach wedding spot

We could not have picked a more perfect venue than the Madison beach hotel. The staff were amazing, and the setting was unbelievable- both our ceremony and dinner were outside overlooking the ocean. I highly recommend them!

Samantha (.

Married on 07/16/2021

Best wedding venue and team in CT!

We truly cannot recommend Madison Beach Hotel enough for your wedding! After multiple date changes, we booked our wedding at MBH for July 2021. Since the beginning of our planning journey with MBH, Amanda and the team handled everything with great care. From our tasting to our final planning meeting, they helped us plan a day that was unique to just us with so many options for the ceremony, a customized menu and countless additions. MBH stands out because of the many ways you are able to customize your wedding day. Our wedding day was met with challenges and stressful moments as a medical emergency occurred with a member of our bridal party just hours before our ceremony was set to begin. Nicole, their AMAZING day of coordinator, handled the situation with professionalism and compassion. She swiftly changed the order of events and re-organized her staff so that our wedding day continued without pause. Thanks to MBH, we were still able to have the wedding we had always dreamed of despite a very stressful situation. Nicole ensured that we and our guests were taken care of throughout the night. We received so many compliments on how great the staff was and how incredible all of the food was. Our overnight stay was magical. The views are unbeatable! The best decision we ever made during our engagement was booking at MBH. It is a gorgeous venue with incredible food, and the most professional, flexible, kind and experienced wedding team. Thank you Amanda, Nicole, Lisa and the team for a memorable day and going above and beyond to make the most of our day, we'll be back for our anniversaries!

Katie M.

Married on 06/25/2021

Look no further!

This is going to be a long review, but I hope it helps other people make their decision to have a wedding at the Madison Beach Hotel! Before I say anything else, my husband and I have to note that the true MVP of our wedding and one of the biggest reasons to have your wedding here is because of Nicole. She is the banquet manager, but this title doesn't do her justice because she is a guardian angel. Nicole handled absolutely everything and after we had our final meeting with her, any nerves we had immediately went away. She is honest, flexible, kind, caring, and will do anything to make your day special. If we needed food or a drink, Nicole appeared in seconds to help us out. When my bridesmaid could not figure out how to bustle my dress, Nicole was there to the rescue. She made our day so outstanding! One thing that also particularly stands out about this venue is how genuinely nice every single staff member is. From the valets, to the servers and catering director, to the front desk staff, everyone was so accommodating and lovely. Being a bride that didn't want a "traditional" wedding, the staff at MBH did everything they could to make my dreams come true. I didn't want a sit down dinner or a cake, and they were willing to make anything happen. Food and drink were of high priority to us and we were not disappointed. Our friends said that the food at this wedding was outstanding. We had both steak and stuffed sole and they were so delicious. The appetizers were so tasty that our guests were following the waiters looking for more helpings. We did have a cake for cutting, but we went with a dessert table for our guests with mini desserts and it was such a hit. It was truly the most dessert I've seen guests eat at a wedding. There wasn't much need for decorations because the beauty of the venue and the view speaks for itself. Inez set up all of our decorations beautifully and we were extremely impressed! I knew I wanted to get married by the water, but not in the sand, and the lawn was the perfect place to do that. It is picture perfect! We wanted to give a final shout out to Amanda, the wedding coordinator, who helped us plan every detail. She is so knowledgeable at weddings and we knew we were in great hands! We are hopeful we can attend a wedding here one day because we want to be able to experience it from a guest's point of view. Our guests said this was one of the best weddings and venues they have ever attended! Thank you MBH!!!

Jessica F.

Married on 08/07/2020

Our beach wedding

Madison Beach Hotel hosted our wedding on August 7, 2020. When COVID hit and our original wedding venue could no longer host our wedding, we began searching for one that could. MBH was ready to help us immediately. They worked safely and diligently to help us plan a small, intimate, outdoor wedding working within the state guidelines. They gave us options and let us be creative during the planning process.
With so many changes and unknowns, we were very thankful to have Nicole help us through the final weeks. She was reassuring and helped us finalize the details even through a Hurricane. She was there for us, helping to coordinate and get us anything we needed throughout the day and evening. Nicole worked amazing with our wedding planner to meet every detail we wanted.
The MBH tent where we had our reception (due to COVID) was beautiful, right next to the water, and was perfect for our wedding. All of the MBH staff were genuine, professional, and extremely accommodating. We had the most perfect wedding day on the beach at Madison Beach Hotel.

Denise R.

Married on 05/05/2020

Madison Beach Hotel Wedding - Why?

Our daughter married last Sat afternoon @ Madison Beach Hotel. For all of those recently engaged and all those parents about to embark on this journey, I very much want to share, and highlight how truly magnificent it was! Libby Rutty (Dir of Catering) is creative, professional, resourceful and a kind person. Nicole Leckey (Banquet Manager) is truly an extension of Libby. What you don't realize is that you are getting practically a wedding planner the day of the wedding. Libby and Nicole were there to line us up & walk everybody thru the procession. Our daughter had a small wedding party so we really didn't feel we needed to rent Sea Belle Lounge. ...3 weeks before the wedding, our daughter contacted Libby (she realized it was going to be too cramped with the photographer in the room, and the girls, and the lunch, etc. and wanted to know if she could pay for it herself. Libby reached out to us and YES it really did make a HUGE difference (i.e. we rented Sea Belle). I think when you are hit with all of this in "the beginning" it doesn't make sense. Also, MBH is very organized in doing weddings. There is communication and no surprises. I am an interior designer and wanted to do a lot myself. I always asked permission as to what was allowed or not allowed, about vendor cleanup time period, because these are fees that parents may not know about til later. I had chair sashes for the reception, and I have to admit, I loved Libby saying at one meeting, "who is going to be tying on the sashes?, not MOB". That is the kind of personal care that really defined our entire weekend. She was right, I didn't have the hotel staff do it, but had some friends jump in and help.
The food was truly original!!! Madison Beach Hotel is truly lucky to have such a passionate chef. We chose different entrees than most wedding venues and the compliments after dinner were over the moon!! Thank you so very much. The Groom said he had been to many weddings and that when it came to the entrees, none came to mind as being...wow, that was awesome. We thought he was right because it really is a substantial portion of the budget. Again, Madison Beach Hotel performed!!!! We received so so many compliments from young and old how they truly enjoyed the dinner. My daughter chose a hot soup to start, however I was not excited about serving a hot soup to over 100 people because I have not experienced it going well but Madison Beach Hotel nailed it. I told Allison's godfather the story as I picked up my spoon & you could see steam, and we both smiled. These are the things you should really think about when hiring a venue for your daughter's most important day.
The florist I used was also VERY surprised at how friendly the staff was to her when she came to break things down at 11PM. We were also having a brunch the next morning and using some of the decor for the next morning.
Lastly, the lodging. My sister is a Hlton Honors Gold Member and said that the valets "ran" to get their car and how it really blew her away from any other Hilton property she has stayed.
Other guests told us it was the perfect venue for size, and loved that we did't have to get in cars going all over the weekend. People commented on quality of service, in bar, restaurant, room, just everything.
We were truly surprised by the number of compliments by guests that continued all weekend! And over joyed to have our daughter married at Madison Beach Hotel. Thank you everyone! This is an incredible team that really cares!

Madison Beach Hotel's reply:

Dear Denise,

Thank you for sharing your experience at Madison Beach Hotel! It was truly a pleasure to host your daughter's wedding. Our team is committed to going above and beyond, creating lasting and happy memories for each guest. We hope to see you soon!

Becky Polaski
Director of Sales & Catering

Kasey

Married on 09/01/2019

The entire team there is incredible

Everyone at the Madison Beach Hotel is such a pleasure to work with! They are all so kind and the wedding planning team is willing to be involved as much or as little as you would like. Even with a change in staff, I felt like I was in such good hands every step of the way, and our wedding day was absolutely perfect thanks to their amazing staff! So many guests have told us that it was best wedding that they have ever been to, and me and my hubby could not agree more! Thank you, MBH!!

Madison Beach Hotel's reply:

Thank you so much for your kind words Kasey! It was truly a pleasure to host your wedding. We appreciate your acknowledgment of our team, as they are truly what makes Madison Beach Hotel so special. We hope to see you again soon!

Becky Polaski
Director of Sales & Catering

Kate

Married on 06/21/2019

Perfect Day

They had every. single. detail covered for our special day. I truly didn't worry about a single thing on my wedding day. The food was amazing, and everyone had a good time!

Madison Beach Hotel's reply:

Thank you for sharing Kate. We are happy to know that you and your guests enjoyed the food and that your wedding is full of happy memories! With a new fall menu in The Wharf, we hope to see you soon for dinner!

Becky Polaski
Director of Sales & Catering


D Pratt

Married on 06/19/2019

Great place to be married!

They helped us arrange our wedding and could not have been friendlier or more supportive

Madison Beach Hotel's reply:

Dear Doug and Pauline,
Thank you for taking a moment to share your positive comments
on our friendly and supportive staff here at Madison Beach Hotel. We are thankful to have such a wonderful group of dedicated team members! It was our pleasure to host your wedding ceremony in June. We hope to see you both again soon!

Becky Polaski
Director of Sales & Catering

Stephanie M.

Married on 06/14/2019

Perfection

I have not stopped hearing from my guests what an incredible time they had! The weather was perfect, the food was perfect, and the venue is beyond beautiful. The staff went out of their way to make me feel like absolute royalty. My husband and I will never forget what an incredible time we had! Highly recommend !

+ 3

photos

Madison Beach Hotel's reply:

Dear Stephanie,

We are thrilled that you had a "perfect" wedding experience with us! Thank you for choosing Madison Beach Hotel as the backdrop for this most memorable time in your lives. We hope to see you again for your anniversary next year in The Wharf!

All the best,

Becky Polaski
Director of Sales & Catering

Emily M.

Married on 04/06/2019

Awesome Venue, Wonderful Staff and Perfect Wedding!

Words cannot express how truly thankful I am at the level of detail and care that the Madison Beach Hotel provided. It was truly a great experience from the moment we took our first tour through the end of our Wedding Night. Libby, Megan, Nicole and the rest of the MBH Crew made the wedding reception perfect! We booked the venue 16 months in advance. Throughout the planning time we were provided timely feedback and our questions were answered to the fullest. The week of the wedding we met with Nicole to go through everything and they were able to point out where things were missing or might not make sense. Throughout the whole wedding day Nicole was there to make sure our day went perfectly, and I could not have asked for better service, food, venue or a better day. I would HIGHLY recommend this venue to anyone looking for a personalized wedding at great wedding venue. Thank you again for making our wedding day an absolute dream come true!

Madison Beach Hotel's reply:

Emily, we are so glad that your experience with the Madison Beach family was so special. Thank you for taking the time to share your experiences with us and with others.

We look forward to welcoming you back to our beach to celebrate many special milestones to come!

Sincerely,
The Madison Beach Hotel

Kristen

Married on 01/26/2019

Madison Beach Hotel Winter Wedding

I've always wanted a beach wedding. Libby, Nicole, and the Madison Beach Hotel made my dreams come true in January nonetheless!! On Friday night, my wedding eve, we checked in as did many family members and friends. Alex and Annie and everyone at the front desk and valet were beyond friendly, helpful, and kind. All rooms have gorgeous water views. My mom, sister, and I stayed in the luxurious bridal suite (two spacious adjoining rooms, both from which you can walk onto a gorgeous wrap around balcony and onto the beach) – we felt like queens! This is where we all got ready the next morning. Our make-up artist met us here and friends and family were able to visit, making this girl time so special. During this period, Lisa delivered a delicious lunch spread and beverages, so good! Now onto my incredibly amazing right-hand girl, Nicole, our banquet manager. Mind you this was January, but when it came time for our first look, Nicole highly recommended my groom and I get outside for pictures. She was not only with us every step of the way, but she was literally tossing my cathedral veil in the air, jumping out of the picture so that we could get the "perfect shot." Our ceremony was upstairs in the Faulkner Ballroom overlooking the water -such a beautiful, intimate setting. Guests were not able to see the reception tables as there was a wall up during this time. This for me was important. After the ceremony, we walked right into Tides for cocktail hour. Guests were still able to overlook the water as they snacked on delectable and plentiful passed hors d'oeuvres and stations and helped themselves to two open bars. Again, God Bless Nicole…I told her I wanted a sunset shot, but I did not want to miss our cocktail hour. With the sun quickly setting, she helped me throw my Hunter boots on under my dress and we quickly marched out to the rocks on the water and had our photographer snap away. (Thanks Nicole!) After cocktail hour, guests made their way into the ballroom which looked prettier than I could have even imagined from the table settings to the flowers to the setting sun. The food was phenomenal thanks to the wonderful Chef Mo. The rest of the night was a dream, everything was so well executed and I had not a worry in the world except that I didn't want the night to end (who would with Nicole by your side and Libby behind the scenes paying attention to every single detail?!!) It was the happiest day of my life and we can't thank Libby, Nicole and the MBH team again! XO

Steve

Married on 10/30/2018

Amazing we couldn't have asked for more

Libby, Nicole and the team were amazing.

Shannon

Married on 10/06/2018

Outstanding!

We had an amazing wedding at the Madison Beach Hotel! From the planning to the reception, Libby, Nicole and Megan were so helpful and fun to work with. The venue has amazing views, beautiful accommodations and delicious menu. We couldn't have been happier celebrating our marriage at the Madison Beach Hotel. They mead us, our family and guests few so special. Happy to have them part of our memories.

Amanda

Married on 09/14/2018

I don't know what our wedding would have been without Libby and Nicole. From the moment we stepped into MBH it was perfect. The venue was gorgeous and almost more important, we felt comfortable with Libby from the beginning. She was calm (which is exactly what you need in a wedding planner) and willing to work with us. We met with one other wedding planner before her who was a bit frantic and that turned me off. The process leading up to the wedding was perfect. They were flexible and reminded us when we needed to have things in. Every question was answered in a timely fashion (even on weekends!). We had a few special issues like a good number of people not drinking alcohol and they came up with creative solutions to make that easier. The days before and of the wedding were even better. The entire staff at MBH was accommodating and helpful. I threw my back out at the gym the day of and the woman at the front desk got her husband to bring tennis balls in for me!! Nicole must have had every item on my agenda memorized because she kept on top of everything. She did it all from giving my rabbi the gift I forgot to give him to bringing my bouquet down to me right before I walked down the aisle when I forgot it upstairs. During the ceremony and reception things just went so smoothly. Literally everyone mentioned how PERFECT it was. There was no disorganization, no awkward pauses. She reminded us to eat before we had to cut the cake which was a godsend. She was everywhere! Everyone also told us how amazing the food was. I know there's more but I can't fit it all here. I would encourage any friend or family member to have their wedding at MBH. It was the best decision I made about the wedding besides marrying my husband ;)

Shauna

Married on 09/07/2018

Wow! Madison Beach Hotel went ABOVE AND BEYOND for our recent wedding! Beautiful oceanside venue with an amazing team! I can't say enough great things about Libby, Nicole, Megan and everyone else at Madison Beach Hotel! Our wedding day there was a dream come true and the amazing team at Madison Beach Hotel made wedding planning a breeze. Libby and her team are extremely responsive, and were so accommodating! They are true wedding professionals! The food was AMAZING, and the views of the water were breathtaking. We can not thank Madison Beach Hotel enough for everything they did to make our day absolutely perfect . We can't wait to go back and visit!

Jenn B.

Married on 09/01/2018

Incredible Venue, Incredible Team

When you walk into Madison Beach Hotel- you know the setting is idyllic. Gorgeous boutique hotel, with nice looking restaurant and a porch with a million dollar view, made even better by the beautiful rocks you can go and climb on yourself (hello- wedding photos!) but for an incredible day to come together with ease and class- it takes a team of people- where everyone is passionate, and their leader is organized, personable, and professional. After having my wedding in September, I can confirm the MBH team is INCREDIBLE, and it is led by the one-of-a-kind Libby Rutty. Aside from the gorgeous setting, we were worried about the dreaded- "wedding factory" feel that often comes with places that throw at least a decent amount of weddings every season. I can honestly say- I don't know how Libby does it. She made me feel like I was the only bride in the world, not just that day but that season!. From the time you are picking your date, to the time you lay your head on your pillow that night, Libby and her team are attentive, knowledgeable, flexible, and genuinely excited to execute the day. No problem was too big, no question was annoying. I cannot say enough good things about Libby, and the team, including Nicole who was also so on-point, genuine, organized, and attentive that weekend. Not to mention the food- our guests are still talking about appetizers and their dinners. You know how bride and grooms say they don't get to eat because they too busy? We sat down and ATE- loved the menu and my wedding dinner. My husband and I have incredible memories from that day- no stress- just two people surrounded by their friends and family, in a special spot, with some really professional and caring people making sure it all goes down as planned. And yes- we took pictures on the rocks :) Can't go wrong at MBH- rain or shine. Thank you Libby, Nicole, and the entire MBH team.
Are you interested?
Send a message