Reviews
4.9 out of 5 rating
Quality of service

4.9 out of 5 rating

Average response time

4.9 out of 5 rating

Professionalism

4.9 out of 5 rating

Value

4.9 out of 5 rating

Flexibility

4.9 out of 5 rating
98%
Recommended by couples
170 User photos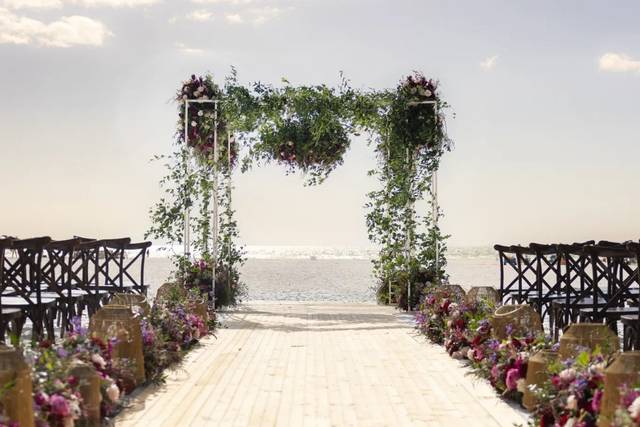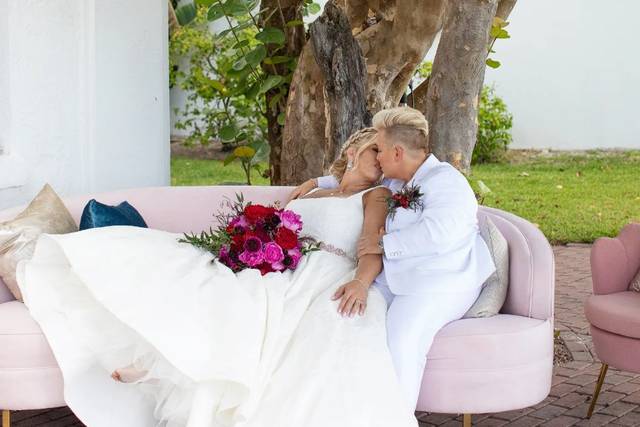 + 166

photos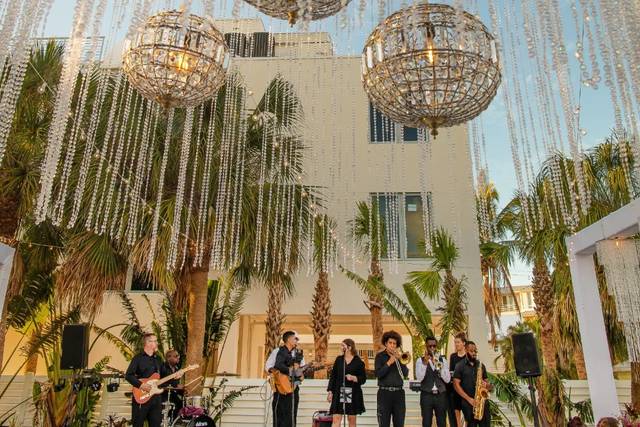 Featured

Jaya W.

Married on 02/19/2022

Phenomenal

I don't even know how to begin this review because JMEP was incredible start to finish. Due to COVID, this was my 3rd time planning and now in a different state. Long distance planning is tough to say the least and the JMEP team was there every step of the way reassuring us that the weekend will be incredible. Our wedding weekend was a Catholic Cuban and South Asian fusion weekend with so many different elements and the team did not miss once. The team was on every call with vendors guiding us on what would be best while keeping in mind our budget. Special shout out to Ana Mendez who is such a sweetheart with a calm and friendly presence and was the main contact throughout the process. Bella was present throughout the weekend and Jennifer was present on the final wedding day, and those ladies too were phenomenal. The team always made sure the immediate families were okay, the bride and groom were fed/hydrated and they had great communication with our many vendors. Best decision was hiring this team!! Best weekend of our lives!

Jennifer Matteo Event Planning's reply:

FUN does not begin to describe our experience in planning and celebrating with you and your family!!! I only hope for another wedding or celebration with you guys so we can keep the party going!!!! XOXO

Hovig M.

Married on 11/24/2023

A+ Would Recommend - Grooms' Perspective

Guys – make sure your bride to be has a wedding planner. And for those of you lucky enough to work with Jennifer at Jennifer Matteo Event Planning, you will be all set!

Jennifer was incredibly detailed, thorough and exceptional to work with. As many guys believe, once we pop the question, we're practically done right? Being engaged was really the end of anything I needed to think about. When people would ask me, "how's the wedding planning going?", I would respond, "my wedding will be my surprise party."

But okay – let me tell you, it was not only the best party of my life but the best weekend of my life and JMEP is to thank. We live in New York City and Jennifer and her team from the very beginning understood my bride's vision and helped execute it without us feeling like we needed to even be in Florida. I was most impressed with the attention to detail and creativity in every aspect of the celebration. With every wedding there could be hiccups but Jennifer was there the entire time and addressed anything that came up in real time without us even knowing it was going on. For us, the day flowed seamlessly, and we were able to enjoy every moment without a worry in the world, thanks to the meticulous planning, execution and being there for us.

We have received countless compliments from our guests about the beauty of the venue, the smoothness of the event, and the overall magical atmosphere. All credit goes to Jennifer and her amazing team.

From the bottom of our hearts, Jennifer was able to turn our idea of a dream wedding into a reality that we're still living. The passion for what you do shines through, and we feel incredibly fortunate to have had you by our side on this special journey.

Thank you!


Jennifer Matteo Event Planning's reply:

Wow! Thank you so much for the insight from a GROOM's perspective! I know a lot of the time you are a BTS part of the planning, and knowing the value you saw is just wonderful! I so appreciate you sharing your experience with JMEP! Wishing you and Carson a lifetime of happiness together, don't be strangers!

Tracy

Married on 10/28/2023

Simply the best!!

We hired Jennifer over a year prior to our daughter's wedding day and it was by far the best decision we made! Jennifer and her team are phenomenal! Her knowledge, suggestions, guidance was so professional. She had every detail covered. We shared with her our vision and expectations and when the wedding day arrived, seeing it all come together was amazing and exactly what we had planned for. She became more than just our wedding planner but a friend. Our daughter's wedding day ran so smoothly with Jennifer and team! Thank you for helping us create such an extraordinary wedding!
Mother of the Bride -Tracy ❤️


Jennifer Matteo Event Planning's reply:

Thank you Tracy!! I miss you guys already, come visit soon so we can grab lunch and relive the wedding weekend!



Are you interested?

Send a message

Shaelyn O.

Married on 04/28/2023

The perfect wedding planner

Jen and her team were excellent to work with and without them, our perfect wedding day would not have happened. Jen worked with us during the planning process to make sure that every detail was covered and matched what we had envisioned for our wedding. You often hear about how difficult it is to plan a wedding, but Jen made this part of things a breeze for us. She was able to easily adjust our plans when issues came up or if we wanted to change something. She also used her experience planning weddings to help steer our decision in a certain direction when we were indecisive. On the day of the rehearsal, she provided directions to the wedding party so that it was quick and easy. For the wedding day, she and her team made sure that absolutely everything ran smoothly. We followed our schedule exactly as she had planned it out and even got ahead of schedule at certain points, which provided nice breaks in-between events. The ceremony was beautiful and the reception was even more amazing. We can't say enough about how our reception turned out. It was everything that we had hoped for and more. We were absolutely thrilled with the outcome and we owe all this to her and her team. What really made Jen stand out though was that she made sure she did everything she could to provide the best day possible. We needed an emergency target run for some things during the middle of everything and she made sure this happened and we got what we needed (shout out to her husband too). We really can't say enough good things about Jen and her team though and are so thankful that we were able to work with them. If we had to do it all over again we would without a doubt pick Jen and would highly recommend her to anyone looking for help planning their wedding.

Natalie D.

Married on 02/08/2023

The dream team - couldn't have done this without them!

The entire JMEP team helped us plan and execute an amazing wedding – it was a flawless day and we can't thank this team or recommend them highly enough. Jennifer was awesome in planning all the details, helping us think through things that we wouldn't even have thought of. She was organized and decisive, making sure all the details were covered. Megan helped us run the rehearsal and day of execution and she was all over it – she was so much fun to work with and helped us make sure the day went smoothly.


We wanted to give an extra special shoutout to Bailey – who was our lead planner for most of the process. She was exceptional. So much fun to work with, so thoughtful and helped us bring the vision to life, and so thorough and dependable throughout the craziness of the day. Bailey – you absolutely rock and thank you for guiding us through the best day of our lives.


Jennifer Matteo Event Planning's reply:

Thank you so much Natalie!!! You and David were so FUN to work with and from your venue selection to all the little details everything came together so beautifully!

We so appreciate your kind words, and please be sure to keep in touch!

-Jennifer

Geniene M.

Married on 01/06/2023

Hire them now!

I hired JMEP as a wedding gift to myself so I wouldn't stress out about the wedding planning process and could just sit back and enjoy! Unbeknownst to my fiancé and I we were in for a year of family heartache and stress which in turn put our wedding on the backseat for quite some time. We changed our wedding date three times with all our vendors with the help of JMEP. Throughout this process I worked with Bridgette directly and she was a true angel and never made us feel like complete lunatics (which we were) with all of our rescheduling. We decided in December 2022 to move our wedding to January 6th, 2023, and it all fell together so seamlessly thanks to Bridgette. Bridgette has a way about her that keeps you calm and relaxed which we appreciated so much. Every vendor JMEP recommended to us was a pleasure to work with. I took it upon myself to find one vendor outside of their recommendation list which ended up being a complete nightmare. The JMEP team helped me through the process of handling this vendor, discontinuing our contract, and helped me find a new vendor who was amazing. All of our planning with JMEP was done online, which was my choosing as that was most convenient for my fiancé and I. Although it was done online we were provided with so many options and received such personal service. The day of our wedding was a true dream come true, thanks to Bridgette and Bailey. We were able to have the time of our lives and not stress about setting up, bringing anything back to our bridal suites, or our gifts. From helping me change my shoes, to making sure I ate enough during the dinner service, these girls were phenomenal. We would highly recommend the JMEP team for any occasion, wedding especially. They made our dreams come true!

Jennifer Matteo Event Planning's reply:

First off, thank YOU for taking the time to share your experience with JMEP - we adore you guys and are so glad you were able to all celebrate TOGETHER! You were an absolute dream to work with and the sneak peek photos are STUNNING! Please don't be a stranger, we will miss you too much!

Meghan D.

Married on 11/05/2022

Exquisite Picture of Perfection

When we got engaged back in January 2019 as a lesbian couple living in Florida we were only certain of a few things. We wanted our toes to be in the sand in Siesta Key where we live and raise our family and we wanted our day to be the perfect blend of both of our personalities. I like all the sparkly things in life and she is rustic and rough around the edges. We are both sarcastic and know what we want, but at the end of the day all we wanted was to have an absolutely magical day that was all about us! It didn't take long for us to decide on a venue, we knew immediately that Sunset Beach Resort on Siesta Key Beach was absolute perfection for us. But, we also knew that we were going to need some help. The same day we signed our venue contract for November 7, 2020, we met with Jennifer Matteo back in January 2019.

As a lesbian couple, walking into these meetings can be daunting but Jenn was so welcoming and excited to greet us and learn all about our story. We went over a lot of things on that first day, but we decided to do the full planning since the venue that we were using had to be built from scratch. Jenn and her team were familiar with the venue and the vendors that had done events there and they immediately got right to work. She had the wedding planned in what seemed like 2 months, but we still had so much time to wait until November 2020. Then, the inevitable happened. COVID. Like many others, we ended up having to postpone. We were not willing to change our venue, or our time of year so we ended up waiting ANOTHER 2 years to November 5, 2022. Jenn and her team didn't flinch. They respected our decision, made the appropriate calls, cancellations, reschedules, AND jokes about their longest running clients!

By this time we have had the chance to get to know Jenn and her team fairly well through other events and back and forth conversation. Our one day wedding turned into a whole weekend event that included a private nail party for our wedding party, followed by a tropical themed welcome party complete with Polynesian dancers, coconut drinks, a steel pan band, and the most amazing sunset. But the wedding–exceeded every expectation we ever had. It was literally an exquisite picture of perfection. The attention to detail that Jenn and her team put in was absolutely amazing. Not only did she make sure that if it was important to us, it was important to her but she anticipated and knew things that would make the day just that much more special for us. We gave her the autonomy to not run every single detail by us, and I am so glad that we made that decision. It allowed us to not feel the entire weight of the wedding on our shoulders and feel confident that things were being handled. I know that things didn't go exactly as planned both nights, but we didn't know and more importantly, none of our guests would have ever known that. The things that we heard from our guests were "this is the most beautiful wedding I have ever been to", "I can never go to another wedding again", "this wedding was absolutely a dream", "absolutely breathtakingly beautiful". The night ended with fireworks on the beach which was a big surprise for my wife that Jenn and I had been planning for about a year and the boat got stuck but–Jenn handled it.

To say thank you doesn't even seem like enough. You gave us perfection. You know our WHOLE story so you know what that really means to us. If you're on the fence, just know that you will not get this personalized attention from any other planner, anywhere.

From the very bottom of our hearts, thank you!
❤️ Meghan & Angie


+ 11

photos

Taylor L.

Married on 05/07/2022

Amazing team!

Jennifer and her entire team were amazing! They made us feel like family and handled everything on our special day! We were blown away with their design and how everything ran so smoothly. We are forever grateful for them!

Jennifer Matteo Event Planning's reply:

Thank you so much Taylor!!! We miss you guys, let's do it again! Wishing you guys ALL the happiness in the world - you deserve it!!

Nicole B.

Married on 04/29/2022

Best Day Ever!

Ana, Bailey, and the JMEP team - I wanted to take the time to share the amount of thanks we have for making our day so incredible. Even before planning, I always had a vision of what I thought I wanted my wedding to look like, how the day would go, and hoping it would be like everyone says - the "best day of their lives". After months of planning, I really don't think we have enough words to express how thankful and lucky we were to have both Ana and Bailey throughout the process and on-site for the wedding. Thanks to JMEP, I can honestly say, everything was BEYOND what we ever would have expected. When I walked into the ballroom for the first time, my jaw dropped at how perfectly everything came together. The venue was even more beautiful than I could have imagined thanks to your incredible vendor selection and amazing ability to tie together each element of the day. It still feels like a dream! Ana and Bailey, your coordination and presence throughout the entire day was flawless. Everything, and (more shockingly everyone) the wedding party, family, and guests were where they needed to be while having the best time. Between all the phone calls and meetings, helping with anything from flowers to fonts, everything was made so easy and expertly planned, which definitely showed the day of. We even had family and friends make a point to say how amazing you both were, not only in keeping things going smoothly, but just being great overall to make the day fun - and we couldn't agree more! We were truly able to enjoy our wedding day to the fullest knowing you both had everything handled. Looking back, that in itself meant the world to spend time with friends and family throughout the wedding and not worry about the details behind the scenes. Thank you so much for making our wedding the best day of our lives. We couldn't have done it without you!

+ 2

photos

Jennifer Matteo Event Planning's reply:

We love you so much and loved working with you from start to finish!!!! Thank you for trusting our vision as well as your amazing picture perfect wedding day!!!

Here for all your events - and life milestones!!!

xoxo! JMEP

Samantha D.

Married on 01/01/2022

Beyond amazing.

I cannot recommend Jennifer and her team enough. My husband and I had the pleasure of working with Jennifer over a long period of time (thank you COVID) and I never had any doubt that regardless of what was going on in the world, we did not need to worry about anything for our wedding. Through rescheduling, last minute drop-outs due to people being sick and so much more, Jennifer and her team were on top of making sure everything went smoothly. Her style and design truly transformed the already beautiful Powel Crosley Estate into the venue of our dreams. It was so amazing to see the vision we had spoken of come to life. Jennifer has so many contacts in the industry and I knew anyone she recommended would be the best of the best. This was especially key as we are not local to Sarasota and we wanted to make sure the vendors we chose were ones that we would be happy with. We never wanted the day to end. I highly recommend utilizing Jennifer for any special event you are planning.

Jennifer Matteo Event Planning's reply:

It was such a joy to work with you and Joey!! I am still swooning over your amazing vision - thank you so much for letting us "do our thing" and make your vision come to life!!!

Natalie C.

Married on 12/10/2021

Gold Standard

Definitely recommend JMEP services as step 1 in the wedding planning process. Jennifer and team demonstrated first-class skills, knowledge, network and professional tone throughout the entire process. Jennifer's expert advice was on target every single time. Her personal involvement during the planning, rehearsal and execution ultimately set the conditions for a wedding event that exceeded my daughter's expectations. The addition of Ana and Bailey at the wedding made for an even greater experience as they ensured guests were fully enjoying the experience. From our very first meeting to the farewell upon the venue's closing JMEP's team excelled in every regard. Much gratitude and many blessings to the JMEP crew.

Haley R.

Married on 11/06/2021

The absolute best

The easiest and best decision we made for our wedding was hiring Jennifer Matteo and her team. Not only is Jen and her team incredibly talented, they're amazing human beings and so much fun to work with. JMEP made the whole process of planning our wedding fun and stress free. From every vendor they recommended, to the show table(s), to every small detail, everything was so amazing!! I'm sure I wasn't the easiest client they've had - I was the annoying bride that changed everything twice- but they never made me feel short of amazing. I can't get over of how perfect our wedding day was, all thanks to Jen, Bridgette, and the rest of the team. We love JMEP and will find another reason to hire them again soon. Thank you - we are forever grateful!

+ 4

photos

Jennifer Matteo Event Planning's reply:

HALEY!!! You are the best, truly. I ADORE your family, and we are so, so thankful to call you clients and friends!! So looking forward to the next sister's wedding!!! (no rush!!!). Best wishes for an amazing marriage!!

Jill H.

Married on 08/07/2021

The best in the business! You will not be disappointed!

It has taken me almost 8 months to write this review, not for lack of trying, but because I just can't find the right words to describe just how absolutely incredible and amazing Jennifer Matteo and the JMEP team are and how to properly thank all of them for everything they did to put together the BEST day of my life!
If you aren't sure about hiring a planner, give them a call! If you are sure about wanting a planner, give them a call! If you don't want a planner, GIVE THEM A CALL!
I consider myself to be rather organized and thought that I could handle planning my own wedding, but I couldn't have been more wrong! I have followed JMEP for years, and have always been in awe of Jenn and her team's work, and knew that if I was going to go with a planner, I only had one call to make. Second to saying yes to marry my husband, it was the best decision I could have made in this process!
From the first call with Jenn to the day after the wedding, JMEP was with me every step of the way, even traveling out of state to attend meetings with me at our wedding location in Cleveland. I never had a doubt or hesitation of what this team was putting together but I definitely was not prepared for how beautiful it all came together. It was beyond magical and I was blown away. My little vision of how I pictured our day was brought to life and no detail left un-thought of. I gave Jenn full power and control over the design and she took it and ran with it and exceeded my expectations, and found the best vendors in the business to work with.
Bella and Jenn were troopers dealing with the unspoken chaos or emotions that naturally come about on important days and they took care of everything while I basked in the moment of being pampered with hair and makeup and enjoying my time with my bridal party. I also cannot forget to mention Bridget, who was also on my planning team and assisted Jenn with responding to my many questions and never ever made me feel like I was a bother. You definitely have to trust your planner during this process, and with JMEP, you immediately feel like family and know that you will be well taken care of! I was so sad afterwards, because now I don't have reasons to talk with these wonderful women who really became a part of my life and will forever be a part of our Wedding Story.


Jennifer Matteo Event Planning's reply:

WE MISS YOU!!!

Honestly, you guys are ONE OF A KIND, and it was our true pleasure to get to know you, and proudly now call you both friends! Please come visit - SOON!

xoxo!!!

Nicole C.

Married on 06/21/2021

Obsessed!

We hired Jen and her team 2 years before our wedding (long engagement due to Covid and logistics around venue availability). Being from NY we knew we needed to hire a wedding planner as this would be a destination wedding for most of our guests. Even with booking so far out Jen and team never made us feel like we were too early to discuss any little detail of our upcoming wedding. In fact, we got right to booking most of our vendors so that we had our choice in vendors since we were booking so early. They had the most amazing suggestions for all vendors and EACH one of the team of professionals we hired surpassed our wildest dreams. 

Bridgette was our main planner (with Jen still heavily involved) and knowing that I can be a type A bride, they put me at ease and were incredibly helpful, I would have not been able to execute this without them.  

The week of our wedding there was a potential hurricane/tropical storm Nicole (ironically my first name). That week in and of itself was enough for us to suggest booking JMEP. They got ahead of everything and completely jumped into action contacting all of our vendors and making sure there was a plan in place (and backup B and C plans just in case..). They secured tents and also a completely back up wedding venue in case we were unable to have our wedding at Powel Crosley like originally planned. That was the hardest week, but Bridgette, Jen and team completely helped us every step of the way and we could not be more thankful!! 

Thankfully our wedding day ended up being beautiful weather and we had our original wedding vision (that actually SURPASSED all of our visions due to JMEP).  The day of the wedding they made me feel so calm and at ease knowing that they had everything under control. Everywhere I turned Bridgette and Amanda were right there making sure I was okay/had everything I needed etc while also taking care of all of our vendors/guests/and our parents - I truly do not know how they did it all. My dad has a bad leg and staying on his feet for hours on end or walking a distance is very hard for him, Bridgette and Amanda even made sure he was okay the entire night - having a seat when he needed, and even offering/helping him with his shoes during the night. 

We cannot thank JMEP enough for turning our dreams into a reality and executing the absolute BEST wedding we have ever been to (we may be biased) or could have dreamed of having. THANK YOU!!

Jennifer Matteo Event Planning's reply:

We adore you guys, and miss you already!!!

You were truly THE BEST - I cannot express to you how much we appreciate your kindness!!!

XOXO

Christine D.

Married on 06/05/2021

Dream wedding!

Jenn and her team are amazing! We had an absolutely perfect wedding day and we couldn't have done it without them. From the first phone call to cleanup after the wedding, they were there to take care of all the small details, answer questions, help guests and our family, and so much more. Special shout out to Jenn, Ana and Haley who were on site for the big day - thank you so much from the bottom of our hearts! You were wonderful and made our day stress free. We received many compliments from family and friends on your professionalism and can't thank you enough! Blake and I would 100% recommend Jenn and her team to anyone planning a wedding.

Iulia B.

Married on 06/05/2021

Highly recommend JMEP!

I cannot recommend Jennifer Matteo and her team highly enough. They were able to make our wedding at the Selby Gardens such a dream. From the beginning, Jennifer, Bridgette and Bella worked closely with me. They helped guide the vision and no details were left uncovered. This was such a relief, as we were planning from out of state and my husband and I had very difficult schedules. When it came to deciding on vendors, Jennifer made the process so easy as all her recommendations were amazing. Even when we had to switch florists, Jennifer made sure the process was so streamlined. On our wedding day, Bridgette and Bella made sure everything went smoothly and I was not stressed out. I am so appreciative of everything they did. Thank you so much Jennifer, Bridgette and Bella for making my wedding day perfect!

Rebecca D.

Married on 05/29/2021

A Magical Day!

Jennifer and her team were an absolute dream to work with for our destination wedding. Ours was a 2nd wedding, and Jen totally got the vibe of the intimate experience we wanted to create with our family and friends. She recommended great vendors to be part of the supporting cast, and executed the vision flawlessly. We were able to fully enjoy every aspect of the day without worrying about a single detail. Sincerest thanks, JMEP! Everyone who attended the wedding enjoyed the beautiful magic you and your team created for us!

Jennifer Matteo Event Planning's reply:

Thank you so much Rebecca!!!! You and your family were an absolute dream to work with - always responsive and always kind!!

Jessica A.

Married on 04/30/2021

She's the BEST!

Amazing doesn't even come close to describing how wonderful Jennifer and her team are. When our international destination wedding had to be moved thanks to COVID I luckily found Jennifer's page and from our first phone call I knew we would be in excellent hands. She listened to the type of wedding we wanted and had great ideas. She found us the perfect beach location and with her expertise and guidance we also landed an amazing florist, DJ and videographer for our wedding. Hiring her was the best decision and money I spent. She is worth every penny and so much more. I feel like she became a friend and on the day of the wedding I was so calm and relaxed and I know it was not only because I had zero doubts in my choice of husband but also because I knew everything would be done just right because Jennifer and her team were there. I also added the Bridal Concierge program to my package and it was also amazing! Bailey and Claire were a dream and took care of getting both the bridesmaids and groomsmen food, drinks, ice and they took care of steaming the wrinkles out of the clothes. They were so nice and so helpful. I loved working with Jennifer and my only regret is that I don't live closer so she can plan more parties for me in the future. She is truly a gem to work with and I could not have been luckier to have her and her team plan our dream wedding day!

Jennifer Matteo Event Planning's reply:

Well aren't you the sweetest!!!! You and Colby were SUCH a fun couple to plan and design for - your unique vision really spoke to me and our design team!!! You could not be nicer, and we are lucky to now call you friends!! So, so thankful you chose JMEP!!!

Caprice F.

Married on 03/05/2021

Exceptional!

JMEP was exceptional. From the minute I met Jennifer and her team, I knew I would be in wonderful hands. Jennifer and her team allowed my husband and I to be guests at our wedding celebration. With her team, we were able to enjoy every special moment with our guests and no worry about anything. JMEP is worth their weight in gold. I will be hiring them again for special birthday, welcome dinner and weddings that we will have coming up in the near future. I cannot recommend JMEP enough. You will never regret choosing JMEP. Sincerely, Caprice

Jennifer Matteo Event Planning's reply:

Thank you so much Caprice!!!! You were SO AMAZING to work with the whole planning process - and beyond! I think we will keep you around awhile.... :-)

Geoff C.

Married on 03/04/2021

Sit back and relax because Jennifer's got it!

My career means I am dealing with events and event coordinators on most weekends. I also have had a career in Hotel Management and catering, so I observe more intently and critically than most. We all have the best intentions when we put a plan together to make sure we get from A to B as smoothly as possible while anticipating and correcting obstacles along the way. From the moment I got to my venue to the moment I left, Jennifer was there ensuring EVERY detail was taken care of. She moved around the room without anyone noticing, anticipating the needs of everyone and delivering a seamless event. The whole point of hiring an event coordinator is to hand over the responsibility with confidence and reassurance, so you can actually switch off and enjoy your guests! I highly recommend Jennifer and I wish you a seamless, enjoyable and carefree event!

Alexa K.

Married on 02/20/2021

Every bride needs her

JMEP is the wedding planning service that every bride NEEDS in their wedding planning process. Not only is Jenn a true lady boss, she has a fine eye for details, as does everyone on her team. I truly felt like I had another group of friends planning my wedding with me. I hired Jenn over a year before my wedding and no matter how far out our date was, she always responded to emails quickly and helped with whatever I needed. She was a buffer between me and my mother at times (everyone needs that at some point), she put me in touch with the best vendors, and she made my wedding vision become a reality. She made sure everything went according to schedule the day of, and even our guests said that she made the day better! I would 100% recommend AT LEAST her partial planning package, but full planning is really the ticket, as is her Bridal Concierge program. I would book Jenn for every event I have for the rest of my life and would recommend her 10 times over! Best planner and person EVER! Go and book her now- do it!!!!

Jennifer Matteo Event Planning's reply:

You are such a sweetie!!!! Adore you and I am so thankful to know you!!! I will wait for a baby shower inquiry :-)

Love you babe!!!

Kate

Married on 01/22/2021

A very happy Covid Bride

My fiancé and I were supposed to get married in April, but due to covid had to postpone until next year. Jennifer has made the process super easy, since we actually live out of state as well, honestly would have probably just canceled if it wasn't for her! I couldn't recommend Jennifer enough, she managed to understand my very difficult vision so far and planned what what I know would have been an amazing wedding. She's been great to work with, very detail oriented and an absolutely beautiful designer. Trust when I say she's a need! I can't wait until my big day next year!

Jennifer Matteo Event Planning's reply:

Thank you so much Kate!! You are just the sweetest, we are here for anything you need - and cannot wait until your beautiful wedding day is here!

Michelle J.

Married on 12/12/2020

Trust me, it's worth it!

Everyone feels the same when looking at planning a wedding. The result of using Jen was....
It's all getting done, no need to get stressed to remember things, she will.
Appointments quick and easy, you won't even realize you're planning a wedding.
COMPLETE TRUST IN HOW IT TURNS OUT. Jen will NOT put her name to anything that is less than fantastic. She understood what I was looking for with a few pictures and one conversation. We were getting worried we weren't going to be able to get our dream wedding planned. I stressed out more before I found Jen and started planning then I ever did actually planning it. Best choice in our planning was calling her. I now have a memory of a magical day, and the never ending compliments from friends and family.

Jennifer Matteo Event Planning's reply:

Thank you so much Michelle!!!! You and John were such a dream to work with, you had a clear vision - and trusted us to execute...the PERFECT COMBO!!

Congrats to you guys, and thank you again!!!

Amanda A.

Married on 11/07/2020

The most elegant boho dream wedding creators

I could not recommend this team of coordinators enough. Going into the wedding planning process I knew I wanted to do most things myself but I really knew nothing about weddings and knew it wasn't possible. Jennifer, Bridgette, and Bella were there for me literally at any time to get all of my questions either answered or sent to the right person, right then and there. When my thoughts and ideas were jumbled and I couldn't figure out what I wanted they were able to help me make decisions that fit our vision and our original mood board that made everything come together SO perfectly in the end. They were able to handle every detail and made everything go so smoothly. I was shocked at how relaxed I felt the day and week of the wedding!

On the morning of the wedding I remember getting a picture from one of the guests that was already at the venue and I remember being in awe of how beautiful our ceremony set up looked. Straight out of pinterest. And when we got to the reception tent, my jaw was on the floor. I knew it was going to be beautiful, but holy smokes. These girls truly have a gift. And on top of everything they did for us, they're honestly just the best people. If you're still looking for your coordinator, these are your people. Trust me, you need them. They will make the greatest day of your life into more of a dream than you could have imagined, promise!

+ 3

photos

Jennifer Matteo Event Planning's reply:

You are just the sweetest!! Thank you so much for taking the time to review us...we had so much fun working with you - and your wedding was one for the books!!! Everyone was on the dance floor and all the custom details you made were stunning!!!! Seriously cannot wait for photos/video!!

Yasmin S.

Married on 05/09/2020

COVID-postponed wedding savior!

Jennifer and her team are the BEST. Hands down! We had been planning our wedding for over a year and then unexpectedly a global pandemic strikes only a couple months before our wedding date. I cannot imagine what rescheduling my wedding would have been like without Jennifer's help. Trust me when I say a great wedding planner is essential!! Jennifer and her team swooped in and saved the day, contacting all my vendors for a reschedule and coordinating all the contracts. I can breathe easy knowing Jennifer and her team have my back. I'm looking forward to our postponed wedding and I'm so glad to have Jennifer by my side!

Jennifer Matteo Event Planning's reply:

YOU are the sweetest!!

I so appreciate you, how you so gracefully handled ALL the changes - with a smile and always a kind word. I cannot wait to celebrate your love on the NEW wedding date!
Are you interested?
Send a message