272 Reviews
Recommended by 99% of couples
Quality of service

5 out of 5 rating

Average response time

5 out of 5 rating

Professionalism

5 out of 5 rating

Value

5 out of 5 rating

Flexibility

5 out of 5 rating
47 User photos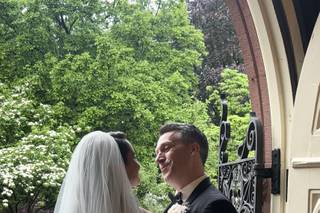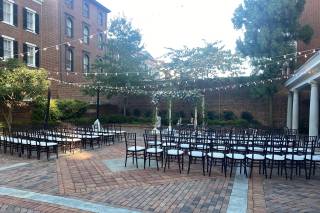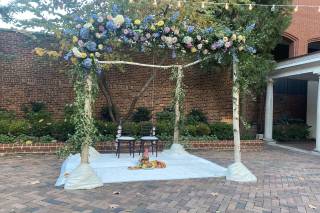 + 43

photos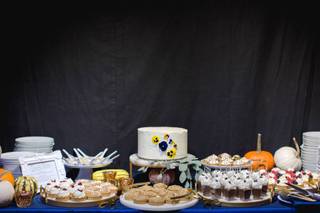 Featured

Alysia

Married on 06/11/2022

Eddie and his team made our dreams come true!

We got engaged in April 2020 - during COVID when everything was so uncertain. We had very specific tastes and after being together for 10 years - we knew that we wanted a wedding that really reflected who we are individually and as a couple. Eddie worked with us to achieve our industrial bohemian vision and remain within our budget.

From landing us the PERFECT venue - Capital Turnaround; to a wonderful graphic designer, Max, who created a truly unique and cool invitation suite; to linking us with Spilled Milk, a catering company that merged our Cajun and Vietnamese cultures in a truly inventive way; to his quest to find us the perfect day-of coordinator in Trish — signing on with him is what made our wedding a fairytale. He helped to negotiate every contract. He made sure that our concerns were communicated and advocated on our behalf. His reputation in the industry was apparent in the respect that each of our vendors clearly had for him.

He always had our backs and was honest with us. We went through a number of potential day-of-coordinators - not because of availability, but because as soon as Eddie saw that they wouldn't be a good fit, he would immediately look for someone else. This could have been panic-inducing, but I wasn't scared. He was always transparent with us and I trusted him. I knew if he thought a change needed to be made, it was for good reason. And Trish, who ultimately became our coordinator was perfect. She understood me immediately, came in with suggestions of ideas I didn't even know I wanted! Her idea to mix lounge seating from the venue in as the ceremony seating truly made our wedding spectacular. I felt like I was getting married in an intimate ceremony in a living room. Seeing all of the little children piled on a giant ottoman over my husband's shoulder is one of my best memories of that day.

He helped us navigate through the overwhelming options; provided a planning tool that made everything from design, to tracking payments, to guest seating a breeze; helped to schedule all of our meetings with vendors (you would be surprised just how helpful this is - cutting down on preliminary email communications with vendors really reduces stress) and made sure that we were protected in every contract. This was particularly important when planning during the peak of COVID. We needed to be sure that if our wedding needed to be cancelled or postponed, that we wouldn't lose out on money. He went over every proposal and contract to make sure that we were covered in case of disaster.

He made us feel like we were his most important, if not his only client. After working with him for nearly 3 years - he truly feels like family. He got to know us as a couple and that definitely showed on our wedding day.

If you're looking for someone who will truly give you a personalized experience and help you to plan a wedding that truly represents who you are as a couple - work with Impact Collective. Thank you so much Eddie for everything.

+ 7

photos

IMPACT Collective - Weddings & Destinations's reply:

Wow!!! This is the sweetest review. I can't express how much I loved working with you and Vinh. You were the kindest, humble, and gracious client that made it a joy from beginning to end. I'd do it all over again for FREE!

Claire C.

Getting married on 02/12/2027

Capital Turnaround is DC's new, interesting, top venue

The historic-turned-contemporary Capital Turnaround space speaks to both DC's history and the vibrant city of today. The technology and video capabilities at are dazzling and will surely add to any event.

The IMPACT Collective team is helpful and responsive. A winning combination for event planners!

IMPACT Collective - Weddings & Destinations's reply:

Thank you so much Claire, this truly means a lot to us. We appreciate all of your support through Destination DC and are looking forward to hosting your Marketing Outlook Meeting in DC at Capital Turnaround!

Esteban S.

Getting married on 09/02/2025

Ultimate Venue Space

I attended an event here and all I can say is WOW! This venue has it all, from the industrial concept which is a planner's dream to the open spaces and huge auditorium, Capital Turnaround is sure the place to host your event in D.C. The event I attended hosted by IMPACT Collective showed the great potential the venue has to offer and truly made me excited for the future of events here in DC.

IMPACT Collective - Weddings & Destinations's reply:

Thank you so much Esteban, this truly means a lot to us. We appreciate all of your kind words and hope to work together a great deal more in the upcoming future!

Are you interested?

Send a message

Ross K.

Married on 05/28/2023

Great job by IMPACT Collective

We had a great experience with IMPACT. We decided to go with the month of coordination service, and are very happy we did! Stephanie was great to work with. There was certainly a big learning curve when we first started out planning, and Stephanie was such a great guide to help us navigate it all. Stephanie was a great communicator, on top of all of the details, and brought so much enthusiasm leading up to our big day. Despite uncooperative weather just prior to our ceremony, our wedding day went perfectly, and the coordination that Stephanie provided played a big part.

Aaron R.

Married on 05/01/2023

Month-of coordination done right

We hired Eddie Fam & IMPACT for month-of coordination, after we'd already worked out the broad strokes of our ceremony already. As we got closer to the day, we realized that we needed the help of a professional, and that's exactly what we got. Eddie and Star (our coordinator) were true experts, helping us make sure that all the pieces of our vision came together. Star walked us through everything that we needed to know that we'd overlooked, helped us organize our thoughts, make our last decisions, and figure out what we needed to do on our end to get ready. She worked through a complicated rain plan that ended up needing to be activated, kept the vendors informed, and made it so that we didn't need to do much of anything on the actual day of the ceremony. It was a somewhat non-traditional wedding and she made it work perfectly. For anyone else with a vision who want someone there to help make it real, IMPACT can make it happen.

IMPACT Collective - Weddings & Destinations's reply:

Aaron - wow, thank you! It's messages like this that keep us loving our job. We never expect to be acknowledged but certainly do appreciate it. Thanks for the opportunity to serve you both!

Bahar A.

Married on 04/22/2023

Beautiful wedding experience with IMPACT

This past weekend I attended a wedding that IMPACT Collective coordinated, and let me just say...it was probably one of the most beautiful weddings I have ever been to. Everything from the chapel where the ceremony took place all the way to the reception at the hotel was spectacular! The ceremony took place in a beautiful little chapel in Washington D.C.--and despite the rain that day, the ceremony and the photos taken afterward still turned out amazing. The reception was at a gorgeous rooftop venue at the Riggs Hotel in the heart of D.C., with impeccable food, service, and hospitality by the hotel staff. I do believe there were some challenges that day due to the weather and timing with the bride and groom's reception entrance, but Eddie and his team collaborated with the bridal party and pulled off an absolutely flawless first dance reveal with the bride and groom (I think I actually teared up a bit). Though it wasn't planned, but it turned out SO much better than what was supposed to happen. The rest of the night we partied, and it was a dream. The DJ, decoration team, and hotel staff really brought the place to life with their talents all thanks to IMPACT's coordination and direction during the course of the day. Eddie and his team were extremely attentive to the needs of the guests, and because of that, the night went better than anyone could have imagined. I look definitely forward to hopefully attending more weddings planned/coordinated by IMPACT and their team in the future!

IMPACT Collective - Weddings & Destinations's reply:

THANK YOU so much Bahar for this incredible review. We can't thank you enough for your kind words! ~ Eddie Fam, Founder & CEO

Rodney W.

Married on 04/08/2023

Bridal Expo held at Fogo de Chao

My fiancé and I throughly enjoyed our bridal expo experience at Fogo de Chao, which was hosted by IMPACT Collective. The food was amazing and the we found the vendor information to be very helpful!

IMPACT Collective - Weddings & Destinations's reply:

Rodney, you're the man. You're definitely my favorite groom over 6 ft tall. Thank you for the kind words. We truly are fans of you and Tayler!

Kristi C.

Married on 03/11/2023

Made our lives so much easier!

We had a very positive experience with IMPACT Collective. We ended up going with the month-of coordination since my husband and I are both big planners and wanted to do a lot of it on our own. We knew, however, that we would absolutely need help when it got closer to the big day. We started off working with Eddie about a year out from our wedding, meeting with him several times to communicate our overall vision. Eddie was fantastic to work with and was super knowledgeable and eager to answer the many questions we had. He also provided helpful advice to deal with an ongoing issue we had with a vendor. About 2 months out from our wedding we were assigned a lead coordinator, Gloria, for the month-of planning. Gloria was excellent - she was always available and very responsive to our questions. She proactively offered her assistance with ordering last minute decor, coordinating with vendors, ironing out the timeline, and organizing our seating chart. On our wedding day, Gloria and her assistant worked tirelessly to ensure everything went smoothly. We couldn't have pulled it off without Gloria! Overall, we are very pleased with our decision to go with IMPACT Collective and would highly recommend them to family and friends!

IMPACT Collective - Weddings & Destinations's reply:

Kristi & Jake - we LOVED working with you guys. Such an amazing journey. We are over the top happy for both of you. Thanks for sharing these kind words! ~ Eddie Fam, Founder & CEO

Kayla M.

Married on 03/11/2023

Big thanks to Kadzo and the IMPACT team!

We are so lucky to have worked with Kadzo and the IMPACT team! Our company was hosting its first in-person party in 3 years and we knew that it was going to be a big undertaking to make it special for 400+ guests. Once we booked the venue and partnered with IMPACT, we had about 3 months to plan out the details. Understanding the tight timeline, Kadzo was efficient, flexible, and extremely responsive throughout the whole process. She felt like a member of our team, as she truly partnered with us to make sure the theme and details of the party aligned with our company's brand and culture. Kadzo coordinated and negotiated with the venue and vendors, brought us new ideas to enhance the party's theme, and remained patient whenever we had to pivot or change direction. On the day of the event, Kadzo and the IMPACT team coordinated all of the onsite logistics and ensured the event ran smoothly. The party was a huge success and we can't thank Kadzo enough for her amazing support!

IMPACT Collective - Weddings & Destinations's reply:

Kayla, thanks for finding IMPACT and making this happen. We truly enjoyed working with you and your incredible team. Thank you for entrusting us with such an epic event. Excited for next year! ~ Eddie Fam, Founder & CEO

Max

Married on 02/18/2023

Professional, calm, and collected - They'll keep you on track!

Impact Collective did a fantastic job guiding us in our month before our wedding. We hired them as our month-of coordinator. For those of you who have made it that far without deciding on a day of coordinator or are early in the decision making, we highly, highly recommend having Impact Collective or at least someone to coordinate things with vendors on your special day. As they told us, we don't want it to be us running around frantic on what is to be (and definitely was!) our special day.

They asked the right questions to help us identify issues on our timeline and our planning, and made sure that all vendors knew exactly where they were supposed to be, when they were supposed to be there, and what they were in charge of.
We highly recommend hiring them. However, make things easier for everyone involved by having as many day of details established well before the wedding itself.
They were fantastic and, if we had to do it over, we would definitely would hire them again.

Our day was special, lovely, and had no major glitches thanks to them!


IMPACT Collective - Weddings & Destinations's reply:

Max - it was so great working with you and Rachel. You were a dream client! I loved your creative idea for the trivia game and your getaway car was decorated in such a cool and fun way thanks to your friends and groomsmen. I truly wish you both a blessed life of joy and happiness!

Howie S.

Married on 02/05/2023

Great planners to work with!

I've worked with Eddie and his amazing team over many years and for many happy brides and grooms! Their passion for excellence and attention to detail make them the best strategic partner for helping brides realize the dream of their #bestdayever! While there may be many planners in the DMV vying for your business, I would take IMPACT and not look back! Trust me you won't be disappointed! #nyxevents #howietstyle

IMPACT Collective - Weddings & Destinations's reply:

Howie, your review means a lot! Seeing all those smiles at the wedding is why we keep doing what we're doing!

Neul

Married on 01/15/2023

A caring and professional coordinator for your very unique wedding!

Eddie was so wonderful to work with! We wanted a very intimate wedding with all the bells and whistles taken out. We also were merging 2 different cultures and found it really tricky to navigate. Eddie made sure we weren't overwhelmed with information, helped us keep our mind at peace through the whole process, and even helped us find some fun party games last minute to incorporate into the wedding. He also made sure everything went smoothly during the day of, which was our biggest stressor. A very fun, loving, and genuinely caring individual that gets the job well done. I will be suggesting him to anyone who asks for a coordinator!

IMPACT Collective - Weddings & Destinations's reply:

Wow Neul! That is such a sweet review. I loved working with you both and serving your family. Your wedding was intimate and beautiful and it was my pleasure and honor to be part of it! My best wishes for your future.

Amy M.

Married on 11/02/2022

Truly the best in hospitality

Eddie and his entire team are truly the best in event planning. It's an all star team that will exceed any of your greatest hopes or expectations.

IMPACT Collective - Weddings & Destinations's reply:

Thank you so much for this review Amy. It truly means a lot to me and the team. You're a superstar too!

Alia

Married on 10/29/2022

Great Quality Service!

We hired Eddie and his team for month-of planning and could not be happier with our decision! We worked with Erika and Jeannine for our event and what was really special was their attention to detail when it came to understanding our culture. Both ladies took the time to understand the nuances of our event and made sure to understand any cultural differences. Erika kept us on top of all of our tasks and recommended great additions to help our wedding go more smoothly according to her experience. Great team!

IMPACT Collective - Weddings & Destinations's reply:

Alia - you're part of our family now! Thanks for the sweet words. We so appreciate it.. Best of luck to you both. Much love!

Molly A.

Married on 10/22/2022

Wedding Planner

There are not enough words for how great Star was! She helped plan and execute our dream wedding and it couldn't have been more perfect! She was there every step of the way and always helped with keeping our vision in focus. We could not have asked for a better planner and we are so grateful for Star and the Impact Collective Team!

Josh G.

Married on 10/22/2022

We couldnt have done this with out Star and Impact Collective!

We are so grateful that we found Impact Collective (Eddie) and, through them, Starvel Drake. Eddie was warm and kind from our first conversation and listened to our needs. We worked with Starvel Drake ( she goes by Star), and she truly is a Star. Star kept us on track. She worked with our timeline and ensured we completed our wedding-related tasks. She never let us feel overwhelmed. She took our feedback positively and worked to bring our vision to life. On our actual wedding day, Star was a force to be reckoned with. I honestly don't even know if anything went wrong because Star managed everything and let my partner and I enjoy our wedding. When we got to the location, I could have cried. My vision was real life. We are beyond grateful to Star and Impact collective.

IMPACT Collective - Weddings & Destinations's reply:

Wow! Thanks for all the kind words in this incredible review. We truly value clients like you who value and understand our contribution on your big day. It keeps us going strong and makes all the world of difference. You rock!

Nicole T.

Married on 10/22/2022

Kept us happy and stress free!

Trish and the Impact Collective helped make our wedding as stress free as possible. Trish is an amazing problem solver and was always happy to jump on a call and talk through ideas or issues during the planning process. Trish did so much behind the scenes coordination that even having two bands was completely seamless to us and our guests. Trish worked hard to shield us from any day of hassles and even helped some not typically punctual VIP guests arrived on time. Would hire her again in a heartbeat!

Ashley

Married on 10/15/2022

Amazing planners!

I reached out to IMPACT for Partial Planning. From the very beginning, they were responsive, professional, and easy to work with. Haley was my primary contact for planning my wedding. I had ZERO idea what I wanted for my wedding but Haley was able to help me organize my thoughts and planned an amazing wedding. Day of the wedding I was able to completely relax and trust that everything was taken care of.

IMPACT Collective - Weddings & Destinations's reply:

Ashley, this is music to our ears! Thank you kindly for sharing your experience with us. We truly wish you the best life ever!

C.g.

Married on 10/15/2022

Perfect day-of-coordinators!

Stephanie and Eddie were an absolute DREAM TEAM in serving as day-of-coordinators for our small wedding!! For a 7-guest wedding, we still had quite a few errands that needed running, tasks that needed to be completed, and communications that needed to take place, and Stephanie handled all of like LIKE A PRO, so that we could enjoy our special day with our guests and not sweat a single detail. Stephanie and Eddie are incredibly passionate, energetic, enthusiastic, caring people, and they treated us like we were family. And Stephanie's radiant smile, contagious laughter, and infectious energy made the whole day feel like one non-stop party! I can't endorse this business more strongly! They will take the best care of you! Thanks for going above and beyond, guys!

IMPACT Collective - Weddings & Destinations's reply:

You are seriously one of the sweetest and kindest clients I've ever met. Working with you was such a blessing. THANK YOU FOR CHOOSING IMPACT! ~ Eddie

David W.

Married on 10/10/2022

Responsive & Get the Job done!

Eddie and Olivia were fabulous to work with. We had Eddie and Olivia step in after a genuinely disastrous experience with the wedding coordinator/ vendor services offered through our venue. Less than a month before our wedding, they seamlessly stepped in and helped to contribute to the success of our wedding.

My biggest regret is that I did not find/hire them sooner. I can only imagine how much hassle and stress they could have saved in the year/months leading up to the wedding!

IMPACT Collective - Weddings & Destinations's reply:

David - you and Brianna were such a joy to work with. We'd do it all over again for FREE! Thank you for your continued respect and appreciation for what we do. We're friends now. Congrats!

Hannah S.

Married on 10/01/2022

A Great Team!

IMPACT was great to work with as the manager of our wedding venue, Whitehall. Eddie was responsive, informative and offered ideas and suggestions. Haley was also our full service wedding planner and was great to work with! I was a hands-on bride and was involved in every decision. Haley was very responsive and kind, and it was a plus that she had relationships with vendors and was able to recommend and provide thoughts on different vendors, pricing and services. She made the wedding planning experience feel special, even when things felt stressful!

Austin N.

Married on 09/17/2022

Awesome team!

Impact Collective was exceptional throughout the wedding process from helping us coordinate through vendors, making our special day come to life and also being very responsive to any questions. I'd definitely recommend using Impact for your wedding!

IMPACT Collective - Weddings & Destinations's reply:

We totally loved working with you guys. Even in times of changes and adjustments during COVID, you maintained your grace and patience. You're type of couple that wedding planners dream of. BIG congrats again and again!

Catherine D.

Married on 09/17/2022

Eddie truly cares about his clients, and was very helpful throughout the wedding planning process!

Eddie truly cares about his clients, and was very helpful throughout the wedding planning process!

IMPACT Collective - Weddings & Destinations's reply:

THANKS SO MUCH CAT! You were such a kind and gracious bride to work with. I truly do wish you guys the BEST of luch in your future!

Noura R.

Married on 09/17/2022

IMPACT Collective was great to work with!

Ari, Eddie and the rest of the impact team were so great to work with! From the beginning of our engagement all the way to our wedding day, they were extremely responsive to all of our questions and worked with us to make our wedding vision come to life. We got married at Whitehall, which is managed by IMPACT Collective. This made our planning process seamless as they were so familiar with the venue and made sure that our day went smoothly. We had the best wedding day and credit so much of that to Ari, Eddie and their team!

IMPACT Collective - Weddings & Destinations's reply:

Noura, your review came at the best possible time. Your words are so encouraging and very much needed. Thank you for being the most gracious and sweet wedding client. We love you and Austin!

Jennifer G.

Married on 09/17/2022

Worth Every Penny

We did "month of" planning with the Impact Collective and were assigned Star Drake. She was AMAZING. She has a calm spirit, detail oriented mindset, and bias towards action--which made her an incredible partner not only the month before as we were making final decisions and wrapping up all the details, but also made her the perfect partner in proactively troubleshooting and handing any and all details and issues on the day of the wedding. I was able to fully enjoy my day on my wedding with absolutely no stress about how it was going to come together because Star was ON IT. And on top of that, she surprised us with a bunch of little details that I didn't even think to ask for, like identifying a server to plate my husband and I's food to ensure we ate and got what we needed/ wanted. Many guests remarked on how proactive and friendly she was. We couldn't have asked for a better planner. She was incredible and we recommend her without reservation! The other really critical thing about the month-of package was getting access to the Aisle Planner tool. That tool helped us to manage our budget (and anticipate expenses that we're originally on our radar), identify vendors, put together checklists that we would need in the future, and think through a number of actions on our "checklist" in a timely way. That tool was absolutely indispensable to helping us get organized and make sure we were getting everything done we needed to before Star came on 30 days before. It also made transitioning to her seamless as she had everything she needed on that platform, and she used it. She only asked us questions we hadn't already answered on the platform. Thanks to Eddie for connecting us with such an amazing planner and great toolset. He was available if we needed him (which we didn't much because the toolset was so great). Working with IC was worth every penny for us. It made wedding planning a relatively stress free and enjoyable experience and ultimately helped us enjoy our day with no planning related stress--which is such a gift!

IMPACT Collective - Weddings & Destinations's reply:

That is the sweetest and most kind review. THANK YOU so much for your amazing feedback! You have totally made our week!!!
Are you interested?
Send a message