46 Reviews
Recommended by 100% of couples
Quality of service

5 out of 5 rating

Average response time

5 out of 5 rating

Professionalism

5 out of 5 rating

Value

5 out of 5 rating

Flexibility

5 out of 5 rating
17 User photos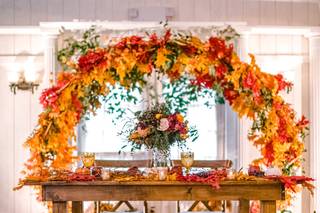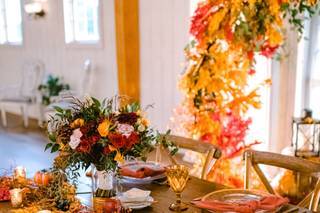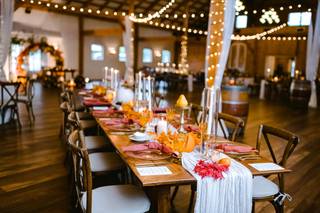 + 13

photos
Ashley B.

Married on 11/05/2022

Beyond Expectations, Amazing

Christina and her team are the perfect team. As young/busy professionals getting married we needed a team that was flexible, organized, and paid attention to details when we couldn't. Additionally, they were excited/positive and kept the stress low so we could enjoy the process. Christina and her team with Happily Hitched are absolutely wonderful. We highly recommend Happily Hitched. They are the best.

Happily Hitched's reply:

Ashley -- Our team had a great time working with you!! It was a quick planning timeline and everything came together so perfectly. Great weather, great people, just an all-around beautiful day! Blessings on your marriage!!

Sara

Married on 11/04/2022

Excellent Service, Couldn't ask for anything more!

Christina and her team did an incredible job at making our special day perfect. If not for her precision and organization, we would have been completely overwhelmed with the logistics of our wedding day, and both my husband and I have logistics backgrounds!! She helped keep everyone on track and made sure in the lead up that no details were left unattended to. I would highly recommend Happily Hitched's services for anyone looking for a great planner!

Happily Hitched's reply:

Sara, thank you so much!! Everything came together beautifully and it was certainly a pleasure working with you and Nate and serving your entire wedding party and family day-of. We appreciate your review!

Taylor J.

Married on 10/29/2022

You need a planner. And you need *THIS* planner

When my wife and I first got engaged, we discussed whether it was worth the expense to hire a full planner. We were young then - it was pre-pandemic and we were bright-eyed and naive to the complexities of the world. It was a different time, you understand...

Fast-forward to a post-Covid world, where we were forced to shift our original date, update vendor contracts, change guest counts nine (ten?) times, cancel a venue and book another, update our linens, our flowers, our colors, our overall aesthetic... It would have all been impossible without the help of Christina Carter and her team.

As our engagement stretched from an initial 15 months to well over 3 years, we got to know Christina personally as well as professionally. Christina answered every want, need, and middle-of-the-night-panic-attack with aplomb and serenity approaching that of a Buddhist-monk.

Tongue-in-cheek aside, Christina was ferociously helpful at every turn. She was able to take our random miscellany of ideas and crystallize them into a wedding that was not only gorgeous, but also ran smooth as clockwork.

After years of working with Christina, our bitter-sweet moment came after the wedding – we realized we would not need to have our weekly calls with her anymore. It was very similar to the feeling one gets when switching jobs and leaving behind co-workers that long ago became family.

I emphatically encourage you to book Happily Hitched TODAY. You won't regret it.

Are you interested?

Send a message

Adam S.

Married on 10/22/2022

Happily Hitched indeed!

Our wedding weekend went off without a hitch thanks to Shaneice, Christina, and the Happily Hitched team! Shaneice was so organized running the point for us leading up to and throughout the whole weekend - no stone was left unturned, every minute detail was documented including making sure the AC was cool enough at the church for the ceremony! :) Shaneice was always responsive, professional, and calm, which was so helpful especially on our wedding day when it felt like a million things had to happen all at once. Shaneice was there to oversee everything from the photographer, to the venue, to the caterer, to the transportation, you name it! Contact Shaneice, Christina, and the Happily Hitched team if you're looking for an exceptionally organized and professional wedding planner!

Happily Hitched's reply:

Adam, we so appreciate your kind review!! We're glad you felt your wedding weekend went smoothly and that you could trust us with the details of your special day (especially the church AC, ha!). It was such a joy working with you and Erin. Thank you for allowing us to be a small part.

Katie S.

Married on 10/15/2022

The best wedding planning team in the DC area!

We have been working with Happily Hitched since the spring of 2021 when we started planning our wedding, and I can't stress enough how incredible Christina and her team have been throughout the planning process. Seriously, hiring Happily Hitched has been the best money we've spent on our wedding, and it's not even close. We selected one of their partial planning packages, and it has been amazing (although if I could do it again, I would seriously consider their full-service planning!).

Christina is SO organized and helpful. From our first meeting, she has clearly grasped the vision that we have for our wedding and has worked hard to make sure that our wedding will be exactly what we want it to be. She and her team are very responsive and easy to communicate with. She is always willing to provide recommendations and answer any questions that we have, and she has also been willing to jump in and communicate with our other vendors when needed- which I really appreciate.

Wedding planning is stressful, but having a team like Happily Hitched there to help you makes it so much more manageable. I would recommend their services to absolutely anyone planning a wedding! We are getting married in October, and I am 100% confident that the day will be perfect with Christina and her team there to manage it all.

Happily Hitched's reply:

Katie -- thank you for such kind words!! It's been a wonderful year+ of working together and we cannot wait for October to roll around to get you and Jon married! Here's to an enjoyable last few months before the big day!

Kristen

Married on 05/14/2022

Organized & Supportive Coordination!

We employed Shaneice and Christina for event management and had a marriage coaching session with Aishah, though if we had to repeat it all over again, we would have had them take on the full wedding planning! Christina and Shaneice were both experienced in wedding planning (it was no one's first wedding), familiar with the venue, and had excellent vendor contacts and relationships. They have the essential services you need to plan a wedding, including access to Aisle Planner and services for planning, research, consultation, and coordination, at any budget and expectation level. Shaneice was wonderful and calming to work with during the process as our lead coordinator, and provided on-time service with personal attention that made us feel confident about the Big Day. She often asked us how we were feeling, which was a nice check-in. Having Shaneice and Christina as a team to be on the ground at our wedding was a good value for the investment. They were able to work on the fly to move the cocktail hour from inside to outside in response to changing weather conditions. Everything was seamless, smooth, and beautiful, and all of our guests keep telling us it was one of the best weddings they've been to!

Happily Hitched's reply:

Kristen, thank you so much for your review! We loved working with you and Sam and so glad you felt like you had the support you needed during your engagement. Best wishes as you grow your marriage!

Amy T.

Married on 05/03/2022

Excellent service, great communication! Would recommend to anyone.

Christina is very professional, flexible and responsive. We unfortunately had to cancel our original larger event due to Covid-19, and had a small ceremony that we moved up. When we let Happily Hitched know what we were doing, they went out of there way to accommodate us. They have always been immediately responsive and helpful and I would recommend them to any bride and groom looking for a company that works hard, communicates well, stays on top of things and is extremely professional.

Happily Hitched's reply:

Amy, thank you so much for your review! While we wish your wedding plans hadn't been affected by COVID-19, we're so glad you were still able to move forward with having your ceremony and ultimately, marrying the one you love! We appreciate your kind words and glad to have helped make this difficult time a bit easier for you. Congratulations again on your marriage -- we wish you so much love and happiness!

Haley C.

Married on 04/09/2022

Amazing team of thorough, organized coordinators!

We cannot thank Christina, Megan & the Happily Hitched team enough! Christina's knowledge is invaluable - she was so helpful throughout every step and answered every nonsensical question I had! She also let us borrow several items (THANK YOU!) and did such a great job of making my vision for our day a reality. Also - working with Aisle Planner was so seamless and it is SUCH a great tool. Christina's organization was so appreciated and her packing instruction for all of our decor was very easy to follow.
She ran a tight ship during the rehearsal to ensure everyone knew exactly where to be when and what to do when. And on the wedding day, they were on top of everything and somehow everywhere at once! We couldn't have done it without them! Thank you so much!!!

Happily Hitched's reply:

Haley, it was SUCH a joy to work with you. So easy to do our jobs well when we have great couples like you and Sam! Thank you again for allowing us to serve you on your big day!

Priyanka J.

Married on 02/19/2022

Sweetest People, Very Detailed!

Happily hitched made our wedding weekend seamless! My husband and I got married in the middle of February 2022 and had a big Indian fusion wedding that involved two ceremonies and a reception spread across a weekend - mind you, one of our ceremonies started at 8am meaning a VERY early start to the day. Christina and Megan made sure every detail was carried out exactly right and kept the events running right on time. We worked with Christina from six weeks out (we hired her as our day of coordinator) and she was on the ball from the start. We went through every detail, she asked us all the right questions to fill in any gaps we had, and she also made the effort to understand what all of our traditions were across each of the ceremonies. We also loved the fact that Happily Hitched prioritized the marriage, not just the wedding! We would highly recommend happily hitched to anyone looking for their wedding!

Happily Hitched's reply:

Priyanka, thank you so much for your review! We loved helping you and Alex with every single wedding celebration and loved learning about your traditions and culture! Crazy that it's almost been a year! Best wishes!!

Sydney S.

Married on 11/06/2021

Amazing team of coordinators!

Happily Hitched is an incredible group of ladies! Shaneice was our lead day of coordinator and I am so lucky to have worked with her. As a type-A person I had hesitation about hiring a planner but my venue required it and I'm so glad it did. I don't know how I would've handled all of the coordination and issue resolution on top of everything else leading up to my wedding and day of. Shaneice was so responsive and on top of everything. I not only felt reassured everything would run smoothly (which it did) but I was finally able to feel excited about my wedding rather than stressed about all the details. They surpassed all of my expectations and our wedding day was perfect because of them. Seriously you could not go wrong with this amazing team!

Happily Hitched's reply:

Sydney, thank you, thank you for leaving your review! Every detail was just perfect for your day! We were thrilled to help everything fall into place and allow you to enjoy the day with all your guests. Best wishes!!

Sarah K.

Married on 10/16/2021

Beautiful Tables

I used happily hitched for our guest tables (farm tables) and sweet heart table. They were exactly what we were looking for. They were super easy to work with. I highly recommend!

Happily Hitched's reply:

Thank you for the review and for sharing your photos, Sarah! What a fun Fall wedding!! We're so happy we could be a small part of your day.

Carrie R.

Married on 10/09/2021

You Are Their Top Priority!

We just spoke with Christina from Happily Hitched, and we can already tell our wedding planning experience will be fantastic! Happily Hitched is extremely responsive, professional, personalizes the plan for you, and takes the stress away from planning a wedding so we can truly enjoy our engagement. From their website, questionnaires, and customer service, we could not ask for a more high quality wedding planner.

Happily Hitched's reply:

Thank you so much for your review! So glad you feel like you can already enjoy your engagement with ease! We're so excited to be helping you with your wedding planning and can't wait to see it all come together next summer!!

Rebecca F.

Married on 09/18/2021

Couldn't have asked for a better coordinator!

Working with Christina was literally a dream come true. She is so sweet and organized and made a very stressful time in our lives an absolute dream. I couldn't have asked for a better coordinator and our families also adored her. Her organization and communication skills are unmatched.

Happily Hitched's reply:

Thank you, Rebecca! So glad your experience working with us was a dream come true! It was a beautiful day and you had the best people surrounding you. So much love in the room! Best wishes!!

Erin C.

Married on 09/04/2021

The best wedding planners around!

Happily Hitched and their wedding planners are absolutely amazing. Christina, one of the owners, is extremely friendly and really made us fall in love with the company. Christina placed us with Emily for the day of our wedding. Emily is a wonderful wedding planner and she goes above and beyond throughout your time with her! She was always there to answer any question we had and seemed just as excited for our wedding as we did. Emily was always on time and prepared for each meeting and made sure that we had any materials for meetings if we needed them. The day of our wedding we were lucky to have both Emily and Christina to help run our day of coordination. They are PROS! They made sure that everything ran smoothly and everyone was taken care of. My husband and I - really every guest who attended our wedding - cannot stop talking about the great job they did. We highly recommend Happily Hitched, you won't be disappointed!

Happily Hitched's reply:

Aww Erin, thank you for such kind words! We loved working with you and making sure everything went as planned so you and your family didn't have to worry about a thing! Such a fun group and we were honored to be part of it all. Thank you again!

Meghan R.

Married on 08/07/2021

Happily Hitched helped make our wedding day the best day ever!

We absolutely loved having Ali help plan our wedding! We chose the "day of coordination package", which started 6 weeks before and from the moment she started she was amazing! She is super organized down to every small detail on your special day. During the actual wedding she was somehow in all places at once - even taking off her shoes and running to grab things when my mom had too much champagne and forgot my bustle video right before we needed to walk into the reception. Our whole day was picture perfect from start to finish and we had multiple friends ask about Ali when they are ready to plan their special day as well. We also really loved the coaching portion and just the whole approach Happily hitched took to wedding planning. Would highly recommend!!

Happily Hitched's reply:

Meghan, thank you so much for sharing your experience with Ali! We're so glad you thought your day was perfect and happy to know you thought the marriage coaching was helpful as well! It's definitely our goal to go beyond just the wedding and be a helpful resource for your marriage as well! We hope you're enjoying newlywed life!!

Michael L.

Married on 05/15/2021

Super Organized, Simply Amazing

Our only regret was not hiring Christina's full planning package. She was incredible – super organized, thought of everything, and extremely calm/kind which is exactly what you want on the day of your wedding (and leading up). Any issues that came to our attention the day of, we quickly discovered she was already aware, on top of, and had a plan in place for it. This really allowed us to enjoy our day. She also feels strongly about helping the couple build a healthy marriage, not just an incredible day, but a strong foundation for everything that comes after.

Couldn't more HIGHLY recommend.

Happily Hitched's reply:

Michael, thank you SO much for sharing! We're so glad you felt like you could enjoy the day without having to worry and that you found the marriage coaching valuable. Hope you and Kelsey have been enjoying newlywed life!

Kelsey L.

Married on 05/15/2021

Most amazing coordinator!

We would have a very hard time thinking of a better coordinator than Christina. She was absolutely phenomenal – super organized, thought of everything, and extremely calm/kind which is exactly what you want on the day of your wedding (and leading up). She was constantly available in a way that allowed us to fully enjoy the day – we knew that we didn't have to keep time or think of the next step because she would be there to tell us it was time and coach us through it. She took all preferences we gave and executed perfectly, and also brought her own expertise to the table when we were burnt out of decision making. She also feels strongly about helping the couple build a healthy marriage, not just an awesome wedding – which was so unique and awesome. We also rented beautiful farm tables from her (made by her sweet father) that made the look we were going for so perfect. We can't recommend her highly enough!

Happily Hitched's reply:

Kelsey, thank you for sharing your experience! We're so glad to know you felt like you could truly relax and enjoy your day without worrying about what was coming next. We loved working with you and wish you nothing but the best for your marriage!

Sara B.

Married on 05/01/2021

Every couple NEEDS Happily Hitched

We worked with Christina with Happily Hitched's "Event Management" package and it could not have been more valuable. I had anticipated month leading up to the wedding to be very stressful, but Christina swooped in and lead the efforts on all of the logistics and things we would have never thought of. I had so many friends and family tell my husband and I how calm we seemed leading up to the big day, and that was literally only thanks to Christina! Not only is she extremely organized (she somehow learned our entire family tree in 10 days), but she is an absolute joy to work with. If you are looking for someone to make your day seamless, you've got to go with Happily Hitched!

Happily Hitched's reply:

Sara, your family was the best. Hands down haha Easy to remember such a fun group of people who clearly love you so much. Thank you for allowing us to support you during such a special time! Your day will be one to remember!

Nicole A.

Married on 02/10/2021

Better than I imagined

At first, when I was starting this wedding process, I didn't think I needed a coordinator, as it turns out, I was wrong. The venue I picked required one, and I'm glad they did. I'm also very happy that I choose Happily Hitched. Their customer service experience was amazing. They responded to any questions or concerns that I had in a timely manner. They were thorough and very detailed oriented. They even pointed out things to me that I had overlooked or may not have realized that I needed. They solved any issues I had with vendors. Overall, my wedding day ran smoothly. Even guests were complimenting on how smoothly the day went.

Happily Hitched's reply:

Nicole, thank you so much for your review! I'm so, so glad you saw the value in having a wedding coordinator! It's our hope that with our help, couples can truly feel at ease that all the details are being handled. What a perfect, Fall wedding day you had! Cheers to the newlyweds!!

Katie W.

Married on 12/12/2020

Farmhouse tables!

Wow! The tables were perfect!! Not dinged or scratched up, sturdy but best of all beautiful. Everyone raved about them & were amazed at the value of each table & price. You could just tell they were made with love. We placed two (3x8) together to make larger "covid" size tables, then seated our guests based on household bubble/contact to assure safe distancing. They are also easily wiped down for cleaning as we had two meals in one day. We used a table runner on the seams with simple centerpieces and it looked great. The 3x5 sweetheart table was a nice addition. We put some lace draped part way which did not hide the table beauty. Placement, delivery, pickup & communication was prompt, as discussed & top notch. I can't rave enough & am so happy we found them!!

Happily Hitched's reply:

Katie, thank you so much for the kind review! We're so glad we were able to help you and your family celebrate your daughter's wedding day with our farmhouse tables! We do put lots of love and time into making each one as a family, so it always warms our hearts when they can be used as a gathering space on a couple's incredibly special day. Thank you again! : )

R. Ludin

Married on 11/04/2020

A Consumate Proffesional

Christine worked closely with my daughter (the bride who is quite demanding) and pleased her and us to a too). Christina was efficient, well organized, listened to the bride's details and performed professionally and efficiently. We couldn't be more pleased.

Happily Hitched's reply:

Mr. Ludin, we so enjoyed meeting you and your family and helping to make the big day one that was memorable! It's always our goal to give our clients and their families the ability to relax and enjoy the day they've spent months working hard to plan. It's even more special when we can assist a fellow JMU Duke! Best wishes!

Kirstan L.

Married on 10/17/2020

Angels In Disguise

Christina & Shaneice were the perfect people to have in my corner when planning a wedding, especially during 2020. They were genuine in easing my concerns while remaining calm & positive and were very easily accessible. I even had other vendors of mine tell me how awesome and efficient they were! Thank you so much Christina & Shaneice - you both are truly amazing people!

Happily Hitched's reply:

Kirstan, thank you so much for your kind review!! It was wonderful working with you and Chris for your special day -- we're SO glad you were able to move forward with your original date too! Wishing you all the best with married life : )

Roxie B.

Married on 10/10/2020

Game changer - they are that good!

Where do I even start?? Christina and Aishah of Happily Hitched were the magic that made our event happen on-time, and as we envisioned. From the moment I met Christina, way back in 2019, when I was planning V1 (of 3) of our wedding, she impressed me. She was this cool, calm, bright light that just made you want to trust her with your biggest day of your life. She gets calmer when things get hectic, she makes you feel like she has the whole world under control, and she even has a voice that is soothing! haha it's kind of amazing. She and Aishah came together for our wedding day like the A team of weddings. They handled everything with grace and lighthearted energy, they navigated schedule changes like champs, and they pulled off my exact vision for our wedding as if they had seen inside my head! I honestly love planning things, I even coordinated events in the past, so I questioned if I needed a professional planner - let me tell you how much I needed their help!! They thought of details I never would have, they fixed issues before they became problems, and Christina literally held my hand through two covid postponements, and got us across the finish line like a champ. In short, they are our S-heroes and we cannot possible recommend them highly enough. Do yourself a favor, and make Happily Hitched part of our team. xoxoxox Roxie and Antoine - Wedding 8/14/2021

Happily Hitched's reply:

Roxie, don't make us cry! haha YOU are a bright light and it was a true joy to work with you and allow you to enjoy the day instead of having to run around checking on things! Thank you for trusting us with your day!!

Allison

Married on 04/19/2020

Beyond all Expectations...

Christina and the Happily Hitched team was a last minute addition to our wedding- which was planned entirely, two separate times due to the pandemic. We really thought we had a handle on things but Christina came in and totally whipped the event into tip-top shape. When I am asked by friends, what the best investment of the wedding planning process was, it's a no brainer- Happily Hitched. I can't believe we almost forwent a planner. We has a somewhat non-traditional need for a planner, since we did most of the work prior to meeting Christina, but we also wanted more than a day-of coordinator, and she hit it out of the park. We truly couldn't have had a better experience, and she surpassed every expectation we had. I firmly believe that we wouldn't have had so great a wedding day without her expertise. We will ALWAYS recommend the Happily Hitched team!

Happily Hitched's reply:

Allison, thank you SO much for your sweet review! Your wedding was a dream. Your friends and family were so much fun and after waiting so long, I'm so, so glad we could help you pull it all together so you could celebrate with everyone. Wishing you and Thad all the best!!

Shannon B.

Married on 12/10/2019

Couldn't have done without Happily Hitched!

My life immediately got better after Happily Hitched came on board! They relieved my anxiety over the "perfect" wedding and came through with flying colors! They took care of things I didn't even know needed taking care of!

Happily Hitched's reply:

Shannon -- We loved working with you to make Ashley and Jonathan's big day so special for them! We're so glad to know how relieved you were able to feel once we started working together! You had the kindest family and friends, and we're so honored we were able to celebrate with you and bear witness to such a memorable occasion! Thank you so much for inviting us into your wedding planning! Wishing you all the best!
Are you interested?
Send a message