Reviews
4.9 out of 5 rating
Quality of service

4.9 out of 5 rating

Average response time

4.9 out of 5 rating

Professionalism

4.9 out of 5 rating

Value

4.8 out of 5 rating

Flexibility

4.8 out of 5 rating
97%
Recommended by couples
26 User photos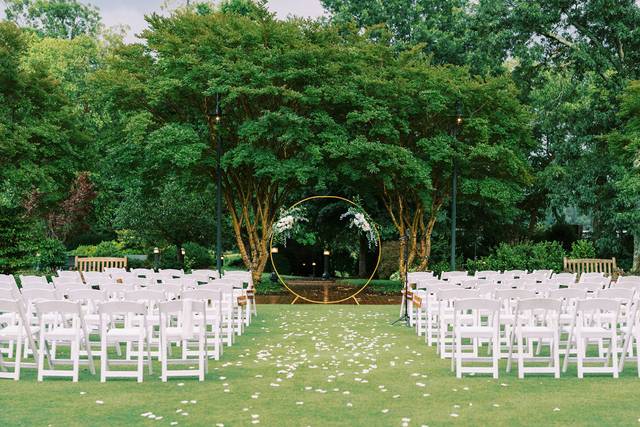 + 22

photos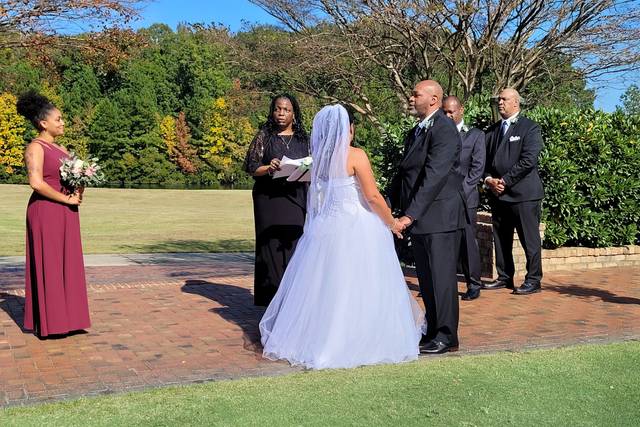 Featured

Christen E.

Married on 07/01/2023

July 2023 Wedding

We got married at Grandover on July 1, 2023. After having tried to plan a wedding at a South Carolina venue and a resort in Puerto Rico, we settled on Grandover after meeting with Rebekah and touring the facility. It was absolutely perfect for what we needed. Our families and friends golf and we wanted a facility where everyone could sleep, golf, and attend the wedding without having to worry about drinking and driving or finding shuttle services. We looked all over the southeast and couldn't find such a facility until we settled on Grandover. We had 106 guests and 36 golfers on Saturday morning. Our group was so impressed by Grandover. They all commented on how accommodating the staff was, how delicious the food was, and how beautiful the entire venue was - the lawn we were married on, the golf course itself, the pool, the décor, the rooms, etc. We wanted to keep our budget in check and ended up paying the national average for a wedding with everything included (like photographer and DJ, which Grandover don't provide). With that price tag, Grandover handles most everything. They set up the venue, they provide A/V for the ceremony, they provide the food, etc. It allows you to do much less work to plan your wedding. Rebekah is fantastic. I talked to a lot of venue managers before picking Grandover and none of them compared to Rebekah. She was always prompt with communication, so you never felt alone in the planning process. I sent a million emails with questions and never felt like a bother to her. On the day of the event, it stormed right at our ceremony time. Rebekah worked with me to delay the ceremony and had the staff dry off the chairs in a matter of minutes to get our guests outside for the ceremony. This is just one example of how she worked with us and made our experience perfect. The Pro Shop had carts ready to go with our players names on them and bags already loaded on the carts. It was top-notch service. I could go on and on about how accommodating and wonderful the Grandover was for our wedding. If you're hesitating to book your wedding here, don't. At least go take a visit to Grandover and stay a night. Eat the food at the restaurants and it'll give you an idea of how great the food and service will be at your wedding.

Caroline W.

Married on 10/21/2023

Perfect Place to Get Married

Wow!! When seeking out a venue for our wedding, we wanted a place where everyone could stay on site because I have a big family that would be traveling in from New England. My husband and I live in Charlotte so we toured a lot of hotel venues in the area, but nothing compared to The Grandover. And now, having celebrated our big day on October 21st, I couldn't imagine a better place. The entire staff was SO friendly and welcoming- all of our guests felt like VIPs the entire weekend. The venue coordinator, Rebekah, was on top of everything throughout the whole process and made our day seamless. Our families keep raving about how it was the perfect weekend and we absolutely agree. Couldn't recommend this venue more- looking forward to celebrating our anniversaries here for years to come :)

Jacklyn P.

Married on 06/30/2023

Amazing wedding

Got married at the Grandover on 6/30/2023. The whole process was amazing from the moment we toured. Rebekah handled everything we wanted for our big day and went above and beyond. She was attentive, quick to respond, answered every question and was a joy to work with. The wedding itself went flawless and I have absolutely no complaints.

Are you interested?

Send a message

Jania M.

Married on 05/28/2023

Dream come true

I cannot thank the staff at Grandover Resort enough, especially Rebekah DeMarcantonio for playing a major part on such a big and important day. From day 1 of choosing Grandover as the ceremony and reception venue, Rebekah has been very welcoming, helpful, communicative and supportive throughout this whole journey! Rebekah ensured we had a backup plan in the early planning process because we originally wanted an outside wedding. We of course received rain the whole weekend of the wedding so the backup plan was a life saver and we were just as satisfied with the turnout. The recommended vendors were all amazing. The consistent communication and quick responses have helped ease our minds tremendously. I highly recommend Grandover Resort to help with making your dreams come true. It is truly an amazing and beautiful place.

Betty

Married on 04/28/2023

The Grandover Resort & Spa was absolutely perfect!

The Hotel was amazing, and the staff were very attentive. We had 44 rooms for a Wedding and everything went so smoothly. Rebekah DeMarcantonio was in charge of our Rehearsal dinner, and she did not miss a thing!!! We couldn't have been happier.

Yvonne W.

Married on 10/09/2022

Wedding Venue Choice

There is more to say about the Grandover than this space will allow. Our experience in wedding planning was amazing! From start to finish, the communication, responsiveness & there was no question asked that could not be answered with speed, clarity & accuracy. Every guest in attendance was blown away by the beauty of the venue and the service was outstanding from the people greeting you at the door, to the service in the rooms & dining facilities. I've always loved the Grandover as a hotel & resort, but I had no idea how incredibly perfect they would handle a wedding. I'm sure they do plenty of them & it shows. It is a recipe & formula for great success with solutions for every component of a person's big day!!! I am so very happy I choose the Grandover. Sealed in our hearts & memories are our special day; not only in ours as the couple, but of our guests. Special thanks to Rebekah DeMarcantonio for her handle holding & support throughout the entire process. I have nothing but positive thoughts & memories of the entire experience.

Ezan C.

Married on 06/12/2022

Perfect Venue for our Dream Wedding

We had our wedding reception on June 12, 2022 at the Grandover, and we are so happy that we choose the Grandover over anywhere else. The Grandover is a beautiful resort, from the hotel, to the ballroom, to its lounges and the outdoor grounds. We were able to have our dream wedding at the Grandover. Our photography and videography team was also able to capture exceptionally beautiful moments, all thanks to the beauty that is innate to the Grandvoer itself. Although the Grandover is a beautiful venue, what truly makes it stand out is the people that work there. The Grandover has wonderful staff. Rebekah, the director of weddings was such a kind and helpful individual. From the very start she made us feel so welcome and offered to help wherever she could. We are so thankful to have had her alongside us as we planned our reception. Chef Alan was also amazing. I cannot express enough how grateful I am towards him. He went above and beyond by learning about our cultural preferences when it came to food. He learned about South Asian and Middle Eastern Cuisine, as well as our preferences when it came to halal food. When it came to actual day, the food was some of the best I had ever eaten, and its presentation was phenomenal. All of our guests were also in awe of how amazing the food was. Additionally, everyone, from the front desk, to the individual who helped bring our baggage to our room to the individuals who staffed our reception were kind, respectful, wand welcoming. The Grandover is truly a one of a kind place and my wife and I will always remember the amazing moments we had there.

Asif W.

Married on 05/28/2022

Excellent choice

The best in the Triad for any occasion specially for wedding. You can not find a better place to host a wedding. It has both excellent inside and beautifully crafted out side that will create memory of a life time. Wedding director Rebekah made it easy to work with. I can not be happier.
I am glad that I chose Grandover.

Sarah

Married on 05/14/2022

AMAZING wedding don't miss out!!!

Okay don't walk but RUN!!! This is the best kept secret in Greensboro! The staff.. the planners.. the whole crew went above and beyond! If you're contemplating.. don't.. just do it! The food.. venue.. whole weekend was so amazing!!!!

Amy S.

Married on 04/23/2022

Wedding 4/30/22

Our wedding from the rehearsal to the wedding and reception was magical at the Grandover! We had our ceremony on the grandville lawn and the reception in the griffin ballroom. Perfect choices for our wedding. I've been working with them for over a year and a half and they have been awesome to work with. The staff was amazing from the doormen to the bartenders, banquet staff to Rebekah-director of weddings! Our family and friends were able to stay the weekend at the Grandover hotel and enjoyed every minute of it-it's a truly unique experience! I will never forget our wedding weekend and the hospitality the Grandover showed to us-we truly felt like royalty!

Tory B.

Married on 03/19/2022

Exceptional Experience

We could not have had a better wedding experience at the Grandover Resort. The staff went above and beyond to make our day go as smoothly as possible. A special thanks to Rebekah DeMarcantonio, who was incredibly helpful, knowledgeable, and friendly every step of the way. The quality of the whole evening was exceptional and we would 100% recommend it to others.

David B.

Married on 03/19/2022

Grandover Resort was a "Perfect Five Stars"

Incredible wedding reception on 3/19/2022. We would recommend Grandover Resort to everyone. Rebekah DeMarcantonio, Director of Weddings, was extremely helpful and responsive. Gave fantastic advice, which I appreciated as the FOB. Our daughter also easily related to her, connected with her, and valued her experience, advice, and honesty. Flexibility with us when finalizing details, was excellent. The venue was beautiful, which of course was not a surprise. The quality of all of the appetizers, entrees, and desserts was outstanding. And the ability to have family and friends @ the resort was so convenient. All of our 135 guests were so complimentary of the event and Grandover Resort. We would absolutely do this again, at Grandover!!! Thank you Rebekah!

Audrey R.

Married on 12/04/2021

Great for Weddings

The Grandover was an absolutely MAGICAL place for our 12/4/21 wedding. Lindsey and Mariah were wonderful to work with, the food was great, and the staff were wonderful! All of my guests were able to stay in one location and have a fun filled weekend. We did however have a few hiccups with the bar tenders that were serving our reception. We had numerous complaints on them both. However, I am still giving 5 stars, because overall it was a great experience.

Kimberly L.

Married on 10/09/2021

Amazing Experience

The Grandover Resort has been short of spectacular! The director of weddings Lindsey Bryie was with us every step of the way and made sure that are special day was magical. We are truly thankful!

Kristen S.

Married on 10/07/2021

Lindsey Bryie is the best

Lindsey was phenomenal to work with They made our wedding experience wonderful! Codey at golf shop and Jamye Bridges at spa were awesome too
Grandover is worth every penny

Hilda T.

Married on 09/24/2021

INCREDIBLE Grandover Experience!

WOW! We are so incredibly happy that we picked Grandover as our Wedding Venue! Grandover staff went above and beyond to ensure that our day was flawless! Our guests absolutely loved the recently renovated rooms, amenities and service within the hotel. Lindsey and the event staff helped execute a beautiful wedding ceremony and reception on the Grandover Lawn. The service and attention to detail exceeded expectations, the food and beverage was beyond delicious and incredible. Everyone fully enjoyed our special day, and we're so thankful that we picked Grandover for our special day!! Highly highly recommend, wish we could relive the day over and over again!! Thank you to everyone at Grandover that made our day exceptionally magical!!

Gianni E.

Married on 07/23/2021

Best wedding ever!

We had to switch our wedding from Jamaica at the last minute (6 months before) due to the pandemic. Rebekah King was assigned to us! She helped from start to finish. Rebekah answered every question me and my now husband had. She even threw in suggestions when I couldn't make my mind up. Rebekah did whatever she could to make sure our day was amazing and it was. Thank you Rebekah for the passion and love for your job. You did absolutely amazing! We truly appreciate you!

Sonya B.

Married on 06/13/2021

The Best Day Ever

I can't thank Rebekah King for making our wedding a PERFECT!!! Hand down the most knowledgeable and professional host I've ever met. Without her I don't know what would have happened. Hand down the best day EVER

L Bell

Married on 05/15/2021

Mother of the groom

The Grandover is a beautiful venue for a wedding. The outside grounds are gorgeous. My son's wedding was there and I had the rehearsal dinner there also. Lindsey was great to work with in planning my son's rehearsal dinner. She was very knowledgeable and offered great suggestions.

Rachel M.

Married on 05/01/2021

Dream Come True

I cannot say enough positive things about the Grandover. It was absolutely everything I've ever dreamed of! The entire staff was extremely attentive, our bartenders for the wedding were definitely entertaining, and our guests have been talking nonstop about how beautiful the resort was for their stay and our wedding day.

On top of that, we had one of the greatest wedding coordinators I could have ever asked for. Lindsey was a total sweetheart. She was attentive, helpful, and kept us laughing and smiling throughout our entire wedding planning process. She really made planning extremely easy, and for that, I couldn't thank her enough. She made us feel like royalty for the last year and even on our wedding day! We are from Pittsburgh, PA, so this was a mini-destination wedding for us and the planning process was very easy thanks to Lindsey.

I highly recommend the Grandover for your wedding venue. I am not a huge planner/organizer, even for my own wedding, and everything turned out absolutely perfect thanks to the Grandover staff.

Jane H.

Married on 04/24/2021

Wedding Weekend

Trying to plan a wedding during a pandemic is challenging. Rebekah King carefully guided us every step of the way. Rebekah made sure we had backup plans with options. She met with us multiple times and was always available to give guidance. Her calm, competent manner was exactly what we needed to carry us through. Many thanks to Rebekah and everyone at the Grandover Resort. The food was delicious! The spa was at treat, the service was amazing and the venue was stunning!
My daughter's wedding wasn't what we always envisioned, it was better... absolutely perfect!

M Short

Married on 03/27/2021

Rebekah King made our Grandover wedding experience effortless!

From Covid restrictions, to accommodating, being extremely flexible, providing information, responding to messages in a timely manner, switching locations in less than two hours (due to rain), taste testing (compliments to the chef...the food was phenomenal), and assisting with anything we needed the day of the wedding...we know no one would have gone above and beyond like Rebekah King. Grandover should be at the top of every bride's list. You need a crew who knows and understands what they are doing. I would also like to commend the staff at Grandover. Every team member knew and performed their duties beyond expectations. Make Grandover a choice...not an option.

Morgan H.

Married on 01/02/2021

Absolutely Amazing!

Rebekah King and the Grandover staff were absolutely amazing to work with for our wedding. I did not have to worry about anything during the wedding and they went above and beyond for our friends and family attending the wedding. Rebekah was very professional and pleasant to work with throughout the entire process and kept us updated with covid restrictions. Even with covid restrictions, Rebekah was able to make changes as needed up until hours before the wedding. The food was beyond amazing and they have beautiful suites to stay in! I highly recommend Grandover to anyone currently looking for an event venue or just a place to stay for the weekend!

Jenna W.

Married on 10/05/2019

Absolutely perfect!

We loved having our wedding at Grandover! Everyone was so nice, helpful and accommodating! They treated us like family! They made our wedding absolutely perfect!

Robin W.

Married on 08/24/2019

Amazing experience from beginning to end!

The Grandover Resort is a picture perfect wedding venue, but the shining star at this resort are the staff. My daughter was married there on October 21, 2023 under the guidance of Rebekah DeMarcantonio and things could not have turned out better. Rebekah makes you feel very well cared for, her friendly and competent demeanor puts your mind at ease and whatever we requested was met with a smile. The majority of our 100 guests stayed at the hotel for the weekend and the entire staff embodies that same "can do" attitude. The food, drinks and recreation options are second to none. Truly a wonderful wedding weekend thanks to the Grandover Resort.

Are you interested?
Send a message