50 Reviews
Recommended by 100% of couples
Quality of service

5 out of 5 rating

Average response time

5 out of 5 rating

Professionalism

5 out of 5 rating

Value

5 out of 5 rating

Flexibility

5 out of 5 rating
30 User photos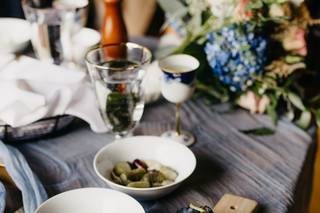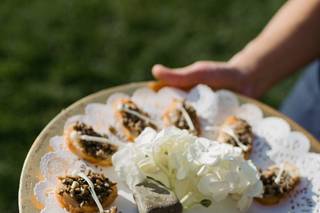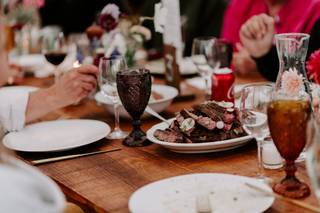 + 26

photos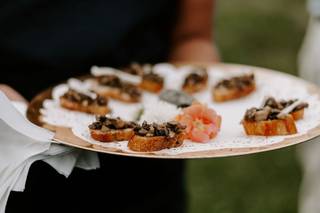 Lauren P.

Married on 11/05/2022

10/10, book French Picnic NOW!

If we could rate more than 5 stars, we would! Edward and French Picnic blew us away along every step of the process. Due to unforeseen circumstances, we were unable to have a tasting with French Picnic ahead of our wedding. We put our trust in the menu, Edward & French Picnic as well as our wedding coordinator who suggested him. Let me tell you: Edward's food was the best wedding food we've ever had (and that's not just because it was our wedding!). We continue to get raving reviews from our family and friends even months later. Every couple getting married in the Portland, ME region should work with French Picnic!

Samantha G.

Married on 09/24/2022

Wow, the Food was Amazing!

We are so happy that we chose French Picnic to cater our wedding! The family-style dishes were exactly what we imagined: Friends and family passing plates and chatting as they enjoyed the meal.

The Thai Coconut Tofu Curry was especially good and we had guests approach us after dinner to say that this was their first time trying tofu, that the dish was absolutely amazing, and that they needed the recipe.

Thanks for making our wedding so special!

Zachary C.

Married on 07/23/2022

We Loved French Picnic!

Edward and the rest of the French Picnic team were a perfect match for our wedding. They had everything we wanted for our vegetarian wedding. Every detail exceeded our expectations. The food was simply outstanding. Every interaction we had with Edward was warm and felt like family. Having an accommodating vendor like French Picnic reduced the stress of wedding planning and made it really enjoyable at every step. I would highly recommend French Picnic to anyone planning a future event!

Are you interested?

Send a message

Leah F.

Married on 06/18/2022

The best culinary experience for your Wedding Day!

There are not enough words to describe how amazing Edward and The French Picnic team are at their culinary talents!!! We knew Edward because he actually first catered my brother's wedding back in 2018. It was then that we knew when it was finally our big day, we would hope and pray that he would say yes to catering our wedding in Massachusetts too! By that fact alone, you can just imagine how incredible the food tasted to know that we didn't even consider another vendor to feed our guests! However, while the food is undoubtedly delicious, fresh, and filling – it was Edward himself that really sold us from the very beginning. My Dad is highly allergic to fish and chicken, which you can imagine is difficult to manage alone never mind when catering to a wedding. His allergies require food to be prepared separately without chicken, fish, or their byproducts cross contaminating other foods. Edward took on the challenge without hesitation and acted with confidence knowing that he could easily work with our needs and requests safely. He not only directly answered our questions at any moment but cooked an entire steak separately for my Dad on a separate grill where the other guests' meals were not prepared. Besides Edward's amazing personality and talent, his staff was equally pleasant, friendly, and helped make our day seamless. The food was presented beautifully as promised and there was plenty to go around to our guests. My husband and I sat at a separate sweetheart table where we received the royal treatment with plenty of delicious food and accompaniments to enjoy and fuel up for the rest of the evening. Thank you, Edward, for being such a pleasure and we truly could not recommend your team enough!!!

Whitney

Married on 12/11/2021

Couldn't be Happier

Edward and his team were amazing from start to finish. Edward was responsive and accomodating, his food was amazing, and his team was professional. French Picnic truly went above and beyond to ensure our day was perfect. Due to Covid our guest count ended up being significantly lower than we anticipated when we first reached out for a quote, and Edward was flexible in modifying the quote, which we really appreciated. We had a winter wedding and Edward created a seasonally inspired menu that everyone loved. Guests are still raving about the food and we couldn't be happier with our decision to hire French Picnic.

Courtney W.

Married on 10/13/2021

Hire Edward and his team for an amazing catering experience!

I truly can't capture in words the exceptional service Edward and his team provided to my husband and I on our wedding day and throughout the wedding planning experience. Edward was accommodating, flexible, and kind throughout our wedding planning process. He delivered fresh, amazing food and many of our guests told us that it was the best wedding food they had ever had. Edward and his team always remembered my dietary redirections and ensured I had delicious food to eat. Edward's timing with courses and service was impeccable. From the table settings to serving the cake, we did not have to worry about anything food-related on the day of our wedding. If you don't book French Picnic for your wedding catering, you are missing out!

Lindsey W.

Married on 08/28/2021

Best wedding food

Our guests are still raving about the food from French Picnic. Between the passed appetizers and the family style meal there was something for everyone! Edward worked with us to create a menu that just perfect. The value of their services is unmatched, thank you so much French Picnic!!

Katherine S.

Married on 08/21/2021

Our guests are still talking,,,

For us, having amazing food at our wedding was a high priority and French Picnic went above and beyond. Edward was a dream to work with and built a menu that was perfect for us. Everything was fresh and delicious, and our guests are still talking about how amazing the meal was, including our many vegetarian and gluten-free guests who were so appreciative about the selections available to them. The staff was amazing and even set aside a board of the appetizers for us so we could attempt to try everything that was served. The only thing I am sad about is we did not get to eat as much as we wanted, because we were pulled away for photos, cake cutting, etc. and food was taken away when we returned to our table. But our guests were happy and well-fed so that is all that matters!

Allison C.

Married on 07/10/2021

Incredible Food and Experience

Edward and his team were incredible to work with throughout the entire planning process! The food at our wedding was our top priority and we could not have been happier with French Picnic and all of their thoughtful touches on the day of. We kept hearing that it was the best wedding food anyone had ever had. It wasn't just great food "for a wedding" but genuinely great food. Cocktail hour was a hit with excellent oysters and amazing passed apps. The family-style dinner made for such a fun meal for everyone and really encouraged mingling among our guests. It felt like a very elevated summer dinner party! We couldn't recommend French Picnic enough.

Teresa

Married on 06/12/2021

Unforgettable!

We cannot think of just one part of the meal that was our favorite because it was all amazing! Guests from the wedding are still raving about the food, from the appetizers to the second course and sides! French Picnic helped to put us at ease with their experience and flexibility and the whole staff was so helpful and kind. Thank you French Picnic for helping to make our day as unforgettable as we dreamed.

Ellie F.

Married on 06/05/2021

So incredible!

French Picnic is an absolute gem! First – the food. It is so incredibly delicious and made with so much care and attention. Our guests still comment on how wonderful every single item on the menu was. Edward and his team are so knowledgeable on what food brings to a special occasion. They make sure that what they are providing reflects who you are as a couple, and they create something really unique. They make you feel like you aren't just feeding your guests, but you are throwing the biggest party of your life and the food and service will reflect how extraordinary that is.

Travis D.

Married on 05/29/2021

The food and experience with Ed and his team was 5 star!

My wife had a grand vision of a beautiful family style meal at our wedding whereby everyone would be able to interact as they ate. We found French Picnic with a quick google search and didn't even bother looking at other options. Once we spoke on the phone to Edward and how he spoke so eloquently about food, we were beyond excited. To say he exceeded our expectations is an understatement. Beyond just all of his staff and how friendly they were, the table settings were beautifully done, the food was perfect and everything my wife and I hoped it would be. We would recommend French Picnic ten times over if we could!






Helen

Married on 10/03/2020

Excellent in every way

We had a small outdoor wedding on October 3rd 2020. The food was perfect and the servers were fantastic. All of our guests loved the food and we are very happy that we chose French Picnic to cater our wedding.

Nathan C.

Married on 06/27/2020

Best Wedding Food EVER!

To put it very simply, Edward and his team made the best wedding meal we and any of our guests have ever had. We are a week passed our wedding and still receiving rave reviews about how excellent the food was!
Due to COVID, we began working with Edward a full two years before we were able to host our event. Throughout the entire process, including the postponement, he and his team were incredibly supportive and responsive to our every need. At our private tasting, he showed us a range of options that he could prepare for a group of our size (180) and allowed us to select exactly what we wanted for the day, rather than stick to a pre-set menu. This flexibility allowed us to feel like even the food was tailored to our wants.
At the wedding, his team was perfectly professional and attentive. As bride and groom, we felt particularly well cared for that night. His crew set a beautiful table and filled it with a family style meal over three courses that we would have felt privileged to be served at a fine dining restaurant. Every item was gorgeously prepared and delivered, the ingredients were fresh and almost entirely local, and the service was impeccable. They followed our schedule precisely and no one left hungry or wanting.
Thank you Edward and the entire French Picnic team for curating such a special meal for us and helping us navigate this year with terrific care and consideration. We will be recommending French Picnic to everyone we know so that we can, hopefully, have their delicious food again soon!

Alissa

Married on 06/20/2020

Some of the best food I've ever had!

French Picnic stepped up and helped us after our original caterer cancelled two weeks prior to our wedding. Having French Picnic serve our guests was probably one of the best decisions we made throughout the process as the food was absolutely incredible. I wish I could order the mini crab cakes and have them delivered overnight (yes they are that good!). Everything from the passed appetizers to the final course was amazing and professionally delivered. We didn't talk to anyone that wasn't impressed by the caterer, even our Venue owners were impressed! French Picnic is on their way to becoming the best caterer in Maine.

Perry A.

Married on 10/12/2019

Cannot Recommend Edward enough

My partner and I really wanted to ensure that we had two things at our wedding: really good wine/beer selection, and delicious food. Edward did not disappoint as our caterer. From our initial tasting to the wedding itself, Edward was incredibly friendly and just an all around cool person. He has a diverse menu to choose from, and is the type of individual who is constantly inspired to create new things. He is incredibly easy to work with and our guests could not get over how delicious the food was. Literally almost every single person said something along the lines of, 'This was by far the best food I've ever had at a wedding...or in general, really.' (Plus, we loved the family style--we don't understand why more people don't do this! It's an awesome way for guests to have more flavor options, more food in general, and is much less of a logistical nightmare). We cannot recommend Edward enough--he is an absolute gem. If you are thinking of hiring him for your wedding, you absolutely should!

Danielle

Married on 09/21/2019

We're still getting compliments on the food!

Wedding planning can be really overwhelming! One of the best decisions me and my husband made was hiring Edward from French Picnic Catering for our September wedding with 150 guests. The food is absolutely the best. We're still getting compliments on the different dishes weeks after the wedding. The staff is attentive, genuine and will go over and above to make your day great. Lastly, Edward is truly wonderful. From the start, his attitude was positive, relaxed and you can tell how much he really does care about having only the best for your day. He was also very accommodating and provided a vegan option for me and a few of my guests. Thanks to Edward and his staff, everyone had an amazing dining experience at our wedding!

Caitlin

Married on 09/14/2019

Fantastic catering and more

Edward and his team are outstanding from start to finish - the food is fantastic, from delicious passed hors d'oeuvres to a real feast come dinner time. But they really shine in their friendliness and professionalism. We had a DIY wedding on our lawn and they made it feel like Michelin service. The choreography and quality is really outstanding.

Anna G.

Married on 08/24/2019

Incredible!!!

We contacted several catering companies before my dad heard about French Picnic and thank goodness he did! Edward was such a joy to work with. From the moment we reached out all the way till the wedding he was in touch answering any questions we had. Since my husband and I live in Colorado, he offered my parents a tasting which they loved. He helped us plan a family style menu that our guests cannot stop talking about. French Picnic really is a one-stop-shop where Edward will think of everything. The appetizers were phenomenal as were the mains and he even had coffee service for us.

If there is one thing you need to try before you die, it is the steak! It was cooked to absolute perfection and it is the thing of dreams. Edward and his team make you feel like part of the family! Thank you so much for being so kind and for creating the tastiest dishes! 10/10 would recommend.

+ 3

photos

Susan B.

Married on 07/20/2019

Susan M Brown

French Picnic catered my cousin's wedding at Bailey Island Library Hall on July 20, 2019. The vegetables, meats, fruit and cheeses were all exceptionally good. The food was served family style with dishes to pass around the table. The servers were attentive and friendly. I usually dont remember the food served at weddings but this is wedding was the exception. If I were in need of a caterer I would definitely hire French Picnic. Since I was just a guest at this wedding, I cant speak to the value for the cost, but my cousin was very happy, so that counts for something. The staff also made sure we had bottles of wine and champagne on our table and they also distributed water bottles later on.

Rachel

Married on 07/20/2019

Excellent and delicious

Edward and his team were professional and friendly. The food was delicious and amazing and we still have people raving to this day. Many thanks to French Picnic. Can't go wrong.

Laura

Married on 07/13/2019

Above and beyond, would choose French Picnic again and again

French Picnic was better than we even could have imagined for our wedding! From day 1 with the tasting Edward was so easy and fun to work with. Every single thing, from the passed apps through 2 full dinner courses, was absolutely delicious and we loved that it was also seasonal and fresh for our July wedding. We had read a number of reviews from others saying that their guests still bring up how wonderful the food was, and now we are living that too. Months later, our guests are still talking about the amazing food at our wedding.

In addition to Edward being a delight to work with and the food being outstanding, the pricing was also extremely reasonable, a great deal for a high quality of service. Given the opportunity to plan another big event, I would honestly choose French Picnic every single time!

+ 4

photos

Kristin

Married on 06/22/2019

Best Food Ever

I cannot say enough great things about Edward and his team at the French Picnic. We were BLOWN away by the food. My guests constantly tell me it was the best food they've ever had. I am truly honored that we had the French Picnic team a part of our big day. You never know what you are going to get when choosing vendors - I am here to tell you, you will NOT regret choosing this crew. Edward is a food genius! Make sure you get a to go bride and groom plate so you don't miss out while chatting with your guests!

Jennifer

Married on 06/22/2019

Best Food Ever

Edward and his staff at the French Picnic were amazing! The family style service of multiple courses satisfied everyone down to my pickiest cousin to my very high taste aunt. Everyone raved about the food for weeks after my wedding. People always say you never get to eat at your own wedding, well Edwards food was so delicious I made sure I wasn't one of those brides. I ate everything! I cant recommend him enough. On top of his amazing food he was also the most affordable I looked at! I wish he would open a restaurant so I could enjoy his cooking again!

Alicia

Married on 06/08/2019

Unbelievable food, incredible experience.

The food was our #1 priority for our June wedding. Edward made the entire experience so easy. We felt like we were priority number 1 and that he really understood the vibe we were going for. The process and pricing was extremely straightforward. French Picnic really shines if you let Edward take the reigns a bit and you follow his food suggestions. You will not be disappointed. Guests were very impressed by our 3 course dinner (everyone had a favorite dish including some pickier family members and foodie friends). Service was impeccable and his team was amazing. They brought super positive energy: It was obvious they really love what they do and like to have a good time doing it. Do not hesitate to hire Edward and his French Picnic team.
Are you interested?
Send a message