57 Reviews
Recommended by 100% of couples
Quality of service

5 out of 5 rating

Average response time

5 out of 5 rating

Professionalism

5 out of 5 rating

Value

5 out of 5 rating

Flexibility

5 out of 5 rating
18 User photos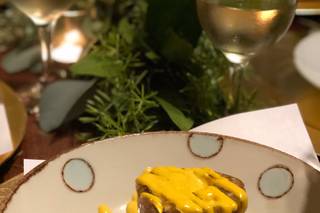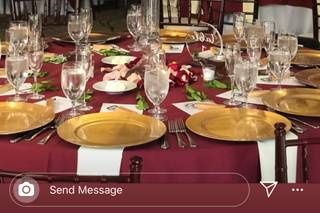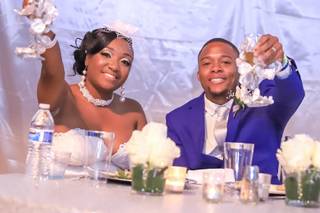 + 14

photos
Irholidayparty2019

Married on 02/12/2020

KPMAS Interventional Radiology Holiday Party

Thanks to an amazing team of talented people. My group was very impressed with presentation, DJ, photographer and the bar. It was a blast and well organized.

The only recommendation I have is to find out before event about dietary restriction.

Thank you for making it a memorable night.

Rashida L.

Married on 01/10/2020

Rave reviews

Having Mr. Butler design my birthday event was the smartest thing I've done this year.
For over 15 years I was a beauty professional working to prepare clients for various important events. During that time I had the honor of working as one of Mr. Butler's vendors. Working closely with Victor and his staff allowed me to witness his professionalism first hand. Victor goes to great lengths to ensure his clients are well served and worry-free. At that time I promised myself when it was my turn to have an event, I would definitely hire Mr. Butler.

I finally had the opportunity to follow through with that promise and was not disappointed. Last year I started a new birthday tradition which includes a party celebrating all the wonderful people in my life. Victor transformed the venue into a gorgeous, candlelit, dining experience equipped with live music. The ambiance was even better than I expected. My guests have not stopped thanking me for being invited and complimenting his work.
It was a great investment that I will continue to make. You hire Victor because he listens to his clients which leads to a fabulous production. His execution is everything!

Greg P.

Married on 10/19/2019

Managed every detail with a smile

Mr. Butler and team were amazing. We weren't sure we needed to hire a planner but looking back; he not only saved us, he and his team are like family now. Remarkable value, flawless delivery all done in style and class. Very confidently book!

Are you interested?

Send a message

Alícia

Married on 10/19/2019

Exquisite service with Mr Butler

Victor Butler was a professional from the start; he was able to acknowledge that I needed to know how his team would serve our wedding needs from the start and was able to talk to me at length about his service and how they would fit into what I was needing as a bride. Victor was always attentive and answered every question we had once we hired him and even before we hired his team! We had so much to do and he kept us on track until the wedding day. We couldn't have had more peace of mind if it weren't for Victor. We've grown to care about him because he's genuine and personable. He pays attention to important details that make your wedding day extra special. Our wedding was amazing and I don't know that it would have been the same without him. I can say that my worries as a bride were so manageable because Victor took charge of everything we needed. His coordination skills are impressive. I would hire him again and would recommend him without hesitation. Though I'm not getting married again, I imagine we will cross paths again with Victor in the future regarding business. Many people were impressed with his services! my wedding was a dream thanks to Victor and all involved with coordinating with him!

Alexxis W.

Married on 09/14/2019

Victor and his team were incredible!

Victor and his team did an amazing job and I would do it all over again if I could. Everything looked incredible and they were prompt and on time with anything that was needed. I cried because I was so happy with how everything turned out. Everything was gorgeous and I was so excited. I would love to work with him and his team again! I love them to pieces! Thank you Victor for everything. I couldn't thank them enough.

Events by Mr Butler's reply:

Alexxis,

I'm so happy that we were able to make your day so very special! You deserved every minute of it. Thank you for allowing us to be a part of your wedding day.

Mr. Butler

Mr. Butler

Devante R.

Married on 09/14/2019

Best day ever

They were professional and respectful. I love the way they setup the place and clean up the place. I appreciate the love and the care of EventsBymrbutler. I would recommend any body that is getting married to go threw them.

Events by Mr Butler's reply:

Devante, It was absolutely our pleasure! Thank you for allowing us to be a part of your very special day!

Mr. Butler

Schenique H.

Married on 06/15/2019

Excellent Service! Mr Butler was very PATIENCE with us to ensure that our guest was in Ohhhh upon their arrival!

I would highly recommend this vendor. His quality of service is ABOVE STANDARD! You won't be disappointed with Mr Butler. He is very detailed and run a tight ship! No stones left unturned.! Thank you Mr Butler!!

C. Rollins

Married on 01/11/2019

90th Birthday Party - Events by Mr. Butler

Mr. Butler is very professional and courteous. He listened to my requests and explained what he was doing. Event ran very smoothly. He is a detail person.

Tatiana

Married on 09/22/2018

The event was my 50th Birthday on September 22, 2018 at my home. Events by Mr. Butler created the perfect rustic chic décor that I was looking for. Their creativity in designing the layout, décor of the tables, setting up the eating and cake station, as well as the bar area were unsurpassed! They listened to what I wanted and made my vision come true. What could have been such a stressful time because of many last minute changes became a true work of art. In a blink of an eye they had tables cleared, dessert served, and made a dance floor all in one location. My guests complimented me so much on how beautiful it was! Words can never express my gratitude, they went far beyond my expectations. I would highly recommend them for any event!

Kisha

Married on 07/31/2018

Birthdays are every year and every year I say I'm going to have a party, but I'm always too busy to plan it. This year, I hired the EventsbyMrButler team to take care of everything. Mr. Butler asked me what I wanted and I told him to surprise me. I didn't event have the time to come up with a theme, color, etc. He told me not to worry and I didn't!

As I expected, he and his team did an amazing job. He turned my simple backyard bbq party to a fabulously, chic affair. My guests were gleaming with joy when they were greeted by the EventsbyMrButler staff with butler passed champagne! He transformed my plain backyard to an oasis and my guests were treated like kings and queens. I received many wonderful compliments about the event lovely affair. I can't want to hire the EventsbyMrButler team for my next affair.




Jamie

Married on 06/23/2018

This is an amazing company with an absolutely fabulous owner! Victor and his team helped with so many details that I could enjoy the planning process and I was able to fully enjoy the day of my wedding. They brought my vision to life, and made me felt like a princess on my big day. I'd recommend them to any and every bride I know.

Events by Mr Butler's reply:

Jamie,

Thank you so much for the wonderful and heartfelt words you wrote in a review for our company. We are truly grateful! We were so honored to have been apart of creating such a magical and memorable event for you and your family and allowing you to have peace of mind on your very special day. The wedding was perfect thanks to your fabulous vision and impeccable taste! I'm so happy we were able to bring your vision to life.
Thank you.

Mr. Butler

Brandon S.

Married on 06/23/2018

Outstanding Service!!

Victor and his team were absolutely wonderful throughout the planning process. With Victor's direction, the wedding ceremony and reception went as smooth as possible. As nervous as I was to walk down the aisle, knowing Victor was running the show put me at ease. Hopefully, Victor will be planning ALL of our family events in the future!


Swanza

Married on 04/21/2018

What can I say about Mr Butler? He and his staff are absolutely AMAZING. They say love is in the details and Victor truly gets it. I've had the pleasure/pain of planning events myself so I completely understand the sometimes Herculean feat it can be to bring a top notch production together. He managed the nerves of my mother the bride especially well. Having Victor is like having a "Fabulous God Butler" (couldn't quite figure out how to make a fairy godmother pun but you get my drift). The entire event was "magical". My parents waited 50 years to renew their vows and to have their special day. Victor made everything gleam. It was if he painted the picture of my parents love story around the room and wrapped in a glow that their love was built on. Timeless. I was not paid for this endorsement in anyway, but as one who has a degree in stage craft I know a MASTER planner when I see one. Mr. Butler you have a fan and I will continue to utilize your services.

Donyell

Married on 04/21/2018

I'm am so grateful for Victor and his team!! Victor made the entire planning process so seamless. This is the first event that my sisters and I planed that we didn't have to worry about doing the heavy lifting, Victor and his team took care of it all. Victor took the vision and executed it perfectly, he went above and beyond the call of duty of an wedding planner. He is a dream maker. My mom and dad were able to have the wedding they dreamed of and deserved for 50 years. The experience was amazing, his taste and attention to detailed is impeccable. Victor doesn't just create an event, he creates and experience, a moment that you will cherish for a lifetime.

Donyell Tibbs (Maggie & William Tibbs 50th Wedding Renewal Ceremony )

Events by Mr Butler's reply:

Donyell,

Thank you so much for writing such beautiful, honest and heartfelt words in your review of our company. We are truly grateful! We were so honored to have been apart of creating such a fabulous and memorable occasion for both mom and dad, you, your sisters and family allowing you and them to have peace of mind on their very special day. I was our pleasuring being apart of this very special family affair. Thank you again for the opportunity.

Mr. Butler

Victor and his team are amazing. If you enjoy working with local businesses and vendors, Events by Mr. Butler is able and willing to locate them at a great price. Victor was very responsive and assisted with any questions I had while planning my wife's surprise 40th birthday. My wife and her guests were very happy! This definitely was a memorable night for her!

Freda

Married on 11/29/2017

We appreciated your attention to detail and relentless determination to create our memorable event. The dedication to our guests, your event support and management help create our celebration in a timely manner and within our budget. We are thankful that we selected you for our event and look forward to recommending and using your services in the future. You made my granddaughter's event memorable.

Shtora

Married on 04/22/2017

Thank you thank you thank you it's all I can keep saying this to my experience with Victor Butler he made our wedding so beautiful and wonderful I did not think it could be done in such little time and oh my goodness he made it work he made it so beautiful and so amazing so exclusive I was lost with breath as soon as I came in and walk down the aisle and came into the Hall everything just sent me into a Paul thank you to Victor Butler and everyone on your team

Darrell

Married on 04/08/2017

I had a housewarming on April 8th, and another house party in June 2017. Both of these events were last minute requests for Events By Mr. Butler. Not encouraging last minute requests but, the responsiveness, readiness, and professionalism surpassed my expectations. I utilize the company's bartending service. It was a pleasurable experience and more importantly, I've gain a very reliable bartender for future event. Thank you Events By Mr. Butler for your exceptional service!
Sincerely,
Darrell Chase

Ayanna

Married on 04/01/2017

If you are looking for an event planner to help alleviate the stress of planning a wedding or event, Victor is the planner for you! I secured Victor's services to plan a surprise milestone birthday party for my husband. I work long hours and did not have much time to explore venues and vendors. Victor pulled everything together for me within my budget--and even scored a few deals for me. The vendors that he used were all very professional and made the event a huge success. Thanks to Victor's efforts, I just had to make a few decisions and show up for the party. I was extremely pleased with the event. Victor totally nailed my vision. I also appreciate his kind spirit...his personality put me at ease and made the planning process stress-free. I would not have been able to pull of such an amazing event without Victor. HE IS THE BEST!!!!

Karida

Married on 04/01/2017

My team and I had the pleasure of catering a Grand Surprise Birthday Party, spearheaded by "Events by Mr. Butler." As a Personal Chef and Professional Caterer who works with many event planners in the Washington D.C. area, it was refreshing to work with Mr. Butler and his amazing team. Mr. Butler was extremely professional, very detailed with his clients request and in constant communication with our team from beginning to end. I was very impressed with the flawless decorations and set up that his team put together and how smooth and organized the event went. I would definitely recommend "Events by Mr. Butler" to anyone who is looking for a personable, friendly event planner that will make sure every detail of your wedding or function is perfect!

Payam

Married on 10/15/2016

I used the company for my Client appreciation party and trust me, it worth every penny. Highly recommend their service. Every year i had party for my client by myself and this year i decided to use their service. It was the best thing ever i have done. It does make a very big different and make your guest go WOW. I am planing using them again this coming year. All my family using them and always spoke highly of them until i try them myself and i saw first hand what an impact had on my event. Everyone at my party enjoyed their time and with a very few minor suggestion from Victor it did make a huge different. Believe me this is one of the best thing you can do for your guests and yourself.

Mary

Married on 08/12/2016

There aren't enough words I could use to describe Victor and his fabulous team. I, myself, have been in event planning and the last thing I wanted to do was plan my own wedding. After one meeting, he had my "vision" and exceeded that vision beyond compare. Romantic, elegant, whimsical were the only words that I used and Events by Mr. Butler went above and beyond. Every detail was PERFECT! There aren't enough "thank you's" that I had at the end of the night. You gave me my "dream wedding" and I will forever be grateful.

Victor put on a very professional, yet intimate reunion. Food, drinks, music, and a great space for conversation and catching up provided a memorable evening for all. Can't wait to have the next one organized by him and his team.

Rita

Married on 07/30/2016

Mr. Butler and his amazing team were more than you could hope for. Professional, punctual, and so organized. Our event was perfect. I could not have asked more. Well done!!

Dan

Married on 07/30/2016

5 Stars. 5 Stars. 5 Stars. That's the kind of service you get from Victor and his team. They are incredible. The food, the drinks, the music. Well done.
Are you interested?
Send a message