Reviews
5.0 out of 5 rating
Quality of service

5 out of 5 rating

Average response time

4.9 out of 5 rating

Professionalism

5 out of 5 rating

Value

5 out of 5 rating

Flexibility

5 out of 5 rating
100%
Recommended by couples
12 User photos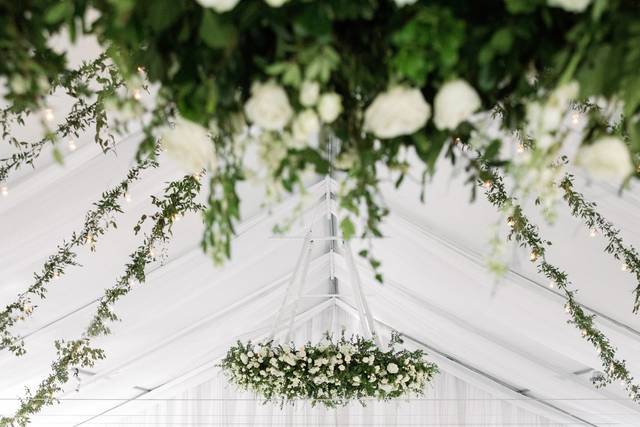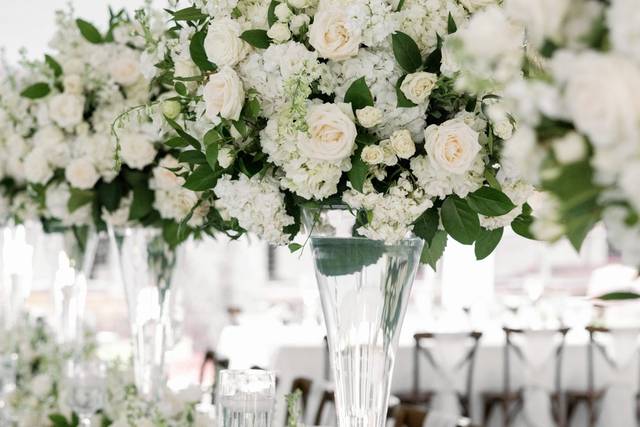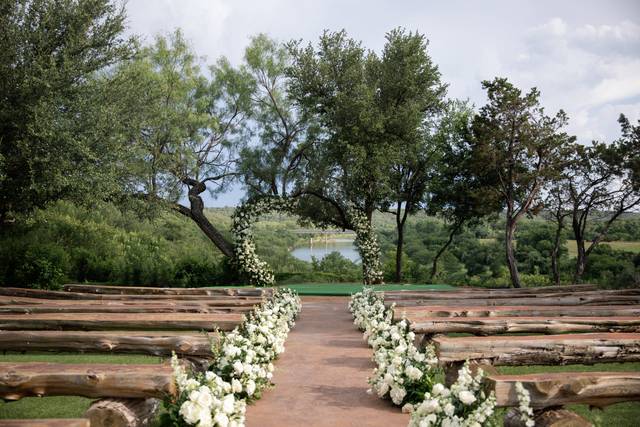 + 8

photos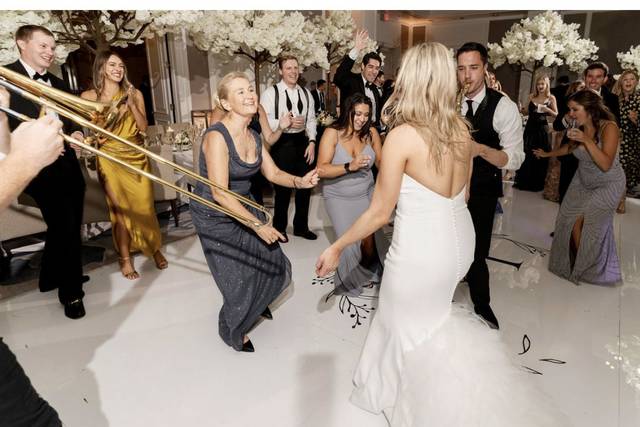 Susan S.

Married on 06/10/2023

On Point! Kristin Is A Dream Come True!

From the initial meeting to the ceremony and reception, Kristin's services were seamless! Her work ethics to her ability to manage a budget, she was on point! She has a very calming and professional demeanor which is much needed when planning a large event for such a special day. Every single detail was thought out, she sees around corners and mostly her talent to design is state of the art! She took a blank canvas venue and made it into the most magical experience we could have ever imagined. It was my daughters dream come true wedding but more so, Kristin IS A DREAM COME TRUE wedding planner!


Anika

Married on 03/04/2023

Amazing experience!

We had the pleasure of working with Hannah on partial planning.
First and foremost, Hannah is just a wonderful and pleasant person- very easy to get along with and wonderful to work beside.
Leading up to wedding day, she kept us focused on what was important, helped guide decision making, recommended great vendors, and helped us think about all the little details that could have been easily overlooked.
On wedding day, everything felt like it went perfectly. I couldn't believe how seamless the whole experience felt. Hannah was fantastic at letting us be in the moment and then nudging us and our vendors onto our next activity to keep us on schedule. She also did a fantastic job keeping us all calm throughout the process.
I feel so grateful to have had the chance to meet and work with her and would highly recommend her and the entire Events by Kristin team!

Makenzie L.

Married on 02/04/2023

The best in the business!!!!

My husband and I loved working with Kristin from the very beginning. From our first phone call to wedding Kristin was professional, personable, and intentional with every single thing she does. She is the most kind, generous, patient, reliable, hard working person I know. She was always quick to respond, aware of every detail at all times, and always advocated for us. She has an amazing choice of vendors and always did a great job at providing options so that we could stay in our budget and still have our special day perfect. Everyone in our bridal party could not stop talking about Kristin and how much she was a hard worker, on top on everything, and most of all how sweet and happy she was. Working with Kristin was an absolute dream come true and there is no way our big day would have been what it was without her. She will always have such a special place in our hearts.

Are you interested?

Send a message

Morgan

Married on 01/28/2023

Fantastic Wedding Planner

Kristin did a fantastic job planning our wedding! She made the whole process feel effortless especially the day of the wedding! She made it so we could be relaxed and enjoy every moment! I would highly recommend her to anyone!!

Jeff J.

Married on 01/28/2023

Fantastic Experience

Kristin is an experienced and creative wedding planner with a full range of wonderful wedding ideas. She has a quality network of talented vendors that delivered a fantastic wedding experience for our daughter, son in law, family and guests. Kristin is well organized with experienced eye for the smallest details while successfully staying within our targeted budget. Throughout our wedding weekend, Kristin was 100% engaged, orchestrating the day's events and handling any last minute decisions. Krisin was a 10 out 10 which allowed us to completely enjoy the wedding and celebration of our daughter and son in law.

Anne M.

Married on 10/15/2022

Simply The Best

Kristin was simply magnificent as a wedding planner. She helped us with our wedding and the night before Welcome party. She is professional, highly organized, no nonsense but warm and friendly, she's an encyclopedia of valuable information and contacts, she respects a budget, honors your viewpoints, and brings a wealth of experience to the table that she uses to guide you through the process.

She knows how to manage a project timeline and she presents you with choices and decisions based on that schedule, which prevents you from being overwhelmed. She navigated well between our planning team (bride, groom, MOB and FOB) and she ended up actually saving us money by passing on vendor discounts and knowing of savings opportunity.

She'd offer 3-4 choices for each vendor that were thoroughly vetted by her, either by her knowledge due to prior collaborations, or by whether or not they'd meet our budget, style or expectations. This saves so much time. Each vendor we chose did a fantastic job. Something we learned:
it is a benefit using vendors with whom your wedding planner has experience because their interactions are seamless.

The day of the wedding was stress free. She was calm and compassionate and helped us at every turn. The day flowed perfectly and that was all Kristin. Above all that, she is simply a joy to work with. She told us her goal was for us to have the perfect wedding experience for our daughter and by every measure that is what we had. Kristin is simply the best.

Emily B.

Married on 11/20/2021

BEST wedding planner!!!!

Kristin and her team are incredible!!! They are so nice and have a calm manner throughout the entire process. The communication is outstanding and never once did I feel like something wasn't handled perfectly. I wish I could do it all over again because Kristin is an amazing wedding planner and such a kind person. 10/10 recommend!!!

Lara M.

Married on 08/28/2021

I can't explain it .. she was that good

It has been so tough for me to write this out, because I have so much to say about this amazing woman. My mother and I look at Kristin like family. My husband and I were engaged for 3 years during covid , and Kristin was an absolute DREAM. She was patient, kind, and very understanding.

Kristin is in a business where it is TOUGH... to say the least. Well. my fellow future brides, Kristin makes this process easy and stress free. What I found unique about Kristin, was she not only cared about my vision as a bride, but she cared about my husband's vision, as well as both our parent's sides and even wanted to know what our friends liked and what their vibes were to try to create an overall vision for the wedding that would be appealing to all. She listened, and listened, and executed like a boss. The connections that she has with her vendors, and the respect that these vendors have for her , is so inspiring. Her vendors are so talented... and they also are all so patient and kind as well. It's so amazing to see that she has the best relationships with her vendors. I would say that the theme that I see with Kristin and her vendors is respect and trust.

Fun fact: I think to this day I'm her longest client. This whole wedding just really painted who I was, as well as my husband. The fact that she could make sure that there would be mini pizza slices with New York Yankee flags on there ... ❤️ She's all about the detail but she's also all about making sure you are comfortable with what you've decided on and she makes she you are on budget. She is so relatable, kind and loving. She always answered my phone calls when I was overwhelmed, and sometimes it had nothing to do with what flowers to pick... sometimes she would just be a friend that I could lean on

Lastly, I chose Kristin because several years ago, I went to a wedding that she did, and it was the first wedding out of our group of friends... we were all in awe. ... all our friends STILL talk about how this wedding is the best wedding we have ever been to and it has been years. Kristin is a class act and she really made all of our dreams come true. One other fun fact.. originally I didn't want to get married in a ballroom. I wanted more of a wanderlust vibe, and she completely transformed the ballroom with trees, greenery, and vines... thank you to the vendor she chose for
Me.. ( highly Recommend Garden Gate ) . And she helped me choose a hotel that had a layout that would be the most appropriate for this... also .. everything she chose for us was just on point. We were so happy with our venue , and with everything.

Kristin... thank you for everything. You are the absolute queen.

+ 5

photos

Evelin

Married on 03/05/2021

Best experience ever

Thanks to Kristin my wedding process was smooth and cero drama. I would recommend her big time. Don't think an event planner isn't needed or expensive...it's 100% worth it! You will be able to enjoy more the before and present wedding day!

Laura I.

Married on 11/07/2020

Fairy Godmother of Wedding Planning

Kristin is the fairy godmother of bringing wedding dreams to life, and that's exactly what she did for me. Not only is she a lovely human to work with, she knows the Dallas wedding industry like the back of her hand. Any desire or potential wish I had she was able to make it a reality. Planning a wedding during Covid was a stressful experience but Kristin was that ray of sunshine that helped ease that stress of accepting the things that couldn't be changed and focusing on the things that could be by making the planning process as smooth as possible. She has excellent relationships with some of the best Dallas vendors so you do not feel short changed when it comes to options. In short, my wedding wouldn't have been anything close to what it was without the flick of her magic wedding wand. My wedding was one of the best days of my life and I am forever grateful for Kristin and the hard work she did to make my day so special. She is truly a gem.

Katie K.

Married on 10/17/2020

Truly the best wedding planner and experience!!

Kristin is quite simply the best!! From Day 1, Kristin went above and beyond for our family. She made every decision as easy as possible from selecting vendors, collaborating on ideas that were fresh and personal to my husband and I, all while navigating the unknown and craziness of 2020. We originally planned our wedding for October 2020, but decided to postpone to May 2021. Naturally this brought a lot of stress and uncertainty, but Kristin was her calm, cool and collected self and made everything we had planned come to life. She is truly the kindest, most patient, reliable and all around amazing human being, exactly who want and need on your special day! There are not enough words or stars to give to show how incredible she is!

Alison M.

Married on 07/11/2020

Professional, organized and oh, so creative!

Kirstin was a pleasure to work with, from start to finish. Her ideas and suggestions for my daughter's "wildflower wedding" were fresh and original, which was exactly what my daughter wanted. But most importantly, Kirstin was cool, calm and collected as she navigated (without a playbook!) the "covid chaos" after Dallas went into lock-down just four days before the March 21st wedding. When the wedding was postponed, she had all the vendors rescheduled (at no additional expense!) in less than 24 hours. And when the wedding finally happened, it was absolute wonderful - we just could not have been happier.

Evalin

Married on 11/02/2019

Love Kristin!!!

My husband and I loved working with Kristin! She's super easy to work with, organized and went above and beyond to make our day special. She has a very calming presence, which helped keep everyone's stress levels as low as possible throughout the planning process and day of. Kristin also has a great relationship with her vendors and made it super easy to help pick the right vendor for us. We cannot sing her praises enough and would do it all over again if we could!

Olivia

Married on 06/01/2019

A Wedding Planner You Can Trust Your Most Important Day With

Kristin never failed to go above and beyond for my husband and me. In addition to being incredibly kind, communicative, patient, generous, reliable, and helpful throughout the wedding planning process, Kristin was a wonderful problem solver and the most calming presence during my wedding week. I can't think of a single detail she overlooked, and I could never imagine feeling so calm and taken care of during my wedding week and all throughout the wedding planning process.

Gina A.

Married on 09/22/2018

Kristin Mullen Cox

Kristin was the key factor in how smoothly our wedding day came together. From the very beginning she was there to help me with everything from choosing vendors, to dealing with any problems that arose, so I didn't have to worry about anything. Because of her, my special day went over perfectly!! I got to relax and enjoy knowing everything would be taken care of, and her creative opinions really helped me get the perfect vibe I was searching for!!! Hands down the best wedding planner I could have ever asked for, and I tell that to everyone i know!! She was awesome, and I couldn't have made it through without her.

Lauri S.

Married on 09/01/2018

Kristin will be your best investment!

Book. This. Girl. Seriously, you will not regret it. Yes, a wedding planner seems "expensive" at first, but Kristin SAVED us so much money. She negotiated with the our venue and extras that we would have paid for, she got them to include (or at least reduce the price for us!) Kristin will advise you on things to spend your money on and things that you can skip, but she never pressures you either way. Kristin kept us on budget, kept us on a timeline, and kept my daughter and I from killing each other at times! She knows all the best vendors and they clearly respect her and enjoy working with her.
But here's the best thing. She truly cares about your big day and making it perfect. She will become a friend through this process. She puts her heart and soul into making your wedding dreams a reality. I can honestly say that planning my daughter's wedding was FUN (and I was not expecting that!)
I would 100% recommend Kristin to any bride and groom planning their wedding.

Andra

Married on 04/28/2018

I selected Kristin to be my wedding planner after being a bridesmaid in two friends' weddings that she had planned. And let me just say, my wedding would not have been possible without the help of Kristin and her team. I wanted to be more of a "hands off" bride, and put a lot of trust in my vendors to see my vision and carry it out in their own creative ways. Kristin was so intuitive to my needs and ideas that she could speak on my behalf and know exactly what I was thinking. She was always one step ahead, cool as a cucumber, and had a sense of urgency when necessary. She also was a total pro at handling my difficult family :) I would hire Kristin a million times if I could. Highly recommend!

Erin

Married on 03/17/2018

Best planner ever!

Kristin was amazing. From the first time we met to the weeks after the wedding! My mom and I had plans to look at a couple of venues, Kristin suggested one more and it turned out to be the perfect place! She was super responsive, great at recommending different vendors, was patient when I couldn't make a decision, all around just the best! We had some incidents with a groomsman the day before and day of the wedding and Kristin handled all of that without me knowing or having to worry about anything! She made sure we had the best day of our lives and I can't thank her enough!

Allison

Married on 01/06/2018

Hiring Kristin to coordinate our wedding may have been the best wedding decision we made! Kristin handled ALL the details with grace and ease. She was always a step ahead, made the calls, had the tedious conversations, and did it all while making me feel calm and confident - the biggest gift! She went above and beyond. Kristin is the sweetest but also knows how to be assertive to get the job done. My family and bridesmaids still talk about what an asset she was the day-of and how much they enjoyed her presence and coordination. They always knew where to get their questions answered and commented on her kindness and calmness throughout it all. Kristin treated me like I was her best friend and ultimately gave me the best wedding gift of all - a perfectly coordinated wedding with very minimal stress!! I am so glad I hired Kristin!

Olivia

Married on 10/21/2017

If you are looking for the best wedding planner look no further! Kristin is not only extremely personable but gives 110% to make sure the day is exactly as you imagined. We got to enjoy the whole wedding weekend and didn't have to do or worry about a single thing. She will put together the best team of vendors that make you feel like family. Your wedding day will feel less like you are surrounded by strangers taking your photographs, or shooting your wedding video, even the team that serves your food... and make it feel like you have a big group of friends organizing your wedding day. She is truly an amazing person and passionate about her job. We love Kristin and her team and could not recommend her enough. There are simply not enough stars to give to show what a fabulous job she will do for you!

Sarah

Married on 10/21/2017

we live four hours from venue so a wedding planner was a must. Every recommendation/contact presented to us was top notch. our final selections made for an absolutely magical wedding. i WILL recommend events by kristin!

Monica

Married on 09/30/2017

Kristin was recommended to us by our venue and was fantastic to work with throughout our year and a half of planning! When it came to vendor recommendations and relationships, Kristin was a huge help and had great connections. All of our vendors had worked together in the past which made our wedding seamless. Kristin was also always available to ask questions, no matter how silly they may have been, and had our best interest at heart. Having Kristin's expertise the day of the wedding though made our wedding a fairytale. My family, my husband and I had nothing to worry about and had the ability to enjoy the whole experience. While the wedding definitely did fly by, I'm so thankful I had Kristin by my side to take care of all the timing and details so I could focus on having the best day of my life!

Alana

Married on 05/28/2017

When we were planning our wedding we knew we had a short engagement and would need help. We emailed Kristin based on a recommendation and she responded right away. She and her team were wonderful to work with right from the start. Kristin is calm, attentive, thoughtful and caring. She made wedding planning easy and provided the guidance and support I needed. Kristin and her team were extremely helpful and made our wedding day so special. We highly recommend Events By Kristin!!!

Kelcie

Married on 11/05/2016

We worked with Kristin for about three years and she was always available to meet, call, or email. Finding a venue was a hard task and we visited about 15 places before making a decision. She was very patient with us as we made decisions. She always recommended the best vendors for our event and helped us stay in our wedding budget. Kristin was a master at creating the event schedule and handling all our vendors. During the ceremony, she was the best multi-tasker and literally had every element (time, guests, etc) under control. Kristin was the best person we could have chosen to create our day. She was very professional, organized, and composed the entire time we worked with her. The event was seamless and it was completely because of Kristin and her team. She is a wonderful wedding planner and I would highly recommend her to any bride.

Darian

Married on 07/16/2016

Kristin was so fantastic to work with. She made the day of the wedding run so smoothly and didn't leave anything for my mom or me to worry about! My day would not have been as perfect as it was without her assistance!
Are you interested?
Send a message