Reviews
4.9 out of 5 rating
Quality of service

4.9 out of 5 rating

Average response time

4.9 out of 5 rating

Professionalism

4.9 out of 5 rating

Value

4.9 out of 5 rating

Flexibility

4.9 out of 5 rating
98%
Recommended by couples
33 User photos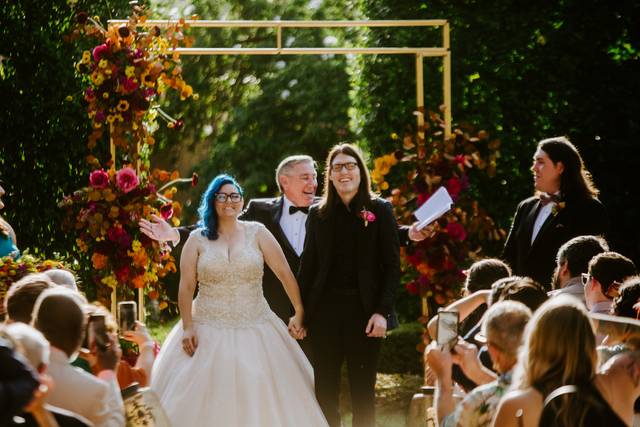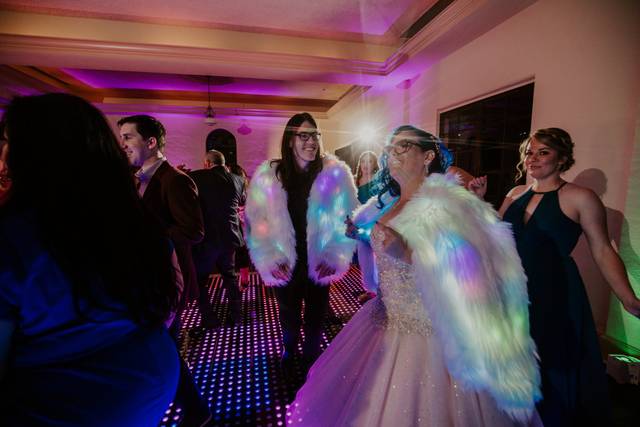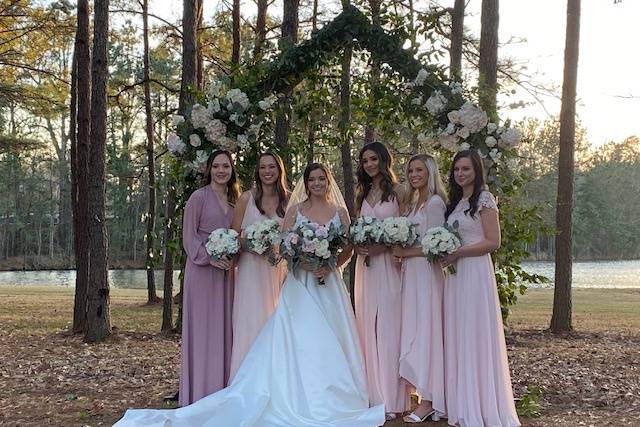 + 29

photos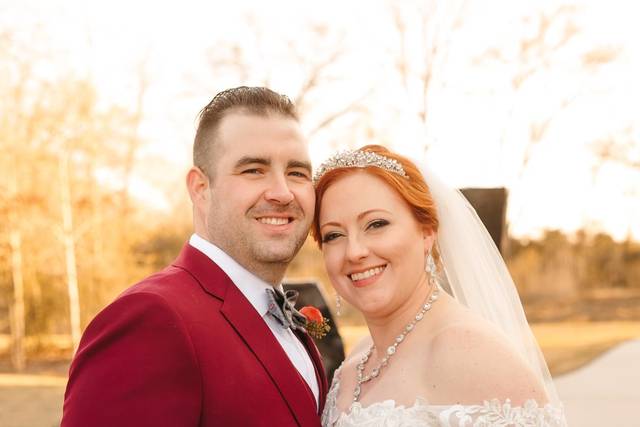 Nicole W.

Married on 10/28/2023

She truly goes above and beyond!

Kelly was so amazing to work with! She helped make our wedding beautiful and stress free! I am so glad she was a part of our day! :)

Michelle F.

Married on 04/22/2023

Eventology Weddings made life easy

We decided to go with Eventology Weddings because Kelly has a lot of experience in Galveston and at our venue. She recommended our caterer (Behind the Bash) and photographer (Gary Blake Photography) and these were two of the best vendors frrom our wedding. Additionally, she served as a calming source for me (the bride) as I was struggling to figure out what I wanted out of the day. The day before the wedding, Kelly attended our rehearsal and even went out of her way to pick up crayons for the kid's activity booklets, as we had left them at home. And on the day itself…where to begin? Kelly and her team ensured the vendors and reception venue were ready. She made sure we got drinks and a snack before our entrance. She kept us on track but also went with the flow and did not rush us. She even dealt with some of my last minute requests, going out of her way to and from the DJ to let him know that things had changed. And at the end of the night, she stayed behind and facilitated the cleanup of the venue. I'm sure there were many more behind-the-scenes things that she did. Overall, our day would have been so much more stressful without Eventology Weddings and I am so happy and grateful for Kelly and her team.

Dot K.

Married on 03/25/2023

Excellent Wedding Coordinator!

We hired Kelly for day-of wedding coordinator and she far surpassed our expectations. Kelly is just fabulous! She is an excellent communicator and was so helpful with advice about things we didn't even think of. We were also so happy with vendors we used that she was able to recommend. Kelly and her assistant Stacy, who was also wonderful, made the day run so smoothly. They went above and beyond plating cookies for our overloaded cookie table, just one of the multiple tasks we relied upon them for. Kelly is such a professional, she destressed us with her calming presence, but she also was ready with a laugh and a smile! My daughter and I HIGHLY recommend Kelly.

Are you interested?

Send a message

K H

Married on 01/21/2023

Warm, helpful, and reliable - a true pro!

We hired Kelly for her partial planning package and it was the best decision we made in regards to our wedding planning process! We knew we wouldn't have a lot of extra time to spend on wedding planning and needed someone we could trust to help us throughout the process. In the early planning stages, Kelly provided us her recommended vendor referrals that fit our budget and we were extremely happy with all of them! She also helped with reviewing contracts and was available to answer our questions. During the weeks leading up to the wedding, she kept us on track to make sure we wouldn't have any unwanted surprises going into the wedding day. Her professional expertise really shone during the rehearsal and the day-of. All we had to do was show up, which allowed us to truly be mentally present to enjoy our wedding day. She kept everything on schedule and we received multiple compliments from guests about how smoothly everything flowed. Working with Kelly was like having your favorite aunt on your team who also just happens to be an expert in all things wedding, and our families and wedding party really enjoyed working with her as well. The partial planning package is great for a couple who can't or doesn't want to make wedding planning their "other full-time job", but is ok with doing some of the legwork during the process. We have already recommended Kelly to our friends and would definitely hire her again if we had to do it all over!

Kymberley F.

Married on 12/10/2022

Kelly Balfour is a 10/10 wedding planner and you need her!

Kelly was recommended to me by one of my husbands aunts and after our first meeting I never looked back. Kelly is incredibly thorough! And she really knows her stuff. She made the wedding planning process such a breeze and had the best insight and vendor recommendations. Our wedding day went off without a hitch because she is such a pro and so was every vendor we used that she recommended. I cannot say enough great things about our experience. If you are having a wedding soon in the greater Houston area, Kelly is your gal!

Melissa L.

Married on 11/13/2022

Everything I wanted and more!

Kelly and her team are AMAZING. I thought I could plan everything myself and I don't even want to imagine what a disaster that would of been! I did the month of service and it provided me such peace of mind and helped me fill in the gaps with things that never crossed my mind. Kelly is a true professional and very experienced. She is easy to work with, a good communicator, and most of all HELPFUL!!!Although I did month of, I cannot imagine how stress free the whole wedding planning process would have been if I started with her. She came highly recommended from my sister in law who had her as a day of planner and she was referred to from her friend. That spoke volumes to me and I knew I could trust her to execute everything beautifully.. Kelly and the Eventology team did such a wonderful job, I cannot thank her enough. Don't think twice: this is your sign to hire Eventology! You will not regret your decision, she's amazing!!!

Tammy N.

Married on 11/05/2022

Kelly was very professional and so easy to communicate ideas and concerns to. She is there for the client 100%!

Kelly is the BEST! I hired her for my daughters wedding. She worked up a timeline that helped the day go smoothly. She coordinated with all the vendors weeks before the wedding and I, as the mother of the bride, was able to enjoy myself without any worries. Kelly handled everything and was a joy to have by our side. She is very professional and knows what she is doing, making sure the day went smoothly and handling any issues that came up with the venue. If you're looking for a wedding coordinator that is easy to talk to and will have your back.....Kelly is your lady!!

Stephanie M.

Married on 08/02/2022

Kelly works miracles!

Quite simply put, Kelly is a miracle worker. My fiancé and I were engaged on February 14, 2020 and my wedding was on February 20, 2021. The year we had for planning contained a decade's worth of unprecedented, historic events, crammed into 12 months, several of which forced sudden sweeping changes to the vision for the wedding. Kelly took it all in stride and just as importantly, helped me hold on to her calm and her confidence each time something shifted. While her experience and knowledge of the industry and the process are priceless in any circumstances, for ours, she was utterly essential. The final week before our wedding, the history-making winter storm (Snowmageddon, to some) hit Texas, taking out power and water across the state, during the critical days for all the final preparations: venue, catering, cake, flowers, everything. Kelly worked tirelessly, coordinating with our vendors to solve whatever problems they faced. She, with the help of her amazing assistant Laney, produced wedding favors (beautiful macarons in our wedding colors, packaged and painstakingly tied up with coordinating ribbon) seemingly out of thin air when we our original supplier had to cancel roughly 48 hours before the wedding, and she worked with the venue to bring in a cute little tasteful portal restroom trailer, complete with flushing toilets, just in case water pressure on site would be a problem. She delivered my perfect fairy tale against all odds, and I can't possibly be more grateful. I know she can deliver yours too!

Samantha N.

Married on 06/18/2022

Perfect for a PARTY!

Kelly was always extremely responsive to all of our questions and needs. She was also very easily able to walk us through the process of planning a wedding and had many amazing vendors she was able to recommend. Kelly was such a blast to work with and listened when we asked for a great party!

Allyson D.

Married on 04/09/2022

Best of the Best!

Kelly is truly the reason our wedding was so amazing. She is not only an amazing person that we can now call a great friend, but so incredible at her job. From the very beginning, she worked with us to understand understand our vision for our big day and our all the pieces in place to make it happen (we opted for her full planning option). She has a PREMIER list of vendors that she can suggest at the drop of a hat, but will never push you to use certain vendors - she always lets you make your own, unbiased decision as to the vendors you want to use, but is willing to give you pros and cons or suggestions whenever you ask. Kelly works hard to do all of the "behind the scenes" work, while checking in, giving deadlines, and providing budget updates frequently. Speaking of budget.. she is very honest and realistic when helping to set up your budget breakdown (once you've given her an overall budget). This just highlights how well she knows the industry and how well she works to understand, up front, the vision her clients have.

She also did a great job of spreading out the decisions (and expenses) over the duration of the planning period, so we never felt burdened or overwhelmed by the payments or the number of decisions that had to be made. Kelly also understood that one of our biggest concerns was the flow of the whole event and making sure nothing felt jagged or like guests were standing around waiting with nothing to do.. we received a countless number of compliments from guests all night (and for weeks afterward) of just how well everything flowed together. She also made sure that the day was about living in the moment - not dealing with any small mishaps (such as the power going out to the catering kitchen mid-Ceremony), to the point that neither we nor our guests even noticed!

We really could talk all day about how amazing of a person Kelly is, and what an incredible wedding planner she is. The best thing we know to say, is if you are looking for a wedding planner in Houston, Kelly is premier, on another level, and should absolutely be the first and only person you call.

Emily B.

Married on 10/16/2021

10/10, thank you Kelly!

We had an amazing wedding day thanks to Kelly!! She was absolutely instrumental in helping us find the best vendors, describe to them our vision, and of course making the big day run smoothly. She was honest and up front about everything and a huge resource of knowledge. Thank you Kelly!!

Mindy W.

Married on 10/11/2021

Excellent, competent wedding planner

Kelly was a delight to work with and was extremely helpful when planning my daughter's wedding. Kelly knew all the vendors to go to and work with, provided endless advice, went to all the venues we wanted to look at, and was an excellent resource!! I highly recommend Kelly. On the day of my daughter's wedding, everything worked seamlessly and Kelly and her assistant, Layne did an excellent job so we could enjoy the day!! Kelly knows her stuff so you don't need to worry about the details..

Jessica R.

Married on 10/09/2021

Amazing! Thank you!

Kelly was absolutely AMAZING! She was so helpful and really took the stress off of me on my wedding day! If you are looking for a wedding coordinator/planner, look no further!!

Shelly S.

Married on 09/03/2021

Wonderful Experience!

Wonderful experience! Kelly is a professional with great taste, an eye for detail and amazing organization skills. She works with the best and nicest wedding vendors which made for an exceptional experience with my daughter's wedding. Her assistant Laney was great as well and the two of them worked so well together. Kelly is also budget savvy and was able to save us money. Everything came together and ran very smoothly. So many guests have said our daughter's wedding was the nicest wedding they had ever been to and I have to admit it exceeded my expectations. Best of all, my daughter and new son-in-law LOVED their wedding. I highly recommend hiring her!

Cheyney L.

Married on 05/08/2021

Absolutely incredible

Wow, what can I possibly say about the best of the best that probably hasn't already been said? Kelly Balfour was referred to me by one of my closest friends (who has excellent judgment in all things) and when I say Kelly saved the day, experience, everything, it's because I don't have better words to describe how much her help and thoughtfulness meant to us. Kelly worked with my family for initial wedding planning through the onset of COVID-19, and then through the rescheduling hassle with such kindness and understanding. She had no issues with setting up calls to talk me through details, even though I was out of state, and took care of any and all last minute requests. She thought of things I hadn't, and was so patient even when I was getting anxious about things getting done. Despite a COVID-19 setback, our wedding went off without any problems, and Kelly had a huge part to do with that. She's also insanely friendly and genuinely loves what she does — which shows in the work she puts forward. For Kelly: Thank you for making our wedding experience as perfect as can be. It wouldn't have been the same or nearly as amazing without you. For any bride-to-be reading this: Congratulations and hire Kelly to make your life that much easier. She's worth every cent!

Sara P.

Married on 01/09/2021

Book kelly!

AMAZING! Kelly is the best you guys! She consistently responds quickly, knows so many vendors in the industry, and can really guide you on what to do or not to do. Her constant advice was invaluable to me. She saved me money in so many areas and was always available to help. Day of she completely set up my reception space and without much to go on, she executed it exactly to what I always dreamed of. There was so much going on that day I am sure there was even more things that happened I wasn't even aware of but she managed guests (during times of COVID which can be difficult), set up, vendors, and making sure my husband and I got through the night smoothly. She also packed everything up and got us extra food and cake to go. She is an amazing service at an amazing value and I highly recommend! My best friend already has booked her for her wedding due to seeing the service she provided me!

Austin L.

Married on 12/01/2020

The perfect day-of planner

Kelly was FANTASTIC! We found her rather last minute, and she was able to swoop in and take care of every little detail that we almost certainly would have overlooked. She helped us feel calm and taken care of, so we could focus on the most important thing: getting married!

Kristi K.

Married on 10/24/2020

The Best In Their Field!

My husband and I were impressed with Kelly from the first day we met her. As soon as our initial consultation meeting was over and Kelly left our house, we called the other planner we had scheduled an appointment with and canceled and called Kelly and told her we wanted Eventology! She was the best decision we ever made! I felt like I was planning my wedding with a close girlfriend. She was always there, communication was constant and reliable, and our vendor visits were always FUN! Not only does Kelly have great taste but she is a true expert in her field and has great relationships with everyone from the most prestigious vendors to the new people breaking into the industry and working to make a name for themselves. Because of Kelly's level of work and commitment she also has their respect.
I will never be able to comprehend Kelly's magical ability to multitask and organize something as detailed and complicated as a wedding! Our wedding was on my birthday and Kelly dealt with more of my family members than I ever realized to incorporate several amazing surprises in our day (think birthday mariachis, a saxophone player flown from out-of-state, and a surprise highlight video!). When my husband and I look at our wedding album and watch our video we are both in awe of the beautiful night she put together.
A week after the wedding was over I really felt the void of a missing friend. I missed texting, planning, and joking with her! From the bottom of my heart Kelly is my hero and if you hire Eventology to plan your wedding you are lucky and in the best hands possible. I cannot recommend a better planner and human being!

Ladonna L.

Married on 06/13/2020

Wonderful Beyond Words!

I can't imagine planning my daughter's wedding without Kelly. She was so helpful every step of the way and a godsend when we had to change venues at the last minute due to Covid. She made sure everyone had everything they needed, was so thoughtful and considerate and really made the day perfect. Kelly went above and beyond our expectations and I would highly recommend her to anyone planning a wedding.

Alex A.

Married on 02/29/2020

Great value and service

Kelly was an amazing wedding planner for us, and we felt we got a great value for her services. We utilized her mid level package where we handled most of the up front planning, and she handled the leading up and day of coordination. Our wedding went very smoothly, and it was an amazing event that we will remember forever. We would definitely recommend her to our friends and families in the future.

Ally S.

Married on 01/12/2020

Kelly and her team are the ONLY people you should hire for your wedding!

Kelly and her team UNBELIEVABLE. We found her just about two weeks before our wedding when we realized we really needed someone to help. Our meeting was so helpful and she helped us create a system so nothing fell through the cracks. Day of she was perfect. Everything went so smoothly, I barely noticed that everything was happening. We had a bunch of tiny details (like a temp tattoo station) that she made sure were perfect. She even handled a couple of strange situations we had to deal with from people being, well, people. I knew I could trust her and everyone she worked with and that knowledge let me relax and have the best wedding day ever. Would 10/10/10 recommend her!!

Emily

Married on 10/19/2019

Great Service

Kelly is awesome to work with. She coordinated both of my daughters weddings and did a fabulous job! She is detail oriented and preemptively managed problems before they could become a big issue!! I really enjoyed working with her and I highly recommend her services!!

Jennifer K.

Married on 10/06/2019

Day of Perfection ❤️

KELLY IS FABBBBBBULOUS! I can't tell you how impressed and thankful we were for her. Kelly was recommended to us throughout venue The Parador as a planner. After lots of research, she was the perfect fit for us. We chose to do her day of package as we had picked a few things on our own. TOTALLY WORTH IT! She gave us a very detailed paper on what we got with our package, and followed everything exact as said. She was also flexible with scheduling our meetings which was a bonus for us! She had everything organized and precise and followed the timeline perfect. My husband and I felt NO STRESS the day of. Everything was perfect! We can't thank you enough Kelly! If you're considering a day of coordinator or full planning, please reach out to her! She is absolutely worth it!

Erica T.

Married on 09/11/2019

The Best Wedding Planner!

My new husband and I first met Kelly about 1 year ago, where we were greeted by her big smile and energetic personality. We opted for her comprehensive services where she assisted us with everything imaginable when it comes to planning a wedding. Simply put, Kelly played a key role in making our wedding the wedding of our dreams.

When it comes to wedding planning, Kelly is very experienced having worked in the industry for many years. She has planned literally hundreds of beautiful and successful weddings. She has connections with dozens of vendors, whether it be venues, bands, florists, décor, you name it. In addition, Kelly was available, pretty much anytime we needed her. She was able to accommodate our busy schedules and many times, she met us after business hours and at locations that were conducive to us. If we needed to communicate with her, it was not a problem contacting her by email and her personal cell phone. Although wedding planning can be stressful, I never saw Kelly frustrated. She was always cool and calm, handing every situation well.

I am not exaggerating when I say Kelly helped us out with everything. She set up over a dozen venues for us to explore not only for our wedding reception, but also our rehearsal dinner. In addition, she found our band, food vendor, florists, photo booth, created and printed our programs and seating chart, amongst other things. Because she is so well connected in the industry, she was able to find us the best deals, which added up to thousands of dollars saved.

What really left a positive impression on us was how she was there hand and foot for our rehearsal dinner and reception. For example, more people showed up to our rehearsal dinner than planned and they were without seats. She took care of this without us even knowing until later. Another example is that for our reception, she personally stringed outdoor lights, wrapped 200 champagne glass party favors (which allowed our groomsmen to party it up the night before) and she even picked up a red bull for my husband when he needed a boost before cocktail hour!

If you're looking for someone to plan your dream wedding, Kelly is the person. I would give her a 10 star rating if this website allowed me. She is the best!


Carolyn B.

Married on 07/12/2019

A Beautiful Forever After

Months later, guests still talk about "The best wedding we've ever attended." Thanks to Kelly, we all had an amazing time and everything ran perfectly. Her expertise, exuberance, and flexibility made the planning process creative and fun. My daughter had a detailed vision of what she wanted. Kelly made that vision come to life. She has strong relationships with vendors, who responded to her immediately so that all of our questions and concerns were quickly addressed. She offered suggestions that proved to be invaluable. She took care of things that never even occurred to us. Eventology, with Kelly at the helm, was the best investment we made for the celebration of our daughter's wedding. We highly recommend Kelly to help you start the first of many amazing events in your life.

The right wedding planner will help make your dreams a reality - but only if you pick the right one. At the time that we called Kelly, we were feeling stressed and overwhelmed. We were six months out with many unanswered questions, over budget, far behind schedule, and a wedding planner who offered to refund our money because she was changing careers! From our first phone call, we knew Kelly was the right person for the job. She was so calm, re-assuring, and understanding. Kelly customized her service to meet our needs and put us at ease. After meeting with us, Kelly took the reigns with the vendors that we had already booked; she knew them well. Contracts were clarified which saved us money, meetings were arranged and questions were answered. Once Kelly became involved, the only stress this MOB felt was watching the weather forecast. I'm not sure how much influence Kelly had with that, but it was such a beautiful weekend that all of our out of town guests fell in love with Houston in December.

Are you interested?
Send a message