Reviews
5.0 out of 5 rating
Quality of service

5 out of 5 rating

Average response time

4.8 out of 5 rating

Professionalism

5 out of 5 rating

Value

5 out of 5 rating

Flexibility

5 out of 5 rating
99%
Recommended by couples
Awards
21 User photos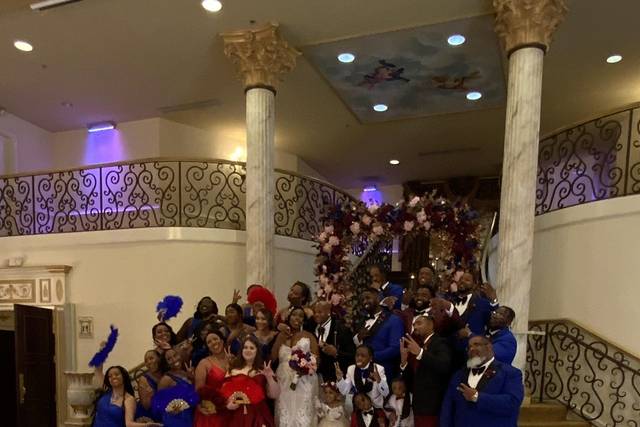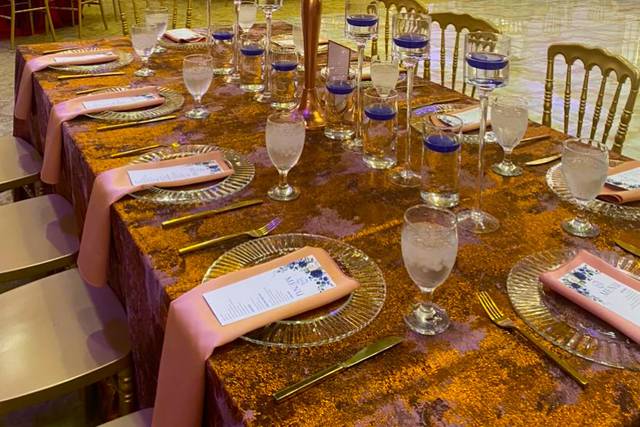 + 17

photos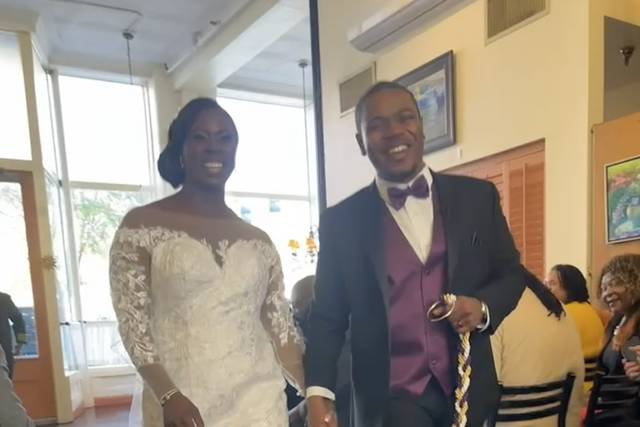 Nerissa F.

Married on 04/22/2023

Above and beyond!

Sharron helped me with my dream wedding from start to finish.If there was something that I was missing she always had options that I could use no matter what it was. My husband and I are truly blessed to have Color It Purple Event Planing with us on our Wedding Journey. Our special day exceeded our expectations and was the ultimate dream wedding!! Sharron was very professional, creative,soo helpful I honestly don't know what we would have done without her, I would recommend Color It Purple Event Planning to any and everyone who wants their wedding to be ran properly and efficiently. When I have another huge event they will be the first company I call to help plan.

Rolinda P.

Married on 11/19/2022

#HappyandSatisfied

The color it purple team were the link to bring my now husband's and I 3-month wedding planning journey into some order. In our minds, we thought our guest list and wedding would be small yet simple. We quickly realized that we needed help to get that extra It factor to make the day special for us (mainly me the bride). I was able to connect with Sharron and she was able to explain how she could support with the logistics of planning. Also, she informed me that one of her teammates (shout out to Darcy) would be taking the lead on the day of activities. Many thanks to the Color It purple team for stepping in to support "The Little Perry Tale" wedding. The couple was fly, the bridal party (our guests) were dope, and it was beautiful day despite the typical wedding day hiccups. #happyandsatisfied

Quadra F.

Married on 09/17/2022

Amazing wedding planner!!

Mrs.Sharron is amazing at what she does! I started working with her two years ago. She has truly been a blessing from start to finished. She understood our vision and how we wanted our wedding to be. It was beautiful. She down to earth and treat you like family. On the day of the wedding, she and her staff took care of us and let us enjoyed the day. We are honored and grateful for everything and definitely recommend her to other couples getting marry.

Are you interested?

Send a message

Nina

Married on 05/15/2022

The BEST decision we made for planning our big day. We couldn't have done it without this Rockstar!!

We are so happy we took the leap and asked Sharron to join our wedding team!!
We were attending a wedding expo event and met Sharron. Her down to earth, witty, and realistic approach to her introduction was honestly what caught our attention. We decided that we had to reach out for the consultation to learn more and decide if she would be a good fit for us. As a couple that was trying to plan a wedding in NC while living in VA, we could use the help of someone with more experience than we had. I have never been so happy about a decision!! Sharron was everything we needed and SO MUCH more!!! She took note of everything we wanted our big day to include, and she helped us give life to that vision. She was able to accommodate for us being out of state, and help to ensure we could find meeting times that would work for everyone. We stayed in touch and although we were not always able to make time to meet new vendor options in person, Sharron helped us make the most of our remote conversations. She helped us make sure our questions were answered during our vendor meetings and she helped us communicate any questions and concerns to allow us to make the best decisions. Sharron took time to really help us connect with vendors that she thought would meet our needs during the planning process. She would check them out and research each of them before she presented them as an option to us, and this really took out some of the stress for us during the process. It meant that we had a lot less research to do, and we could trust Sharron to give us great options that she truly felt would meet the vision. She helped us meet with some amazing vendors!! We built a rockstar vendor team, and I know we could not have put that amazing group together without Sharron.
One of our rockstar vendors was pretty unique. One of the big visions we had for our day was for it to be about me as the bride, but also about my groom – we were planning for OUR day, so we wanted to make sure we were both able to soak up that love and attention. Sharron found a mobile grooming service for the groom and his groomsman for the big day, and they absolutely loved all of that pampering and attention! She went out of her way to really help us find this unique service and it really helped make our big day even more special.
When I say this amazing, beautiful woman went above and beyond for us, I mean it! She is a rockstar, a lifesaver and honestly, one of the most wonderful human beings I have ever met. If you're planning a wedding, she is someone you can rely on to help you navigate and plan the whole way – and you'll enjoy the time you spend doing it, rather than being constantly stressed about the process! Our time with Sharron was filled with less stress, more laughter and SO many great decisions.


Tracy R.

Married on 03/27/2022

Couldn't have done it without her

When we first started planning my daughters wedding we thought we could do it all on our own we loved planning parties and celebrations. We found out real quickly that we needed to call a professional. Sharron jumped into action checking off what all we had accomplished so far and what we still needed to get done . She went right to work even helping us figure out things we had forgotten or didn't even realize we would need. She was vital in contacting all our vendors weeks and then days ahead of the wedding as well. Our venue had very tight time constraints and had it not been for her expertise there is no way we could have pulled things off . She was super pleasant, professional, and very punctual. If you think you don't need a coordinator you may want to think again and give Sharron a call she is born to do this job ! I'm beyond thankful we had her !!

Tracy R.

Married on 03/27/2022

I couldn't have done it without her

Let me tell you I was for sure not going to hire a planner I had always wanted to this as a job but boy did I find out real quick I needed her more than we knew . Sharon knows her stuff. She knows what you need before even you do . We had limited time before our ceremony and after due to time restrictions of the venue . She maximized this time with her expertise. She had everything running like clock work . We didn't have to do a thing . She made the calls coordinated everyone getting there and getting to where they need to be . She helped us at our 30 day walk through . The several months before the wedding and all day the day of the wedding . I know we would have forgotten something if she had not been there . She is worth her weight in gold for sure ! I am beyond thankful we decided to go with her . Do yourself a favor if you are getting married and call her immediately. She has a variety of different packages depending on what you need . Trust me you won't be sorry

Allison R.

Married on 03/27/2022

Great communication, direction, and service

If you are even considering a planner, I would recommend Color It Purple. Sharron worked with exactly what stage we were in with our planning, and found where she could best assist us. The help I received from her as our Day-Of Coordinator was priceless. Both my mom and I love to plan events, but this was the one day where we were so relieved to have someone else to direct. All I had to do on my wedding day was focus on getting down the aisle and starting my life with my husband. She handled all our last minute check-ins with vendors and coordination with the venue and our rehearsal. She was always easy to get in touch with and meet, as well. She was so great and we are so thankful!

Leanne R.

Married on 09/30/2021

Little bit overwhelmed

We were feeling way overwhelmed planning our wedding and just didn't really know where to begin. Trying to plan a wedding out of state with zero connections was proving to be more than I could handle! We decided to hire color it purple very quickly after our first conversation on the phone our wedding turned out to be everything we could have hoped!

Selby P.

Married on 07/03/2021

Sharon was an amazing host. She added touches on our day which made it more memorable.

Sharon was a pleasure to work with through the planning of our wedding. She was flexible to our wishes and she was very prompt. Sharon"s expertise is unmatched! We enjoyed her attitude and she will be missed.

Deanna H.

Married on 03/06/2020

5 Stars Aren't Enough!

Color It Purple provided STELLAR service! Initially, I tried to plan my wedding and quickly realized how stressful it was. Color It Purple was highly recommended, so I contacted Sharron. From the moment that she promptly responded, I knew this was the best decision that could have been made! Not only was she genuinely friendly, Sharron listened to my ideas and assured me that she had it covered. My future husband and I allowed her to change as she deemed necessary and totally trusted Color It Purple to make our dream wedding and reception a reality. Color It Purple was professional, timely, honest, tasteful and rendered incredibly BEAUTIFUL results. There was no detail overlooked or compromised!! We were well-informed and the communication was consistent and purposeful. We can't say enough about how Color It Purple handled every single detail with optimal care and delivered more than we could have ever imagined. For all the brides/couples who think they can plan and orchestrate their own wedding and/or reception, please reconsider, don't stress yourselves out and give Color It Purple a call!!! You will be eternally elated!!

Cierra

Married on 08/17/2019

Wedding planner turned family

I had the pleasure of working with Sharron, and she didn't disappoint! She proved to be more than a planner, she took the time out to drive to Charlotte NC multiple times to assist me with finding my dream dress. This meant a lot to me because my mother, who lives out of town couldn't come. To have Sharron's support made a difference. She always made me feel valued, like I was her only client. She was always involved. I not only can look back and say I had an awesome wedding planner, I can say I gained a life-long friend!

Latoya

Married on 04/20/2019

Amazing from start to finish

Sharron is a dream! She was amazing from day one, to wedding day, and beyond. She gave me tips to help me through the process of planning a wedding. She removed all the stress and her uplifting attitude is contagious. She realized really quickly that I am an over thinker, and she reigned me in. She kept me on time, and most importantly, on budget.
I communicated my vision to her, and she elevated it. She elevated it beyond anything that I could imagine. She suggested things that I would have never thought of. But once she presented an idea to me, it completely made sense. I'm not great at decision making when I have unlimited options. Once again, Sharron realized that and streamlined everything for me. She contacted vendors on my behalf, and stayed on top of deadlines, decisions, and budgets.
If there was a hiccup the day of my wedding, I'll never know. That's how good Sharron is! She organized my 18 member bridal party, parents, and the groom and myself. With her direction, we all knew exactly what to do and expect the day of the wedding.
The other vendors have even commented to me what a pleasure she was to work with.
Sharron got to know me so well. It was like planning my wedding with one of my girlfriends, but on a professional level. Sharron is now family!

Ben

Married on 07/17/2018

Above and Beyond!

Sharron was the absolute best to work with from the very beginning. She made great recommendations for vendors, she assisted in design choices and she was reassuring every step of the way. She was so accommodating and helpful with even our most difficult requests. Not only was Sharron integral to the planning of our wedding, she was also brilliant when the big day came around. She was able to keep the activities moving smoothly the entire day, from the photo shoots prior to the wedding until the last song spun by the DJ. She absolutely went above and beyond to ensure we had the perfect wedding. I cannot say enough about her work ethic and attention to detail. Thanks again for all of your help, Sharron!

Demetria

Married on 05/18/2018

The decision to hire Sharron as our wedding coordinator was one of the best decisions I made during our planning process!

The decision to hire Sharron as our wedding coordinator was one of the best decisions I made during our planning process! I was a hands on bride who preferred to be involved in the majority of the planning of our wedding and although I found Sharron roughly 2 months before I wedding she picked right up and helped us whenever we needed it! She was extremely responsive anytime either of us had a concern/question. She went above and beyond to make sure our wedding day was as seamless as possible! I highly recommend Sharron if you are looking for a planner/coordinator who will do everything within her power to make your special day a joyful/stress-free experience!!

Nicole

Married on 04/14/2018

The Best Planner/Coordinator in NC Area!

Dora W.

Married on 05/27/2017

Keen Eye For Details!

Sharron planned our international wedding that took place on the Seine River in Paris, France. She has a keen eye for details and was very hands on, patient and thorough! Her bandwidth for creativity and thinking outside the box to make things happen is exceptional. She is highly recommended by us and we would hire again!

Jalil

Married on 06/18/2011

The Color It Purple Event planning was AWESOME!!! I worked with Sharron Mabry, she was very thourough through every step. She stayed in constant contact with my wedding party making sure they adhere to the timeline and she stayed in constant contact with me to kake sure I wasnt stressing and that I needed everything. She had the church decorated so beautiful, and she made sure the wedding started on time. She was a Joy to work with and would recommend her to any future bride!!!

Laura

Married on 03/05/2011

Best thing I did to hire Color It Purple Event Planning! It made things a lot easier for me and took some stress off of my shoulders. Very creative and had a lot of great ideas!

Lisa

Married on 09/10/2010

I had the distinct pleasure of working along side of Sharron. She is very professional, highly qualified and a visionary for decor'. Very dependable and just an all around great planner. I believe this profession is in her blood.

Being a planner myself, I knew I had to have someone I could trust to be me on my wedding day, someone who could see my vision and carry it out. Color it Purple did just that! i have not met many that operate as I do so when I say I was IMPRESSED by the way my wedding day was handled I mean just that. I highly recommend Color it Purple Event Planning for your event. Classy, Sophisticated, Professional, Timely and Motivated! They want your event to be a success! My special day was exactly what I wanted because I had a event Planner who understood what I wanted and carried it out to the letter and In addition made suggestions that made my vision even better!

Yalanda M.

Married on 11/11/2021

The Color It Purple Event Planning Experience

Sharron, the owner of Color It Purple Event Planning, has been creating memorable experiences for my family & professional events since 2012.
I trust Sharron. She understands my likes, dislikes, and style.
When Reece proposed to me on July 23, 2020, I automatically knew who I wanted as our event planner.
During the one year wedding planning process, we experienced some issues. Sharron shared her knowledge & resources to assist in resolving those matters.
We shared our vision with Sharron, and she(and her team) created a magnificent experience for Reece & I, and our wedding guests!
Family & friends are still sharing wonderful stories about how much they enjoyed themselves at our wedding and reception!

Thank you Sharron!!!
Love,
Reece & Yalanda

Tracey G.

Married on 09/18/2022

Exceeded Our Expectations!!!

Color It Purple Event Planning was amazing. The team exhibited excellent customer service and professionalism at all times. Color It Purple Event Planning was hired as our Day of Wedding Coordinator and the team exceeded our expectations. Not only did they manage the entire day ensuring the timeline was followed they even got their hands dirty by supporting with the set-up of the venue space. Like we said Amazing Job!!!

+ 5

photos

Takia

Married on 09/23/2018

Could not have pulled this off without her

Sharron was a HUGE help in pulling my wedding day together. We were planning a wedding from another state and she was helpful in finding vendors and negotiating rates. I think like many brides, I had this feeling that something was going to go wrong the day of. The decor matched my expectations and if anything went wrong, I had no idea.

I highly recommend Sharron for your event planning.
Are you interested?
Send a message