55 Reviews
Recommended by 99% of couples
Quality of service

5 out of 5 rating

Average response time

4.9 out of 5 rating

Professionalism

4.9 out of 5 rating

Value

4.9 out of 5 rating

Flexibility

4.9 out of 5 rating
63 User photos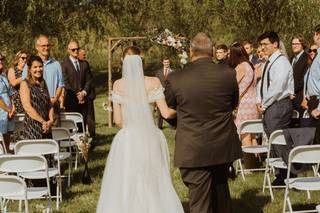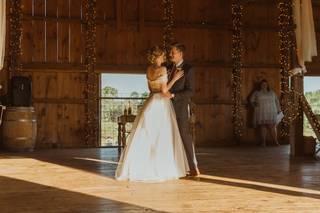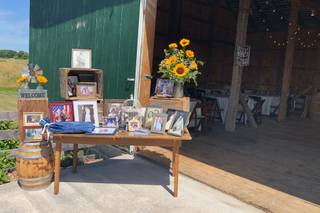 + 59

photos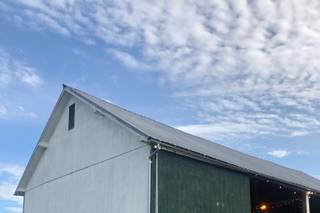 Rachel P.

Married on 05/29/2022

An Excellent Wedding Day

We loved having Cloverdale Barn as our wedding venue. Claire, the owner, was easy to work with, communicate with, and connect with. She was so helpful throughout the whole process. Everything went smoothly and the communication was perfect.
We highly recommend this venue to anyone.

Cloverdale Barn LLC's reply:

Thank you so much for taking the time to write such a glowing review! It was such a treat to see your photos, and they do make me smile! It was a pleasure to meet you both!

Hannah K.

Married on 10/02/2021

Wedding at Cloverdale

Claire is so responsive, kind, caring, and truly helps to make your big day just as you want it! Our wedding was absolutely perfect a couple of weeks ago.

David H.

Married on 08/09/2021

Flawless Experience

Our wedding day was excellent thanks in no small part to the venue. Everything was great and we couldn't ask for anything better.

Cloverdale Barn LLC's reply:

Thank you so much for your wonderful review! We are very aware that writing a review after a wedding takes a lot time, and we are very appreciative that you went to such effort to write such a glowing review. Again, many thanks!

Are you interested?

Send a message

Jess&Alex

Married on 07/10/2021

Postcard wedding venue

Cloverdale Barn was the perfect venue for our July Wedding. Claire was extremely professional, answered all of our questions in a very timely manner, and was very accommodating in too many ways to list to make sure our day was that much more special. The property is a dream and the grounds are well manicured and great care is taken to uphold the scenic landscape. The price was more than reasonable and we really enjoyed decorating the barn in order to make it our own for our special day. The barn also provides a number of decorations such as apple crates, a beautiful antique carriage, and farmhouse tables to help make the space your very own. The bridal cottage was perfect for myself and my small bridal party of four to get ready in along with the hair and makeup artist and photographer and others popping in and out. The air conditioning in the bridal cottage was also a plus as was the shower and refrigerator. 10/10 A+ 5 Stars would recommend for any occasion.

+ 7

photos

Cloverdale Barn LLC's reply:

Hello Jess and Alex,

Your review is a tremendous help to potential clients with the many details you included, and we are extremely appreciative of the time it took to write such eloquent and flattering review. If I could hire you as our marketing specialist, I would!

It is truly a pleasure to work with such a wonderful couple, and you seemed to glide right through all the planning, and we were quite impressed with how beautiful you made the barn with your colors, flowers, table linens, and you improvised so well with our little options. You are very gifted, and I hope we have many more weddings with your wonderful style and vision!

Thank you so much!

Danielle L.

Married on 06/26/2021

Wonderful Experience

Everything was beautiful and ran smoothly.

Cloverdale Barn LLC's reply:

Thank you Danielle! I truly felt like your family was so similar to mine, that it was easy! We enjoyed having you all!

Camryn K.

Married on 11/14/2020

Lovely venue!

Cloverdale Barn is the perfect place for a rustic wedding! We were thrilled with the beauty of the countryside and the owners were great to work with and quick to respond to any questions. We appreciated the convenience of renting tables & chairs straight from the venue. So glad that Cloverdale helped make our day so special!

Cloverdale Barn LLC's reply:

Camryn, you are so kind and thoughtful to post such a wonderful review! We were delighted you had your wedding at Cloverdale Barn!

Brittany

Married on 10/18/2020

Absolutely amazing

Absolutely amazing location, the barn is so perfectly imperfect and the bridal cottage was a beautiful place to get ready. The owner is so personable and sweet, I don't think my day would've been the same anywhere else.

Cloverdale Barn LLC's reply:

We were thrilled to have you all and to be a small part of such a wonderful day in your lives. Most of all, I cannot forget the wonderful hug Gus gave me!

Mandy C.

Married on 09/12/2020

Very satisfied

This venue is unique and the original wood work from the barn Is absolutely stunning. The views are beautiful and gorgeous gorgeous for any pictures of all occasion's. The owner is professional and very accommodating. One look at this venue in you will see what I mean by how perfect it is for any country girl's dream wedding . We will definitely rent again!

+ 17

photos

Heather R.

Married on 08/15/2020

Amazingly beautiful

Cloverdale Barn is so beautiful! The lights inside of the barn made my fairy tale dream come true. Claire is so nice and helpful. She is very responsive when you need yo ask question. I truly had a wonderful day. With this barn if you plan to have it outside and it rains there is a back up spot under the barn that is beautiful too.

Cloverdale Barn LLC's reply:

Thank you Heather for such a wonderful review! I must admit, I was very impressed when you proceeded with your ceremony when it was sprinkling, I think that shows most of all that you have style and that you won't let little things bother you, certainly the right attitude for a new bride!

Shin J.

Married on 06/05/2020

This barn is where your dream comes true

If I could give 10 stars, I would give 10 stars.

We had our wedding in Cloverdale Barn in May 2019. Just like all other wedding couples, we were nervous and stressed out about all the expenses and preparations.

Cloverdale Barn offers very favorable pricing and flexibility for you and I personally guarantee you that you will be more than satisfied.

Claire, who is the owner of the barn, is extremely nice and caring. Of course every business owners are nice but Claire is more than what other business owners can offer you. She ACTUALLY cares about the well-being of your wedding event. She allowed us to visit the site more than once to look around and measure stuffs and she always answered all of our questions within one business day. Because of her kindness, we were able to prepare for our wedding smoothly.

On our actually wedding date, my wife and I were very nervous. Looking at the empty barn, we weren't sure if we could do all those preps on our own before our guests arrive. And there was Claire with her truck. On a hot summer day, she worked with us to put chairs out on the lawn and was making sure that we have everything we needed. When there was a sudden rain, she ran to the lawn and wiped off the chairs for us. I honestly felt like Claire was caring about your wedding as if it was her own children's wedding.

If I could ever host any event in the future, I will definitely return to Cloverdale Barn. My wife and I, including all of our guests, were so amazed with the view and the convenience of the barn on our wedding day.

I am writing this review not because we were asked to but I really wanted to write this review to thank Claire and her hard work. If you are a couple looking for a wedding venue and are reading this review, go for Cloverdale Barn. I assure you that you will have the happiest wedding of all time.

Christyna

Married on 05/02/2020

Beautiful Place For A Celebration

Cloverdale Barn is the perfect vessel for bringing your celebration to life. From the beautiful barn beams dressed in lights to the greenery and rolling hills as far as the eye can see. We were lucky enough for our event date to fall on a gorgeous weather date (9/26/2021) so our guests could enjoy the grounds and the patio as much as the barn. We were originally set to have our wedding here May 2020, but opted to say our "I do's" at grandma's instead and hold off on the bigger celebration at the barn until more people would be able to attend. Claire was wonderful to work with from the start and very responsive to any questions that I had throughout the process. Our day at Cloverdale was well worth the wait!

Christyna + James (and baby Connor too)

Cloverdale Barn LLC's reply:

Christyna & James & your new best buddy Connor!

We were honored to have such a joyful and special part of your future together! I know you had to work with a very difficult time, but it is obvious your love for each other kept you calm and always very gracious! Thank you so much for writing a review, as I know you are very busy! It is a tremendous help for us, and we are very appreciative of your generosity!

Best wishes to you all!

Claire

Bethany F.

Married on 10/19/2019

Wedding of my wildest dreams!!

We were married at Cloverdale Barn this past weekend and to say that it was the most perfect day would truly be an understatement!! The venue was everything we hoped for but more than that, Claire was beyond helpful, attentive, caring, and treated us like we were the only couple getting married there...even though we know that's not the case! Planning our entire wedding was simplified with Claire's guidance and help.
We won't be getting married again!! ;) But if we ever need a venue for any other celebration or party, I know where I'm going to first!

Lauren B.

Married on 10/12/2019

Beautiful Venue!

We had a wonderful experience at Cloverdale Barn! Claire was easy to work with, very communicative, cooperative and kind. She worked with us to make sure that all of our wants and needs were met and she always did it with a smile on her face. She was accommodating and let us bring our dogs on site for the ceremony. The venue is gorgeous and rustic. It was clean and ready for us to decorate to our liking. We absolutely adore the twinkly lights that made it feel like a fairy tale. I would recommend Cloverdale Barn to anyone looking for a beautiful, affordable and elegant wedding venue.

Cloverdale Barn LLC's reply:

Hello Lauren,

Your wedding was too beautiful, and we were so happy you had such a wonderful day! We so appreciate your wonderful review, and we do hope you will come back and visit to remember such a great day!

Thank you so much for a FABULOUS review!

Best,

Claire

Dani D.

Married on 08/03/2019

Better than we ever could have hoped for

Cloverdale Barn is truly the whole package. Claire was so professional to work with but also flexible and understanding of the chaos that surrounds wedding planning. It poured rain 45 minutes before our outdoor ceremony, and when it stopped (thankfully before our scheduled time!), Claire was right there with towels from her own home to help us dry off the chairs and keep the wedding on schedule. This venue is affordable, beautiful, and comfortable; my husband and I cannot recommend it highly enough.

Cloverdale Barn LLC's reply:

Danielle you were one of the hardest working brides I have EVER seen, and it was a pleasure to help your "hard working" mother! You are amazing, not a detail went by your attention, and you looked absolutely amazing, and you were relaxed! It was a pleasure to have your wedding here.

Caitlyn

Married on 07/13/2019

Cloverdale Barn was everything we hoped for

My husband and I could not be more thrilled about having chosen Cloverdale Barn for our wedding. We hosted our event on July 13th, and were able to have an outdoor ceremony with about 120 guests in attendance.

We knew we loved Cloverdale from the moment we toured the venue. While the concept of a DIY wedding was daunting, we both knew that we had a unique opportunity to customize a fun and intimate experience for our closest friends and family to make it look and feel exactly the way we envisioned it - and we couldn't have been happier with the result!

While we were able to have an outdoor ceremony (due purely to luck with the weather!), there were multiple opportunities (ie. inside the upper "reception" level or under the barn itself) for a weather-contingency plan - which reduced a lot of our stress on the weeks/months leading up to the wedding.

We were able to communicate with Claire throughout the process of hosting our wedding - She was very responsive, helpful, and provided consistent support and guidance for any questions we had along the way. Claire also provided us with a spreadsheet of previously-used vendors that gave us a great jumping-off point when looking for the vendor teams we eventually chose. (Shout-out to Jordan for her day-of support for our wedding…she was wonderful as well!)

In summary, we whole-heartedly recommend Cloverdale for other couples looking for a rustic, DIY barn venue! The process of looking for venues is an important and commonly-stressful first-step in planning a wedding (and, if that's where you're at right now, hang in there!), but we absolutely loved our experience and the memories we made at Cloverdale.

+ 2

photos

Cloverdale Barn LLC's reply:

Hello Caitlyn,

Your very gracious and detailed review is extraordinary! If I had to design the perfect review, yours would be one I would PAY someone to write, as it is exactly what anyone would hope a bride would appreciate! I am especially happy that Jordan was able to be of assistance, as we certainly think she is wonderful.

The pictures are beautiful, and I think will be of great value to others looking for a venue. I am not surprised they are great as your easy-going and flexible spirits would make you both naturally photographic subjects, but you also designed the barn to reflect the style you both enjoy.

I wish you both the very best!

Best,

Claire


Rebecca

Married on 03/17/2019

Our day was absolutely perfect! Exactly the feel we wanted.

This venue was exactly what we were looking for. It was a steal for the atmosphere and the look we wanted. Every other venue was at least 5x the price AND had more restrictions on vendors, etc. The owner is very responsive and will answer any questions you may have. She also did everything in her power to make our day as easy and carefree as possible. I highly recommend this venue for a multitude of reasons.

Cloverdale Barn LLC's reply:

Hello Becca,
You are so kind and generous to give us such a wonderful review. After 7 years, you find there are some special days, and we knew the day you and Jacob married would be wonderful if for no other reason than the joy and happiness that was everywhere! We are pleased to have been a small part of this great day!
Best to you both!
Claire

Jeremy M.

Married on 11/13/2018

Great experience!

As a local wedding videographer, I always heard great things about Cloverdale Barn. I finally had a chance to film there and found that Cloverdale Barn was everything I expected and MORE! The location and country setting are PERFECT for weddings near Winchester, VA. There is a Bridal Suite for the bride to get ready in, plenty of room inside the barn for the reception, and many different backdrops for photographing and filming the couple around the farm. The owner, Claire, was super friendly and professional. Claire goes out of her way to make sure that each couple has a stress free, wonderful wedding day experience at her venue. If you are looking for a wedding venue near Winchester, VA, be sure to check out Cloverdale Barn! I know I had a great time there and look forward to filming there again. I have included a couple aerial photos from my DRONE to give you a taste of the property!

Tori

Married on 09/08/2018

Our beautiful wedding at Cloverdale barn.
Beautiful barn, venue is run by welcoming kind family.
Rain or Shine
Perfect for anyones rustic dream wedding.

Would highly recommend!
Glad Cloverdale could be available for us on our BIG day.
The Boyd's (running the venue) worked with us and all the stressful things that come up/happen when getting wedding ready to help make our wedding day a lot less hectic.



Aisha

Married on 05/20/2018

Cloverdale Barn was everything we wanted! This gem can be what you want and need. All of our family and friends loved the intimacy and cozy feel the barn provided. Many from out of town felt it was a true country wedding, like something out of Southern Living! Don't pass up this treasure!
Shawn and Aisha Thompson

Christiana

Married on 03/24/2018

Where do I even begin?
We knew Cloverdale Barn was our venue as soon as we entered the barn. It was absolutely beautiful and the perfect size. We got married at Cloverdale Barn in March, 2018 and had about 125 people in attendance.

The barn is gorgeous, it is completely DIY so we were able to make it our own, and there was a perfect "bad weather" location for the ceremony that we had to use due to the mud (it snowed the week of our wedding). Everything was absolutely amazing!

I do not think that Claire could have been any more accommodating or helpful to us. It unexpectedly snowed the week of our wedding which threw a wrench in some of our plans as it caused mud. Claire and her husband jumped in and were able to get everything squared away immediately. Claire responded to all of my e-mails quickly and always provided extra information that I needed but always forgot to ask about (bride brain). Claire was on site during the entire event, including set up, which was incredibly helpful as she was able to jump into action if we needed her assistance with anything.

Even my family and bridal party talked about how wonderful Claire was during the entire weekend! I would most definitely recommend Cloverdale Barn to anyone looking for a DIY, rustic, and even vintage wedding. We love looking at our pictures and the barn proved to be the most beautiful back drop!

The bridal cottage was the perfect place for myself and my bridal party to get ready- both of my photographers commented on how it had the perfect lighting and decor for photos.

I am sure there are more details that I could go on about, but it really comes down to the fact that Claire was amazing and the barn was absolutely perfect!

+ 5

photos

Cloverdale Barn LLC's reply:

We are so honored to have had the opportunity to have such a BEAUTIFUL and GRACIOUS bride! I know Christiana will be my favorite of the year for both extraordinary qualities!

Melissa

Married on 10/29/2017

Get what you want, don't let others push what they want. This place had the heart and soul of a wonderful woman and a perfect venue to make it what you want.

Rebecca

Married on 10/21/2017

My husband and I had a beautiful wedding at Cloverdale Barn. Claire was helpful and easy to work with, and provided a lot of guidance for a do-it-yourself venue. Cloverdale was everything we wanted in a location. We were able to have the ceremony in the field next to the barn which was very convenient. The barn is just lovely in the evening with the lights and rustic wood- the atmosphere was so warm and inviting. Our guests repeatedly told me it was one of the most unique and beautiful weddings they have ever attended. Thank you, Cloverdale, for making our vision become reality.


Arnie

Married on 10/20/2017

During the hustle of finding a venue I knew I wanted a place that we would feel supported a place that was not a stressful considering we already had enough on our plate. Claire is an angle, I knew that the first time she answered the phone. I appreciate when people keep their word, from the first day to the last Claire never fell back on her word. She provided support beyond what we expected, she definitely went the extra mile to make this day as beautiful as she possibly could. Her family is amazing they all come together to help. Going with Cloverdale was one of the first best choices we made in our marriage, because of Claire and her family we have very found memories of our day. My friends were impressed and if you are looking for a venue that is beyond what you had envisioned, Cloverdale is it!

Cloverdale Barn LLC's reply:

I speak to a lot of people, but few leave such an unforgettable feeling of warmth and graciousness as Arnie, and it is so wonderful that she has found Derek to match her wonderful nature. Her generous and detailed review will be one I treasure, but most of all, I was honored they celebrated their beautiful wedding with us!

Anna

Married on 10/14/2017

We had such an amazing wedding reception at Cloverdale Barn! I highly recommend the venue and loved working with Claire!

Cloverdale Barn LLC's reply:

Thank you Anna for such a great review. It was wonderful to have such a wonderful family have their wedding here at Cloverdale Barn!

Omama

Married on 05/07/2017

We had our wedding at Cloverdale Barn and it was perfect! We had over 350 people attend. The staff was very helpful and accommodating. The price is unbeatable and the view is breathtaking. Highly recommend for a vintage/rustic style wedding.
Are you interested?
Send a message