49 Reviews
Recommended by 96% of couples
Quality of service

4.9 out of 5 rating

Average response time

4.6 out of 5 rating

Professionalism

4.9 out of 5 rating

Value

4.9 out of 5 rating

Flexibility

4.8 out of 5 rating
24 User photos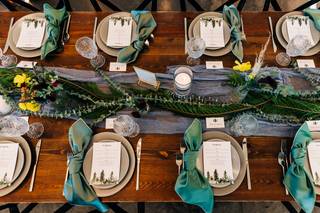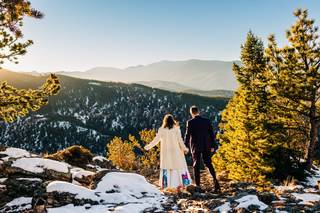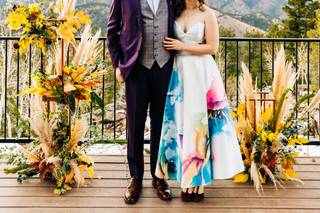 + 20

photos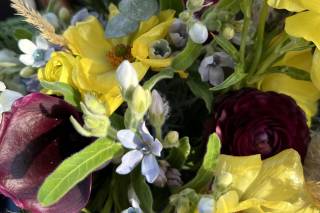 Featured

Clara N.

Married on 10/01/2022

The Party Doesn't Happen Without Cherry Bomb

My husband and I were instantly sold on Cherry Bomb after our first conversation with Shayna Papke. We are both introverts with crazy work schedules and knew we needed a planner if we were ever going to have a marriage celebration. We had gotten married in 2020, but wanted to have a party to celebrate in 2022. Shayna totally understood our vision. She was so creative and helpful in helping us craft the nontraditional wedding of our dreams.

Our mantra throughout planning was "the party doesn't happen without Shayna!" because, well, it literally wouldn't have happened! She made everything so manageable, connected us to the perfect vendors, and handled all the hiccups a party like this can through at you with grace.

Not only did Shayna expertly manage and plan our party, but she was a true delight to spend time with; she is patient, bubbly, sassy (just the right amount!), and so organized. She also designed our flowers and the venue looked absolutely amazing under her decorating expertise. All our guests were so impressed with how our party went off without a hitch. Of course, there were a few hitches! That's how good Shayna is; you don't even feel too many bumps in the road.

+ 2

photos

Caity M.

Married on 10/09/2022

The best experience!

Shayna and her team are absolutely top notch. Shayna was invaluable in her advice to us prior to the wedding, and her vendor recommendations made our wedding the amazing event that it was. As our day of coordinator, she and her team were seamless, professional, and lots of fun. I cannot recommend Cherry Bomb events enough!

Alexandra M.

Married on 09/25/2022

Wonderful planner!

When choosing a planner we were overloaded by decisions. I ultimately was referred to Shayna Papke with Cherry Bomb Events by one of our friends who had used her, and loved the experience of working with her. To quote "once we started working with Shayna, it all got a lot more fun". We used Shayna as a day of/month of planner so we still made all of our vendor decisions, but had her input and guidance working through that process. If I had questions, Shayna gave me good feedback about whether the random detail I was pondering was something that was going to enhance the experience for our guests, or was just a gimmick being sold to me (usually was not actually something we needed. Don't let instagram up-sell you on stuff!).
She helped me manage anticipated stresses before the wedding and trouble shoot how we could make the day go as smoothly as possible.
When the biggest tragedy happened the day before (our 13 year old dog passed away hours before our rehearsal and rehearsal dinner), she scrambled to help us reschedule the rehearsal later so we could have more time with her, and made sure that on our big day we were able to balance our grief and our joy and clued all our vendors in to why we were a little extra teary.
Shayna's team was fantastic, accommodating, friendly, and took all the nerves out. I felt like they had my back, and were going to help me create an experience that was what we wanted, as well as stay in our budget as much as we wanted to.
Would definitely use her again (although don't plan on having a second wedding!), and recommend her to friends and family! (Turns out she had actually planned one of my other friend's weddings several years prior, but we didn't put the connections together until the day of!)

Are you interested?

Send a message

Stephanie R.

Married on 09/02/2022

Shayna made this fun!


We were so lucky to find Shayna when searching for a wedding coordinator. We hired her as a "day of coordinator" but she was with us through the whole process; recommending vendors, making lists of everything we would need, and making sure we were prepared. Her attention to detail, quick responses, and expert knowledge of planning was evident from the first phone call. It was such a relief to hand over the wedding day to her expertise and just enjoying the day. Shayna was fun to work with and she ensured everything went beautifully.


Nora R.

Married on 08/27/2022

highly recommend cherry bomb!

we had a great time working with Cherry Bomb for our party in August 2022. we worked closely with Jolie who had a lot of great suggestions, feedback and ideas leading up to our party. as folks not based in Boulder, it was really helpful to have her insight and guidance about working with some of the local vendors. our overall event exceeded our dreams and was truly a peak life experience. if you have the budget, definitely consider hiring for more than day of!

Lara I.

Married on 08/20/2022

Beyond amazing!

I worked with Shayna for my wedding and it was the easiest experience ever! Who said weddings are hard work? Not me. Just kidding, there was SOME hard work but honestly, Shayna made all my anxieties melt away. She was so professional with still being a normal human-being (not a robot) and beyond helpful. She was so flexible and would jump on a call whenever I needed (or my mother needed) to ease our nerves. Honestly, we felt like we MUST have been missing something but nope, Shayna had it all handled. I loved working with her and would recommend her 1,000 times over.

Rebecca T.

Married on 07/10/2022

If you want a perfect day, Cherry Bomb is the way to go!

From beginning to end, the Cherry Bomb team helped make our vision a reality. Shayna was loving, patient, and accommodating. And she advocated for us when needed. As soon as we booked a venue I realized I was in WAY over my head. Shayna made everything easy. She and her team made our rehearsal dinner and our wedding day completely perfect. They worked tirelessly and made sure every last detail was perfect. I'm sure they did more than I'll ever really even know. We are so grateful to Shayna and the whole Cherry Bomb team. The only regret I have from the weekend is that I didn't get a single photo or a glass of champagne with them! I am forever grateful to these amazing women. If you need a planner in Colorado, they are 100% the best choice.

+ 2

photos

Rsenjohn

Married on 06/17/2022

Fantastic wedding planners!

Jolie and Cherry Bomb events were very helpful guides through the thousands of details that pop-up in the course of wedding planning. I appreciated how responsive the team is on email and all the knowledge and experience provided as guides. They listened to the requests we had and worked with us to bring our vision to fruition. We would definitely recommend Cherry Bomb!

Alicia R.

Married on 05/23/2021

Cherry Bomb is the bomb!

We hired Shayna and her team at Cherry Bomb Events for day-of-coordination for our wedding, but don't be fooled by the term "day-of". Shayna helped us with SO much more than that as we navigated planning a wedding during the pandemic. We postponed our original wedding in August 2020 until May 2021. As you can imagine, planning and replanning a wedding during a pandemic was incredibly stressful, but Shayna gave us great advice and helped us roll with the punches as we approached our wedding. Shayna also recommended some fantastic vendors that we used for our wedding. Shayna and her team are incredibly charismatic and overall just fun to be around! We had a blast at our wedding. I couldn't have asked for a better team to help make our dream wedding a reality!

Maggie F.

Married on 10/03/2020

Amazing Wedding Planners!

First off if you are thinking of getting a wedding planner, do it! Second, hire Cherry Bomb Events! They did such an amazing job on our wedding day. The whole day I didn't think about a single detail or worry about a thing and that's because I knew that they were in control of it all. Our timeline was seamless and everything came together, which I know it was to all of their hard work. I was so impressed by the ease of everything and how everyone got to where they needed to be at the right time, without ever coming to me for details. They are truly a blast to work with and you won't be disappointed!

Ilana B.

Married on 02/05/2020

A professional, gracious, and fun team of ladies

Cherry Bomb Events was an absolute dream to work with, and I cannot recommend them highly enough. We had an unconventional wedding venue that required a lot more work across set-up, service, and take down, and the CBE team handled it with grace, humor, and professionalism. Alli was was an incredible day-of coordinator, and Makenzie and Stephanie were the dynamic duo for the day of the wedding. We literally could not have done it without you, CBE!

Ashley N.

Married on 09/11/2019

Red Rocks Wedding

Charlie and I loved Shayna! She understood our style immediately and made recommendations accordingly. We had a rough walk through with our venue, and Shayna completely saved the day with all of her questions, plans, and organization. She was able to problem-solve and help us hire a last-minute DJ (who we loved!) and Photo Booth (who we also loved!). We had an incident during our reception (unrelated to our wedding), and none of our guests knew due to Shayna's flawlessness and ability to smooth things over. She was a great go-between during the wedding and reception between us and our vendors. She handled everything day-of, so that we did not have to worry or communicate with any of the vendors. Shanya is personable, funny, and relatable. She was such a joy to work with, and my family loved her, too. I would highly, highly recommend her!

Kelsey

Married on 08/10/2019

Wedding planners you want to also be your best friend

I met Shayna and Alli at the Big Fake Wedding before I was even engaged and I have never so instantly clicked with 2 people, and I knew that when we did finally get engaged, Cherry Bomb Events was the only wedding planner for us! For our preliminary meeting we spent a few hours discussing my upcoming wedding, and sharing a deep and passionate love for musicals. Alli was the lead coordinator for our wedding, and she was so unbelievably helpful! She answered all my dumb little questions and commiserated with me about difficult family members! My parents were extremely skeptical about us hiring a wedding planner, but by the end of the wedding, they couldn't have imagined doing it without her! Alli and her assistant made sure that everything went off without a hitch and re-purposed extra decor is ways I couldn't have imagined! Day of she handled family drama and bad behavior with such ease and grace and just made everything look effortless. And she always made sure I had a drink in my hand at the reception, which I was so grateful for! And kept reminding me to eat! Alli is not only an amazing wedding planner, but just a beautiful human being who is both so sweet and knows how to lay down the law! I wish I could give Cherry Bomb 1000 stars!

Cherry Bomb Events's reply:

Dear Kelsey,
You are a land mermaid who is more beautiful than Cinderella.
We loved being a part of your day, your family and your life. We are so happy to make you so happy!
Love,
Shayna and Alli

Alli

Married on 10/20/2018

Cherry bomb events is amazing!

I hired Lisa as a day of coordinator and she did an amazing job!!! The frozen yogurt truck I hired for my wedding broke down and was unable to provide their services. Lisa, Makenzie & the Cherry Bomb Team sprang into action setting up the most amazing dessert bar! I had so many compliments on the dessert bar, the guests didn't even know that wasn't the original plan. The day was perfect thanks to Cherry Bomb Events!

Alyssa S.

Married on 09/29/2018

Above and Beyond my Wildest Dreams for a Perfect Wedding

I highly recommend Cherry Bomb Events! Shayna is a wealth of knowledge, and a gem of a human. She was a joy to work with, and made the wedding planning process stress-free and frankly, fun. She listened carefully to my wishes and dreams for the wedding, and then helped me throw a wedding even better! Her creativity knows no limits, and her dedication is unquestionable. If you want to put on the wedding of a lifetime while having the time of your life, then Cherry Bomb Events is the only choice. 1,000 stars!

Yael G.

Married on 08/19/2018

The best coach/trainer/personal assistant a couple could ask for

Shayna and her team were indispensable in planning and executing a kick-ass wedding. They worked super-hard and went above and beyond to make sure that things ran smoothly. If anything went wrong, I didn't know about it because Shayna & co had it covered. Also, to all y'all Jewish couples who are looking for someone who already gets all of the weird religious stuff and you don't want to have another part-time job explaining all of it to the uninitiated -- Shayna is your lady.

Erin

Married on 04/28/2018

Amazing Company!

I can't stress enough how amazing Ali was as my day of coordinator and planner. She thought of all the little things that slipped my mind and made sure I didn't miss anything. During the day of, she helped with mishaps like the florist forgetting a bridesmaid bouquet, and me leaving two people off the seating chart (oops!). I didn't even have to stress about these issues because I trusted her entirely to fix it, and she did an amazing job. I can't recommend this company enough. Thanks for flying to Florida and helping this girl get hitched!!!

Alexandria

Married on 12/31/2017

Book Shayna and her team immediately! The Cherry Bomb team was amazing and allowed my husband and I to enjoy every minute of our NYE wedding. Additionally the GLITTER CANNON her team coordinated to go off at midnight was epic and the perfect end to a perfect day. My husband and I both work stressful full time jobs and almost all our guests were from out of state but Shayna made sure everything ran smoothly. Her wedding day timeline and coordinate with vendors were life savers. I highly recommend!

Amber

Married on 11/04/2017

I cannot say enough amazing things about Shayna and Cherry Bomb. The day of our wedding I did not lift a finger, handle any emergencies or make any decisions. At the time I just thought I did such an amazing job planning that everything was running smoothly! Au contraire! I found out later that Shayna handled every single snag, question and decision (of which there were many) so smoothly and so professionally that I thought the heavens had just handed me a perfect day. Shayna and her team handled set-up, guest questions, wedding party questions, and kept us on schedule. I cannot imagine the day without her.

Cierra

Married on 10/14/2017

Shayna and Allie were an amazing resource to have throughout the whole planning process. I hired them as my Day-Of Coordinators and I am SO thankful that I did. They gave me many vendor recommendations, generated the timeline, and began communicating with vendors several weeks before the wedding. Allie coordinated our actual day-of, and couldn't have been better to work with. She was so nice and very organized, and always responded promptly to any emails. The day-of was magical because of all the hard work she put in to all the setup and rounding up the bridal party and directing them where to go. It was so worth it to hire these two, I'm so thankful that I did. It made everything that much easier and less stressful, and I really was able to enjoy my wedding day because of their expertise and help. THANK YOU GUYS!!

Jennifer

Married on 08/12/2017

Shayna and her team are absolutely amazing! Our day would not have come together so perfectly if she hadn't been there to take care of everything. She was a great communicator, she offered suggestions, she organized all of my other vendors, and she made sure that I had nothing to worry about on my wedding day. She is a joy to work with!

Patty

Married on 06/25/2017

Cherry Bomb Events was the best vendor purchase I made for my wedding. It reduced my stress for the day of and my mother was in love as well! They were so sweet and personable and knew I was in the best hands! They helped make my perfect day the best that it could have ever been!

Cat

Married on 06/17/2017

Shayna was our wedding planner for our June wedding at the Lyons Farmette in Lyons, CO.

I'll be honest - my fiance and I were not those people that dreamed of their wedding. We wanted to marry each other and everything else was superfluous. When our parents mildly demanded a legit, fully-planned wedding, we were excited and terrified. We're career women and are lucky to take one non-family-related vacation a year - so entering the wedding world was exhausting just to think about.

Enter Shayna.

She knew our needs - i.e., someone to narrow down choices to three options - and she immediately started to get to know us. She is personable, warm, extremely knowledgeable and honest. I say honest because she was direct with us about where we could save some $ on wedding planning and where we needed to spend it based on our vision. (Food, always. Booze, always. Flowers, always.)

The day of the wedding she and her team were seemless. We had a little bit of family drama, which I didn't know of until after the wedding (huzzah!). She had her eye on the weather, final last minute touches, and everything else I was too busy enjoying to care about.

I'll also add that our needs were specific - we didn't need/want to know every detail and trusted Shayna to make choices for us. You may need a different touch. Shayna knew what we needed because she asked and listened. The other positive reviews here are for the same reasons-- and each couple has slightly different needs. Shayna will fill them for you because she listens and will effectuate what you need done, period.

I cannot emphasize how fantastic Shayna and her team were on our wedding. Hire this woman now!

Laura

Married on 06/03/2017

Absolutely 5 stars! Before hiring Cherrybomb Events I was trying to do all the planning for my wedding myself and realized I was in way over my head. Alli took on the timeline and the day-of coordinating, in addition to connecting us with vendors and being the contact person between all of them. We had several planning meetings before the big day that truly eased my mind. For the actual wedding, she did everything from picking up and setting up decorations, to wrangling all 12 people in the bridal party, parents, and siblings, photographer, and musicians to all be in the right place at the right time. As the bride, if anything went wrong, I didn't know about it, as the night moved flawlessly. It was the best day of my life. Thank you Alli and Cherrybomb Events!

Megan

Married on 10/07/2016

My husband and I both agree that hiring Shayna (and team) was one of the best decisions we made about our wedding. During our first meetings she familiarized herself with our wedding, our DIY decorations and additions, our vendors (thankfully she knew almost all of them already!) and all of the small details. Throughout the planning process Shayna was encouraging, thorough, calm, and organized --- all major NEEDS for stressed out brides and grooms! During the weeks before our wedding, Shayna was there for any question I had. The timeline her and her team put together helped us and our vendors so much. And of course, when things came up on the day of, I wasn't even aware of them. Our biggest hiccup was a mix up in sound equipment, but Shayna immediately jumped into action and figured out a solution before I even knew there was a problem. On top of all of this, Shayna and her team handled our stressed out, emotional family members with ease. Book Cherry Bomb Events, you will be glad you did!!
Are you interested?
Send a message