18 Reviews
Recommended by 98% of couples
Quality of service

4.9 out of 5 rating

Average response time

4.8 out of 5 rating

Professionalism

4.9 out of 5 rating

Value

4.9 out of 5 rating

Flexibility

5 out of 5 rating
Awards
6 User photos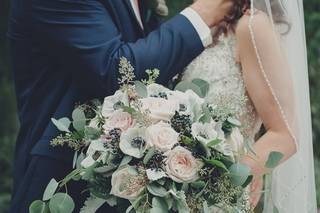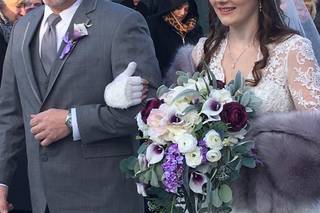 + 2

photos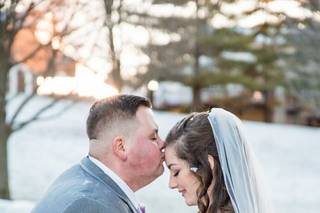 Lauren M.

Married on 07/11/2020

Coordinated the perfect minimony!

Do you need a wedding planner, YES! And Carrie is your woman!! Being a COVID bride in 2020 brought a unique set of challenges and having Carrie by our side was the best decision we could have made. We started planning in 2018 and had everything pretty much set (venue, photographer, videographer, DJ, transportation service) by the middle of 2019 for our fall 2020 wedding. We all know what happens next… Carrie was there, right beside us, walking us through every change and challenge as it happened. She handled the logistics when we had to cancel our venue and book a smaller one. Not having to do that alone was the greatest gift. Throughout the whole process she was in our corner and fought for us to have the perfect day. I would have just given up and accepted that it is what it is, but Carrie figured out solutions to any issue we encountered and went above and beyond to get us things we couldn't even imagine. There were a million details that she handled the day of the event so that all we had to do was enjoy our day and get married. She made everything run seamlessly. I'm sure it was more of a "duck on the water" situation but all we saw was her swimming effortlessly along the top of the water, even if I'm sure her legs were going a million miles an hour underneath. Also, as a lesbian couple, Carrie was supportive and loving and accepted us in such a genuine way.

Brent C.

Married on 01/10/2020

Dream Come True Wedding Experience!

We feel so lucky to have found Carrie Skinner. Early in our planning process, we realized that doing a wedding without a day-of coordinator would be difficult. We knew that it would be hard to focus on the moments of the day if we had to manage small details and coordinate the event. We looked on an LGBT wedding site and found Carrie was recommended. From our first conversation with Carrie we knew she needed to be part of our experience. Carrie took time to get to know us as a couple and our vision for our wedding day. She had incredibly helpful suggestions for our event as well as for vendors, musicians, and typical wedding necessities. Carrie helped us navigate conversations with our vendors so that we could get every detail managed and taken care of. We would not have been able to advocate for our needs without her help. Carrie made our day so special and helped to make sure everything went smoothly. She took care of details the morning of so that we didn't have to worry about anything but getting married and enjoying the experience. She was patient, flexible, and knowledgeable all while maintaining her calm and her sense of humor. We had such a wonderful time getting to know her and know that our wedding experience would not have been the same without having a personal and friendly connection with our coordinator. We highly recommend Carrie on Events for your wedding-everyone deserves to have their wedding dreams come true!

Danielle

Married on 09/01/2019

She is amazing

I met Carrie at a bridal show and we instantly clicked. From the beginning planning all the way after the wedding she and her team were an absolutely vital aspect . She is extremely organized and helpful . She truly took the time to execute my extremely detailed and over the top vision. She worked so smoothly with our venues on site coordinator that the coordinator pulled me aside and told me she loved working with her. Even on wedding day When rain forced us to move our cocktail hour inside she was quick on her toes. Carrie is amazing ! You would be crazy not to hire her to do your wedding .

Are you interested?

Send a message

Lexie

Married on 12/29/2017

Carrie is amazing! She was such a huge help planning our wedding! Even provided some of her our decorations when I could not find the correct ones! She is sweet fun to work with and when our florist and snow machine fell through she work tirerlessly to find us a replacement! She even offered to help pay for our new flowers as we spent our entire budget. I would highly recommend her and her services to any and all brides looking for a stress free wedding day!

Elena

Married on 10/07/2017

I think it's safe to say that, without Carrie, my partner and I could never have pulled off our wedding! We had a very ambitious vision for our day – lots of guests, a beautiful ceremony in a raw industrial space and a quick room turnover for dinner, amazing food, and above all, a raucous party. Even with our tall order, Carrie pulled it off beyond what we could have ever imagined. One of the ways Carrie helped us plan was by designing a custom project management page on a site called "Basecamp." Because we were planning our wedding from out-of-state, this tool was crucial for helping us stay on top of the long (LONG!) to-do list, and for making sure that everyone was on the same page throughout the process. It was such a helpful touch, and while we never would have thought of it, Carrie was able to put it together in a flash and make the whole planning process that much easier. Carrie is also an amazing emotional resource and support. From the beginning, she was so supportive of the unique vision we had for our wedding – we wanted it to feel really personal and idiosyncratic, and every time we would propose something a little different or unusual she was ready to help us figure out how to make it a reality. Then there's the day-of. We were working with a raw space, which meant that Carrie was there setting up on Friday morning and pretty much stayed with us until the wee hours of Sunday morning after our reception! She did a fantastic job setting up the space, and worked with us when we asked her to flip the room during cocktail hour, even though it was much more work for her. The biggest testament to her work is the fact that the whole day went seamlessly – she ensured that we ate, drank, and enjoyed ourselves with our guests as if things were happening on their own! We had probably the most fun day of both of our lives at our own wedding. We'd recommend her to anyone - especially those who want a personal day that will make guests' jaws drop.

Bridget

Married on 08/27/2017

Carrie On Events was AMAZING! I especially would recommend using Carrie. She was hired as the day of coordinator but she was so mucj more! My daughter had the perfect day thanks yo Carrie On Events. They went above and beyond our ecpectations! The only thong I would have changed og I were to do it all over would be that instead of hiring her as the day of coordinator, i would have hired her to plan my daughters wedding from start to finish. Carrie goes above and beyond and gor that I will be forever greatful. She made my daughters wedding stress free and completely perfect!


Roger

Married on 09/03/2016

From our experience, Carrie Skinner is a TRUE professional at helping couples with one of the most important days of their lives. She made our wedding day go very smoothly and I would highly recommend her to anyone that is looking for help with their wedding.
What impressed me the most is that she thinks of the small finer details that most couples will not even think about because the actual day of your wedding your head will be spinning from everything that is taking place and Carrie took that burden away from us so things would go smoothly and everything was perfect.

Johanna

Married on 06/10/2016

Carrie was the best choice I could have made for a wedding planner. She listened to and respected everything I wanted for my special day! There are little things that you miss and Carrie was that person who kept everything in order and placed my happiness on a pedestal! If it weren't for Carrie On Events, I would have been lost. I can't say enough about this wonderful woman!! You need something done right, call Carrie!!

Donna

Married on 11/07/2015

Where do I begin to share how fabulous it was to work with Carrie Skinner? My daughter got married this past November. She is a designer and had planned her wedding with a great deal of thought and detail. Over 200 guests were attending and she had designed and created the décor for the entire reception. It soon became clear to me that there was no way she would be able to enjoy her wedding and attend to all of the details that would be necessary that day. I knew Carrie professionally, as I am a wedding celebrant. I had a great respect for her work, and knew that she would be a great option to hire as a day-of coordinator. We were not disappointed! From the first discussion I had with Carrie about what might be needed, she went to work and was tireless in her efforts. She was in constant communication with my daughter, lists were made, vendors were contacted, and things we didn't even realized needed to be addressed were taken care of promptly and professionally. On the day of the wedding, Carrie took charge and made sure that everything ran smoothly. Problems occurred that we had not anticipated, but Carrie stepped in and handled everything with poise and professionalism. My daughter was able to enjoy every minute of her wedding day, knowing that Carrie was attending to all matters both great and small. You will look back at hiring Carrie for your event as the smartest decision you made! You deserve to enjoy your big day…call Carrie!

Erin

Married on 11/07/2015

My mom surprised me and gave me the wonderful gift of having Carrie as our day of wedding planner! From the very beginning she was so helpful! She was extremely organized and set up meetings along the way to make sure she was updated on everything that I was hoping and expecting to happen. She thought of EVERYTHING and made sure that my husband and I were both satisfied throughout the planning process. She came to my house and picked everything up for the ceremony a couple days before and made sure I didn't have to worry about a thing! I am an extremely detail oriented/ type A person and I was able to comfortably give her complete control on my wedding day. She showed up the day of, on time and with such a happy and positive attitude. She was extremely confident in her abilities which put everyone at ease and made sure the entire day ran smoothly. When I had a concern about a few of my vendors she handled things seamlessly while I was able to relax and focus on my wedding. Even my husband, who did not understand the importance of a wedding planner, said multiple times that day and the days after how much of a huge help she was. Neither of us had to rush around or make sure we were at the right place at the right time, Carrie handled all of it. She ran back and forth to both of our rooms to make sure everyone was okay and on schedule. And, one of THE BEST things about having Carrie as our planner was the fact that as soon as the reception was over, she took charge and made sure all of our decorations and personal items were packed back up and taken to our hotel room while we enjoyed our guests! Since I made the majority of our wedding decor for a very large venue, this was no easy task! I can't say enough amazing things about her professionalism and passion. Our day would have never been the same or as amazing if Carrie was not there to help us!

Elyse

Married on 10/24/2015


I can honestly say that my wedding would not have been the same without Carrie. I was never one of those girls who dreamed about her wedding, so I was at a complete loss over where to begin in terms of planning. The only thing I knew is that I didn't want anything traditional as I was getting married in front of a T-Rex. Carrie did an amazing job of listening to what my now husband and I wanted, but making it even better. She was able to give us the fun and quirky day we wanted without anything ever being tacky or cheesy. She came up with brillant ideas that were perfectly blended elegance and fun. For example, she ran with our dinosaur theme and arranged for there to be gilded gold dinosaurs at every table. This something that we would have never thought of, and it looked amazing! It was these special little touches that made the day perfect, and all of our guests told us how incredible everything was. This is truly all thanks to Carrie. So if you want someone who will make your wedding even more wonderful than you ever imagined, choose Carrie on Events!

Patricia

Married on 10/24/2015

Carrie is amazing. Creating the perfect wedding experience for bridal couples is her passion. She is creative, energetic, caring, knowledgeable and professional. It is hard to put into words how very hard she worked to make this special time perfect for our entire family. We presented her with a huge task as my daughter married a British citizen. The wedding occurred in the UK with a follow up celebration here in the USA. There were two totally different themes, different dates and logistics etc....Carrie worked with tireless dedication to ensure that my daughter and son-in-law and both families had a stress- free wedding day and celebration. We are so very grateful!!! Memories that will never be forgotten. Thanks Carrie for pulling it all together with style and perfection!!! This mom of the bride was so blessed to have you by her side!

Yvonne

Married on 08/18/2012

Carrie styled and was the day of coordinator for my daughter's wedding 8/18/12. She pulled together a gorgeous vintage country chic affair for 327 guests on our own grounds. On the wedding day I thought everything went perfectly - no hitches and no worries - just beautiful, simple perfection...it wasn't until days later that I found out how many behind the scenes fires Carrie put out with no guest or wedding party member being any the wiser. That is an extremely unique and important skill for a day of coordinator - let the bride, groom, and parents relax and enjoy! And boy did we!!! As for her styling, Carrie has an impeccable eye for every detail. She made our daughter's vintage brooch bouquet and all 8 bridesmaid bouquets and all 10 boutenierres herself! She also made all the floral center pieces and styled our Victorian parlor under the weeping sycamore for our mock tail hour... Perfect touches everywhere we looked as well as great guest flow from ceremony to mock tails to reception - all with perfectly stylized vignettes for staged and candid photo spots. Call Carrie On Events if you want the perfect day with no worries!

Caroline

Married on 06/03/2017

I wasn't sure I would need a coordinator because I'm very independent and hands on. The wedding as at our house and we did most of the work ourself. However, I wanted a day-of-coordinator so that I could really enjoy my day and not worry about anything. I'm so glad we did because she literally made my day. I have severe anxiety and had a very difficult time controlling it on my wedding day but anything in relation to planning was not a source of anxiety because I knew she had it under control. She went above and beyond and took care of any issues without me ever knowing (unless I needed to for some reason). If you're considering hiring her, just do it, it's the best money you'll spend.

Denise

Married on 08/12/2016

Carrie was amazing. She helped with little details that neither my partner nor I ever even thought of. She is also highly connected with other wedding professionals locally. Carrie was able to help us secure another officiant at the last minute when we unfortunately had to find another one. We had a smooth and carefree day with both our ceremony and reception. If you hire Carrie you won't have to worry about your big day, she's got your back!

Carrie is an extremely creative person who was saddled with a two-part, very unconventional wedding. At the end of the (relatively short) process, we had a truly perfect day, and we're not people that even really expected that from our wedding. Carrie is well-networked and good at finding excellent vendors to give you the look and event you want.

Tama

Married on 12/02/2016

Carrie "got me" as soon as we met. We both just clicked. She understood the Christmas-meets–Art Deco theme we envisioned, and she delivered it beautifully. She had wonderfully creative ideas for the altar, flowers, centerpieces, cake, and, yes, Christmas tree! She found a fabulous jazz DJ for our cocktail hour, as well as a top-notch florist, baker, and rehearsal dinner venue that worked within our budget. She coordinated tirelessly with our reception venue, photographer, and band. Plus, she was bi-partisan in working both sides of the aisle with Team Bride and Team Groomie. We are so grateful for everything she did to make our wedding the most special day of our lives.

Haley

Married on 11/11/2017

Carrie is a very friendly person with great ideas. She had a lot of connections with vendors and was able to take a blank room and decorate it to look like the wedding of my dreams. She assisted on the day of my wedding so that I had nothing to worry about and could enjoy my wedding. Her vendor suggestions were PERFECT.
Are you interested?
Send a message