Reviews
4.9 out of 5 rating
Quality of service

4.9 out of 5 rating

Average response time

4.9 out of 5 rating

Professionalism

4.9 out of 5 rating

Value

4.9 out of 5 rating

Flexibility

4.9 out of 5 rating
98%
Recommended by couples
89 User photos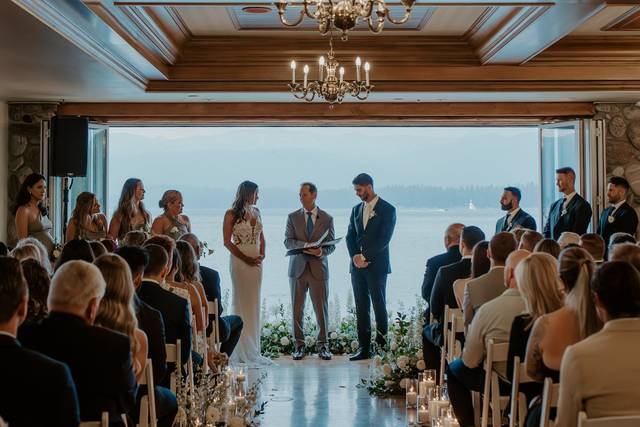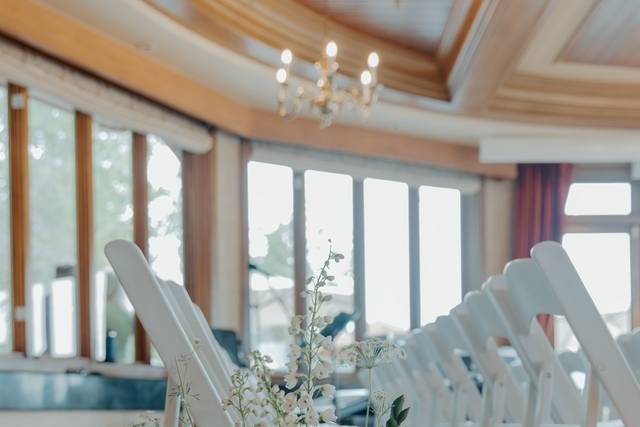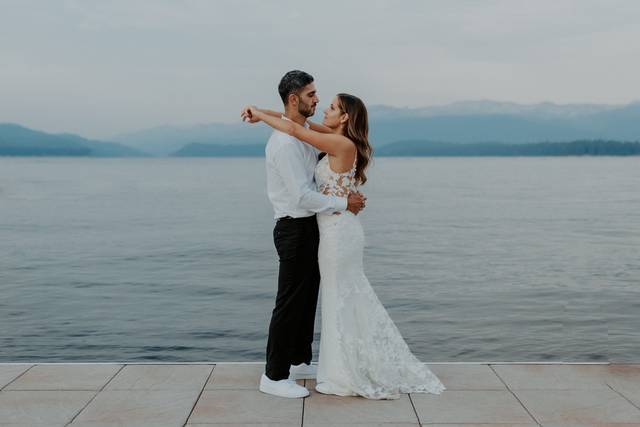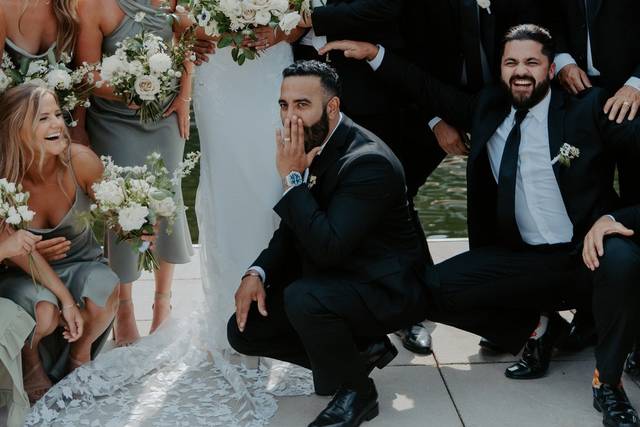 + 85

photos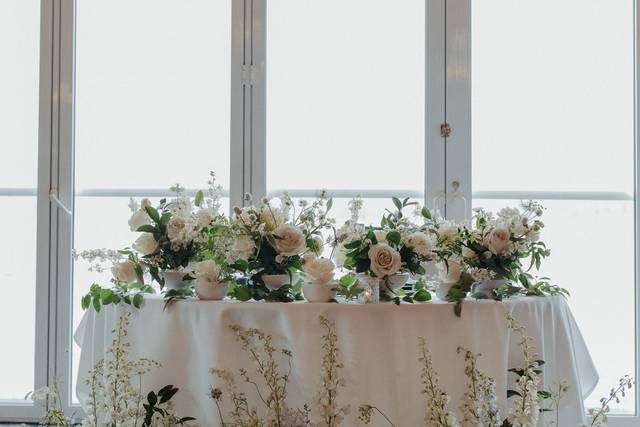 Summer N.

Married on 08/19/2023

Calluna Events Made My Wedding Dream Come True!

Calluna Events did and impeccable job from start to finish with helping plan my wedding. Kristen Kennedy was my wedding planner and I cannot say enough amazing things about her. My wedding was technically a destination wedding and neither of us lived in the area full time. This could have posed as a challenge but Kristen is so well versed in her craft she made everything seamless. Sometimes I have issues being decisive and Kristen would really use her expertise to help make it easy. I always felt comfortable calling her or texting her and she made me feel so much less stressed with all the little details. Her professionalism in coordinating with all my vendors was unmatched. They all adored her and thanked her for making it all so simple. My husband and I adore Kristen and her team and are SO thankful we got to work with them. Our wedding went SO smoothly and we had multiple people comment on how well it all went. I HIGHLY recommend Calluna to anyone looking to make the stresses of wedding planning a little more fun and easy. Kristen- we love you! Thank you times a million!

+ 8

photos

Sophia R.

Married on 07/02/2023

Best Decision EVER (besides getting married)

We could NOT have planned our wedding without Lindsey and Calluna. I knew from our first conversation that she was the perfect fit to help us plan our big day. Even though we weren't sure we wanted to use a planner, Lindsey made us feel special and her expertise made it very clear we needed her help. Best decision we made in the planning process!! Not often in my life do I feel like I can release control of something as important as planning a wedding but with Lindsey I did. We could have talked once and we would have converged on more or less the same wedding she was that good at seeing exactly what I wanted.

My fiancé is in the military and was gone for most of the planning process, so having Lindsey to bounce ideas off of was invaluable. She knew exactly when to jump in with an opinion on a vendor call and her opinions were always spot on.

There were a couple of sticky situations with vendors and Lindsey handled them (and me) with so much grace. On the day of, no family or guest had to worry about a single thing. Hiccups came and went with no drama because Lindsey and her team were there.

Yes she makes sure napkins match the plates, but the emotional support Lindsey provided me, and my family through the process is invaluable. There's no question who we'll be coming to for my two sisters when their time comes. They deserve every glowing review here.

+ 6

photos

Janet S.

Married on 09/24/2022

Magic at The Broadmoor

Weddings are stressful and planning a Colorado wedding from Texas is even more stressful!!!!! But when your the mother of the Bride and your daughter and future son-in-law want to get married in Colorado you get to work. We had the wedding at The Broadmoor in Colorado Springs and Katie at The Broadmoor gave me a list of event planners and that is when I made the most important decision and connected with Heather at Calluna Events. From the very start of our relationship Heather was a steady calm to my craziness! It was very hard to let go of control but really did not have a choice. Calluna Events played a major roll in selection of other company's that played an important roll of planning a wedding. Calluna Events worked very very well coordinating with all the other company's and with The Broadmoor . Heather asked all the questions I did not know to ask and took care of all the little details. When the BIG weekend came I would have never made it without all of the help from Calluna Events. Calluna Events made a very special weekend very magical for not just the Bride and Groom but also all our family and guest. From the bottom of my heart THANK YOU Heather and Calluna Events for making our wedding weekend one to always remember. ❤️❤️❤️❤️❤️



Are you interested?

Send a message

Marie B.

Married on 09/24/2022

Excellent All Around!!

If I had to plan my wedding all over again, I wouldn't change a thing. Kristen at Calluna helped make the planning process smooth, fun and enjoyable. She really took the time to get to know my partner and myself to provide tailored recommendations and guidance that fit our personality/style. The day turned out better than I could've ever imagined, and the icing on the cake was that we didn't have to stress about a thing - Kristen handled everything and anything. 5+++ Stars to Kristen and Calluna!

Julie G.

Married on 09/16/2022

worth every penny!

We were beyond thrill with Mel Robertz as our daughter's wedding planner. She went above and beyond on the day of the wedding, allowing my husband and I to throughly enjoy the special day. Mel knew exactly what to say and do to calm a nervous bride and she took care of every little detail during the reception. We would highly recommend Mel and Calluna Events.

Leah Z.

Married on 09/10/2022

A Dream Come True!

Working with Heather & Calluna events was the best decision I made during my wedding planning process. Not only was Heather an absolute joy to work with, but she helped bring my vision to life in a way I couldn't have even imagined.

Throughout the wedding weekend, I honestly couldn't have done it without Heather. She was so detail-oriented, thoughtful, and calm, that it truly made our wedding a dream come true.

No matter what the problem or opportunity was, Heather was there to help me every step of the way and I couldn't be happier. We love Calluna and couldn't recommend them enough!

Robin D.

Married on 08/07/2022

The best company I have worked with -EVER.

I had 2 months to plan my wedding that Calluna turned into an editorial dream at Magee Homestead in Wyoming (part of Brushcreek Ranch) . My wedding venue recommended them and later I learned they were an area favorite. Every vendor I had gushed about them. They have a buzz for a reason. Working in a customer service business myself I'm hard to impress. But every email was answered quickly, my vision was executed perfectly and they not only fought for every dollar I spent with every vendor but the owner Heather was taking me through breathing exercises before I walked down the aisle. Furthermore, my guests loved having them be apart of the festivities. Both Heather and Jenna made me feel like the most important client they ever had. They deserve every amazing review. It's true.. they are the best of the best and I would choose them over and over again.

+ 5

photos

Jessica W.

Married on 08/06/2022

Unforgettable Memories! We Love Calluna!

We love Calluna Events!!! Working with Lindsay Hayden was the absolute best decision during our wedding planning process, and she became part of our family along the way :) Not only was she a rockstar during the day-of, but continuously so during the 20 months of preparation leading up to it. Every vendor we worked with spoke so highly of Lindsay & the entire Calluna team. Every big or small detail we envisioned for our incredible day was fulfilled. Our venue was new-ish (about 160 guests total) and Lindsay did an incredible job taking the reins to ensure the process was as smooth as possible. We hoped for a "Kardashian Style" photo booth, and she got it for us! I specifically requested late-night cheeseburgers, Lindsay made it happen! She always stayed in close contact with us, helped create personalized touches, and in the end- unforgettable memories. Lindsay perfectly represents the incredible business that Calluna is, and we are so lucky to have experienced her incredible talents. We very much look forward to working with Calluna for future parties and events!


Meghan B.

Married on 07/23/2022

Flawless 4 day wedding weekend

First and foremost, Heather was a delight from the very first conversation when I was just beginning the planning process. She made us feel important! How much we would spend wasn't a "qualifier" and she was only interested in getting to know us. After 2 years of planning, we wanted Heather to dine with us at the rehearsal dinner. She had become a treasured guest, as special to us as family!

Heather Dwight, owner of Calluna Events, assembled an incredible team of vendors that delivered a magical and truly unforgettable wedding weekend of our dreams. The wedding was understated elegance with a Ralph Lauren vibe. The weekend was action packed and fun, a true reflection of our life together.

The mood board Heather created after the initial phone calls was spot on! From the start she understood our emphasis was a for a unique and memorable guest experience. Heather got the big picture yet executed it in great detail. When we walked into the reception for our private, first look we were blown away, it was absolutely gorgeous. Not a detail overlooked.

Our 4-day wedding weekend included Thursday night rehearsal dinner and stargazing party for all, Bridal horseback / hike to picnic lunch, groom's zip lining, and guest mountain biking and hatchet throwing, Welcome BBQ pig roast, semi formal wedding, after party and Farwell brunch.

We spent the first year sending Heather our ideas, thoughts, and selections, and she pulled them all together into a cohesive design and brought our visions to life and executed the weekend flawlessly.

While Heather kept us on track throughout the 2 years of planning, it was the last 3 months she shinned. She took care of all the large and small behind the scene details. Her timelines were flawless. Heather is very professional, organized, calm and soft spoken. She deftly steered the ship, working with the MOB, MOG, bride and groom and communicated our visions to all our vendors.

Living out of state and managing a growing company, Heather took the stress off me and made the planning process effortless and enjoyable. The day of the wedding, we were so relaxed and stress free. The day flowed so smoothly, I never once looked at the time.

Perhaps the best reviews came from Ranch staff who either worked over the weekend or stopped in to see the reception and said it was by far their favorite! Simply put Heather / Calluna are the Best! You'll get the wedding of your dreams and a friend for life!

+ 3

photos

Taylor M.

Married on 04/30/2022

Exceptional!

Working with Calluna was a dream come true! We worked with Melanie Robertz, and we could not have asked for a better planner. From our very first call, Melanie put my mind at ease, and made the entire planning process celebratory and easy. We could always count on her expert opinion, recommendations for other wonderful vendors, and her creative eye throughout our year of planning. She took the time to get to know us as people and as a couple, and ensured that our wedding captured our vision. Because of Melanie, our day was beautifully executed and felt true to the two of us. In the months leading up to our wedding, Melanie was always in close contact and worked closely with us to make sure every detail was perfect. Our entire family and wedding party noted how incredibly kind, efficient, and helpful Melanie was throughout our entire wedding weekend. The whole weekend was stress-free knowing that Melanie had all of the details handled! We would recommend Calluna to anyone, the team truly made the entire planning process incredible!

Abbie G.

Married on 02/28/2022

Priceless insight, expertise, and confidence

Calluna Events was such a valuable part of our event planning and wedding weekend, and I can't say enough glowing things about Heather and her team.

Eric and I had our hearts set on an "Aprés Ever After" ski wedding in Vail during peak ski season, and we knew we would need someone experienced to help us navigate the hurdles, lists, and nuances of planning a big life event, even more so during pandemic times. Enter, Heather and Calluna Events! Her approachable and insightful guidance helped us feel more confident pulling together a seamless event for our friends and family, and we couldn't be happier that we decided to work with her.

At the beginning of our planning journey, Heather worked with us to sketch out a budget, select an impressive team of vendors, and create a to-do list. Then, she set us free to plan our dream event. Although we did most of the long-term leg work, Heather was always there to answer our questions and bounce ideas off of along the way. We were so thrilled with all of her recommended vendors, and her calm and friendly energy certainly helped soothe my anxiety during our periodic check-ins.

As we approached the big day, Heather stepped in to help us navigate the last hectic stages of planning. She joined us for our tasting, helped us smooth a few last minute wrinkles, and pulled together thoughtful and thorough timelines for our weekend. She also took charge of reaching out to our vendors to ensure all logistics were seamless and ready to roll.

The weekend of, both Eric and I confidently passed over the keys to our big day and simply enjoyed our moment. Heather and Kira both brought such a positive vibe to the weekend, kindly guiding us through our timelines, and they set everything up exactly how I envisioned — if anything went wrong, we certainly didn't know about it! Overall, Heather and her team helped us pull off a simply magical weekend and we couldn't be more grateful. Three cheers for Calluna Events!

Nancy L.

Married on 02/09/2022

Thanking My Lucky Stars for Calluna Events

Not easy to pull off a FaBuLoUs wedding during the Covid pandemic – but with the help of Calluna Events – and in particular, Melanie Robertz – my daughter had the dream wedding she had hoped for in the beautiful Vail, Colorado mountains. Melanie was on top of every single detail. When Melanie said, "Consider it handled", we knew we could check it off our list – such reassuring words! Besides being efficient and very detail-oriented, Melanie was delightful to work with. If you are planning your wedding – I highly recommend you have Calluna Events in your corner! And ask for Melanie!

Brie A.

Married on 02/09/2022

Amazingly professional!

Not only was Heather our go-to for literally everything wedding-related, but she became an extension of the family throughout the process. She never judged our craziness (!) and I'm certain my dad wanted to adopt her by the end of the wedding weekend. She was so professional and easy to work with, not to mention the vendors and expertise she brought to the table were unparalleled. We are so grateful for such an amazing weekend and the countless unforgettable memories.

Chelsea D.

Married on 12/11/2021

The best in the biz!

Calluna Events, specifically Melanie, did a phenomenal job helping us plan our wedding last year! We were lucky to not have to reschedule anything due to Covid, but we were still navigating some difficult obstacles, and Melanie was always there to share her opinion, and expert knowledge to help us make the right decisions. She was in close contact in the few months leading up to our wedding, and I loved having her to bounce ideas off of when it came to our vision, florals, decor, everything! On the day of our wedding, I felt completely relaxed and confident that Melanie had every last detail and logistic covered. That was the best feeling I could have! I would recommend Calluna to anyone looking for a full or partial wedding planner - they are the best in the biz! Thank you again!

Susan Z.

Married on 10/08/2021

Absolutely the best decision we made!

4 weeks before my daughter's wedding the pandemic restrictions led to changing the reception venue to The St. Vrain in Longmont, Colorado in order to allow more guests to safely attend. The St. Vrain required a professional planner although I didn't think it was necessary given my 25 years of experience planning events as an Executive Assistant for Fortune 100 companies in Silicon Valley. I was wrong! Engaging with Calluna Events was the best decision we made! Melanie Robertz stepped in and effectively coordinated the rehearsal and wedding day with multiple vendors, 2 locations, a large bridal party (7 bridesmaids/7 groomsmen and 2 flower girls) during a pandemic, smoke from surrounding fires AND summer temps topping 98 degrees the day of the wedding! Melanie saved the day! She put together a detailed itinerary and collaborated closely with all of the vendors doing run-thru's managing every detail down to having bottled water in coolers ensuring our guests comfort. I did not have to worry or even pay attention to logistics.

The rehearsal ran smoothly and Melanie made sure the bridal party felt comfortable and well-prepared. On the wedding day she arrived on time and her team jumped in to handle decorations, logistics and bridal party needs. Her staff showed professionalism, composure, flexibility and care that led our guests to a wonderful experience and our bridal party to getting all their needs met.

During the ceremony one of the teenage groomsmen almost fainted and Melanie spotted the situation and carefully escorted him to safety so smoothly that I didn't even know anything had happened until after the ceremony. Our focus stayed on the bride and groom and we didn't miss a moment of their vows!

At the reception I wasn't aware that we were supposed to provide the ice for the bar drinks. Melanie enlisted help and got the ice delivered without a hitch! She handled the behind-the-scenes logistics so effortlessly that I stayed relaxed and engaged in all the fun the entire time. I am happy to highly recommend Calluna Events for your big day!


Calluna Events's reply:

Susan! This is such a lovely review! We are so happy to hear you are so happy! We are honored to have stepped in the month prior to help you and Sophia pull all the details together. Melanie thoroughly enjoyed working with you and it was such a joy to be with you and your family on Sophia and Jonathan's wedding day, despite COVID, the wildfires and the extreme heat, it was a wonderful day that we are grateful to have been a part of! Thank you! Melanie and the Calluna Events team!

Rachel A.

Married on 09/26/2021

Calluna is the best!

Planning a wedding during COVID was not an easy task. I am SO grateful that I had Calluna by my side the whole time. Melanie was my planner and she was extremely kind, calm, and helpful, as we navigated the many ups and downs of planning a wedding during this time. I am so glad that we decided to wait it out and have our wedding in September 2021. Our wedding was truly the best day of our lives. The weekend was flawless and couldn't have gone any better. I felt extremely supported by Melanie and really enjoyed working with her. Many of my friends, especially my bridal party, commented on how fabulous Melanie was and how well she handled everything. I'm so glad that I chose Calluna as my wedding planner and wouldn't have wanted to work with anyone else! Thank you for everything you do :)

Brianne D.

Married on 09/24/2021

Amazing Wedding Coordinator

We worked with Heather from Calluna Events when planning our wedding and we cannot say enough about how wonderful the whole process was. We are both very busy with work and six kids, so hiring a wedding coordinator was a must for us. We were so impressed by Heather's organization and professionalism, both of which were matched by her calm and caring nature. No detail was overlooked and we truly felt that everything we envisioned for the day, Heather helped to make a reality. Calluna had several other weddings the weekend we got married, but Heather made us feel as if ours was the only one and everything from start to finish was seamless. We truly enjoyed every minute, as did our guests. Heather and the Calluna team have so much knowledge and experience in this industry and we felt so fortunate to be able to work with them.We highly recommend this team to anyone planning a wedding or special event. You will be so happy you hired them!

Roberta H.

Married on 08/15/2021

Colorado Dream Wedding!

My husband and I live in New Jersey and dreamed of having a wedding in the mountains of Colorado where I grew up. Calluna was responsive to our initial inquiry, easy and fun to work with from start to finish, and made our entire experience amazing. Lindsay Hayden was our Lead Planner and Designer - she was fantastic! The entire Calluna team was wonderful and collaborative. Lindsay was able to intertwine all of our thoughts with her experience and ideas to bring together a large, beautiful and cohesive wedding on the top of Aspen Mountain. During the planning process, Lindsay always gave us multiple options for vendors with different styles and price points. She also negotiated with vendors to get us the best deal for our welcome event, wedding ceremony, and wedding reception. She coordinated with vendors behind the scenes so that everyone worked together efficiently - we didn't have to worry about a thing. She also worked ahead of schedule so there was less of a time crunch right before the wedding. Lindsay together with her team made my special day memorable and relaxing - I never felt rushed and was taken care of. She had an umbrella ready and was never far away. I told her my dress bustle had fallen down and the next thing I knew, her team was helping me pin it up. We couldn't have been happier. Thank you, Lindsay and Calluna!

Rachel F.

Married on 07/24/2021

Couldn't have done it without them!!

Working with Calluna Events was the best decision we made during the entire wedding planning process! Melanie Robertz is the kindest soul and was so on top of everything from start to finish. She was the calming presence to all of our stressful meetings during the pandemic when we weren't sure what was going to happen with our wedding. I trusted her opinions and suggestions for vendors, timeline, design ideas, etc. wholeheartedly and she truly made the wedding of my dreams happen! I loved working with Melanie and the Calluna team and can't recommend them enough!!

Holly S.

Married on 07/10/2021

Phenomenal wedding planner!

It's hard to put into words just how magical it was working with Calluna Events, specifically Heather Dwight. We had a phone consultation in 2019 with Heather to discuss our wedding ideas and I was immediately struck by her calm demeanor, professionalism, and desire to make our event truly unique to us (as we wanted a more eclectic/non-traditional wedding).

After talking with her, we instantly knew she was meant to be our wedding planner. We started working with Heather as she helped us plan both our 20 person intimate destination wedding weekend in Colorado and our 100 person wedding reception party in Virginia.

As we worked together for over two years (we had to postpone - shout out to the covid brides/grooms/partners) I began to see why Calluna Events is such a sought after wedding planning company - and it starts with their owner, Heather.

Heather goes above and beyond; She kept all of our vendors in the loop when we had to postpone our events. When the events finally happened, she provided detailed day of timelines for all of the vendors. She's an organizational genius.

Heather is a go getter; Throughout the planning process, we had a lot of questions for the venues. If we had a question regarding the venue, she would quickly reply "I'll ask them" or "I'll circle back with them since we haven't heard."

Heather is responsive and provides exceptional customer service; She understood just how important our special day meant to us and wanted to alleviate any stress we had by getting back to us in a timely manner.

Heather is detail oriented and creative; She cared about the little things just as much as we did. She's basically the Mary Poppins of wedding planning and always had multiple design ideas up her sleeves.

Heather is humble; She is kind-hearted, hard-working, and gracious in all that she does.

Heather is budget-conscious; She listened to our budget needs and offered multiple budget friendly options in all planning areas.

Heather is always rooting for her couples; She recognized what was most important to us on our wedding day and kept it top priority. She wanted us to have THE TIME OF OUR LIVES at our wedding and it showed because she put an immense amount of effort and care into the planning process.

Heather truly makes wedding magic happen and we were beyond fortunate to work with such a talented and lovely person. We would recommend working with her a thousand times over and can't wait to work with her again in the future (baby shower one day?!). Thank you Heather! xox

Amanda L.

Married on 06/18/2021

Above and beyond

We honestly can't recommend Calluna enough. They genuinely went above and beyond every step of the way. When we started working with Calluna, we had no idea it would turn into a nearly two year relationship (and neither did they!) thanks to Covid. We did a bulk of our wedding planning before Covid hit, working with Jean, who really helped a vision that we had no idea we had come to life. She was extremely communicative and patient each step of the way, and helped us move all of our vendor contracts when we had to delay a year due to Covid. In that time, it ended up that we needed to switch wedding planners due to the new timeline, and we started working with Lindsay who was a total all-star. She picked up right where Jean left off, and 100% delivered on our vision. The day of the wedding went off without a single hitch. I couldn't believe it! I wasn't stressed at all, and that was a testament to Lindsay and her team, and the amazing coordination with all of our vendors. I really can't recommend Calluna highly enough, we couldn't have been happier with our big day.

Jen R.

Married on 02/03/2021

The best decision we made for our wedding!

Before we even got engaged I knew I wanted to have Calluna Events as part of my wedding day! When looking at their instagram, everything looked so beautiful, personalized to the couple, and FUN and that's exactly what is like (and more) when working with them. Calluna Events was the best choice we made for our wedding! We were so incredibly lucky to work with Jean and honestly I am sad that our wedding is done that we no longer get to work with her anymore! She was SO well prepared, professional, and kind. She truly listened to what we wanted, found us so many options, and then did everything she could to make our vision happen. Jean made it so easy on us to work with vendors and found us the best ones. Our wedding day was the least stressful day ever because of Jean. Everything was organized so perfectly that we enjoyed ourselves thoroughly and never once had to think of the time or stress about getting something done. Almost all of the vendors told me they were so impressed with the timeline that was provided to them and had no additional questions for us as a couple because Jean was on top everything! We are so incredibly lucky to have had a beautiful and fun wedding day and it is all thanks to Jean and Calluna Events!

Taylor

Married on 10/10/2020

The Best There Is

I truly do not have the words to describe what a blessing it was to have had Calluna Events as our planner over the past year and a half. Covid really threw us, as it did everyone, for a curve and we had to relocate our wedding from Colorado Springs back home to Dallas. Jean was immediately on board with the change and was there every step of the way. Even without the craziness of 2020, I can say with absolute certainty we could not have done it without our planner, Jean. She was an absolute rockstar and I can honestly say became much more a friend than our planner. Our wedding was so much more than I ever could have imagined, and I owe everything to Jean and Calluna. I cannot recommend enough and am so thankful.

Hannah K.

Married on 10/10/2020

The best decision we ever made (other than getting married)

When choosing our vendors, I had a vision of bringing together a group of kickass talented people. Wedding vendors are not only with you for an entire day of the wedding, but almost a full year in preparation. All this talent needed a leader to understand their skill and let them flourish in a fun, smooth environment. For us, that was Heather and her Calluna team. She knew that a successful wedding is based off a happy couple and a happy vendor squad. She did all this working in a different state - she even attended our tasting via FaceTime!
In the beginning we had the pleasure of working with Jean, alongside Heather, and her calm composure was what kept us sane while locking in our dream venue - which was a unique process... During the planning, my check ins with them were the best part of my day. Every detail I told, no matter how small, was never forgotten, even months later. Jean had her adorable baby and Heather took the lead from there. The transition was so smooth and I always felt supported. Heather was on board with any crazy idea we threw at her - which were many. She truly became a friend and was always available to chat.
On the day of the wedding, we got to witness the real magic of Heather in action and it was brilliant. She treated me and my family like her own and was never flustered with their questions or asks. The bridal party especially loved their personal timelines she made for them. This showed that she was not only my planner, but theirs as well. She made sure she was there to help any of them. This was especially key in the times of COVID because there were unique nerves they may have had that go beyond typical wedding nerves.
Being a Calluna couple has been a true joy and I truly consider Heather a part of our family.

Laurelle C.

Married on 07/04/2020

Amazing wedding vendor

I was a Covid-19 bride who had plans to get married in Tuscany in July 2020 and unfortunately, everything had to change. I decided to get married in Colorado 3-weeks prior to the set wedding date and Calluna Events were accommodating, on-board with the quick turn around and went above and beyond to make my wedding happen. They also were incredibly helpful with how to make sure my wedding was Covid friendly and provided ways to make my guests feel safe.

The wedding turned out like a dream and I could not be more thankful for Calluna Events! I will recommend Calluna again and again!

Do not hesitate moving with them and book Calluna as your wedding planner!!
Are you interested?
Send a message