98 Reviews
Recommended by 99% of couples
Quality of service

5 out of 5 rating

Average response time

5 out of 5 rating

Professionalism

5 out of 5 rating

Value

5 out of 5 rating

Flexibility

5 out of 5 rating
92 User photos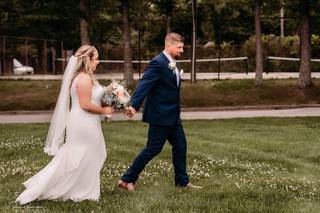 + 88

photos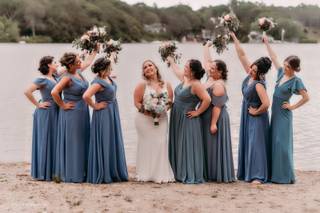 Featured

Adeline M.

Married on 11/17/2018

There is nowhere else like Bournedale! You will be eternally grateful if you hold your wedding there!

Where do I start? Everything about our experience hosting our wedding at Bournedale was perfect.

We had the difficult task of planning a wedding from out of state. We had to look at venues online and try to gauge from reviews and pictures what the experience might be like. A friend from high school had her wedding at Bournedale and highly recommended it, so I had my sister go take a tour and FaceTime us. From that moment on, we felt blessed to have found Bournedale - and that feeling has only grown throughout the planning process and now as we reflect on our amazing wedding.

Every aspect of Bournedale is perfect:
+ The location? GORGEOUS in all seasons. We got married in November and even with bare trees, it felt like a magical location on the lake.

+ The value? Insane. I'm still sort of in shock at the experience we had for what we paid. Bournedale was the most affordable location in the area and it offered a million more things for that price.

+ The coordinator, Darin? Invaluable. He absolutely made the day. I can't say enough about my appreciation and love for Darin. He is MEANT for this kind of work. He has a calm, relaxed demeanor and yet has every little detail 100% covered. He is thoughtful, honest, and kind, and I was so, so grateful to be able to work with him for this wedding.

+ The food? Insanely good. Like, actually. I know people always say how they had people tell them the food was good afterwards, but my friends are RAVING. Everything was perfect and delicious and like a meal you would have at a really nice restaurant. The variety was awesome, and the chef is just the sweetest person. He accommodated not just your regular dietary restrictions but more unique ones with a smile, making every single one of our guests feel welcome. I ate at the wedding (Darin and Robin, another coordinator, made sure we did!!), and I still regret not eating more haha!

+ The experience? Where else can you have a beautiful ceremony on a lake, cocktail hour, an incredible dinner, super fun dancing, a bonfire with marshmallow roasting, an afterparty, AND brunch?! I can't tell you how much fun this was. I've never been to another wedding like it. I was pretty overwhelmed by the prospect of a wedding, and this actually made it so much better - we had so many opportunities to connect with our friends and family in a relaxed way, and there was much less pressure knowing we'd see folks at the afterparty and at brunch. Most of our guests were from out of town, and if this is true for you, you absolutely need to pick Bournedale.

+ The staff? Genuinely kind, wonderful, helpful, loving people - every last one. It truly feels like a family-run establishment. Everyone from Arnie, the owner, to the coordinators, to the kitchen staff, to the great guys who drove us around in golf carts all night long were just the sweetest, loveliest people. I can't express my gratitude to them all enough for making us feel so welcomed and supported.

Truly, there is nowhere else like Bournedale. I can't express how over the moon I am with the experience we had there. It's hard to imagine why anyone in Massachusetts or the surrounding area would ever plan a wedding anywhere else when Bournedale is an option. I am going to cherish my time there forever -- my now husband and I are already planning to send our future kids to camp there and want to rent it out again in the future for an anniversary or family celebration!

Polly R.

Married on 06/18/2022

Dream Wedding

How to even begin explaining such a magical day is tough. We cannot express enough how amazing Darin, Wendy and Robin along with the rest of the crew were. First, they were very welcoming when we went for our tour, showed us around and answered all questions. After we booked (which was the same day), we still, day after day had so many questions and Darin was always available to answer them. He always assured us that him and his crew would carry the weight the day off the wedding and let me tell you they SURE did. If you are a lost soul in the wedding industry like myself and my husband were, sit back and take a deep breath because Darin WILL guide you throughout the time you book to every second of that special day. Everything went so smooth, and everything looked so beautiful. I felt like a queen since he was always checking on us. You always hear people say "oh don't forget to eat the day of cause you will be so busy". Thanks to Darin, my husband and I had our drinks and meals brought to us as a reminder to hydrate and nourish. The food was absolutely DELICIOUS!!! The presentation was right on and tasted very gourmet. The staff are all so sweet and thoughtful at all times. Not saying this just because it was my wedding day, but everything went perfect and I know I am not alone when we think or wonder how the day will go? It was perfect. The bon fire after the wedding was so much fun, our guests enjoyed each minute and kept telling us "This is the best wedding ever!!!!" which was exactly what we were aiming for, not only what we desired but to convenience for our guests as well. Having the ceremony outdoors, the reception right there and the overnight stay with bon fire all in one place not having to get in the car and drive away. Not to mention the next day they serve this delightful and tasteful breakfast. I honestly felt like it was a dream, filled with excitement and joy to see myself and my husband and most importantly our guests having a great time or "the best time" as they quoted. Again, I cannot say enough about this place and crew. We are so thankful for each and every one of them for making this day more than special and more than we imagined. The staff are "naturals" and made for this field because you can see right through their compassion. Highly recommend without a doubt!! It was our second place we looked at from a list of others we had in mind, and we stopped there and couldn't be happier with our decision.
From: Mr & Mrs Bairos: THANK YOU DARIN & BOURNEDALE STAFF!!!

+ 6

photos

Casey M.

Married on 05/13/2022

Picturesque & great value

I really CANNOT say enough great things about Bournedale. I loved the all-inclusive pricing and the option to have guests stay on the property. Darin was an irreplaceable part of our wedding. He is the quarterback you do not know you need on your team. Robyn was amazing. She went above & beyond to provide stellar service for my husband & I. The food was amazing. I loved the pontoon boat ride during the cocktail hour. The pool & jacuzzi. The game room. They allow flexibility and we really felt like we were able to customize our dream wedding. Booking Bournedale was the easiest and best decision we have ever made together.
Our sincere thanks to Bournedale,
Bryan & Casey


Are you interested?

Send a message

Hannah E.

Married on 04/29/2022

Fun, relaxed, and unique!

Full disclosure: I was previously familiar with Bournedale as a camp, so I already kind of knew what to expect from them as a venue. However, this doesn't change my experience there as a bride!

Bournedale is, as far as I'm concerned, the DREAM venue. Our wedding vibe was rustic, chill, and intimate. We wanted everyone to have fun and feel relaxed, especially after these tough pandemic years. Bournedale is the venue for couples who want to party, laugh, and mingle with loved ones. I've had so many guests comment that they felt completely comfortable at our wedding, despite it being the first big outing in years for many of them. The staff are so friendly and professional; I honestly could take up this entire review just naming every single employee who made the day special. Darin was great to work with; I don't think there was ever a time I had to send a follow-up email because I hadn't heard from him. I'll never forget at our first meeting, when I was a panicked, anxious new bride, and I said, "God, I still have to get a wedding coordinator!" And Darin said, "You're not going to need one; save your money. We'll take care of everything." And oh my god, it was so true!

The venue is beautiful; it's a remote, quiet location but right off Exit 3 so very easy to get to. The outdoor ceremony site is on a lake with a small beach (and Bournedale offers pontoon rides during cocktail hour). Since the venue is a campground, there's plenty of room for people to explore outdoors, and space for outdoor games, etc. But don't let the word "camp" scare you: everything is paved and Bournedale shuttles guests with golf carts so no one has to trek it. We had plenty of people wear semi-formal attire, complete with high heels, and no one had any difficulty. There are cute cabins for guests who are staying overnight, as well as a few full houses for getting ready, etc. The interior of the venue has big beautiful windows overlooking the lake, and plenty of room. We had about 70 guests and used eight tables (plus a table for gifts and desserts), and the dance floor was the perfect size.

Bournedale was super helpful with set-up. They actually have two arches to choose from for the ceremony (or of course you can bring your own). The day of, Darin had us show him what the centerpieces should look like, and then the staff took care of it for us. Bournedale provided everything we needed (linens, etc), and honestly my afternoon was just spent relaxing in one of the houses and getting ready. Bournedale let us store our cupcakes in their kitchen and helped set them up. I am embarrassed to say I didn't eat the food; despite my best efforts, I was too anxious and my stomach just shut down! But everyone else said they enjoyed it, and the couple of bites I managed were delicious! We did the mac and cheese bar as an add-on, and it was such a hit! Bournedale also set up an awesome After Party for people who were staying the night. Staff built a bonfire and helped us order pizza (by then I was actually able to eat… highly recommended!) They also offered to do breakfast the next day, but I had my heart set on a brunch truck (what can I say, I'm a millennial). Bournedale was totally cool with this, and even shuttled guests from the truck to the main hall, where they had coffee, tea, and juice available.

The overnight guest arrangements are a little confusing, and I think it's mainly because Bournedale keeps everything on one bill, so whoever is paying the grand total has to collect money from any guests who are staying. What I recommend is setting up a Venmo so your guests can just pay you directly. It's also tricky (especially these days) because not everyone is comfortable in a shared cabin. Darin was quick to tell us not to worry about it, and assured us that if any guests wanted a cabin to themselves due to COVID concerns, they would make it work. Luckily, since we only had about 25 people staying overnight, we were able to rent the houses instead of using the cabins. I recommend the happy couple stay in Greta House, since it has a King bed. We stayed with all our closest friends, while each of our families had their own house. It worked out perfectly!

Look, every newlywed is flying high after their weddings (or at least I hope they are!) so it's easy to just be like: everything was perfect! It was beautiful! Etc etc. That's why I waited a while before I wrote this review. I wanted to make sure I had a clear head, lol! And I'm here to say: my memories of Bournedale as a venue just get BETTER as time goes on! Maybe if you're picturing a huge, white-tie, ultra-formal event, you might find Bournedale too casual. But if you want your wedding to feel like a celebration, if you really want to feel the love in the room, and if you want to have as relaxed and fun a day as possible, I HIGHLY recommend you check Bournedale Function Facility out!

Alli G.

Married on 10/02/2021

Words can't describe how happy I am with Bournedale…

Bournedale is a hidden gem. My husband and I had our wedding reception there on 10/2/21 and could not be happier. It was truly a fairytale. We got married in September of 2020 but due to Covid we had to put the big party off. We rescheduled 3 times with our original venue to find out that they closed. Wedding planning was beginning to become more of a chore than it was fun until we met Darin and found the Bournedale facility. The location is unbelievable and the experience is extremely unique. The ceremony was right on the water followed by boat rides during the cocktail hour. The food is delicious and most importantly the staff were the friendliest staff I have ever encountered. They do weddings all weekend every weekend and still some how manage to have a smile on their face. They set everything up, took everything down and were extremely accommodating. We had more than half of our guests stay over and enjoy the bonfire to continue the party. I keep getting messages from people saying how much fun they had and how impressed they were with the dinner and breakfast!! I'm so sad it's over but so happy we have this perfect memory to remember the rest of our lives. Thank you Darin and Bournedale for making our wedding dreams come true.

+ 6

photos

Carolyn

Married on 08/21/2021

Easy PLeasy

Bournedale Function Facility is a beautiful venue located on Great Herring Pond! Darin and Robin made this day relaxing and enjoyable! They by far exceeded every expectation I could have had! When I first walked in to the function room it was more beautiful than I could have ever imagined!! Not to mention the grounds for the ceremony were manicured and lovely. All the guests had the option to stay over night in cabins. The food was absolutely amazing! Everyone of my guests commented about how delicious it was!! Even brunch the next day was delicious!
Darin, Robin, and the rest of the staff really know how throw an elegant party! A week later and I am still getting text messages from guests stating they had such a fun time!! You can't go wrong with Bournedale Function Facility!! No place comes close to having a beautiful waterfront location with a Cape/ beach vibe!!

Julianne

Married on 10/10/2020

Amazing spot & amazing staff!

11-06-21 was a dream 🤍 I can't say enough how happy we are that we chose Bournedale as our reception venue! Darin & Robin were so awesome to work with. They took care of everything from start to finish. The whole set up came together beautiful. The food was SO good - I highly recommend the Mac & cheese bar! Darin even made sure I ate. The cabins & houses were a hit with all of our guests. The golf carts were a major plus! Especially after dancing all night. It was so fun to be able to continue to party with everyone by the fire pit after the reception. We had a very nice breakfast with everyone the next morning. It was so nice to be able to relax, hang out by the pond & in the indoor pool/hot tub with all of our friends & family before leaving. The icing on the cake was that we got to have our dog enjoy the day with us! It was truly the best day ever, I wish I could live it over again - thank you so much Darin, Robin & the Bournedale staff! - The Levaggis

+ 2

photos

Emily M.

Married on 09/18/2020

Elegant and FUN Adult Summer Camp!!

I think I have been waiting so long to write this review because I refuse to believe that it's over. They say nothing in life is perfect, but I don't believe that anymore after the incredible day we had on August 27th, 2021. As a COVID bride, Darin and his staff were so helpful, accommodating, and understanding as we tried to navigate an incredibly stressful time. We ended up postponing just once, but everything else was perfect beyond words. The location is beautiful, the staff was so helpful and friendly, and the venue as a whole was the perfect atmosphere that my husband and I dreamed of. This venue is truly a steal for the location, AMAZING FOOD, and personal care that you get as a client. Our guests slept in the cabins and cottages on-site for a low cost that beat a Plymouth hotel any day, and our after-party was a wild and crazy time. Our friends and family are still talking about it as "the best wedding of all time" and "adult summer camp." It's so hard for me to put into words how much this staff means to me. I wish I could do it all over again. I wish I could give 500 stars. Darin and Bournedale, thank you so much for making my dreams come true.

Ashley

Married on 09/04/2020

Best Venue EVER

We can not say enough about Darin and the staff at Bournedale Function Facility. I was a COVID bride and when I was told that we wouldn't be able to have our wedding here on our original date, my husband and I were devastated however Darin was absolutely amazing. He was so patient and answered all our questions! Fast forward to this year when we get the go ahead that we will have our wedding, we were ecstatic! Darin and his staff did EVERYTHING! I picked all my decorations and dropped them off before our big day and all we had to do on our big day was getting ready and enjoy! Not only is the facility perfect with the houses/cabins to get ready and stay over in after partying all night but the food was out of this world delicious! I would recommend this beautiful venue to all brides!

Teresa B.

Married on 11/08/2019

Wedding Review

Everything and everyone was great! The entire night went smoothly thanks to Darin and Robin, the food was amazing. The guests had nothing but great things to say!

Jessica R.

Married on 10/25/2019

Best choice all around!

I am so glad that we chose this venue. There are no words to describe how perfect everything turned out! The staff was amazing and friendly from start to finish. Anything we needed or asked for was granted. Darin is a wonderful person and Bournedale is definitely a gem of a place. Luis and I would highly recommend this place to anyone. It was affordable and all of my guests had nothing but positive comments about the facility and staff!

+ 5

photos

Cassandra R.

Married on 10/12/2019

Amazing!!!!

I'm going to try, but there is no way to truly explain how amazing our wedding was at Bournedale. I feel so grateful to have found this venue for our wedding. Darin and his crew are beyond amazing. They took care of every tiny detail I did not even think about! This is a beautiful place to be married and to celebrate. The views are spectacular, the staff you cannot find anywhere else, and everyone had an amazing time! I did not feel anxious about anything the entire time because of Darin and the staff! Thank you SO much for being our perfect place to get married.

Jamie

Married on 09/27/2019

Excellent venue, highly recommend!

Bournedale made our planning our wedding an enjoyable and easy. They were there for us any time we needed them. Made sure we had everything done on time and on the day of the wedding all the staff was extremely accommodating, pleasant and made it a perfect day. Shout out to Darin and Robin for being exceptional as well. Definitely recommend!

Kristen T.

Married on 09/07/2019

Amazing in every way!

Our wedding was exactly what we wanted and more thanks to Darin and his staff at the bournedale. They made our vision come to life and were so professional yet warm and inviting. The Bournedale is picture perfect and we couldn't imagine any where else for our nuptials!

Nancy G.

Married on 08/23/2019

amazingly easy, stress free, and professional

Darin and the team were friendly, professional, and detail oriented.
they made our wedding day stress free and amazingly memorable. My guests keep telling me that it was the funnest wedding they have ever been to.

+ 13

photos

Danielle

Married on 06/08/2019

Perfect Venue

My husband and I most definitely recommend the Bournedale Function Facility as a wedding venue! They are so accommodating and made planning our wedding there as easy and stress-free as it could possibly be. Darin was a huge help during the months leading up to our wedding. He answered all of our questions in a timely manner, and would offer advice when we asked for his recommendations. He has several years of experience running weddings at Bournedale, and it shows.

We were so lucky to have perfect weather when we got married, so our guests were able to go out on the pontoon boat during cocktail hour (which they loved), and we were able to have the bonfire afterparty as well. Everyone loved the food and the Bournedale staff made sure my husband and I got our meals and drinks, since there's so much going on.

We had close family and the wedding party stay overnight in the houses on the property (where we were able to get ready as well). That was another main reason we chose Bournedale. We had several families traveling from far-away states, that having them stay on the venue property gave them one less thing to worry about.

If you're looking for a venue with a beautiful water view, lodging options on-site, great/dependable staff, and delicious food, this is your place! Not to mention the price is so much more reasonable than other New England venues we looked at.

Christina

Married on 10/06/2018

Fantastic value, Amazing Wedding Venue

Bournedale was such a fantastic choice for our October wedding. Darin and his team were AMAZING! He was so responsive, friendly and professional. Such a great events coordinator. He was great about making sure everything went smoothly and on time, he also made sure we were well fed during dinner! We had so much time before the wedding, about 3 hours before the ceremony to just relax, hang around, greet our guests and take beautiful photos on the grounds. This venue was definitely unique, guests were most impressed by the pontoon boat rides, such a fun and unique activity to have at a wedding. The food was also phenomenal, I still have people saying how AMAZING the food was. We had the carving station and a pizza station (along with veggies and salads). I highly recommend this venue!

Ebony

Married on 09/22/2018

I don't even know where to begin about Bournedale, Darin and the whole team. The best place may be to start from the beginning. My now husband and I are from out of state so when planning our wedding we knew we wanted something more that the typical ballroom/event hall type wedding. The majority of our guests would be traveling from a distance and we wanted something that would allow us to interact with them for more time than 5 hours. In our research that is almost impossible in the Boston area if we didn't want to go to NH or VT. The places that seemed like they would work were either too rustic or too expensive. Then I found Bournedale!! From our first visit to the site we just knew. It is right on the water, they have so much land, and the value!!!! Oh my gosh for the whole year leading up to the big day I was just waiting to the other shoe to drop but it never did. You get an outdoor ceremony overlooking the water, indoor reception, you can bring your own lawn games, pontoon ride during cocktail hour, overnight stay for guest in beautiful homes or more rustic cabins. AND A BONFIRE AFTER THE WEDDING!!! Amazing. Hearing that I thought ok something had to be bad, but it wasn't. The food was UNBELIEVABLY delicious best filet I have had in awhile. The timeline of things went off without a hitch. And the best part was the whole Bournedale staff . They were the nicest kindest professional, warmest people I have ever met. They made me feel like we were all family. They accommodated all our requests, made sure we ate at the reception, coordinated and fed our vendors, set up the hall, and so much more. From the guys who stayed overnight to drive us around in golf carts and coordinate the bon fire to the owner who was so friendly and helpful, you can not go wrong by having your wedding here. It was a dream come true and I am so happy we found this place. It was my best day ever and I will be eternally grateful to all of them. Best venue ever!!!!

Shauna

Married on 09/15/2018

Best decision we made!!!

We got married at Camp Bournedale September 15, 2018 and Darin and his team handled everything from A-Z….from my emails throughout the year with 100 questions, setting up all the décor we dropped off and being our day of coordinator they were absolutely wonderful. I can't recommend them enough. We didn't have to worry about a thing. All our guests raved about the food, service and overall experience. We had so many people tell us it was the best wedding they ever went to, and I can attribute this to Bournedale and their team.

Maura

Married on 09/14/2018

amazing campground wedding venue!

Darin and the crew at Bournedale helped us have the most amazing campground wedding! We cannot recommend them enough. He was available throughout the year for questions and then on the day of he was definitely the one to keep everything flowing smoothly. Him and his team definitely have it down to a science! The camp background gave a relaxed and fun yet gorgeous and elegant feel to the entire day. They helped with setting up all the decorations (inside and out) and the food was amazing. After the reception they kept the bonfire going for everyone to enjoy. Everyone was able to sleep over in the cabins and houses on-site which made for a memorable and fun sleepover experience for all. People are still telling us how much fun they had at our wedding. I can't recommend Camp Bournedale (and Darin and his team) enough! We want to go back for a reunion!

https://oncelikeaspark.passgallery.com/-mauraadamwedding/gallery

+ 17

photos

Melissa

Married on 08/18/2018

I don't even know where to begin to thank Darin and the Bournedale crew. My wedding exceeded every expectation I had. The food was incredible and everyone raved about it. Everything was perfectly cooked and delicious. I couldn't believe the amount of appetizers that got passed around. Darin brought our dinner to our table so my husband and I didn't have to go through the buffet line. The staff set up all of my decorations and even put together my intricate centerpieces despite my warnings that it might be a lot of work. Everything was set up just as I had imagined. The guests loved being escorted from their cars via golf cart. Thunderstorms were looming all day and the clouds got steadily worse but Darin was optimistic and we set up for the outdoor ceremony that I dreamed of. During the ceremony people starting looking at the sky and we began to feel a few drops. Not even 2 minutes after everyone got inside it poured the hardest rain I've seen in years. It was incredible. I would have been so sad if we weren't able to do the outdoor ceremony and thanks to Darin and everyone who helped with the set up they made it happen for me even though we knew it was going to rain at some point. Having everyone stay overnight was one of the best parts. The bonfire was really special and we had pizzas delivered that the crew kept warm until we were ready for them. Rain ended the bonfire early but we got rides back to our houses on the golf carts which was great. The breakfast the next morning was delicious. I could not stop eating the blueberry bread. Arnie the owner was there for the ceremony and the breakfast and was such a sweet man. I could go on and on. From the big things, to the very small things, Darin and his staff went out of their way to help us have an amazing wedding. Words can't even express how happy I am. Have your wedding here!

Ashley

Married on 06/02/2018

I can't say enough good things about this place. Everything was wonderful, food was great, we had a blast!! Best day of my life and the team at bournedale really helped pull everything off without a hitch! Fire pit at night was so much fun! I highly recommend this place for your wedding!!

Heather

Married on 05/19/2018

Perfect laid back yet elegant venue! Darin was very professional, along with all of the other staff. We had the time of our life and are so happy we chose Bournedale for our wedding.

Samantha

Married on 05/19/2018

Having my wedding at Camp Bourndale was the best decision I have ever made!! Darin and his team are beyond amazing to work with. They walked us through everything that had to be done that day so I didn't have to think about anything! The food was absolutely amazing and as I see my guests they all remind me of the food!!!! I couldn't thank Darin and his staff more for the most amazing day of my life!

Paula

Married on 05/19/2018

Our daughters wedding was absolutely perfect!!! Even the weather didn't put a damper on all the festivities.
Darin and all the staff welcomed us as family.
The food was fabulous!!
We had the time of our lives!!
Are you interested?
Send a message