Reviews
5.0 out of 5 rating
Quality of service

5 out of 5 rating

Average response time

5 out of 5 rating

Professionalism

5 out of 5 rating

Value

5 out of 5 rating

Flexibility

5 out of 5 rating
100%
Recommended by couples
12 User photos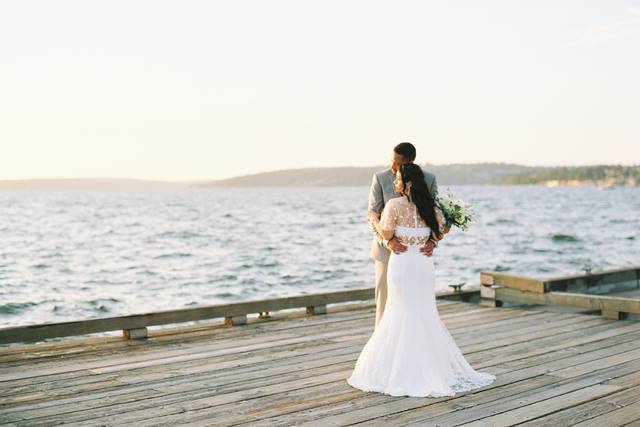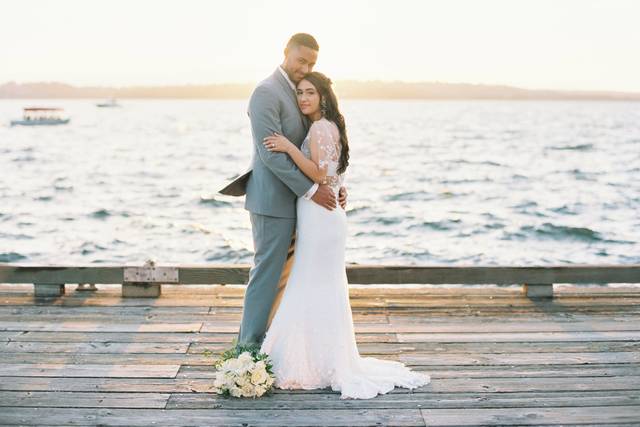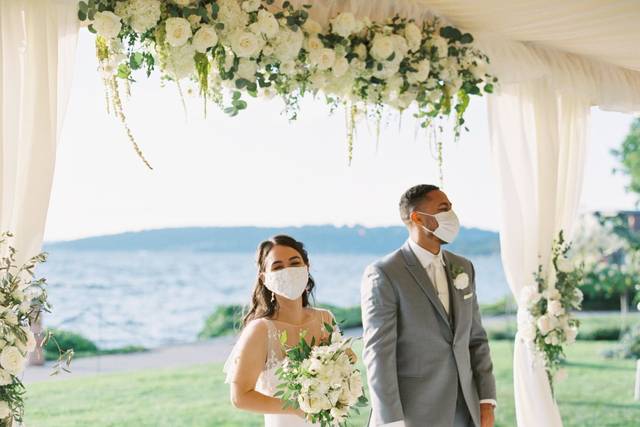 + 8

photos
Alex B.

Married on 06/11/2022

Best wedding photographer pair

Brittany and Joe were absolutely a pleasure to work with! They were extremely responsive and walked us through the details of the wedding day before the big day. They knew the types of pictures we wanted on our wedding day and what moments were really important to us.
On the day of the wedding, Brittany was with the bride and the bridesmaids and Joe was with the groom and the groomsmen for the getting ready photos. Their attention to detail really stood out to me. For example, they coordinated with each other the whole time to make sure my soon-to-be husband and I didn't see each other before our first look. After the wedding, Brittany and Joe also made a quick turnaround with our photos. We were able to relive our wedding day all over again with the amazing photos they took. We now have photos that we will frame and cherish forever. Would highly recommend them if you are looking for a wedding photographer.

Rachel A.

Married on 08/03/2020

2020 Wedding

Brittany and Joe were amazing!! We hired them to shoot our wedding for July 2020. We had so much fun at our engagement photo shoot which made us even more excited for our wedding. As 2020 progressed covid hit and we had to reschedule our wedding a 2 times. They were so flexible and willing to change dates. They made everyone so comfortable while we posed for pictures. They made everyone look so natural. The backdrops at our venue were picked out by Joe and Brittany beautifully. We will forever treasure our wedding photos! We hope to work with them in the future!

Enna H.

Married on 08/10/2019

These two have an eye for unique and beautiful shots

I don't even know where to begin with Brittany and Joe because there are so many amazing things to say. First off, the chemistry between Brittany and Joe is something special. They have this beautiful way of working together and bouncing ideas off each other that makes it so fun to witness. They both are so down to earth and make you feel like you are just hanging out with a friend.

During our wedding, they were calm and listened to our needs and wants. We got a little off track on our timelines and they were so flexible. They are both efficient and completely professionals. Not to mention, their photographs are breathtaking. They shoot these gorgeous editorial photos that capture the light just right. They both have such an eye for unique spots to shoot, even if they have been there before.

You will not regret choosing these two to capture your special moments in life. Carl and I cannot thank them enough for their hard work. We just had a blast hanging out with them! We can't wait to have them capture the next milestones in our lives!

Are you interested?

Send a message

Crystal

Married on 07/28/2018

I cannot say enough great things about Brittany and Joe. We found them on Instagram and instantly knew we wanted them to shoot our wedding. I'm a wedding vendor, myself, so I felt like I had high expectatations. Their light and airy, editorial-style photos made the decision easy.

I made sure to reach out to them super early (about a year out), and from the first email, I could tell Brittany and Joe really cared about their clients. They were always very quick to respond to emails (within a few hours!), and were always open to hearing suggestions, and making the day about you.

We met up with them once before our big day to go over logistics, and just get to know them. They are both super down-to-earth people with over a decade of experience, and on top of that, they have the cutest son!

Come the day of the wedding, they were punctual (of course!), and have a natural way of guiding you in taking a great picture, especially if you aren't used to being in front of the camera. We also did a group photo with all 126 of our guests. How Brittany and Joe pulled this off? I have no idea, but they did with flying colors.

Both Brittany and Joe have unique talents and together, they make a dream team. I would recommend them to anyone, whether they are looking to get wedding photos, family photos, or anything else!

Claire

Married on 10/10/2017

Brittany is absolutely amazing! She photographed my destination wedding in Cabo San Lucas earlier this month, and I couldn't have asked for a better photographer.
The photos are perfection, and she made everything so seamless, even through the heat and humidity.
She found the most beautiful and scenic locations and has the best eye for detail.
When I learned she was available for my day, I absolutely had to book her right away. Working in the wedding industry myself, I've been following her work for years and knew she was the perfect fit.
I HIGHLY recommend Brittany and Joe with Blue Rose Photography!

Sarah

Married on 09/23/2017

I can't say enough good things about Brittany and Joe. We had so much fun taking our engagement pictures in the snow and they turned out amazing! They are both so laid back and easy to get a long with, it felt like we were just hanging out with friends. I absolutely love our wedding pictures, they are so good at paying attention to little details that you would have never thought to think of. I wish we could get married all over again so we could take more pictures. I will definitely be using Blue Rose again for pictures in the future.

Melanie

Married on 09/02/2017

Brittany and Joe are SERIOUSLY the best. We did our research amongst Seattle photographers, and are SO happy we went with Blue Rose. Not only are our wedding photos absolutely amazing, but our engagement photos blew our minds! The entire process was fun and enjoyable, and they really took the time to get to know us and understand our hopes for the photos. I cannot say enough good things about these two, besides BOOK THEM!! You will love every photo.

Rachel

Married on 08/12/2017

Brittany and Joe did an absolutely fantastic job photographing our wedding! They were so fun and easy to get along with, and the photos they took are stunning. Every moment of the day was captured beautifully. We highly recommend them and plan to book them again for our future photo shoot needs!

Annalee N.

Married on 06/05/2017

Best photographer in seattle!

I've had the pleasure of working with both Brittany and Joe in the events industry for years, but jumped at the opportunity to have them capture my own new baby this past summer. They are far and away the best photographers in Seattle (and further!) and I feel so lucky to have had them document one of the most special times in my life. Not only does Brittany have a phenomenal eye for catching moments on film, but she really puts you at ease in front of the camera. I wish I could give them more than 5 stars!

Melissa

Married on 08/13/2016

Our experience working with Brittany and Joe was fantastic. We had them do our engagement photos (late in our engagement, to be fair) and it was a great decision and really helped us get comfortable with them before having them take our wedding photos. It's about a month after the wedding now and we are SO happy with our pictures. They're gorgeous! We couldn't have worked with anyone more easygoing and yet completely dedicated to doing their best job. We had a lot of fun and the photos turned out great. They were also very discreet and didn't make anyone feel uncomfortable (even my dad who is not a fan of having his picture taken) while still covering every aspect very thoroughly. All the photos can be viewed and saved directly from an online gallery which is super convenient as well. Thank you!!!

Barbara

Married on 07/09/2016

Flawless, classic, magical, stunning, ethereal, whimsical, dreamy, gorgeous, perfect: the list of words I could use to describe this fantastic wife and husband photographer duo is endless. There is a reason why Brittany and Joe have so many flawless reviews - they truly are the real deal! Choosing a photographer was perhaps the highest priority on my wedding vendor list, and one in which I was not going to be stuck by budget, as your wedding day will fly by in a dreamy haze, yet your photos will be one of the only things to last forever (besides your love and memories of course :). I knew I wanted these two from the moment I stumbled across some of their engagement photos via a google search, and when they showed me full wedding albums in person over a coffee consult, I knew I had to book with them. My husband and I trusted Brittany and Joe completely and let them do their magic and run with it on our wedding day. If you choose Blue Rose Photography, you can sit back and relax and discard any lists of must have poses and toss any worries away. They truly are the dream team and they have everything covered. Brides (and grooms) - trust me when I say they will capture it all and more! Seeing these two interact and work together was also a thing of beauty - they each have their areas they like to cover, so nothing will be left to the wayside, and the love they have for each other enhances the entire experience. Brittany was extremely sweet and patient along the way, answering what I am sure were some endless emails and annoying questions with efficiency and patience. Another huge plus: they also do film along with digital, and if you've seen wedding photos in film, you will understand why I am truly, deeply, and madly in love with the finished product. Brittany and Joe - thank you again for taking so many photos that we will treasure for a lifetime. We can't wait to work with you two again the next excuse we have!

Alex

Married on 07/02/2016

We could not be happier with Brittany and Joe! Not only is their work amazing, but they are great people and make it easy to be in front of the camera. So incredibly thankful to have them capture our wedding and engagement and will always recommend them to anyone and everyone!

Ann

Married on 06/18/2016

Brittany and Joe are absolutely wonderful! They were fast in responding to emails and took the time to learn what we wanted to see in the pictures.
They walked around the venue in advance to find picture spots and remained very professional during the whole wedding and reception. Not only did they take great photos, but they also stayed out of the scene to take the most natural shots (which really helped us remember what happened on the wedding day when we're looking back now). Even our guests were very impressed with their professionalism.
The online photo gallery was sent to us shortly after the wedding. They were helpful in helping us organizing the wedding album, and were very responsive to our requests with great patience. There were many album choices available too.
In short, we recommend Blue Rose Photography!

Korryn

Married on 06/11/2016

Brittany and Joe were the first vendor we reached out to right after we got engaged. Choosing a photographer is, in my opinion, the most important wedding decision you can make! The pictures will be handed down from generations to generation. We are SO GLAL we chose them to be a part of our wedding! They are fun, professional, timely and completely now what they are doing!
Their pictures are whimsical, timeless and simple but so accurately reflect our relationship! Brittany and Joe have a way of coming into the room and completely capturing the emotion. We have now been married for six months and I still cry looking through our pictures.
They send a questionnaire out before the big day, which we put a lot of effort into filling out. Every single thing we asked for was delivered- and more!! I recommend them to every couple I know getting married- because I truly believe that they are awesome at what they do and completely worth the investment!
Thank you so much Brittany and Joe! We are head over heels in love with our pictures and plan on booking you for other fun life events in the future!

Jessica

Married on 10/02/2015

Brittany and Joe were so awesome to work with, we could not have been more pleased! They were organized, helpful, creative and responsive.

Every touch of their process was fantastic. We met them for coffee for our initial consultation, they were very prepared and really listened to what we were looking for in the photographers we hired. We didn't want to do engagement photos and it was so nice because we never once felt pressured to do so. So many photographers really sell the "package" deal and they just truly let us choose what was best for us.

On our wedding day they were there before the scheduled time, checking out good spots for different pictures, getting a good grasp of what the weather and lighting were like, etc. Everything was so easy. They had tons of great ideas but also gladly allowed me to throw in some ideas of my own.

After the wedding, we received our pictures in a very reasonable amount of time, much sooner than I anticipated. Literally EVERY picture was amazing! We could not have been more pleases with the quality AND quantity of the pictures they took. Now we are just struggling with picking which ones we want to print for the house! :) A great problem to have!

Thank you to Brittany and Joe! Great people, great photographers, great to work with!


Courtney

Married on 08/30/2015

Brittney and Joe are amazing! They are very professional, easy to work with, flexible, and make you feel comfortable when you are having your pictures taken. My husband and I hired them for our engagement photos and wedding day photos. They were willing to travel for our engagement pictures and really enjoy photographing new places. They have enough experience to be able to capture great pictures in places they haven't shot before. They do there homework and scout our venues and area before the shoot and there photos are beautiful. We were able to see some of the pictures the following day and had all of them from our engagement session within about 3-4 days. Our wedding photos were sent to us within 2 weeks from our wedding (which was in peak wedding season). I hope to hired Blue Rose for additional photography in the future. They are definitely worth every penny!

Allison

Married on 08/28/2015

Brittany & Joe deserve 5 stars across the board. They were easy to work with, organized, professional, personable and the very best at what they do. My husband and I love every single picture they took and could not imagine anything better. They captured EXACTLY what we wanted and gave us priceless memories of our fairy tale day. Thank you Brittany & Joe!

Greta

Married on 08/02/2015

Brittany and Joe are unbelievably talented! I have had nothing but wonderful compliments on our wedding pictures! They were so easy to work with and made us feel completely comfortable. It definitely helped that Joe was wearing a Bruins hat when we first met with them! Everyone looks fantastic in our pictures. My favorite part is that Brittany was able to capture the laughter and joy that filled the day! The best way to remember an amazing day!

Katherine

Married on 08/01/2015

Brittany & Joe are absolutely fantastic! They work great as a team, and because of this are able to capture intimate moments, without being intrusive. It was great that both the groom + groomsmen and me and my bridesmaids were able to get individual time with a Joe or Brittany while we were getting ready. Also, working as pair, they capture the day from many different angles and do not miss a singe detail. They are both fun and energetic, which shines through in their work. The moments they captured and the quality of their work was best in class.

Jamie

Married on 07/05/2015

Brittany and Joe were amazing! My husband and I were both from out of town and they were very accommodating with our busy schedules. They were a pleasure to work with, they made us feel very comfortable, and photos were beautiful!

Janis

Married on 11/08/2014

Working with Brittany and Joe from Blue Rose Photography was probably the best decision we made during our wedding planning. Not only were they extremely professional and quick to respond to our questions, they have the ability to completely make you feel at ease when getting hundreds of photos taken of you! We also did an engagement shoot with them which was great because we got to know them a bit before the wedding day. These two are extremely talented and they were able to capture so many details and special moments of our day that we will hold onto forever. Another great advantage of working with Blue Rose is the unbelievably quick turnaround time in getting our photos back. I've heard of couples waiting for months for their photos and we got ours back in a few weeks. We couldn't have been more pleased with the results and they turned out so much better than the pictures I saw on the endless wedding blogs I searched thru prior to our big day! All in all, we could not have been more pleased with these 2 and beyond that, they are just genuinely great people!

Sarah

Married on 09/13/2014

Blue Rose Photography is amazing! We were so impressed with the quality of photos from our wedding. Not only were the pictures great, but they took a wide variety of photos from everyone who attended, to the venue to the food. They captured every moment of our day and did so with ease and flexibility; most of the time we forgot they were there.

I could not recommend Brittany and Joe enough. They were absolutely superb!

Maddy

Married on 09/12/2014

Brittany and Joe were great to work with! They are so easygoing and made the experience fun. We left it up to them to find photo shoot locations and were happy with what they chose - the interior of a parking garage, a building with art deco charm, a rooftop overlooking the city...

They also captured all the important moments of the ceremony and reception, and made all of our guests feel special.

Desiree

Married on 08/30/2014

I don't think I can say enough good things about Brittany and Joe. From the beginning, they are super responsive and get back to you really quickly. These two are super personable and get a lot really well with everyone and make you feel comfortable immediately. This is really important because you are going to be spending a ton of time with them on your wedding day :) But, the most important part is the product they produce. They take amazing photos and really care about their craft. We had the pleasure of having engagement pictures and our entire wedding day photographed by these two, and I definitely would not have chosen anyone else! To top off the fact that they are great people and take great pictures, you also don't have to wait forever and a half to get your pictures back after your wedding. I do not know how I would have been able to wait the amount of time that some people take to get your photos back after your event. I recommend choosing Blue Rose 100%!!

Anne E.

Married on 08/08/2014

We loved our Engagement Shoot with Brittany and Joe. They made us feel comfortable, and our photos turned out even better than we expected. We can not wait until they shoot our Wedding in June!
Are you interested?
Send a message