102 Reviews
Recommended by 98% of couples
Quality of service

4.9 out of 5 rating

Average response time

4.9 out of 5 rating

Professionalism

4.9 out of 5 rating

Value

4.9 out of 5 rating

Flexibility

4.9 out of 5 rating
278 User photos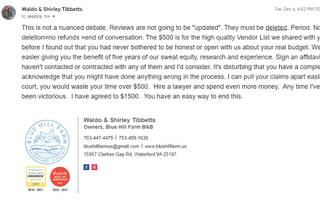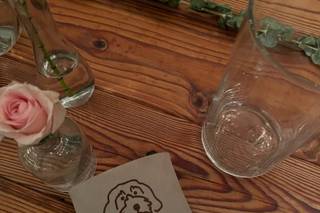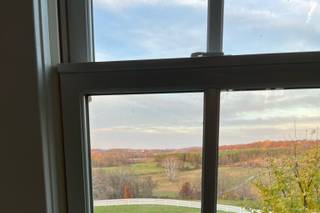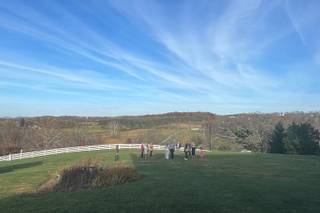 + 274

photos
Featured

Erica I.

Married on 06/24/2022

A Beautiful Backyard Wedding

Our wedding was on June 25, 2022. We envisioned an intimate backyard wedding with our closest friends and family and that's exactly what Blue Hill Farm delivered! We had 70 guests total.

We toured a few sites around NOVA but nothing compared to the charm of Blue Hill Farm. Waldo and Shirley went above and beyond to make our wedding weekend special. Many of our guests told us it was the best wedding they've ever been to!

Waldo and Shirley were communicative throughout the planning process and brought our vision to life. Whenever we had questions throughout the planning process, Waldo and Shirley made themselves available. Their property is absolutely stunning and they have great taste in decor. Our event flowed nicely from an outdoor ceremony to cocktail hour to dinner in the carriage house. We ended the night dancing in front of the carriage house with string lights overhead—it was truly the perfect summer evening!

Waldo and Shirley also introduced us to the best vendors. Our photographer, caterer, florist, and day-of coordinator were all recommended by Blue Hill Farm and they were absolutely incredible. Waldo and Shirley's strong relationships with a number of local vendors made our decision-making easy.

A huge perk of getting married at Blue Hill Farm is that they reserve the venue for your wedding party for the weekend, so you can add a rehearsal dinner and brunch if you choose and don't have to worry about another wedding party moving in the next day. This value for the price is unmatched in the NOVA / DC area.

If you're looking for a truly special venue and team to make your wedding vision come to life, look no further than Blue Hill Farm! We will cherish our wedding weekend forever.

+ 5

photos

Blue Hill Farm B&B's reply:

Thank you Erica for such a wonderful review and for sharing the photos. It really was a perfect day, evening and weekend in so many ways and thanks for noting our wonderful vendors who are indispensable in our efforts to pull off great events. We were so thrilled that everything came together so well. We wish you and your families a wonderful holiday season. Please stay in touch!


Megan A.

Married on 11/05/2022

Shirley and Waldo were an excellent team to work

Ian and I fell in love with Blue Hill within minutes of touring the venue, and there was no question in our minds that we would get married there.

Shirley and Waldo were an excellent team to work with in the months leading up to our special day. Their experience in weddings was apparent in the open/frequent communication and organization throughout the process. They also accommodated our requests to visit the farm several times to discuss the big day's details. Our vision played out exactly as we hoped, due in many ways to Shirley and Waldo's dedication to making our dreams a reality.

We envisioned a non-traditional wedding with a venue that made our day extra unique, and all we needed to do was add our personal touches, and Blue Hill Farm checked all the boxes. Everyone loved the ceremony on the front lawn, with a change of scenery for cocktail hour followed by the reception in the carriage house with a special bonfire in the back to keep warm and enjoy s'mores. However, the common feedback from ALL guests was how perfect our wedding day was, and we couldn't have pictured it any other way.

+ 7

photos

Blue Hill Farm B&B's reply:

Thank you Megan, we felt the same way about you and Ian after we met you and were thrilled that it all came together over the past year. We loved the small touches you employed and all the little design twists such as your ceremony set up with flowers and no backdrop. We enjoyed getting to know you and your folks and were happy the weather stayed warm for early November even though we were prepared. Yogi sends his best to Hershey and we wish you both a happy holiday season and a great start to 2023. Please stay in touch!

Corinne L.

Married on 10/15/2022

Best Decision Ever!

This was the absolute perfect wedding venue! The site was beautiful, especially for our October 15th wedding when the fall colors were starting to appear. We loved being able to have our entire wedding, from getting ready in the morning to the ceremony to the reception in one place, and dancing out under the stars was the perfect way to end the night. Shirley and Waldo were amazing to work with and always available to answer our questions or work out the details of our special day. Shirley even cut flowers for our dining tables as a last-minute, perfect final touch on our decorations! Overall, we could not have asked for a better place to get married and our guests can't stop raving about how beautiful the wedding was!

Are you interested?

Send a message

Carla

Married on 10/08/2022

Breathtaking Charm

The number one comment from all of our guests was how beautiful the venue was. Since they are a Bed & Breakfast, we are looking forward to coming back on anniversary dates!

For our wedding, we made use of SO MUCH of that they had to offer - we had beautiful lighting for getting ready day of, held our ceremony in the front of the house, cocktail hour in the carriage house, reception under a tent out in the field, desserts and dancing in the carriage house and s'mores by the bonfire. My husband and I stayed the night after sending off our guests. PLUS, they offer a TON of props for decor, corn hole boards, and Shirley, the hostess, custom made signs that matched perfectly with our theme.

The gorgeous property, Yogi the resident golden retriever, the roaming chickens, and the hosts are all a part of the charm. Plus they offer flexibility to customize your wedding the way you envision & offer a great list of preferred vendors for any that you may be missing - I highly recommend this venue!!

Blue Hill Farm B&B's reply:

Thank you Carla for such a thoughtful review, we look forward to having you and Randy come back as well for future anniversaries! You picked what is considered the best weekend of each fall with the famous Waterford Fair going on. We couldn't have hoped for better weather for you and your family and it was fun seeing the kids have such a great time playing. You did a really wonderful job working through and staying organized on all of the myriad details of the full weekend. Have a great holiday season and a prosperous 2023 and please stay in touch!

A Beautiful Venue

Our wedding took place on September 24, 2022. We are so happy with our choice of Blue Hill Farm for our venue. Our 60 guests absolutely raved about how beautiful the venue was. Shirley and Waldo were an excellent team to work with in the months leading up to our special day. Our vision played out exactly as we hoped, due in many ways to Shirley and Waldo's dedication to making our dreams a reality. Our vendors also played a huge part in the success of our day: Shirley and Waldo's flexibility in allowing couples to bring in vendors of their own choosing made this possible.

Shirley and Waldo's experience in weddings was evident by how organized they were throughout the process. They even used Google Calendar to schedule out the key milestones in advance. They offer an all-inclusive option that gives couples full access to the decor and furniture they've collected and engineered over the years - this greatly simplified our planning. They also accommodated our requests to visit the farm on several occasions to work out the details for the big day.  Shirley even added her own touches of fresh-picked wildflowers from their property to complement our decorations. And Waldo's bonfire was a big hit, warming our guests on the chilly September evening.

We highly recommend Blue Hill Farm and the services of Shirley and Waldo. On the morning following our wedding (and after a fresh-cooked breakfast), as we took our leave of the Farm, it was like saying goodbye to old friends.  Please check them out. You won't be disappointed.

+ 3

photos

Blue Hill Farm B&B's reply:

Thank you Amanda for such a thoughtful review, we appreciated your sentiment that it felt like saying goodbye to old friends when you and Steve left. You made the most of our venue with so many little touches that you added and we loved how it all flowed so smoothly. You both were such a pleasure to deal with that it made all our communications fun and we looked forward to making your dream weekend come together. As for the bonfire, I'm glad it was such a hit with your guests on a perfect night, I'm pretty sure you hold the record for the number of guests that gathered around. Have a wonderful holiday season and a great start to 2023 and please stay in touch!

Andrew B.

Married on 09/17/2022

Above and beyond, a wonderful experience

Shirley and Waldo went above and beyond, showing us personal attention that was a God-send. They are both very capable and they know how to customize their beautiful venue in so many ways to fit yoiur vision. Their familiarity with vendors from all over the area is also a huge asset. They made it much easier than it would have been, and were almost like additional wedding planners. When we were having difficulites with vendors who we had chosen ourselves, they were outstanding in being able to step in and make everything go the right right.

Christy E.

Married on 09/10/2022

Stunning property, customizable packages, five star hosts!!

Blue Hill Farm is an absolutely stunning venue that is made all the better by its fantastic owners! Waldo and Shirley (and of course Yogi) were wonderful to work with and the fact that they allowed us to select all of our own vendors, decor, day of timing, etc. while also providing plenty of guidance/suggestions when we asked definitely set them apart from a lot of other venues in the area. We so appreciated that they let us customize our big day to get exactly what we wanted. They also put in a lot of effort to work with our vendors and make sure everything went smoothly day of. We couldn't have asked for a more perfect or more fun wedding day!

Grace W.

Married on 08/20/2022

Great Choice for Couples Looking for a Beautiful Venue and a Stress-Free Experience

My husband and I were married here in August 2022 and had a wonderful experience. Waldo and Shirley are amazing hosts and were incredibly helpful and easy to work with throughout the wedding planning process. The venue is gorgeous, and we received so many compliments from our guests on our choice of location. We would highly recommend Blue Hill Farm to any couples looking for a place to tie the knot!

+ 2

photos

Blue Hill Farm B&B's reply:

Thank you Grace for your kind words. We were honored to be the venue you chose among all the alternatives around here. You and Alec quietly pulled off quite a charming event in the Carriage House and tent and we were happy to be able to help you do so. Thank you for adding the pictures as we often miss what is happening around us as we stay focused on keeping everything flowing smoothly in the background. Have a wonderful holiday season and we wish you a prosperous New Year. Please stay in touch!

Alyson

Married on 06/18/2022

One of a kind venue!

This is THE place to get married!! My husband and I got married at Blue Hill Farm in June 2022. The breathtaking views and house speak for itself, but what made the experience one we will truly never forget is because of Shirley and Waldo. They are accommodating, kind and supportive. We still joke that we felt like they took care us of like we were their own children. Shirley will listen to your vision and make it come to life, while Waldo works through 99 degree Virginia heat to move and set up all the furniture. If we wanted it, they helped us figure out how to get it!

I don't think we will ever stop bragging about this amazing venue and experience!! If you're considering Blue Hill Farm, this is your sign to visit!

Blue Hill Farm B&B's reply:

Thank you so much Aly! We loved getting to know you and Will and we really appreciate the kind words about us and our humble little abode :-) We admit that we do tend towards being this way with young couples getting married here, it's hard not to being that it's our house but it also just comes naturally I guess. Fortunately, Shirley and I have been able to blend our skills and talents in a way that really helps dreams like yours and Will's come true! Thanks for continuing to promote us, we'd love to have you back as a guest at a future wedding or maybe you'll even be in a wedding party. Our best wishes for a great holiday season and a wonderful start to 2023!

Mary K.

Married on 06/11/2022

Everything was perfect!!

I could not have asked for a better venue!! Waldo and Shirley were so great! They were very attentive and went through with everything we envisioned! We gave them a timeline and it all went so smoothly. We did not have the wedding at the venue so we told them how we wanted everything to be placed for the cocktail hour/dinner/dancing and they did exactly what we envisioned! We had a blue hydrangea theme for our reception and it all looked so wonderful. They are very personal and work with you so well!! Everyone at the wedding afterwards commented on how beautiful the venue was! I 10/10 recommend, you will not be disappointed.

+ 2

photos

Michael B.

Married on 06/04/2022

Fantastic Wedding

My wife and I had our wedding here June 4th 2022 with about 120 guests. The venue was beautiful and we could not have been happier with our choice to have it here. The Tibbetts were very professional and helped us greatly with all of the planning and vendors. The house on the property was clean, well maintained, and perfect place for the wedding party to get ready. We had a short ceremony in front of the house that overlooked the gorgeous rolling hills around the property. The carriage house was great for dancing though we did have the dance floor extended out into the driveway to accommodate our size of wedding. We opted for a large tent behind the pool/carriage house for dinner, and it was really beautiful to eat there while the sun was setting over the venue. The Tibbetts can be very particular about certain things (especially the grass), but their attention to detail helped to wedding turn out great. Overall, it was a fantastic experience, and we were so happy with how everything turned out.

Blue Hill Farm B&B's reply:

Thank you Michael for such a nice recap of your big day and the description of our little slice of heaven venue. June is almost always perfect in terms of weather around here and you and Lauren did a great job of making the most of all of our different venue areas for the various elements in your vision. Have a wonderful first holiday season and a prosperous start to 2023!

Dan C.

Married on 05/26/2022

Beautiful view, excellent venue, new friends!

My wife and I were looking for a place with a beautiful view that featured the Virginia rolling hills for our wedding venue. We came across Blue Hill Farm and knew right away it was the spot for us. The location features a country farmhouse with live chickens that really give it a peaceful, casual feel. We also really enjoyed working and getting to know Waldo and Shirley. They took great care of us, were personable, and even made breakfast for us the following morning!

Blue Hill Farm B&B's reply:

Thank you Dan! We were so happy that you all had the instantaneous feeling that we were the special place for you. As I often say, we aren't for everyone and that is by our conscious design. We have been striving hard over the years to distinguish ourselves on every level from all of the wedding factories that have popped up so have really emphasized that we are the place for discerning couples that want a really elegant yet personalized, casual and low key experience. You put some really simple and wonderful touches in place like using the bubble machine in front of the Carriage House, no one had ever done that and it was a hit We really enjoyed getting to know you and Emma and remain so impressed at how incredibly fast you both pulled together your plan. It is a record that will stand here for quite some time to come I suspect! Have a happy holiday season and a great 2023 and please stay in touch !

Emily

Married on 05/21/2022

Fantastic May Wedding

Waldo and Shirley were the kindest, most accommodating hosts. We had so much fun designing our three-day wedding weekend around their beautiful space, and couldn't imagine our special day without them.
The farm hosted our 150-person wedding with ease, and we used the variety of spaces that Waldo and Shirley have on property to create a seamless experience for our guests (no space flipping required!). The extra pieces that Waldo keeps on site were the icing on the cake.

Thank you again Waldo and Shirley for making our special day so perfect.

+ 15

photos

Blue Hill Farm B&B's reply:

Thank you Emily for your lovely review. We were honored to be entrusted by you and Zac for your big weekend after only a virtual tour, you have impeccable taste obviously :-) We enjoyed working with you on your ambitious plans and seeing all the novel ideas that you had for the rehearsal dinner with the BBQ food truck, the cool outdoor club vibe for cocktail hour with the leather furniture and the amazing whiskey bar. You had a vision and had a great team you were were managing so we were not at surprised at how well you pulled it together. Your event was our first full weekend event in quite a while given the pandemic in 2020 & 2021 but despite that and the rather "warm" temperatures for May, it looked and felt like a very successful weekend extravaganza. We hope you have a wonderful holiday season and a great start to 2023!

Gina C.

Married on 05/14/2022

Fairytale Wedding Venue and Hosts

Through every interaction we had with them, Waldo and Shirley felt like family. They are once personable and simultaneously very well versed in the world of hosting spectacular wedding occasions. Although they required no mandatory vendors to work with, they had many suggestions from previous experience to helped lead us to hiring our food vendor, floral design, wedding coordinator and tent rental.

The landscape at their self-run B&B is absolutely stunning for photos with plenty of options for staging the wedding party including a handicapped access restroom and transport. Their property is impeccably manicured by the couple and offers a natural addition to any floral decor. Shirley was an incredible gift helping us create signage and florals and Waldo's beautifully hand-crafted arches, tables, dance floor, carriage house and sound system was a huuuuge asset.

It was an added delight getting to have Yogi, their well-mannered pup, around at what felt like all the most opportune emotionally supportive moments. We can't wait to visit and highly recommend them to anyone interested in throwing a beautifully memorable outdoor wedding.

+ 9

photos

Blue Hill Farm B&B's reply:

Thank you Gina for such a lovely review. We loved hosting your event and getting to know your families, it was a magical weekend. We have had lots of lovely couples over the years but you and Phillip kicked it up a notch and I'd also add you had the two of the most beautiful dresses I've ever seen. We show pictures of you in both to our prospective couples often to gasps :-) We were thrilled you loved Yogi as much as he loved all of you, he fell into a depression after you left. Thank you so much for adding the pictures, it's easy for us to miss so many of these details as we are so busy tending to details in the background. Our best to you and your families for a wonderful holiday season and a great start to 2023. Please stay in touch!

Sarah B.

Married on 11/07/2021

Best wedding venue in Northern Virginia!!

My husband and I were looking at various wedding venues in the NOVA area and ended up staying at Blue Hill's Bed and Breakfast while we were shopping around some of the wineries. As soon as we heard that Blue Hill also hosted weddings, we were sold. The property is absolutely stunning with views of rolling hills, accented by tons of beautiful flowers and trees, a charming carriage house, and all the space you need to create the wedding of your dreams. In addition, Waldo and Shirley are the most gracious and thoughtful hosts who are dedicated to helping you have a perfect day.
My husband and I had a very specific vision for what we wanted to do – from the food to the décor – so another big selling point for us was that Blue Hill offered flexibility (rather than other venues that felt like "wedding factories" who had limitations when it came to vendors, timing, etc.). Speaking of flexibility – we were one of the many couples who had to reschedule our wedding due to covid and Waldo and Shirley were so understanding and patient as we shifted our plans. It could have been a very stressful scenario, but we were able to keep all our plans intact and just shift our date to 2021.
Our actual wedding day was picture perfect and I can honestly say that I had zero stress the entire day. Waldo and Shirley were very involved with our plans and have an organized system for keeping tabs on all the details to help things go flawlessly. The venue itself is breathtaking and our guests commented on how beautiful and relaxing the property is. You have tons of options for where to host the ceremony, cocktail hour, reception, and take photos so it is ideal for tailoring each of your wedding events to exactly what you envision.
I truly feel like we got married at a family friend's property – Shirley and Waldo made us feel very at home (from the first day we visited to the final sparkler send off on our wedding day) and helped us plan and execute an amazing wedding. Thank you, Blue Hill, for helping us host a very happy, lovely wedding!


+ 10

photos

Leah S.

Married on 10/10/2021

Beautiful property in lovely historic town

We viewed this property in July. It's a gorgeous piece of land with a stunning ceremony view. It's also in a really convenient location in NoVa for those in DC or right outside of DC. The owners have very flexible policies which is something that's often undervalued in wedding planning. When you book with them, you're getting their full attention and use of the private property - which is great! This is a wonderful, scenic place to get married and the B&B itself is immaculate with a rustic chic aesthetic. They also have a ton of great furniture pieces including a hand-built arbor and farmhouse tables that you can get through their (reasonably priced) all-inclusive package.

Sharon H.

Married on 10/09/2021

Blue Hill Farm for intimate, personalized weddings!

We had an amazing experience with Blue Hill, from the beginning until the end. It will be very hard for you to find a better wedding site with the perfect combination of views, personalized options, and more importantly people. Shirley and Waldo are the most wonderful people to work with, which was one of the main reasons why we chose this venue. Their flexibility throughout this process was great and we're extremely happy with our decision. We loved the opportunity to host our Rehearsal Dinner at the venue and then stay at the Bed and Breakfast the night before the wedding. This really helped to make the whole weekend feel connected to Blue Hill Farm. The bride, bridesmaids, and bride's parents had brunch with Shirley and Waldo on the morning of the wedding and it set such a wonderful, warm tone for the wedding day. Not to mention, Shirley cooks a delicious breakfast, complete with a BLUE egg from their very own chickens! The wedding day was absolutely perfect and that is in no small part thanks to the love and dedication that Shirley and Waldo put in behind the scenes to make it happen. We highly recommend considering Blue Hill Farm if you are looking for an intimate and personalized wedding experience.

Mariah

Married on 08/28/2021

Fantastic Couple to work with

We had our wedding in late August 2021 at Blue Hill Farm B&B and could not have asked for a more beautiful venue and great team. Waldo and Shirley go out of their way to ensure everything is perfect and consistently went above and beyond throughout the entire process. Even though it wound up raining for a few quick minutes, our night could not have been more perfect thanks to Shirley and Waldo and their incredible venue.

Blue Hill Farm B&B's reply:

Thank you Mariah! We loved hosting your wedding. The first dances on the patio were so special. And your tiny wedding cake! So many fond memories. Please stay in touch.

Frank D.

Married on 08/28/2021

Excellent Venue - Highly Recommend!

We had our wedding at Waldo and Shirley's property in August 2021. We can't say enough good things about how Waldo and Shirley made our entire wedding experience wonderful. The property and house is beautiful, and Waldo and Shirley go above and beyond to make everyone feel at home. Highly recommend Blue Hill Farm for a wedding or special event (or a quiet weekend getaway)! Thanks to Waldo and Shirley for an awesome wedding weekend and everything leading up to it.

Carola B.

Married on 08/13/2021

Blue Hill Farm, a light amid our darkness

When you are planning for your "Big Day" you want it to be unforgettable and blessed. I expected this from Blue Hill Farm, but received so much more. Shirley and Waldo were not only the best hosts, but they became as our best friends to advise us during this time. Not only did they care that every detail was perfect for our wedding, but they also showed their human side and noble hearts by offering us their support and affection. Throughout our interactions with them, starting from the time we first contacted them, then at the time we let them know about my husband's cancer on the eve of the wedding, up until the death of my husband just a month later, and even to this day, they have always showed love, sincere concern and moral support so that Brian and I had the best day of our lives and were able to fulfill our dream. Although our marriage lasted only a month, the wonderful experience that Blue Hill Farm gave us, the beautiful memories we made at the venue, the sincere affection and heartfelt ties that were formed that day with the hosts, will remain forever. We always prayed to God to lead us to the right venue, the one He Himself chose for us and to send us the right people, and God is so good that not only did He send us to the most beautiful venue we had ever seen, but He sent angels to our lives so that they made our wedding a beautiful event full of blessing. I will always be grateful to Shirley and Waldo, and their entire team of wonderful people for their affection, their love and their help in our most important moment, but also support during our most difficult moments.  Their organizing of our wedding was excellent, but beyond the wedding, they showed a special love toward Brian and I, and I am forever thankful for the beautiful impression they left in my heart and in my memories; And I know that Brian from heaven is also grateful and happy with the best venue and the best hosts and friends that can exist to make a wedding the most wonderful day in the world. Thank you, Blue Hill Farm, Shirley and Waldo, we love you in the Lord!

+ 14

photos

Blue Hill Farm B&B's reply:

Carol - Thank you for your kind words and friendship. We think of you and Brian every single day. Your wedding was heartbreaking and beautiful at the same time. It was our pleasure to make it the best we possibly could. We will hold you and Brian in our hearts forever.

Kelsey

Married on 06/12/2021

Gorgeous venue

Blue Hill Farm is a gorgeous venue and was the perfect setting for our June wedding! We loved the quintessential Virginia views, the beautiful farm and farmhouse, the proximity to Leesburg, and the comfortable and welcoming feeling of Blue Hill Farm. Shirley and Waldo went above and beyond to make sure everything turned out the way we wanted and were very accommodating and reassuring. We appreciated the flexibility they offered in planning a wedding that fit our size (75 people), let us use the vendors we wanted, took advantage of different parts of the property so that our guests could spread out, and, most importantly, felt personal to us. Picking a wedding venue was a big decision and we have no regrets. Highly recommend Blue Hill Farm!

Blue Hill Farm B&B's reply:

Hi Kelsey - Sorry for the late reply. We so appreciate your kind words! We loved hosting your "blue" themed wedding - it was perfect timing with the hydrangeas blooming and the escort card display was so sweet. - we show people the photo all the time. Stay in touch and come visit when you're in the area! All the best, Shirley, Waldo and Yogi

Kathe Y.

Married on 06/05/2021

Most beautiful venue

Our wedding was magical from the time we called Blue Hill Farm and spoke to Shirley for the booking. Everything fell into place from the booking, planning, setup and finally execution. Shirley and Waldo were there every step of the way to guide us and give us help with our vendors as well. Thank you both and we look forward to coming back to see you sometime.

Kristen M.

Married on 05/29/2021

Perfect venue for a rustic/barn style wedding, owners are beyond wonderful!

This venue was absolutely perfect for my husband and I. We wanted a rustic/barn style wedding and it turned out AMAZING. The owners are very personable and willing to work with you to make your special day truly special! The venue offers beautiful decorations to be used including handmade farm tables, whiskey barrels, cocktail tables, arches, lanterns, etc. Our wedding was planned also in the midst of the pandemic and they were incredibly flexible and willing to work with us to pick a new date for our wedding. We could not be happier with how everything turned out! We highly recommend this venue!

Andy M.

Married on 05/22/2021

Amazing small wedding experience in late may my wife and I loved it

Blue Hill Farm is fantastic would recommend to anyone for a wedding! Are you looking for a scenic mountain view and big clear sky? Check this place put. The people that run the B&B really put their all into it can't thank them enough!

Margaret H.

Married on 05/10/2021

10/17 Wedding

WOW!!! Blue Hill Farm truly hit it out of the ballpark. They were responsive and flexible every step of our express wedding process. We could not have pulled off the wedding of our dreams without Shirley and Waldo. They were amazing hosts and made our guests feel welcome. They worked to make sure everything was ready to go for vendors. They did a truly lovely job and I can't imagine a better wedding venue experience.

+ 3

photos

Blue Hill Farm B&B's reply:

Margaret! Thank you for your kind words. We think of you and Silas often. Your wedding with the blue and copper was one of the prettiest we've had here! Please stop by if you're in the area - would love to stay in touch. Hope school is off to a good start!
Are you interested?
Send a message