19 Reviews
Recommended by 100% of couples
Quality of service

5 out of 5 rating

Average response time

5 out of 5 rating

Professionalism

5 out of 5 rating

Value

5 out of 5 rating

Flexibility

5 out of 5 rating
5 User photos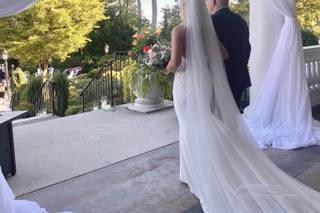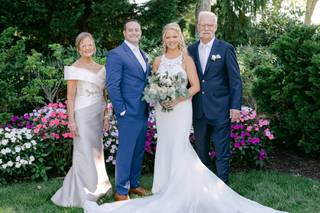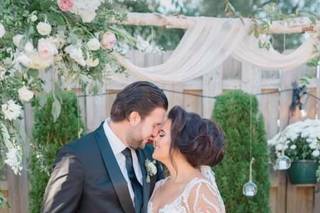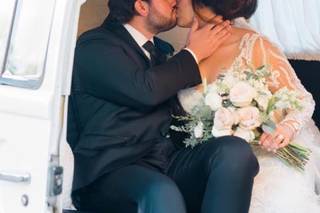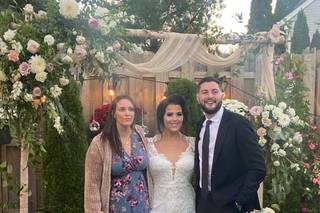 Kelsey A.

Married on 05/27/2022

She is the Best Ever!

I can confidently say that Best Day Ever Event Planning was one of the best decisions my husband and I made regarding our wedding. Billie is easy to talk to, organized and meticulous. She took the time to listen to what we wanted and developed a plan specific for us. Billie worked with our vendors to ensure that everyone was working towards the same goal - making our day exactly what we wanted! Her calm nature and confident aura were very appreciated on our wedding day when nerves were running high. We cannot recommend her enough!

Best Day Ever Event Planning's reply:

Thank you, Kelsey, for your lovely review. I was delighted to be part of your wedding planning process and still CAN.NOT.GET.OVER. how gorgeous your wedding day was. Just so pretty!! All the best to you and Chris, always. Talk soon!!

Patricia M.

Married on 09/04/2021

Total Life Saver

I have so many fabulous things I could write about Billie but one thing is for sure, you need her as your planner! Living in FL and getting married in NJ I knew I needed a little help, that was when I started interviewing planners. Immediately I found Billie from Best Day Ever and she totally encapsulates her business name. I do not know what I would have done with out her, no joke! Not only did she help create my beautiful wedding but I also gained a friend! She spoke to 75+ venues, got their availability and made a spreadsheet within a week of hiring! She is extremely detail oriented and someone who will keep you on track. She made our wedding day the best day ever! Thank you Billie!!

Best Day Ever Event Planning's reply:

Thank you, Patricia. I loved helping you and Ken plan your epic wedding weekend and love watching you continue on in pursuit of all your dreams. One of the favorite moments in a wedding that is seldomly talked about is that moment when there's the shift from professional contacts to life long friends. Glad to have you on both lists!! xoxo

Rebecca H.

Married on 03/08/2021

Best Day Ever Event Planning was the Best Decision Ever

My husband made me a surprise 50th birthday party and he very smartly hired Best Day Ever to plan the party. It was an outdoor party with a tent, rented tables, chairs, linens, etc. as well as a caterer and music. Billie so brilliantly understood what he wanted for me that it was as if I had selected everything myself! She was great to work with and the event was gorgeous and seamless. I would recommend her and Best Day Ever in a heartbeat.

Best Day Ever Event Planning's reply:

Truly my pleasure! It was a beautiful celebration! I'm so blessed with great clients who let me run with a vision ... your event was a highlight!

Are you interested?

Send a message

Michelle G.

Married on 08/06/2020

BDE Made our Dreams Possible

I cannot thank, nor say enough about Billie. We contacted Billie in the summer while trying to figure out the direction we wanted to go in for our wedding. She was super kind and helpful on the phone. Then, we were dealing with a family emergency and decided to move forward with a small intimate wedding in my parents' backyard...in a month. Billie took that task on without hesitation, and it exceeded EVERYONE'S expectations. She turned the backyard into a magical masterpiece, and she allowed us to focus on our family instead of worrying about the wedding planning process. Even though we suffered a tragic loss only a few days before our wedding, Billie made sure that we were able to find joy in the heartache and celebrate our wedding the way our family would have, and always, wanted. Her attention to detail, communication and list of preferred vendors made our wedding everything we ever dreamed of, and more. We have received so many compliments about how beautiful everything was - she truly made a magnificent vision a reality! I highly recommend Billie and will forever be grateful for her and her talent!

Best Day Ever Event Planning's reply:

Thank you so much for the kind words. Helping your family made my heart happy. If I carried just a little of the load you all were dealing with, I consider it a job well done. I'm in this business to HELP people and that's what truly brings me joy... the beautiful celebration is just icing on the cake! Much love and happiness to you and health to your family! ❤️

Cc Haas

Married on 03/10/2020

A magical experience

The moment I knew that we could not have the destination event we had hoped for it became imperative that we hire Billie Sue at Best Day Ever Event Planning. Having studied her work on other events, I was sure that the only way that we could create the feeling of being at Disney World, with a touch of France, as if we were literally standing in the live action Beauty and the Beast movie was to work with Billie Sue. The whole process from beginning to end was nothing short of magical. When we look at the photos from our event we just beam with smiles and happy tears in our eyes. I am certain that we will work with Billie again and again.

Erin

Married on 11/09/2019

Billie truly made our wedding the Best Day Ever!

Before I started the wedding planning process, I didn't think I needed a wedding planner. I had planned big trips and small parties before, so I thought it would be easy. However, after meeting with Billie at Best Day Ever, I realized that with her help, my wedding would not only be amazing, but would also be a pleasure to plan! Billie is the absolute best. She has so much knowledge about the wedding industry and the planning process, but also wants your wedding to be unique and tailored to you as a couple.

I was able to find many of my vendors, including my wonderful photographer and florist, through Billie's recommendations. I never felt overwhelmed while planning such a big and important event because she was always checking in, helping out, and staying positive. While she was amazing throughout the entire planning process, my mind was absolutely blown the week and day of the wedding. Billie handled EVERYTHING with grace and professionalism, making sure that everything didn't just go smoothly, but was the best day ever.

To say that she went above and beyond is the understatement of the year. I was astonished at what Billie was able to do for us, our families, and our bridal parties. I can't recommend Billie enough, and I am so grateful to her because I now have amazing memories that my husband and I will remember forever.


Lindsey B.

Married on 10/05/2019

Billie was the best ever!

Billie truly went above and beyond to make our wedding day the best day of our lives! From the moment we met Billie, we knew she was the wedding coordinator for us! We already had almost all of our vendors booked, when we our journey started with Billie, but she trusted us and our choices which meant a lot to us. She was there for us to help it be our day, instead of telling us how our day needed to be. We had a very non-traditional venue, as we got married at a family members house and Billie was there for us every step of the way! She explored the property prior to the wedding and gave us valuable ideas to make our day even more special. She dealt with all my my freak-outs and questions throughout the process, which helped me not to become a Bridezilla!! She was dedicated to each and every detail with us, from the decorations and florals for our centerpieces to even our linens choices. She also made sure the flow of the rehearsal and the wedding day was smooth and truly perfect. Which was not easy to do with 25 members in the bridal party and over 130 chairs needing to be moved in less than an hour! But because of a Billie, I did not worry ONCE about anything, which was amazing and exactly what my husband and I were looking for. If you haven't already found your right hand woman for wedding planning then HIRE BILLIE! You will not regret it!! We love her!

Best Day Ever Event Planning's reply:

Lindsey, thank you so much for your kind words. It was my pleasure to see you truly enjoy your day! It also made my heart smile to see your new name in the review! All the best to you and your new hubby!! ❤️❤️Hope to see you soon!!!

Alexa B.

Married on 09/01/2019

Truly the Best Day Ever

We found Billie by chance and it was meant to be. From the first time we met with Billie, until the best day of our lives, Billie was our go to on everything. She went above and beyond for us. She came to meetings with all vendors, answered late night emails and texts, and kept us sane through this stressful time. She completely understood our vision and was able to make us see things realistically. She was there for all the breakdowns and on the wedding day everything went perfectly. We needed a planner for our venue getting married at a farm brewery. She not only was a planner but became a life long friend to us. If you want a personal experience with someone who genuinely cares, book Billie for your wedding. You will not find any one else like her.

Best Day Ever Event Planning's reply:

Thank you for this genuine review. It made me tear up! The best part of wedding planning is becoming friends and seeing all that life will offer you! Only the best, John & Alexa!!

Gina Z.

Married on 06/08/2019

Billie is Essential to any party! She's AMAZING!

The name of Billie's Business—Your Best Day Ever—could not be more accurate; because of Billie, our wedding truly was the Best Day Ever!

Prior to finding the angel planning goddess guru that is Billie, my husband and I thought we had everything under control. We paid for our entire wedding ourselves and had a strict budget, so initially engaging a "Day Of" planner was not in our plans. However, we quickly realized that trying to coordinate a venue, caterer, rental company, DJ, photographer, videographer, bakery, our bridal party of 16+, and the insane amount of homemade decorations, including an enormous wedding arch and centerpieces, would be next to impossible without help.

My husband reluctantly started calling Day-Of planners and was less than thrilled with the first batch. Once he reached out to Billie, she got back to him immediately, and he had an enormous sense of calm wash over him—he ended up running home (literally) to tell me "I found her! I found the one and she's perfect!" That was the understatement of the year.

Our first meeting with Billie was basically equivalent to a relaxing weekend getaway because of the amount of relief we both felt. Billie is acutely aware of others' personalities, and is extremely observant, picking up on quirks and preferences of the soon-to-be-married with an unbelievable speed. She immediately started gelling with our ridiculous senses of humor and was instantly in tune with which parts of the planning process we had done already, and which parts made us extremely anxious. Any time she even sensed that one of us was getting anxious about making a decision, she would tell us all the options, diplomatically give her opinion, and if it was clear that we didn't want to make the decision and wanted her to, she would do so gladly. She's the OPPOSITE of pushy in every way. We found that a ton of planners want to push their agenda and what they think a wedding "should," be, and Billie could not be more opposite. She truly was invested in us and our love, and wanted every detail to be exactly as we imagined it. On the other hand, when I refused to make certain decisions (how the bridal party would walk down the aisle, what our timeline would be), she said "no problem! I've got this!" I think I proposed to her pretty much every time we met because of how secure, calm, and in control she made us feel.

Billie was only contractually required to meet with us once, and show up for our wedding, but she went SO above and beyond that. She came with us to meet the caterer at our venue to go over final details, and could sense my anxiety from the beginning. Whether it was a hand squeeze, a wink, or answering a question for me that she could tell I didn't want to answer, she was there to make my husband and I feel assured that everything was going to be ok. We had the super fun challenge of trying to fit 150 people into a 130 person venue, and before I could even start having a panic attack about that, Billie stepped in with a ton of solutions, and fixed everything. She also came to and ran our rehearsal for us the day before the wedding, and we were amazed at the speed with which it happened, but also how much control she was able to exercise over our insane group of friends and family. Billie commands authority without anyone even realizing, because she's so warm, professional, smart, friendly, and put together, so people just flock to her and listen to her instructions, while also having a good time. Everyone in our bridal party and our families kept asking where we found her and telling us how incredible she is.

Even DURING the wedding, she was there for every little thing, before we even knew we needed her. At one point the bar ran out of whiskey, and Billie got in her car and bought some and saved the day. I'd forgotten to ask our baker to decorate our cake, and Billie took some of the flowers we had and decorated it in one second, and it looked like it took her 2 days because of how flawless it was.

Most importantly, Billie kept encouraging my husband and I to take in every moment of our day. She went above and beyond to make sure we were present and enjoying every second. It's almost like she's two people in one—an insanely organized planning mastermind who is disciplined and professional and makes everything run flawlessly, as well as an amazing friend who cares about each person involved and can sense everyone's feelings and needs. Billie is more than our day-of planner—we know we will be friends with her for years to come. If you're on the fence about calling Billie, please just trust me—it's the BEST money you will ever spend in planning any event, and the most reasonably priced as well. Billie is one-of-a-kind, and we are so grateful that we found someone so incredible. Our day truly was perfect because of her.

Any time my husband and I are bickering about something wedding related, he gets to say "Oh yeah—well I found Billie!" and automatically wins the argument . That is the person that you want running the most important events in your life. We love you, Billie!


Best Day Ever Event Planning's reply:

Thank you for your sweet review! I'm so happy Jon gets to win that argument FOREVER! So blessed to have business clients who become friends! ❤️❤️

Desiree

Married on 10/06/2018

Very professional and helpful with planning and attending my big day

I had a backyard wedding and Billi was fantastic with helping organize my big day. I love working with her and her assistant Desiree!

Emily

Married on 10/06/2018

Nothing short of absolutely amazing

There truly aren't enough words to describe how amazing and incredible Billie with Best Day Ever Weddings is. If you have a vision she will help create it. If you have a vision that may be a little cloudy DONT WORRY she will bring the sun. She makes magic happen. Her attention to detail leaves no rock or should I say diamond unturned. From the first moment I talked with Billie I felt like we had been old friends. She brings a sense of calm in all of the wedding planning chaos. She is by far the best at what she does. If you are unsure if you should book a wedding planner or not- take my advice and book with Best Day Ever Weddings! My day was absolutely flawless and everything I have ever dreamed of. Thank you so much for making all of my visions and dreams come true!!!!

Best Day Ever Event Planning's reply:

Truly my pleasure, Emily! I loved every last detail of your Best Day, especially how personal each element was...and Gemma's floral collar, of course! That's what a wedding should be - unique and true to you! Now it's time for you to live Happily Ever After! Can't see what comes next! xoxo

Victoria

Married on 06/02/2018

Billie was and still is one of the most significant parts of our wedding day. From our first conversation, we knew as a couple Billie was meant for us. She was the backbone and support system we needed while planning such an elaborate and large event. Since we had Billie as our wedding coordinator, we were able to enjoy our planning process and our wedding day with confidence. She is extremely organized, selfless, and most of all she is focused on making her couples dreams come true. We love our Billie, and we cannot thank her enough for all that she has done to make our wedding the Best Day Ever!

Kristin

Married on 03/30/2018


BDE made our day one to remember!! She took our vision and made it come to life! The planning from start to finish and the love put into every single detail along the way could be seen and appreciated! Everyone still raves about our day and I truly have Billie to thank for that!!!

Kelli

Married on 06/24/2016

I happened to be a bride that never wanted to plan a wedding. I knew a beautiful wedding was something I wanted, I just never wanted to put the time and effort into making all those decisions, and getting into all the small details just seemed like too much work. I happened upon the perfect match for me, and that was Billie! I already found the perfect guy, now I had the perfect wedding planner to make our dream wedding a reality! She was professional, hard working, and really listened to all our opinions without being pushy with any of her own. She got to know us, our vision, and she paid attention to every last detail to make sure it was perfect! My husband happens to be someone that works a ton, and Billie was right by my side for everything, and I was never alone to freak out over decisions. A planner is someone you work side by side with, and I got to know Billie very well. Having such a great person, to help you with such an important day, truly makes it, the Best Day Ever!

Andrea

Married on 11/14/2015

Best Day Ever did not disappoint....Billie Sue gave my husband, family and all of our guests the Best Day(actually night) Ever!! She took care of EVERYTHING!! We had a Bourbon/Prohibition themed party. Billie Sue took care of all the decorations. They were so beautiful and not just decorations you would find at a party store. Handmade creations that were stunning!! She took care of the food, flowers, balloons, decorations, cake, bar... I did not have to worry about a thing or lift a finger!! My husband loved every minute of his party...and thanks to Best Day EVER, so did I!! I HIGHLY recommend them for any event you are having!!

BEST DAY EVER, helped plan my daughters Sweet 16. Every single detail was handled with professionalism and care. The attention to our vision was exceptional.


Victoria

Married on 06/01/2013

It was my first time as an maid of honor and I was lost. Billie Sue is like the fairy god mother of weddings. I would have been a mess trying to plan the bridal shower without her! She is so organized and pays an amazing amount of attention to detail. She makes planning painless and easy. We came up with a theme of Paris and explained our vision for the event. Billie Sue made Pinterest boards which made communication super easy and was a way to ensure our vision was being met and we were all on the same page. When it came time for the big day she really made it come to life through tablescape, favors, desserts, and atmosphere. Guests remarked that they felt like they were enjoying the shower in Paris!

Debra

Married on 11/13/2011

We used Billie to help plan a bridal shower for my daughter. She came up with a wonderful fall theme and brought it to life with the decor, food and favors. It was held in a home and she did all the decorating of the home, tables and made wonderful fall themed favors for everyone to take home. We were very happy with her service and everyone had a wonderful time. She has very unique ideas and I would highly recommend her for wedding planning.

Yvette

Married on 04/13/2012

We started this journey a year ago and had a very specific vision. We knew we would not be able to have our eyes and hands on all the details of the actual day. We did not want all our hard work to suffer hiccups because we were too busy dancing, drinking or chatting! Luckily, we hired BEST. DAY. EVER : )
BEST.DAY.EVER were professional, welcoming, motivated and fun
from the moment we met. I was assured immediately that our
wedding would be exactly what we had envisioned...the best day ever!

Every little detail we gave them, every responsibility from holding
money envelopes, to setting up church bows, to contacting car service
and babysitters was handled with professionalism and accuracy.
More importantly when life happens and things go wrong
(which is inevitable)we had BEST.DAY.EVER two swoop in and save the
day...my mother in law would not have had flowers, the kids would have cried all night (without DVD players) ++ things I'm sure I wasn't even aware of lol.

THANK YOU!!!!!!!!!!
Are you interested?
Send a message