Reviews
4.9 out of 5 rating
Quality of service

4.9 out of 5 rating

Average response time

5 out of 5 rating

Professionalism

5 out of 5 rating

Value

4.9 out of 5 rating

Flexibility

4.9 out of 5 rating
99%
Recommended by couples
26 User photos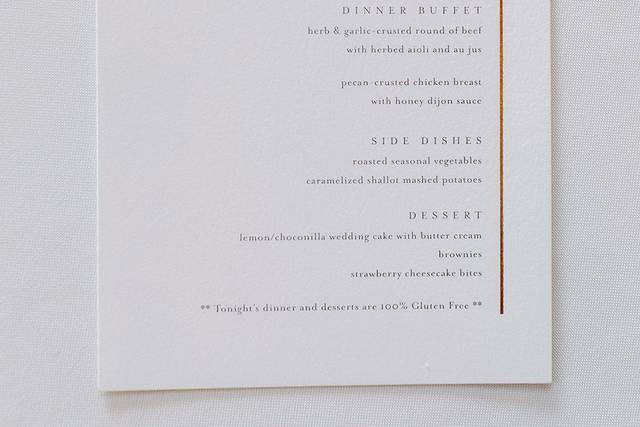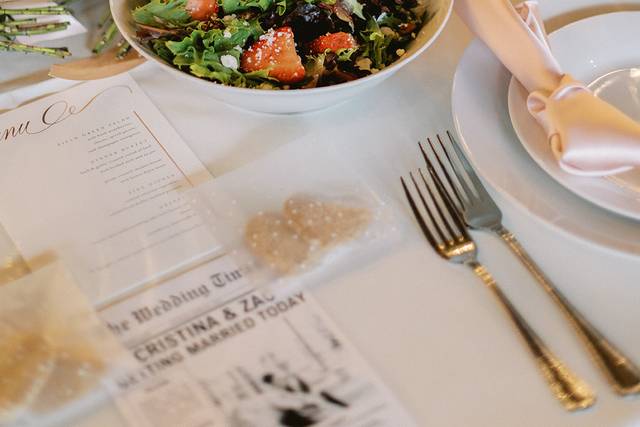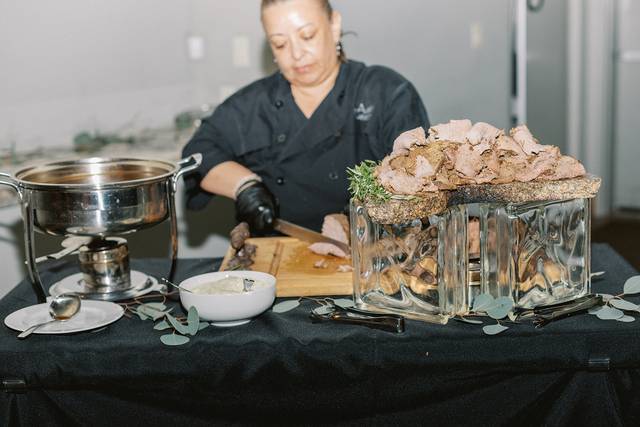 + 22

photos
Featured

Cassie

Married on 11/01/2021

Exceptional Food and Service

We originally worked with Lisa Thompson and, after postponing our wedding due to COVID-19, worked with K.D. Tucker. Both were true joys to work with! Lisa helped arrange our original menu and tasting prior to booking, and she made this process SO easy, which was especially impressive because we could not be on-site (destination wedding) and we had a lot of different guest preferences and dietary restrictions to consider. Instead of a generic menu with options to choose from, we told Lisa what we needed to consider, and she crafted us the perfect menu – and was also so gracious when we kept adding and taking away items in trying to balance food and budget. The transition for postponing the wedding and to working with K.D. was seamless, and K.D. was so ready and professional with reminding us of deadlines, answering all of our questions (some even a bit miscellaneous) leading up to the day-of, and dealing with last-minute issues without us even having to think about them. Throughout the whole process, both Lisa and K.D. were incredibly responsive and attentive to our needs and wants. We had tastings at several catering companies and decided that Austin Catering really came through in quality, taste, appearance, and price for wedding food. During our reception, Austin Catering staff would continually made sure we always had the food and drink we wanted in hand and even set aside portions of appetizers for us at dinner in case we missed them! Even a couple weeks after our wedding, our guests were still raving that the food was some of the best wedding food they've had! You cannot go wrong with hiring Austin Catering for your wedding!

+ 5

photos

Zachary D.

Married on 06/04/2023

Gluten Free menu Accommodations were incredible!

Our wedding planner recommend Austin catering to us and it was a preferred caterer for our venue, and we could not have ben happier. We chose to go with a buffet instead of a plated dinner, and the buffet was a cut above the rest. It actually looked elegant and wasn't just a bunch of sliver trays on a table. The food was exceptional. All the guest were raving about everything especially the bacon wrapped shrimp during cocktail hour and the the butter that came with rolls. Also, Austin did a great job accommodating the entire menu to be gluten free (including dessert - brownies and strawberry cheese cake. We worked wit KD and she did an amazing job answering all of our questions, and helping us save money where we could. We strongly recommend using Austin Catering for your wedding. We will definitely consider Austin catering for future events.

Danielle A.

Married on 12/30/2022

Amazing staff, food, and experience.

We can't recommend Austin Catering enough. We worked with Flavia but their entire team was incredible to work with.

From planning our dinner to serving the dinner this was a 10/10 experience. Our guests commented on the quality of the food as well as the friendliness of the service. We even spent a little time with the staff prior the ceremony as we went through our pre-wedding nerves. The staff went out of their way to bring us waters, tissues and everything we needed.

It's also worth noting the breadth of their food options. At our wedding we had more traditional beef and chicken options (that were so good) but we also had mushroom gnocchi, avocado tacos, shrimp/grits bites and beignets. We received separate complements on all of the dishes that Austin Catering served. That's something we couldn't have done if we went with a traditional restaurant.

They also accommodated children with our menu. Many of our adult guests raved about the mac and cheese.

You will not regret working with Austin Catering.

Are you interested?

Send a message

Hannah P.

Married on 10/22/2022

Fantastic Service, Food, and Drink!

We used Austin Catering for our wedding back in October and we were so pleased with how all the setup food came out! They provided a lot for our wedding: staff to serve food as well as setup the ceremony and reception spaces, all the linens and plate settings that we used, as well as delicious food! Everything was immaculate. We got their crostini bar as well as some passed polenta bites for our cocktail hour. We got the roast beef, mushroom gnocchi, roasted vegetables and mixed salad for our main course. Everything was fantastic, especially the mushroom gnocchi (I have had multiple people bring it up to me after the fact). We had some alterations to dishes to cater to our specific guests and desires, and the team at Austin Catering handled it all with ease. If you're looking for a full service caterer, you can't go wrong with Austin Catering.

Christina R.

Married on 06/06/2022

Best Wedding Food Ever

Where do I begin with this vendor? Flavia was such a tremendous help from the beginning and was there for us every step of the way, from the food to the table cloths, napkins, seating chart and signature cocktail. We probably contacted her the most out of all the vendors, and she was always there for us, and so extremely patient and sweet. The food was incredible and she helped us pick the perfect menu for our wedding. Everyone told us they absolutely loved the food, which we were very proud of! Flavia was extremely accommodating and detail oriented and even helped me a secure a high chair at the last minute for the one infant in attendance. Thank you so much, Flavia, and your Austin Catering team, for making our wedding an epic success and for being there for us through thick and thin! Love, Christina and Albert Jacobs.

David R.

Married on 04/16/2022

Amazing Experience!

My husband and I had the best experience with Austin Catering!

The food was delicious, the staff was wonderful and KD made everything so easy. Our guests kept telling us how much they loved the food – especially the honey-glazed, house-smoked salmon!

We are so happy we chose Austin Catering for our wedding and would recommend them for any event!

Thanks Austin Catering!

Monika E.

Married on 03/26/2022

Best wedding food - Awesome customization!

We hired Austin Catering for our 3/26/22 wedding and they were amazing!! They were able to tweak menu items to make them GF and worked with us and our planner to customize dishes. We did family style for our 50 person wedding and everyone told us this was the best food they had at a wedding!! They also provided our chasers, juices, and bartenders!

John K.

Married on 12/10/2021

Outstanding from first contact to end of the event!

Austin Catering is amazing. We selected them to cater our son's wedding reception at our home and they did a great job from the first time we contacted. Susan Higgins was very helpful and made a number of great recommendations as the planning progressed. Food was amazing and the staff onsite for the event were fabulous. The setup, meal service and tear down were all done seamlessly without hardly being noticed. They also left the house spotless which was really nice. Lastly they are very flexible as to how everything comes together and who provides what. Highly recommend Austin Catering.

Austin Catering's reply:

Thank you, John! We enjoyed working with you and Julie and are so glad that you all were very happy!

Nick M.

Married on 11/02/2021

Austin Catering was fantastic!

Lisa and the staff at Austin Catering went above and beyond to make our wedding beautiful. From the first time we met Lisa, everything was exactly we hoped for and then some. Clear communication in the months leading up to the wedding, the ability to meet with us on our schedule as we visited Austin, and plenty of options to choose from all made things perfect for Monica and I. During the wedding, Lisa and her staff took charge and got things set up quickly. Once our guests arrived, they were always taken care of with food and drink. We had lots of guests raving about how good the food was, especially for a buffet, and Monica and I got to try a little of everything, which was perfect in our whirlwind day. Austin Catering helped us put last-minute touches on our cake and left the venue (Mercury Hall) in better shape than we had found it. The staff was super helpful, and we were so thrilled to see Lisa take charge of everything once she arrived and help the food and beverage service run so smoothly. We had such a beautiful wedding and Austin Catering was a huge part of that — the perfect start to our life together :-)

Megan S.

Married on 09/19/2021

Amazing Food & Awesome Team

Food was one of the things I was most excited about for my brunch wedding. I worked with Susan, and she is AWESOME! Not only was the food incredibly delicious, she was always patient, flexible, and happy to work with all the micro changes with the menu. I appreciate that she was enthusiastic about working with my budget and helping develop a menu that was perfect for my wedding day. Highly recommend!

Kate

Married on 09/18/2021

"The Best Wedding Food I've Ever Had"

I had my wedding about two months ago, and still, to this day, I have guests calling or emailing me gushing about the food at my wedding. I continue to get the same comment over and over - "that was the best wedding food I've ever had" or "how did they possibly make 100 steaks cooked to perfection"? Honestly, working with Austin Catering was one of the best service-based experiences I've ever had. I can be quite a perfectionist, and their director of catering, Kristin Stephens, integrated my feedback throughout the planning process seamlessly. Their entire team is truly incredible, and I have to say, they made me feel like a queen given how many people obsessed about the food at our wedding. We selected the plated experience, which definitely was more expensive, but totally worth it in my mind. The food looked like art and tasted like magic! AND, to top it off, I had a friend who had extremely specific dietary restrictions. It was very important to me for her to be able to eat with everyone and enjoy herself - Austin Catering created a specific meal based on the 10 foods she could eat. It was so special and considerate. It not only blew me away, but really meant the world to her. I could probably rave about their team, the service, the overall experience, the food, for hours but I know no one has time to read that review. Sooo, to sum it up, if you do one thing - BOOK AUSTIN CATERING. They're the best and you won't regret it.

Sarah H.

Married on 08/06/2021

Perfection and fun!

Austin Catering was great to work with start to finish. The caterer manager, K.D., was easy to work with, down to earth and professional every step of the way. She guided the process with excellent care, a steady hand and 5-star accommodations. She took care of everything we needed and there was never a moment that we didn't feel loved and cared for by K.D. and her entire team. Now, the food...the food was excellent! We had a tasting and that was so much fun and it helped us make the final decisions about the wedding menu. We had pork with chimichurri, pecan-crusted chicken with peach chutney, spring salad with strawberries and chevre, roasted vegetables, penne pasta with tomatoes and basil and rosemary rolls. The menu was delicious and seriously, everyone enjoyed dinner! Oh, and the passed appetizer, fritti artichoke - to die for! The staff could not have been nicer, more efficient and they knew our venue like the back of their hand which was great, we were at Mercury Hall. The start to finish process with Austin Catering was a joy and the food was delicious, I highly recommend them.

Eunice

Married on 05/29/2021

Great food and staff

Austin Catering is awesome! I highly recommend this team. We hired them as our food caterer for our wedding, and everyone loved their dishes. My wife and I received SEVERAL compliments on the food, while some even asked how to make it. Prior to the wedding, you are given several food options to choose from. They even catered to my vegan friends. The food tasting was an enjoyable little experience and K.D., our main point of contact, was very nice, professional, and courteous. During the day of the wedding, the crew was well-mannered and helpful. They made sure the bride and groom got all the food and drink they wanted. I did not hear a single complaint from the guest about this company's crew. If you want your food and wedding done right, choose this team. Seriously, they're great.

Kristin

Married on 04/07/2021

Yummy food & great service!

We used Austin Catering for our bridal shower and wedding reception and both times the food and service was incredible! They were able to make many dishes dairy and gluten free while still tasting amazing, which was a huge plus! We worked with Lisa throughout the process and she was fabulous! They accommodated every request we had even when we had to reschedule everything due to COVID. Would recommend them to anyone who is wanting good food and great service.

Kara R.

Married on 04/07/2021

Amazing Service and Great Food

Working with Austin Catering was great! I loved working with Lisa and her team - they provided excellent service and the food was delicious at the event we worked together. Lisa was also fantastic about working with the venue and our clients to ensure that all guests felt safe and were taken care of since our event was occuring while COVID has been happening. The staff provided an excellent and efficient way to serve guests while also keeping plates, napkins, food and cutlery sanitized and safe. 10/10 would recommend!

Kathryn W.

Married on 10/24/2020

Wonderful experience so far

Everything with Austin Catering has gone wonderfully smooth so far. We are currently working with Lisa and love her laid back style and top notch customer service. We also really love how flexible they have been with all of our food, plans, etc. The food at our tasting was amazing and we are so looking forward to showing off the menu for our guests come wedding day!

Lauren H.

Married on 06/06/2020

Great catering company!

Kristin and her team at Austin Catering did an amazing job. Through the tasting to postponing to the actual event, Austin Catering made for an easy process. The food was amazing and guests' plates were loaded up! Also the Mac and cheese balls were everyone's favorite. If you're looking for a fancy, affordable catering company give them a call!

Melanie A.

Married on 01/25/2020

Perfect reception food

Delicious, affordable food, great guidance by Lisa Thompson; couldn't be more satisfied with the outcome!

Hannah C.

Married on 01/24/2020

Austin Catering Killed It!

Austin Catering did an AMAZING job for our wedding. I work in the industry and I work with some of the best catering companies in town, and Austin Catering is by far the best. I've always been sceptical when it comes to catering food (vs a restaurant), but their food is always so delicious. They also have incredible service. Small things like not slamming the back door during a toast, or putting mac and cheese on my plate even though it wasn't on the menu because they knew it was my favorite. We got so much positive feedback from our guest about how much they loved the food. KD was so great to work with during the planning process, always quickly responsive and willing to help with whatever we needed. 10/10, we will always recommend Austin Catering!

Karyn T.

Married on 12/07/2019

Incredible

From the tasting to the day of. Everything was incredible. How do you know their food is that good? When the groomsmen ends up with FOUR(4) plates in front of him

We had incredible tasting food, amazing service and the display was all just top notch.

Brianna T.

Married on 11/09/2019

Amazing food any service. Anyone in Austin looking for a caterer should look no farther.

We used Austin Catering for our wedding this past weekend and we were SO IMPRESSED. The food tasted wonderful and the buffet line went so smoothly and guests couldn't complement the food enough. The wait staff were phenomenal and made sure every guest was taken care of, especially myself and my husband. The bartenders were absolutely amazing. There was never a line and yet everyone had a drink in their hand the entire night.
We had the pleasure of working with Lisa throughout our wedding process and she was absolutely wonderful. She was incredibly responsive and made sure every single detail was exactly the way we wanted it.
To make things even better, Austin Catering was BY FAR the most reasonable caterer we spoke with. If you are getting married or have an event in the Austin area, don't waste your time looking at another caterer. Austin Catering is the best!

Lindsey

Married on 10/19/2019

Happy Hearts + Happy Stomachs

Thank you so much Austin Catering Company! We had an amazing experience working with Austin Catering! From the first taste testing all the way through till the end, Kristin and her team was supportive, receptive and a fast responder to all communications. As a long distance planning bride, I appreciated their professionalism and attention to detail. Once we teamed up with Austin Catering I never had a moment of anxiety about the food! During the wedding they took care of all the guests and paid particular attention to make sure my husband and I were happy. Now weeks later I am still dreaming about how delicious the food was! Everyone was happy and had full stomachs!


Caroline N.

Married on 09/14/2019

Great Taste, Great Service

Austin Catering provided excellent food and bar services at a reasonable price! Our table settings were beautiful (which they provided) and everyone loved the Texas BLT Bites for the appetizers! Even 5 days after the wedding, people have still told me how much they loved the food and the blue goblets at the tables! Their servers were very polite and happy to be helping us, which made our day much more enjoyable! We constantly had servers asking to help us as well! Great food and even better hospitality!

Christina

Married on 09/14/2019

Flexible, budget-friendly, SO tasty!!

Lisa and Austin Catering are AMAZING. They are so flexible and accommodating and can literally make any dish happen for you! She even had the waiter's attire go with the theme of my wedding without me even asking. I have received SO many compliments on the food at my wedding, and Austin Catering was able to do it all well within my budget! I highly recommend this caterer for your wedding or other events.

Mekenzie

Married on 08/24/2019

The BEST in the business!

We had the pleasure of working with K.D. at Austin Catering and have nothing but great things to say! Throughout the whole planning process, it was clear that K.D. was very knowledgeable and a great resource to go to for advice and suggestions. One thing that really made Austin Catering stand out to us was the way they plate their food. I was very hesitant to do a buffet style food service at my wedding, but seeing their food presentation and how everything was plated on beautiful serving dishes and not standard chaffing dishes was a huge plus! Most importantly though, the food was absolutely INCREDIBLE! Our friends and family raved about the food and drinks - specifically the smoke salmon. I am still amazed that they were able to keep the food tasting so delicious when feeding around 200 people. The whole evening truly couldn't have been better and Austin Catering played a major role in making it so special. I only hope to one day plan another event in Austin so that we can use Austin Catering again!
Are you interested?
Send a message