Reviews
5.0 out of 5 rating
Quality of service

5 out of 5 rating

Average response time

5 out of 5 rating

Professionalism

5 out of 5 rating

Value

5 out of 5 rating

Flexibility

5 out of 5 rating
100%
Recommended by couples
1 User photo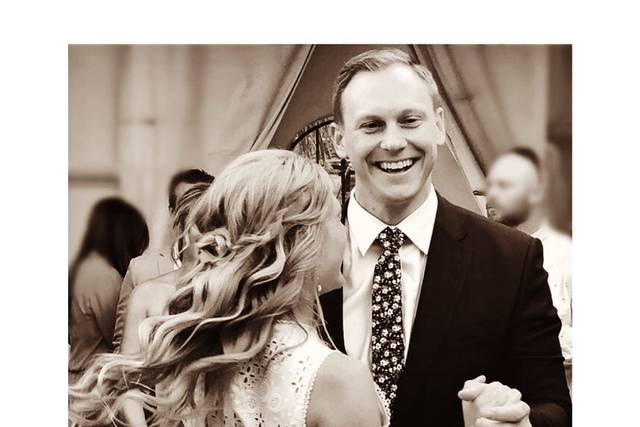 Chanel B.

Married on 11/13/2021

The real deal

If you are lucky enough to secure Sophie as your planner, you are in for a treat. My now husband and I lived in Santa Barbara during our college years at UCSB and always knew if we got married it had to be in Santa Barbara, and it had to be at the Courthouse.

While the Courthouse had never permitted receptions before, we were the first (just this past Saturday). Naturally as a new bride there are "what if's" and doomsday scenarios that organically come up throughout the planning process, especially at a brand new venue. I was a little nervous and didn't love the idea of being the guinea pig, but Sophie consistently went above and beyond on the days and months leading up to the event, and especially on the day of the wedding itself. She and her staff could not have been any more on top of it, period. She made a plan and she executed. The entire day went off without a hitch - if there were problems, we didn't know about it. She looked out for us, protected us and made our day so SPECIAL.

Now that we've had ample time to reflect on the day we are so happy we hired her. Timing was on our side - she's in demand and for good reason. We'd trust her with our life and consider ourselves truly lucky to work with her. If you are hiring a wedding planner in Santa Barbara she is worth every penny. Hire her, stat.

Amazing Days Events's reply:

Awwww, you're making me blush. Your wedding was MAGICAL and will always be super-special - I mean, the Courthouse?!?! And your picture perfect ceremony and super intimate dinner... and the dance party?!!? Loved every minute. Thank you for choosing me and being the coolest, most trusting Bride! Let's get drinks next time you're in town! XOXO

Joseph F.

Married on 09/22/2019

Spectacular Vendor

My fiance and I planned a wedding in 30 days and reached out to Amazing Days Events for assistance. Sophie was spectacular and went out of her way to make sure that every detail of our special day was executed to perfection. Sophie's knowledge of the ins and outs and expertise made the process seamless and smooth. Sophie had recommendations and input for every aspect of the event. Sophie's input is invaluable! Highly recommend using Amazing Days Events!!

Meredith

Married on 09/01/2019

Best $ you'll spend

I would give more stars if I could - I truly do not know what we would have done without the Amazing Day Events team!

They were referred to us by a friend who had ATTENDED a wedding where these ladies nailed it so much that GUESTS were singing their praises for flawless execution...you can only imagine how happy the couple was with their choice. After setting up a chat with Sophie I knew these were my girls and they are SO affordable compared to similar services all over the central coast. (Trust me, I checked)

Over the course of a year(ish) Kelsey became our person -

1. She handled all of the stuff that we either didn't care about or had no idea where to start. Who knows what lighting a band needs? How do I find a good deal? She would send me three options and price points and handle everything else - the dream!
2. She helped me figure out how to pull of the things that I was really excited about. For example, we really wanted to do a custom wine tasting at cocktail hour and literally anyone else would have told us to get a grip and get over it - instead Kelsey made it happen and it was better than we imagined.

My friends and family (and I) are still gushing about how perfect our wedding day was and I credit so much of it to the Amazing Day Events team. They treat you like a friend, they are supportive and flexible, and 10000000% the best money you'll spend on your wedding.

Are you interested?

Send a message

Erica

Married on 08/10/2019

"Amazing" is right!

I actually don't think I can put into words how amazing Sophie and Kelsey are. Seriously. I was planning a wedding from across the country during my final year of law school and while studying for the bar exam, and NOT ONCE did I feel any wedding stress, and it was all because of these two. While I had general ideas of what I wanted, I had no idea what the cost or feasibility of any of my ideas were, and no clue how to bring it all together. Sophie and Kelsey listened to what I wanted, gave suggestions, helped me narrow down options, explained what was and wasn't realistic within my budget, and handled all the vendors without a hitch. They kept me on track throughout the year and were a huge help with a bunch of last-minute upgrades we added when our guest list ended up smaller than anticipated and we decided to do more with linens and flowers. I did not pick up my phone once on the day of the wedding, trusting that Sophie and Kelsey had everything under control, and it all was absolutely perfect when I arrived. They know the wedding community in the area incredibly well, and they worked seamlessly with our other vendors. They are so fun to work with--trust them to do their jobs, because they do them INCREDIBLY well and they only want you to have the best day. They listen well, respond to questions quickly and with real answers, and have your back 100% of the time. Without a doubt, they were the best money we spent wedding planning, and I miss chatting with them now that the fun is all over.

Amazing Days Events's reply:

Oh how I adore you! Thank you for your wonderful words. We LOVED working with you - you're a dream - and are so so so proud of how it all turned out! We miss you too and can't wait to plan your 5-year vow renewal. Ha ha! Thank you again.

Kathryn

Married on 04/07/2018

Sophie and Kelsey were amazing to work with! They helped with so many of our decisions and plans along the way and on the day of the wedding we seriously felt zero stress and were able to celebrate without a care. They really strived to actively make that happen!

The week of our wedding there was rain in the forecast (in Southern California, please) and they met us at the venue with the rental company rep to figure out a solution that still fit our vision. On our own, that whole process would have been really overwhelming and stressful but they set our minds at ease. We appreciated that so much!

Bottom line, they were super fun, had great energy, and were instrumental in making our day awesome!

Thaddia

Married on 02/03/2018

The absolute BEST. Sophie & Kelsey were amazing. Everything was perfect for our Santa Barbara wedding. Vendors were on time, drinks always full, set up looked incredible, everyone knew what they should be doing at all times. They made sure all we had to worry about on our special day was ENJOYING IT. Not only did we love this team, our entire wedding party couldn't stop talking about how great they were. We just LOVE Sophie & Kelsey and would highly recommend them for ANYTHING.

Farnaz

Married on 08/25/2017

Stop all the research you are doing and hire Sophie and Kelsey RIGHT NOW! I'm SO happy that I held out on booking a wedding planner until I talked to Sophie. Amazing Days Events is the REAL DEAL. If you want someone that will set realistic expectations, keep you on track, on time (which was super, super important for me) and be your sounding boarding, look no further! Sophie and Kelsey are truly an amazing duo - they are meticulous, have strong attention to detail and most importantly FUN. They're also well connected in Santa Barbara and have the best vendor recommendations. All but one of my vendors were recommended by Sophie and Kelsey and they were all a dream. Lastly, they had a great relationship with the Event Manager at our venue (Bacara) and I felt like the day went off without a hitch. Thank you, Sophie and Kelsey!!!!

Tracey

Married on 07/22/2017

Sophie is the best! We hired her as our month-of coordinator, but she provided suggestions and answered questions all along the way. Her insight and advice as we prepared for the day was invaluable – she had so many great tips from how to structure our ceremony to how to pose while holding a bouquet. All the small things that you wouldn't think about if you've never been married before, she brought up and gave us the tools to make the decision that was right for us. She has an amazing attitude, and on the day everything went so smoothly. There were probably some hiccups, but we never heard about them – she handled all the vendors and made it a magical event. Everyone needs a Sophie at their wedding!

Nora

Married on 05/20/2017

Sophie was one of the best things about our wedding. From the first phone call to overseeing the last moments of clean up, Sophie was an absolute rockstar. I chose Amazing Days Events because of all the emails I sent out, Sophie was the only one who CALLED back. She made a personal connection with us and our families and we SO enjoyed working with her. She is personable, professional and so much fun . She listened to our vision, helped us find the right vendors (within our budget!), kept us organized on track throughout the planning process. On the day of, she made sure everything was executed perfectly--she even constructed the perfect donut cake! Our family and friends loved her and we adore her! I highly, highly recommend Sophie and Amazing Days!

Rani

Married on 05/06/2017

Kelsey was amazing! She was the best! I cannot come up with enough adjectives to describe her. Hiring Amazing Days Events was the best decision I made for my Wedding Day. Kelsey took care of everything on the day of the wedding so I could be present and fully immerse myself in the day. She helped me with all the last minute details. When I had to switch the reception from outside to inside a few days before the wedding Kelsey made the transition easy and smooth. My family and the wedding party all commented on what a wonderful Wedding Coordinator Kelsey is. Amazing Days Events is professional, reliable, and a pleasure to work with. I cannot thank them enough for helping me make my Wedding Day the best day ever!

Maureen

Married on 04/08/2017

Kelsey was everything we needed for our wedding day! We hired for week/ month of services for our April 2017 Santa Barbara wedding and it was money well spent. My mom was much more relaxed knowing we had people on top of their game. It was easy to hand over all the planning to Kelsey and they were fun to work with, she also did mind my could care less about the small details attitude they were happy to go with the flow. I would recommend them as they were: prompt with emails, realistic about budget, honest, straight to the point and punctual.

Courtney

Married on 08/06/2016

I first heard about Sophie and Amazing Days Events through a vendor referral from the Canary hotel/Liza Gomez (catering sales manager). Looking back, that referral should have been wrapped in gold-glittered cellophane and hand-delivered to me on a Unicorn's back because Sophie Spier absolutely without a doubt made my wedding PERFECT. I phone screened several planners from the referral, and definitely felt like I could happily use any of their services, until the day I talked to Sophie and it was game over for the rest of them. Right off the bat I could tell her personality and smile would be contagious, like I like to think mine is, and that our casual banter over the phone from less than ten minutes talking would only grow with our relationship planning my wedding. I only used Sophie for the 'day of' wedding planner, but I have no doubt that she would have planned the same wedding I did if not a better one (I still have to give myself some cred for planning my own wedding haha!). She did handle all the vendor details for the wedding day, and created a timeline I dreamed about for weeks. Her planning website is fabulous and she tracks all your contracts and payments and guests and seating charts to the point where you almost forget you are stressed from planning a wedding! She also answered every horridly annoying email I sent to her regarding completely irrelevant details swiftly and always offered feedback or praise to keep me going in the right direction. When I met her in SB at our first face-to-face, she hugged me as genuinely as a long-lost friend would, and I always felt like her top priority when we were together. Come wedding weekend, Sophie was A-game from the wedding rehearsal to the last dance of the evening. She kept people focused but knew how to have fun with it, and I never worried once about the quality of my event in her hands. I would recommend Sophie to anyone looking to get married in SB, or honestly anywhere you could convince her to go. She wo

Kristina

Married on 07/23/2016

Sophie is a true gem! She made the entire process flow so effortlessly, with such professionalism, and she made it so much fun. It was like planning a wedding with a best friend! She has such a beautiful, radiant personality and her enthusiasm and passion for what she does is something truly rare. She has such an amazing attention to detail, gives the best advice and most importantly, is so trustworthy.. I honestly couldn't say enough good things about her. Our wedding day was absolutely perfect, and it was all because of Sophie. THANK YOU!

Cass

Married on 07/07/2016

If you're looking for an event coordinator in Santa Barbara, look no further! You've found her! Sophie was our wedding coordinator and we couldn't be more grateful for her assistance. The event was perfect, without a single hitch and we have her to thank for that! We were able to focus on each other and our guests while she handled everything else. Sophie knows weddings and gave us perfect recommendations. She is also very attentive, caring and fun!! What more could you ask for??

Christine

Married on 06/18/2016

We adored Sophie! We hired her on the spot! She was very direct and professional which we liked. She didn't sugar coat anything, she always made us feel comfortable. Whenever I had questions I never felt like I was bothering her. She was extremely helpful and I never once worried about something not being done. She also made sure she got our vision and what was important to us and it was easy to connect with her! I have and will continue to refer Sophie to friends and family!


Sophie was fantastic! She did everything we hoped for and more, from the first consultation months before the wedding until the last items were cleared at the reception. Sophie is enthusiastic, energetic and totally fun to work with. She is responsive, has great referrals, and knows how to make an event run without a hitch. She orchestrated our rehearsal with spunk and professionalism, and on the wedding day, was there to oversee every last detail. We didn't worry about a single item because we knew Sophie was on top of it. I recommend Sophie without reservation!

Aimee

Married on 04/16/2016

Sophie is a gem! I can't say enough good things about Sophie. I couldn't have done anything without her. I would like to think that I was a pretty easy, laid back bride. I knew what I wanted but at the same time, I had no idea what I wanted. I don't plan parties, I don't pay attention to all the little details. Sophie was a blessing, she is so detail oriented and thinks of things I would never have thought of. I didn't stress about much but when I did I would call her up and within minutes I was focused, on track and moving forward. She is amazing and I must mention SO MUCH FUN! She is calming, fun, funny, positive, energetic, creative, and professional. It takes a certain kind of person to be able to deal with "bridezillas" for a living and she was born to do this job! Don't think twice about it, just hire her!

Megan

Married on 11/01/2015

Sophie was amazing! My wedding day from start to finish (literally), was perfect thanks to her! Highly, highly recommend Sophie!!!!

Kimberly

Married on 10/25/2015

I can not say enough wonderful things about Sophie and Amazing Days Events! My (now) husband and I were planning our wedding in Santa Barbara, CA from Boston, MA which made coordination even more challenging. As soon as we jumped on the phone with Sophie we immediately felt at ease. Throughout the planning process she was incredibly helpful, offering suggestions and honest advice. She was also extremely organized and kept all of our vendors on the same page. We appreciated her humor and kindheartedness and by the end of the big day we felt like we had made a great friend. We would absolutely recommend her to any other brides and grooms-to-be!

This is one review I am more than happy to write. I am type A, organized, and manage projects for a living so you can imagine I would not trust just anyone to coordinate my wedding. Sophie was a perfect fit for me, my mom and fiancé. I completely trusted that my wedding was in good hands on the day of our wedding. I didn't spend 2 minutes thinking about logistics or details and that was the whole point. Also she is an incredible price point for her responsiveness and knowledge base. I never waited more than 24 hours to receive a comprehensive response to any questions or new developments. Sophie is an experienced coordinator who has a lot of experience. If you ask her opinion she will give you an honest answer based on her experience. She knows what she is doing and can provide suggestions for how to achieve what you want while run smoothly. I found this incredibly valuable and trustworthy. She didn't steer me wrong once. Sophie immediately struck me as slightly different that many of the other coordinators and planners I spoke with in the wedding industry who are just super peppy and focused on making everything pretty. Don't get me wrong, I wanted it pretty but I also wanted to avoid disasters. That's why I loved Sophie, she got everything done! She was highly responsive, organized, and totally on top of everything from the minute we hired her several months prior to our wedding. Not to mention she is awesome, fun, very friendly and great to work with. All of our family and guests said she was a true pleasure. She handled our slightly crazy bridal party wonderfully during the rehearsal and when Sophie spoke, people listened so the ceremony went off without a hitch! Our day was not flawless ( no weddings are) but it appeared that way to both us and all of our guests. The event was incredible and perfect thanks to Sophie. Mission accomplished! I would highly recommend Sophie to anyone

Lynn

Married on 10/03/2015

Let me just say right off the bat that you should hire Sophie! This is some of the best money we spent to help create the wedding of my daughter's dreams. Sophie is highly experienced, on point and knowledgeable. She never steered us wrong and was super responsive and professional throughout the planning process. Her experience was essential to a smooth rehearsal and gorgeous wedding day with our large and somewhat rowdy wedding party. Being Mother of the Bride is an awesome and somewhat stressful position. Sophie made it easy. Her presence made the day flow perfectly...or at least appear so. I've no doubt that she handled a variety of issues without me even knowing about them and the best part is that I was confident that we were in good hands. Her style is direct, efficient, fun-loving and energetic. She worked beautifully with our caterer and venue people. My daughter, the bride, LOVED her. We could not have asked for better and are so very thankful that she was a part of our day!

Soren

Married on 09/18/2015

Sophie is awesome! She was quick and responsive to all my questions and thoughts. She provided helpful tips and ideas throughout the planning process. On the day of the wedding, it could not have gone any smoother! Sophie took care of it all! I didn't have to worry about a thing. If you want someone who will make sure your wedding day goes exactly as you imagined - go with Sophie!

Yee

Married on 08/23/2015

Sophie is truly amazing!! My fiance and I hired Sophie since we live in NYC and were getting married in Santa Barbara... and we only visited a couple of times before! We knew that we needed some help :)

In came Sophie! She is a woman who has her stuff together!! She helped us build a timeline and focus on things that we needed to get done in preparation for our big day, and made us feel super comfortable and secure that we weren't missing anything and made all of our deadlines. We also ended up working with almost all of the vendors that Sophie recommended and they were awesome. She also made a few design suggestions that turned out really beautifully!

We had our ceremony at Elings Park and the reception at The Granada Theatre (both Sophie recommendations!)... definitely look into both of those venues if you haven't already, brides - these venues both exceeded our expectations in every way! Everyone told us that we shouldn't worry about the "little things that go wrong," but our wedding day went by without a single hitch! Literally, everything was totally smooth, and Sophie helped organize all of our vendors (we had A LOT) and managed the timeline of the day incredibly well. I had absolutely nothing to worry about, other than having a good time and spending time with guests!

Sophie has a great energy, is really fun to work with, and genuinely cares about making your wedding day exactly what you hope it would be. I enjoyed working with her so much, and would HIGHLY recommend her to anyone looking for a planner or coordinator.

Nicole

Married on 08/01/2015

I hired Sophie to be the month of coordinator for my August wedding, and it was the best decision I made. She is seriously amazing. I got married at Elings Park in Santa Barbara which is a challenging venue to plan a wedding at in that you need to bring in everything and hire a different vendor for each part of the wedding. For our wedding, we had 10 different vendors who all needed to be coordinated with and kept on schedule throughout the event. Sophie handled it all flawlessly and made sure that my only job was to have a blast! I honestly did not worry about a single thing the day of the wedding because I knew she was there and was handling everything in the background.

Prior to the wedding she was very communicative and provided great suggestions for vendors and ideas. I was looking specifically for a bluegrass band to play during the ceremony, and when we were having trouble locking one down, she reached out to some of her contacts and found us an amazing group to play that day. She also met us up at the venue a month or so before the wedding and helped us nail down all the remaining timing and set up details for the day, and when we got stuck on a decision, she offered great suggestions. I feel like she was a crucial part of how everything came together in the end.

Her personality is also very refreshing! She is very down to earth and fun, but when she needs to take control of a situation, she has no problem doing so. We had a lot of different personalities and cooks in the kitchen with our wedding, and she related very well with everyone and juggled everything we threw at her. She has also worked with most of the vendors in the area, and every vendor we hired said they loved working with her and how seamless everything feels when she's involved.

I feel like everyone who is getting married needs someone like Sophie in their corner! She is truly amazing at what she does and she's so easy to work with as well. I can't recommend her enough.


Amazing Days Events's reply:

Nicole, you make me blush. I loved working with you and Eric and your moms and everyone else who made your Big Day so special! It was truly a stunning event and I cannot WAIT to relive it again when we get the photos back! xo

Candie

Married on 06/07/2015

Sophie is amazing!! If there were more than 5 starts to give, I would. Sophie from day one was great, so friendly and helpful. She has such a great personality and was so fun and easy to work with. She's incredibly organized which gave me permission as the bride, to relax. I knew I was in good hands and everything would be taken care of. And it was! I can truly say Sophie made it possible for me to worry about absolutely nothing on my wedding day, and I'm a control freak so I can't tell you how amazing that is!! She nailed every detail, kept every vendor organized and on task, even did crowd control with some unruly guests...and every piece of advice Sophie had to offer we used and are grateful we did. If you are looking for an amazing wedding planner/coordinator, Sophie is it!!!
Are you interested?
Send a message