76 Reviews
Recommended by 93% of couples
Quality of service

4.7 out of 5 rating

Average response time

4.5 out of 5 rating

Professionalism

4.7 out of 5 rating

Value

4.7 out of 5 rating

Flexibility

4.7 out of 5 rating
Awards
71 User photos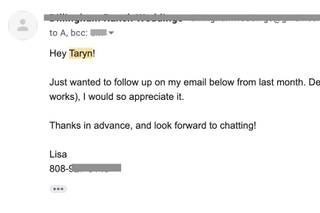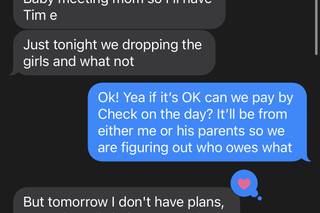 + 67

photos
Jackie

Married on 07/09/2022

Wedding planning made simple!

Taryn and her team made wedding planning from Washington a breeze! We decided to have our wedding in Kualoa Ranch Secret Island and Moli'i Gardens with only 5 months to prepare. I was concerned about us not having enough time to plan but after explaining my vision to Taryn she assured me that it was reasonable. We talked to a few wedding planners but decided to go with Taryn because we liked how detailed she was in the initial call and how open and honest she was.

Leading up to the wedding, we scheduled a trip 2 months ahead make final decisions and meet a few vendors. Taryn and team were very organized in creating a schedule for us to see venue, food & cake tastings, hair and makeup trial, and cocktail tasting. We had such a blast during this part of the planning process and felt like we were in good hands.

Days leading up to the wedding, Taryn was communicative with vendor invoices and ensuring we had everything we wanted. She even went above and beyond to include last minute items I wanted like calligraphy signs/nameplates and shave ice truck. We also had a rehearsal which was helpful and a detailed wedding day schedule sent out days before. We knew exactly what to expect day of and Taryn was available at all times to answer questions.

On the day of wedding, the day progressed according to schedule. The day felt so organized and her team helped fix any issues that came up. I felt like we really enjoyed our day without having to stress out about the little things. Taryn also took such great care of us ensuring we were taking care of ourselves that day such as staying hydrated and eating throughout the day. The ceremony and reception setting was beautiful, stunning and exceeded my expectations. The layouts looked exactly as planned and discussed. We enjoyed our day so much and it was such a memorable day for our guests as well. I was truly blown away by our wedding it felt like such a dream! Thank you Taryn and team for helping us plan the wedding of our dreams!

Sheila

Married on 06/07/2022

The best!

From the bottom of our hearts THANK YOU SO MUCH Taryn and team! You went above and beyond to ensure our wedding day went perfectly! We are forever grateful! 100% would recommend using A Touch of You for wedding planning/coordinating services!

My now husband and I got engaged in 2019. Like many other couples we had to cancel/postpone our wedding when the pandemic hit. We realized by the beginning of 2021 we wanted to change our plans of getting married in our home state of California to a small wedding in Hawaii. Oahu holds a special place in our hearts. It was our first trip together as a couple and we fell in love with everything about this beautiful island! Planning a destination wedding was super exciting, but also a lot for one bride. That's when I started looking for a wedding planner/coordinator.

From the moment I spoke with Taryn on the phone I knew we would be in great hands! She is knowledgeable about the wedding industry, very well organized, and is passionate about bringing your wedding day vision to life! Also, communication with her was a breeze. Taryn was prompt and professional throughout the entire process. I appreciated that she was always a step ahead of our vendors and had everything covered. This made me feel at ease especially when I became sick a month before the wedding.

We met Taryn on our rehearsal day walkthrough. She is just as sweet in person as she is over the phone! Her and her team prepared us for what to do, hyped us up for our wedding, and took notes of the last details. Throughout the rest of the day my husband to be and I relaxed while they picked up rental items/prepped.

June 7, 2022 was our wedding! Everything ran smoothly! I had mentioned previously that there was a sensitive family matter and everyone was mindful about that. Certain dynamics were kept separate as planned. Taryn and her team guided us, our vendors, and our guests, every step of the way from beginning to end! Their incredible eye for detail made our wedding setup an absolute DREAM! This included the name placements for our reception which was such a beautiful surprise! After the wedding Taryn asked if we wanted to have our florals preserved. That was awesome! They then drove the florals over to get the process going. We will never forget all your help in making our day so special!



Hannah B.

Married on 05/27/2022

Hire for a stress free and perfect wedding!

I cannot recommend A Touch of You enough!!! Taryn and her team at A Touch of You made everything from the very beginnings of wedding planning to the execution of the day an absolute dream. Planning a destination wedding for a dual military couple seemed like a daunting task, but with Taryn's help I never had to be worried about even the smallest details! Despite going through a pandemic and a pregnancy, Taryn was always a call or text away whenever I had questions (which was rarely thanks to her thoroughness) and she truly made me feel at ease placing my wedding in her hands. I only had a general idea of what kind of style I wanted our wedding to be, but Taryn's expertise helped me flesh out a full vision--and then she brought it to life perfectly! Our wedding was a "hybrid" wedding with half of the guests being local to Hawaii and half being from out of town; Taryn knew exactly how to make everyone feel involved and enjoy the night! I'm still getting texts from my guests saying it was the most beautiful wedding they've ever attended--I even had a friend tell me they wanted their wedding to be exactly like mine! If you want to be stress free and have your wedding be beautifully planned and perfectly executed, definitely pick A Touch of You!!

Are you interested?

Send a message

Abe A.

Married on 08/22/2021

Absolutely magical and stress free!

Taryn and her team were absolutely amazing!! If you are looking at planning a wedding with a wedding planner, please trust us when we tell you, don't look any further.

My wife and I live in Colorado, we planned our entire wedding within 3 weeks with Taryn and her team. Everything was so magical and perfect. She made sure our entire vision came to life without us even visiting the venue.

We trusted her instinct on all vendors and on top of that she made sure that we were still receiving the best deals possible. She is very kind and rest assured you will be in great hands!!

Now that our wedding is over, we truly can say that we miss talking to her daily! Haha!!

Kimberly A.

Married on 06/24/2021

The best wedding coordinator on oahu

There aren't enough words to describe how thankful my husband and I for Taryn and her team!

We started our wedding planning journey with her in 2019 (pre covid) and she had our backs the whole way through, all while the state of Hawaii implemented covid restrictions. We had to postpone our wedding due to covid and Taryn was ON TOP of her game. Taryn and her team even rallied for the wedding industry to open back up again in Hawaii as so many couples took a huge hit during covid (this is true, look it up on the news!!!!). Now if that's not a passionate wedding coordinator that fights and shows she has her couples backs, I don't know what is.

My husband and I did not worry AT ALL throughout the process. So many couples (with different coordinators in different states) asked me so many times how was I not stressed about anything. Simple, I just told them I had Taryn by my side.

Now come wedding day... A Touch of You KILLED IT. While my husband and I were getting ready in our hotel suite in Waikiki, Taryn had Steph (member on her team) watch over us to make sure everything ran smoothly on our end while Taryn was at the venue (50 mins away from where we were) setting up. When I say I didn't have to lift a finger on this day, I mean it. No one bothered me about the schedule, where everyone had to be, where all the vendors were, etc. Taryn and her team took care of EVERYTHING. Taryn made sure we followed all covid protocol as well. Even our guests were so impressed with Taryn and her team. Our wedding day ran so smooth, no hiccups, NOTHING.

Ok, I can literally go on and on about Taryn and A Touch of You. Im a little sad that we can't work together any more!

Taryn + ATOY team... from the bottom of mine and Alex's hearts, THANK YOU SO MUCH for making our dream wedding come to life!!!! Forever family.

Tyler M.

Married on 03/07/2020

Worth every penny

Really understood what we wanted and not only executed it but exceeded our expectations and came out better than we could've imagined.

Annie O.

Married on 07/30/2019

Amazing work!

Taryn was amazing to work with from the start. She was so kind and so willing to help right away, and not to mention so patient with me.

The day of the wedding, Taryn and Stephanie had made it so seamless for me that not once did I worry about anything.

Thank you so much for everything that you both did for us on our wedding, you ladies are so appreciated!

Cary M.

Married on 05/31/2019

Couldn't imagine our wedding without them!

Working with Taryn was our wedding destiny! We were referred to her through Loren at Marry You in Hawaii, which is where we found our amazing officiant Brutus La Benz. We spoke with Loren about where we were in our planning process and she highly recommended we look into getting a day of coordinator. We were very DIY and on a tight budget for our wedding so we initially thought we would just handle all of the day-of madness ourselves. We are sooooo glad we listened to Loren and got in touch with Taryn! After speaking to her one time over the phone we felt so much relief from our wedding anxieties. We went through our vendor list with her and she assured us we were in great hands. She helped guide us through the last 2 months of planning and held a rehearsal for us the day before. She was there the day of along with her associate Stephanie to take care of EVERY LITTLE DETAIL. They took care of us the entire day, made sure we were happy and even hydrated (it was super hot that day). They handled all of the set up for the ceremony and reception and did a beautiful job with our table decor. If you want your day to run smoothly and stress-free, Taryn and Stephanie are a must have!
We don't know what else to say besides the fact that they went above and beyond to make our day perfect! And by beyond... we mean BEYOND! When discussing rentals with Taryn I had mentioned wanting to rent some beautiful goblets but ultimately ended up not getting them for budget reasons. To our surprise, Taryn was able to acquire them for us! It may not sound like a big deal but it meant a lot to us and it was such a thoughtful gesture. And it didn't even end with our wedding day. The following day, Cary lost his wedding ring while snorkeling on the beach. We were able to find a new one just like it. Thanks to Taryn, she was able to put us in touch with our officiant again to have him do a little mini ceremony for the new ring.
So whether you're looking for a day of coordinator or someone to handle all of your planning, just book A Touch of You NOW!

+ 4

photos

Brandon Y.

Married on 05/25/2019

Full Planning Awesomeness!

This review is late, but Taryn and her team did such an awesome job that I felt I needed to write this. First off, we had the full planning package with Taryn. All our meetings with our various vendors was always full of laughs, and she made sure to keep us on point. My friends tell me how stressful the week leading up to the wedding is, but honestly it felt like I had nothing to do. And best of all, my wife was not stressed out. Taryn and her team did such an awesome job on the day of including doing a shopping run for us. My wife was feeling a little under the weather on the day of the wedding, but her team went out and got medicine for her. She made our day so special and we will cherish the memories of our awesome day.

Rachel N.

Married on 05/10/2019

Literally Wedding Planner to the Rescue

We had a 2 year engagement and had previously hired Wendy Tenedora Wong with House of Aloha Hawaii to coordinate our wedding in Hawaii. Unfortunately after a year and a half of false hope and assurance, our wedding was far from being executed - a whole other story in itself. I was referred to Taryn with a touch of you after much vetting from one of my bridesmaid. Even with my initial conversation with Taryn, she was super sweet and understanding of our unfortunate circumstances. With only 1 month to plan my wedding, Taryn jumped in with no hesitation. She was very accommodating to our vulnerable situation and really brought back the excitement in planning our wedding. She answered every phone call/text/email and provided insight to things we didn't consider. Not only was her team knowledgeable and supportive the entire way- they really took care of us the day of. Making sure we ate, drinks were always full, makeup was touched up and fires were put out. Expect nothing but the best and nothing but love when working with A touch of you.

Kristin

Married on 03/16/2019

Flexible at all the right times

Taryn and her team were excellent on the day of the wedding! They made sure everything went smoothly and were able to adjust when I had special requests! Taryn helped me pick just the right vendors during the planning process and was available whenever I needed her or had questions.

+ 8

photos

Kacie-Lyn

Married on 09/02/2018

A Touch of You is AMAZING! They turned my dream wedding into a reality! Taryn is a BOSS! She knows how to run things smoothly and will run it on a time schedule in order for everything planned to happen. Taryn is also bubbly, creative and down to earth and she helped make our day as perfect as we could have imagined. She put up with my crazy wedding party and kept us all in check. She listens to all of your wants/needs/concerns and makes it all possible! I would 100% recommend Taryn and her girls to help you plan your perfect day :)

Myla

Married on 08/18/2018

I had the pleasure of working with the talented Taryn and her team at my wedding. From start to finish she knew what I wanted and made sure to give me my dream wedding. She was so easy to work with. From my invitations, flowers, small details, and everything in between everything was perfect. I was not stress at all and that reflected at my wedding. All my guests were amazed to see how stress free and relaxed I was the day of the wedding and my family really complimented everything about the wedding. Taryn and her team made my wedding dreams a reality. I can't thank her enough along with her amazing team for everything.

Chelsea

Married on 08/04/2018

Such A Fun Time!

I am so glad my husband and I hired Taryn and her amazing staff. From the very beginning she was such a big help. We contacted her two years before our actual wedding date and from the first meeting we knew we wanted her on our team. She has an amazing vision and understood exactly what we imagined our dream wedding would be and brought that vision to life. We trusted her with the selecting the vendors we needed, as we didn't have time to meet with a bunch of different ones, and everyone exceeded our expectations. Our wedding was going to be a big one so you could understand the stress that would come with it, but honestly I wasn't stressed at all because I knew and trusted Taryn had everything under control. After two years of planning the big day came and Taryn and her staff made sure everything was on schedule and all the vendors arrived on time to set up. Everything ran so smoothly my husband and I were actually able to enjoy ourselves without worrying about a thing. The thing that put our wedding over the top was how entertaining Taryn planned the reception program. There wasn't a dull moment where our guest felt "bored" or there was no awkward down time. It was a great time all around and all our guest keep telling us how awesome our wedding was till this day (2 months later). Thank you Taryn and the entire A Touch of You Staff you folks are AMAZING!

Kester

Married on 05/12/2018

TARYN (A Touch of You) IS TRULY THE BEST!!!! From the initial meet-up to even after the wedding, Taryn has been AMAZING! My wife and I live in California but had our wedding in Hawaii. Even though we lived out of state, Taryn made wedding planning fun and convenient.
I proposed to my wife in December 2017 and we wanted to have our wedding in May 2018 (just five months away), so everything was on short notice. We contacted and met Taryn for the first time in January 2018, just 4 months before the wedding. From that point on, communication was done through calling/texting/emailing/skyping. She attended vendor meetings on our behalf and included us through skyping. It was reassuring to hear when other vendors would ask who our wedding coordinator was and when we said "Taryn," they would immediately say we made a great choice. Throughout the planning process, Taryn gave us a lot of tips, input, and insight on things we didn't even think we needed/wanted. And most importantly, she took care of us despite our crazy procrastination lol. What made Taryn stand out was her fun, laughing, and spontaneous attitude!
During our rehearsal, she made everything easy to follow and gave pointers (like how to hold the bouquet, where to stand, how fast to walk, etc). She even provided everyone with an easy to follow cheatsheet/timeline for the wedding day (which proved to be super helpful because everyone knew where to go and at what time).
On our wedding day, everything fell into place beautifully. Taryn and her team took care of all our little wedding accessories so we didn't have to worry about them. She made sure we had ample time to take pictures of everyone we wanted at the chapel. We will never forget our 'first-look' of the ballroom. IT WAS SPECTACULAR! We would have never thought our wedding would be so elegant yet grand, but Taryn made it happen! THANK YOU TARYN!!!

Shanee'

Married on 02/18/2018

Where do I even begin? First off I want to truly from the bottom of our hearts thank Taryn and her team for making our wedding dreams come true and come to life!

Well for starters I knew Taryn since I was about 13 years old! And when she started her business I always said I would be coming to her when it was my time to get married! And 12 years later I did just that! I reached out to Taryn a few months after my husband and I got engaged. She set up a meeting with us and we talked for a good 2 hours. She asked questions as to what we already had done, things we wanted done, our vision for our big day. She helped us choose a florist, a DJ/Emcee, and a cake company. Those were really the only vendors we hadn't secured when she started to help us. But the 3 vendors that she did set us up with were absolutely amazing!!! Our florist was amazing and the flowers/lei she had for us were to die for!! I loved everything about it!! The DJ and Emcee seriously were hilarious and had everyone entertained for our entire wedding! And our cake was so simple and beautiful and even featured our little fur baby who couldn't be at our wedding

The morning of our wedding I truly felt so at ease knowing that Taryn and her team were handling EVERYTHING! That day Taryn only called me once. And it wasn't to ask me anything besides how I was doing and feeling. ♥️ she was in touch with my bridal party the whole day. In the hours before the wedding the weather got really bad and it was just a down pour. Taryn made sure to inform Hale Koa that our ceremony would now take place inside a ballroom and not in the garden. She made sure that our new ceremony space was set up to be just as beautiful as it would have been outside! And quite honestly after getting married inside i preferred it so much more than outside. So i guess when it rains on your wedding day it really is a blessing!

Taryn thank you for truly the best day of our lives!! We will never forget it!!!! ♥️

+ 7

photos

Chasity

Married on 01/07/2017

Taryn is the best! I seriously don't know where to begin with this review. I heard so much about her through people and my husband and I decided to email her a year ago. Her responses were quick and she was willing to meet half way. From the first day I met her, she has been so sweet and funny! She is also so bubbly & friendly! She knew what she was doing and she was on point with everything. She has helped me with getting most of my vendors and was always there to talk to whenever I needed to ask her something. When the wedding day came, I was completely in "awe" and speechless. Everything was what I pictured in head and she turned my vision into real life. Her and her team has worked so hard and her communication with all the vendors was on point. Especially having to come back on vacation for two weeks, she worked everything out. (She deserved that vacation though, lol!) Thank you Taryn for everything. I seriously don't know what I would do without you! You and your team did a great job and thank you for helping me with everything. I tried my best to do things before asking her because I know she is super busy with other stuff but she would always tell me don't be afraid to ask or it's her job to help me with everything, lol! But she is truly the best. She knows what she is doing and she has helped me so much with getting all vendors. She has made me and my husband's special day a success! She really "touched" our wedding day and us! So if any of you need a planner, go to her because she will really make your wedding day a dream come true. <3

Paul

Married on 12/03/2016

We hired Taryn via recommendation from my cousins who work with her sometimes. BEST DECISION WE MADE FOR OUR WEDDING! We were very happy with ALL the vendors she recommended for services that we needed and have not decided on. And she worked very well with the vendors we picked out at the wedding expo ourselves. She made sure my wife had the wedding of her dreams come true without a hitch. Everything we wanted to add to the wedding, she knew how to get and who to call. We had so many extra things that needed to be set up, and picked up, and moved from place to place, but Taryn and her team made sure everything was done perfectly while we enjoyed our special day with ZERO distractions.

Krystle

Married on 08/25/2016

There are no words to describe how thankful we are and to describe the amazing job that Taryn did leading up to our wedding and on our wedding day. Her team let me, my husband, and all of our guests enjoy our special day.
I was going back home to Hawaii for my wedding, and I had to plan it as if it were a destination wedding. All of the planning had to be done from the mainland. I had contacted Taryn about 8 months prior to our big day, and after our first telephone conversation, I knew that she was "the one."
Taryn's motto is "I got you girl!" She helped us to finalize the outstanding vendors, to create our day of timeline and provided day of coordination. Despite the 3 hour time difference, it was easy to contact her whether it was via telephone, text or email. About 4-6 weeks before the wedding, Taryn became heavily involved to where she would communicate with our vendors on our behalf. She made sure that all of the little details were taken care of, and with the vendors, she created our day of timeline. With our florist, Taryn created a beautiful sweetheart table and even added a few personalized touches to our table.
We flew in 4 days before our wedding, and Taryn understood that our availability was tight. She worked around our schedule, and met with us to finalize the timeline. She ran our rehearsal, and made everyone in our wedding party (including the parents) feel at ease.
T​he day of the wedding was ran smoothly and everything went as expected. Taryn ran the show, and made sure everyone stayed on schedule. Also, with the groom and as a surprise, they incorporated the SJ Sharks (my favorite team, #bleedteal) into the garter toss!
Many don't want to spend the extra money on a wedding planner and day of coordinator. However, I highly advise doing so. They know and understand the intricacies in planning a wedding and help keep a bride sane! I highly recommend Taryn. She is sweet, easy to contact, organized, and helps you get the job done.

Michael A.

Married on 06/10/2016

Where do we begin?! Michael ann and I were trying to plan our wedding about a year out and so we thought, "this should be easy" or so we thought. As a guy, I didn't know where to even begin, so I was really dependent on my then fiancé on which direction we were heading. We did the classes for the wedding cafe which helped us to see specific vendors in Hawaii, but how do we choose which one? So many great options but we wanted a certain "feel" to our big day. It wasn't until our sister in law had mentioned "a touch of you" that we even considered using a wedding coordinator so we made the call. After meeting up with Taryn it's like she knew our vision just from showing her our Pinterest wedding board! I mean, her skills permeated outward into her eagerness to work with us to get the best of the best for our big day. She took care of us as if it was her own wedding and she HAD to get the details perfect, and let me tell you.... Taryn definitely gets the details absolutely perfect! There is no denying that she is great at her job, but talk about taking the hugest load off of us. Taryn literally carried all of our stress and worry and took care of it all. If there was any advice I would give to someone about to get married it would be this. Hire a wedding coordinator.. And not just any wedding coordinator... Hire Taryn Maglianes from A TOUCH OF YOU because it will be the BEST money you will spend for your big day!

Words cannot describe how amazing Taryn was. We gave her a short amount of time, and a fixed budget, and the end result was beyond expectation. From the first consultation, she showed vision we could not see for ourselves which was truly magical. Her organization and connections in the wedding industry were sound, easily delivering everything we asked for, and more. The big day was relaxed and stress free, as her team was professional and prepared for every and any imaginable potential delay. Most of all, we were able to tie in special unique personal quirks that made our wedding truly a one of a kind special day . A Touch of You, nailed it!

Amber

Married on 01/30/2016

It was less than a 1 month before the wedding and I was at a complete loss. I found Taryn on Instagram and sent her an email asking if there was anyway to help me in such a short notice. She replied in less than 8 hours.. saying don't worry, lets chat later today. I told her my vision, budget, & sent her my pinterest board. After our conversation, I think I might have cried. She said I am going to make this happen, and the weight was lifted! Taryn was on top of everything, every question, every change, she handled with ease. She contacted all of the vendors for us, and sent us the choices/updates via email or text. Like most brides I pinned my little heart out.. dreaming of the perfect wedding, but I knew my budget was limited. Taryn made my pinterest come to life! I could not believe my eyes when we walked in, "is this really my wedding right now??" Taryn went above and beyond to make our day amazing, I am forever grateful for her hard work and dedication.

Andrea

Married on 01/10/2016

Taryn and her team at a touch of you was a godsend! Originally, I was one of those brides that thought I could handle the planning all by myself. I was really hesitant to even look into having a planner, but as my fiancé and I realized more and more that planning a wedding in one year with over 200 guest while both working full time was not going to be easy, we decided a planner was much needed. We interviewed at least 10 planners and it was an easy choice to pick Taryn. She's such a sweetheart and so involved in the planning process. She attended all of our meetings with vendors, was always just a call or text away, and even was there just to chat when it started to feel stressful and reassured us that all will go well. Taryn also has great relationships with so many quality venders that she made the planning process such a breeze with all her referrals. Even if we didn't feel a connection with a vendor, she's find us more options until we felt they were the right fit. Our wedding came and nothing could've gone more better or been more beautiful! Taryn and her team held it down and left me and my now-husband worry free the entire day so we could really enjoy ourselves. Everything went smoothly and perfectly. Taryn thank you for your hard work and being such a beautiful person and AMAZING wedding planner! We couldn't have done it without her!

Meilan

Married on 12/30/2015

When we became engaged 9 months before our wedding date, we wanted to do much of the planning to ensure the vision we wanted came true. Yet we also knew that we would need day-of logistical support. We interviewed at least five wedding coordinators, and once we found Sherrie from A Touch of You, we knew we had our match. She took the time to understand what we wanted for our wedding, and rather than giving advice or recommendations of what to cut (given our tight budget), she helped us fulfill the wedding of our dreams.

Even though we selected the day-of coordination package, we received so much more. Sherrie designed our beautiful wedding invitations to match our color scheme and simple yet elegant theme. She could have assembled them for us but we chose to learn how to assemble them ourselves. She took care of everything and patiently taught us how to create amazingly gorgeous invitations. She also advised us on when to send out invitations, when to ask for RSVPs and when to schedule meetings with our vendors and venue to ensure everything would be in place for the big day.
Sherrie proactively communicated with us as the wedding date approached - she finalized the timeline, met at our preferred times and locations across the island, and meticulously understood every fine detail. She facilitated a complex rehearsal including locals and out-of-towners and 10 kids with their parents with patience. The clarity, efficiency, and professionalism that Sherrie communicated with is unbeatable.
On the day of the wedding, Taryn and Sherrie worked as a true team - from the morning wake up call to handling logistics of the bride and groom getting ready at two different hotels to coordinating with photographers, videographers, a DJ, uplighting, florists, lion dancers, etc, to ensuring we were always at ease with our 200 guest wedding and reception, they worked their magic. We would 100% recommend Sherrie, Taryn, and all on the A Touch Of You team.

Amanda

Married on 12/12/2015

Our wedding day and everything leading up to it honestly would not have been as amazing as it was had it not been for Taryn and her constant support and dedication. Being that we both had very little experience with weddings, as this was our first marriage and we had both only attended a handful of weddings between us, we were obviously extremely overwhelmed with all the details that had to come together to make the day a success. Taryn made the whole process seem so much smoother and laid back and we LOVE her for it. There were times when we would stress about something that we considered a big deal and we would be worried and running to Taryn and she would completely calm us down and basically show us that we were stressing for no reason at all. It really helped the process be so much easier and we were able to really enjoy it. Taryn was always so easy to talk to, she never made us feel as if our questions were stupid, even though I'm sure many of them were. In the end, she was our angel because she really put together an amazing day for us and we could not be more thankful. She took all of our ideas and our vision and brought it to life and made it even better than we had ever imagined. Everything that we wanted was fulfilled that night. She's amazing because if she can't personally meet your needs and wants, then she will find someone who will and she will make sure that they do it exactly how you want it. She didn't let us down one bit and we're so happy that we were able to share our special day with her because, believe me, it would not have been as special without her. Taryn was everything we wanted and expected from a wedding planner and more. She becomes your family and in our families, we do everything we can to make each others' dreams come true. Taryn definitely fulfilled that, and then some. Thank you Taryn and the A Touch Of You team! We love you!
Are you interested?
Send a message