209 Reviews
Recommended by 99% of couples
Quality of service

5 out of 5 rating

Average response time

5 out of 5 rating

Professionalism

5 out of 5 rating

Value

5 out of 5 rating

Flexibility

5 out of 5 rating
26 User photos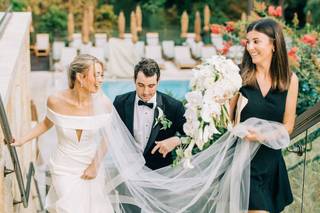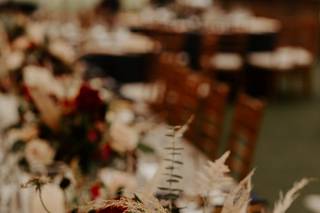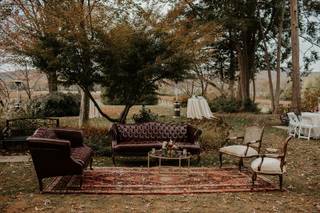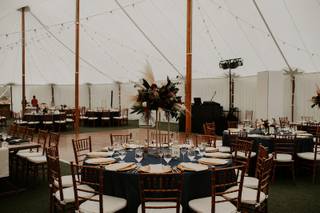 + 22

photos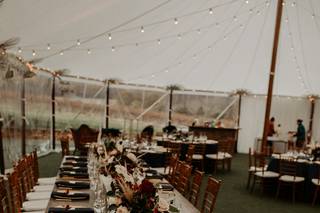 Caroline E.

Married on 08/27/2022

Alyssa and a Southern Soiree we're a dream to work with!

We are so thankful we worked with Alyssa for our August Umstead wedding!! From every email, planning meeting to the big day she was on top of it, kind and so patient with us. It rained 30 minutes before our ceremony start time and you never would have known because everything ran so smoothly. She and the SS team were a dream to work it!

Aurelie M.

Married on 06/05/2022

Great wedding experience!

Alyssa and her team were wonderful to work with. Throughout the planning process she made sure we weren't missing anything and kept us on track. In the last few weeks Alyssa and her team were very present to hep with the ramp up process as the date got closer. The day of the team kept things moving and were a very calming and professional presence to the night. Alyssa was easy to message with last minute questions and would immediately answer with the issue addressed. We were very happy with how everything turned out the day of and it was in great part to Alyssa and her team. I give them my highest recommendation!

Sydney B.

Married on 04/30/2022

The best decision you could make!

When you hire ASouthernSoriee for your wedding, it's a guarantee that your day will be more than what you could possibly dream of. I was lucky enough to work with Elizabeth as my full service wedding planner. Her professionalism, kindness, desire to bring her clients vision to life, passion, attention to detail, highly organized and truly so much more made my engagement season, wedding planning and wedding day absolutely perfect. Besides her talent in the wedding industry, Elizabeth honestly cares about her clients and she quickly became more than "my wedding planner" but a friend. It was the highlights of my week to talk to Elizabeth. After planning for almost 2 years, my wedding happened on April 23 2022. Everyone says their biggest regret is not enjoying the moment and biggest advice was that something will go wrong just try not to get upset about it. I promise you those two things won't be true at all when you hire this team. I 110% lived in each moment, I was present with absolute no worry in the world because this team did EVERYTHING! I have no idea how people can have weddings without them because I would be lost. If I could give advice to any bride it would be to hire this team, this will make your day absolutely perfect plus more ❤️

Are you interested?

Send a message

Christa M.

Married on 12/18/2021

SO amazing! Hire them now!

There will never be enough words to describe how amazing this team at A Southern Soiree truly are. I was lucky enough to work with Lacey leading up to my big day, and then Lacey and Victoria the day-of and let me tell you something: they were MAGICAL. Every single detail was thought of---from the months leading up to the wedding to the actual day-of. They were organized, coordinated, calm, collected, and SO kind and informative. The day would honestly not have been the same without Lacey there at the Umstead running the show with the team. As a previous event planner I am here to tell you: hire them for your big day. It will be one of the best decisions you make FOR SURE.

Kendra N.

Married on 10/02/2021

Easiest way to plan a wedding!

A Southern Soiree definitely was the reason our wedding went off without a hitch (or at least us knowing!) Elizabeth was so great and easy to work with, all of our questions were answered and then some. I never felt like a bride out of control on planning because of her! Made the process so simple and easy which truly allowed us to enjoy our day. We couldn't have done it without ya'll!

Lauren

Married on 09/19/2020

A Stress Free Day

Megan, Gina, and Victoria helped to make our dream a reality! While we had to postpone from 2020, they helped to rebook all vendors and took a lot of the planning stress away from us. On the day of, they kept things running smoothly and worry-free. The team is well connected in the vendor network, and helped us to select the best of the best!

Denise F.

Married on 06/05/2020

Flawless Wedding Weekend

I can not say enough about how amazing Megan and A Southern Soiree were in making my son and his wife's wedding absolutely magnificent and helping everyone who attended to have a memorable and flawless weekend. It was a destination wedding for the bride, groom, both families and all the guests. Megan coordinated a weekend of events and even our guests remarked about how warm, personable and talented she was in her craft.
Megan provided excellent advice in guiding the choice of vendors, helping the bride and groom to realize their vision and providing support throughout the whole process. I recommend her without reservation and she will forever be a part of our "family".

Emily C.

Married on 12/10/2019

Highly Recommend

Gina and the entire team was great to work with. Gina took away any stress I had during wedding planning and made the whole process way easier than I anticipated. She knew exactly what I wanted without having to tell her!

Katie P.

Married on 11/09/2019

Megan is marvelous!

My husband and I had the great pleasure of working with Megan to help plan our wedding this past November outside of Charlottesville, VA. From start to finish Megan was very detail oriented, timely, and so easy to get along with! We never felt pressure to make certain vendor choices however she ensured all of our decisions were informed. From late night e-mails to trips up to VA with us, she was by our side the entire way. Although this geographical area is not her usual stomping grounds, she thoroughly researched the vendors and connected us to some awesome people!
She made us feel so relaxed the day of the wedding and I can honestly say I had zero worries. Her attention to detail and personal touches made our guests rave about their experience. My husband and I cannot say enough good things about Megan and her team - she's the bomb! Highly recommended!

+ 2

photos

Jennifer G.

Married on 11/02/2019

Elizabeth!

Elizabeth was the best! A bonus of booking our wedding at The Umstead, was that we also got to work with A Southern Soiree! Elizabeth went above and beyond, sharing her vast knowledge and wedding planning expertise for our recent wedding. She made sure our entire wedding planning process ran smoothly and made sure that nothing was out of place — everything looked absolutely perfect! Elizabeth continually worked with us and helped us create personalized touches, an amazing day, and truly unforgettable memories Elizabeth's attention to detail allowed us to be fully present throughout our wedding day. It was the best gift we could've asked for. We did not have to worry about one detail. Our wedding was truly the best day of our lives and we loved every minute of it!

Samantha I.

Married on 09/21/2019

Worth Every Penny...and More!

Megan and her team at A Southern Soiree are absolutely phenomenal! Megan worked with us for an entire year leading up to our wedding. She guided me and my family through the wedding planning process (which we knew very little about). She helped narrow the list of vendors with her recommendations and set up all of our meetings and interviews, which was an enormous help living out-of-state! Megan made the process much less overwhelming and she also worked to make our wedding unique and personalized for me and my husband.

We could not have imagined a more perfect wedding and we absolutely could not have done it without Megan. My parents and my husband and I were all able to truly enjoy the day because we didn't have anything to worry about! Megan was with us the whole time and guests were impressed with her professionalism, organization and friendliness!

My family will always be exceedingly grateful for Megan and her team. A Southern Soiree is worth every penny and will make any wedding day a dream come true!!

Morgan

Married on 09/01/2019

Gina is amazing

Gina literally is Superwoman! I cannot thank her enough for all her hard work and dedication to help us pull off such a perfect event, which would not have happened without her help! She was available at any hour, even the late 1 AM emails (which we did not require but she blamed on her 3 month old son!) to cheerfully answer ALL our lengthy questions, even the ones we were embarrassed to ask! Our wedding day was meticulously planned down to every last detail and executed to absolute and complete perfection. She is absolutely FABULOUS with a capital F at her job and an amazing person inside and out.

Taylor

Married on 07/20/2019

Forever grateful for Gina and her team!!!

It is so hard to put into words the experience of working with Gina and the entire A Southern Soiree. I first "met" Gina while attending a friends wedding who used A Southern Soiree. I vividly remember thinking how smoothly everything went and how calm the bride was throughout the entire day and leading up to the wedding. I knew I wanted to meet with Gina when the day came for me to plan a wedding and I am forever grateful for EVERYTHING. From presenting vendor options to just her thorough knowledge of the wedding industry, what to spend money on and what to cut out to the day of trusting her with just about anything (including helping my grandmother who had a broken foot) literally anything! It was funny to hear afterwards how many times my husband said "ask Gina" the day of and we both were so grateful looking back because there is nothing that prepares you for the logistics and emotions that go into YOUR wedding. If you are contemplating hiring a wedding planner..dont. It is 1000% worth it. Thank you SO much Gina!!! xoxo

+ 11

photos

Molly J.

Married on 06/04/2019

Megan is awesome!

The most wonderful and positive experience ever. Megan is an expert in her industry (probably one of the best in the country) and not only does she plan weddings, she also has a fantastic and informative podcast called "Weddings For Real" that every aspiring bride or anyone that is interested in weddings should listen to. She pays careful attention to every single detail, is very quick to respond to emails, and she simply will plan the best wedding ever. She caught a tiny mistake a couple of nights before the wedding and because of her attention to detail, we were able to iron out the issue with the vendor and make something work, and the addition actually added a nice, unexpected touch to our reception! I could go on and on about Megan and A Southern Soiree, but please consider going with her for your wedding planner. You won't be disappointed! :)

Dalton B.

Married on 05/18/2019

Amazing!!!!

As we are back in Oriental this weekend I couldn't think of a better time to try and summarize how amazing Southern Soiree and Gina is to work with and how they took all my dreams and made them come to life!!

From our initial meeting Gina's smile and calm personality instantly had Grant and I excited for the planning process and relaxed as well. She picked up immediately on where we were in the process and she was able to understand our view for the weekend even before we verbalized it. She brought us the most wonderful vendors who all felt like family and friends at the wedding and were absolute professionals.

Gina and Lindsay were absolute gifts to have during the planning process and the weekend of the wedding. They worked with our last minute requests with ease (we tend to be a little indecisive 😊), unplanned events, gave the most perfect advice throughout, Gina came to the rescue when my dress was wrinkled, and they both made the entire wedding perfect. I'll never forget seeing Gina and Lindsay as I was about to walk down the aisle and their wonderful smiles.

Our entire wedding party, family and friends raved about them both and I cannot imagine the process without them. I miss our regular communication as they were more than planners but friends.

Jane

Married on 12/15/2018

Memories of a Lifetime xxoo

Megan and her team worked with our son and daughter-in-law in the planning of their wedding, reception, and after parties 12/14-16, 2018. I have worked with professionals in events for a very long time, and a Southern Soiree and her team from the get go had amazing vendors, great skill sets, nurturing personalities, and incredible creative budget ideas. We will definitely use them for other events and options going forward. Thank you for memories of a lifetime, Megan and team. xxoo

Kristen E.

Married on 11/24/2018

Wonderful experience with Gina!

We had the pleasure of working with Gina during our wedding on 11/24. Gina was nothing short of AMAZING!!! I was skeptical if we needed a wedding planner at all when we were starting to plan our wedding. I decided to give it a go and it was the best decision we made. At one point (10 minutes before we walked down the isle), she had the entire bridal party and family gathered, while also hand sewing my dress which I accidentally ripped. She jumped in where needed and was ALWAYS 2 steps ahead of everything. She was so kind, pleasant, smart and on top of it. I really really enjoyed working with her and her team and she beyond exceeded our expectations. I would recommend Gina 10 out of 10 times!!! She is THE BEST!

Kate K.

Married on 10/06/2018

The Absolute Best Wedding Planner - Hands Down!

Megan and her team at A Southern Soiree helped us plan our October 2018 wedding and I honestly can't recommend them highly enough!! Megan was such a huge asset throughout the whole planning process and her knowledge/expertise in the wedding industry is incredible! Megan recommended the most perfect venue for us (where we ended up getting married) after we had been searching for months, she found us the perfect photographer whose style was exactly what we were looking for, and she made sure every single detail of the wedding was thoughtfully planned out to perfection!! Our wedding day was absolutely flawless and there is no doubt in my mind that is entirely the result of having such an amazing wedding planner!

Taylor

Married on 09/29/2018

Gina Made our Day Perfect!

Gina with A Southern Soiree was the best decision we made for our wedding day. Words can't even begin to describe how amazing she was. She took care of every thing, big or small. We didn't have to lift a finger on our wedding day. The biggest thing we had to worry about was having fun. Even though we had a wedding planner, we still got to enjoy the planning process. Gina was always there to help us with the tough decisions and make sure we didn't forget about anything. On the day of the wedding, Gina treated us like royalty, giving us the opportunity to truly enjoy our special day. Everything started on time and Gina never missed a beat. We are so incredibly grateful to Gina and her attention to detail. She truly made our wedding day PERFECT!

Danielle

Married on 09/22/2018

My original glowing review is too lengthy for Wedding Wire, so here is the consolidated version - A Southern Soiree is simply the BEST! As a vendor in the area, choosing our wedding team was difficult, but we ended up choosing A Southern Soiree for planning services because it was important to us that whatever planner we chose, that they would be able to meet and manage a few different obstacles unique to us and our guests. We were confident from the time of booking through day-of execution that the Southern Soiree team would be the ones to meet our needs, and boy were we right!

Our first priority was the management of our guests and bridal party on the day-of. Gina and her team handled our large bridal party (hello 21 groomsmen!) with ease and were so helpful to all of our guests, a large majority of which were traveling from out of town. They were beyond responsive and patient with my mom's emails (which were a lot) and made her feel like an important part of the planning process even though she was planning from out of town.

Personally, as a calligrapher, I was also looking for a planning company that would help me execute my dream wedding, which is a tall order to meet - and they nailed it. Gina was so helpful with making budgeting and execution decisions about the design, which would have been much more difficult for me to make on my own. She was so professional, had so much knowledge, and had a very practical approach to her opinions which I could not speak more highly about. I never felt that she was ever pushing me to book vendors or products or make any decisions other than what would be best for me, my groom and our wedding. It was a very personal experience that I could not have accomplished without her.

From the bottom of my heart, I cannot thank the Southern Soiree team more for everything they did for our wedding. Our wedding will always be special to us, but now it will always be perfectly special because of them.


Stephanie

Married on 06/03/2018

Working with Southern Soiree, specifically with Gina, was the best wedding planning-related decision we made! I've said this so many times to friends recently engaged, but if you can find room in your wedding budget for a planner, it will be the best money you spend! And better yet, if you're looking for a planner in North Carolina, Southern Soiree is hands down the way to go! After we got engaged, we immediately began looking at venues, and after the number of phone calls, e-mails, and color-coded spreadsheets I made during the venue search, I knew I didn't have the bandwidth to plan a full wedding.

We started working with Gina immediately after we selected our venue, and I can honestly say the rest of wedding planning was completely smooth sailing! While we faced a few hiccups along the road, Gina never failed to swoop in and save the day. One example is when my mom was in town for my first wedding dress fitting. Upon arriving for our appointment, it was very clear the place was not a good fit for us and didn't have the skills necessary to alter my dress. We texted Gina, and within minutes she had another appointment scheduled with Just Sew by Renee (highly recommend!), who squeezed us into her busy Saturday and made my dress dreams come true (a few fittings later!).

Since we didn't have much time to commit to planning, we relied heavily on Gina for vendor, design,and organization recommendations. I always felt like Gina was giving us honest, practical advice when it came to making vendor or budget decisions. We said it time and time again, but the people who Gina and Southern Soiree work with are absolutely outstanding. So much of wedding planning is building relationships so you can clearly communicate what you want, and Gina made it so easy for us by connecting us to vendors who were also extraordinary people.

Planning honestly felt so stress-free with Gina on our team, which meant that we were able to fully enjoy our engagement and wedding day!

Tiffany

Married on 04/07/2018

We were introduced to A Southern Soiree after booking The Umstead Hotel for our wedding. Alyssa was our assigned planner and she made our dreams come true! She was extremely responsive to emails and gave us so many great recommendations. Alyssa offered ideas and made us think about things that we would have otherwise forgotten to plan. Alyssa is super sweet and talented at her job. She gives you 100% of her attention. We were so grateful for all of the work that Alyssa put into our wedding; she is detail-oriented and coordinated everything with our vendors. Alyssa made sure we stayed on schedule -- the entire day was flawless! Having a wedding planner is a must, even if it is just for the day of. We could not have asked for a better day; it was all made possible thanks to Alyssa!!

Lindsey

Married on 01/27/2018

A Southern Soiree was the best and easiest decision we made when planning our January wedding in Raleigh. Gina is AMAZING! I was planning from out of town, and Gina took a huge weight off my shoulders. She made everything so easy from picking venues and vendors to rehearsal to the actual day. I can't more highly recommend the team at A Southern Soiree for any event planning needs!

Jackie

Married on 12/16/2017

Your Personal Fairy Godmother!

When I was a little girl, like many, I imagined my wedding. At 45, I got the wedding I always dreamed about and that is thanks to many vendors but most especially Gina of A Southern Soiree. I knew that Gina was the planner I wanted after stalking her on Instagram for almost a year and from her vendor recommendations that were perfect for me to developing a breathtaking tablescape (where I was clearly overwhelmed with choices) to ensuring that everything was executed flawlessly, I couldn't have asked for anything more. My guests said, "if anything went wrong, I didn't see it." "It was perfect." "Best wedding I have ever been to." Gina is amazing. She listens but she offers advice. She is so sweet but also is a little powerhouse when it comes to keeping her events on track. If I had to do it all again, Gina would be my first call. On my wedding day, Megan was also there as Gina was lining up my bridesmaids and I will never forget that she just reminded me to breathe. I needed it. From the big things to the small things, they are total pros. I cannot recommend them enough.

Lisa

Married on 09/23/2017

Megan was the absolute BEST. I had a great feeling following our first phone call and immediately knew we wanted to move forward with her. Her broad experience and close relationships with vendors, coupled with her organized, detail-oriented, and warm nature made planning a long distance wedding in 6 months as easy as you can imagine. Given our tight time frame, Megan got the ball rolling right away by getting us short-lists of the best available vendors so we could lock them in swiftly. The bands we wanted were already booked up, but Megan found us another option from a different management company, and they ended up being absolutely AMAZING. In general, I felt like she understood and picked up on our vibe very quickly, which made the planning process so seamless. The best part was that Megan never once forced a decision on us, but whenever I needed her opinion (which was frequently!), she was there to provide it with sound reasoning. I had complete faith in Megan and Gina, which gave us the ability to completely relax and enjoy ourselves on our wedding day. I also could not have been happier with how the room looked that night, from the gorgeous flowers and chairs, to the stage backdrop and lighting, it all came together perfectly. Seeing our vision come to life was a dream come true, all thanks to A Southern Soiree!
Are you interested?
Send a message