25 Reviews
Recommended by 100% of couples
Quality of service

5 out of 5 rating

Average response time

5 out of 5 rating

Professionalism

5 out of 5 rating

Value

5 out of 5 rating

Flexibility

5 out of 5 rating
Awards
3 User photos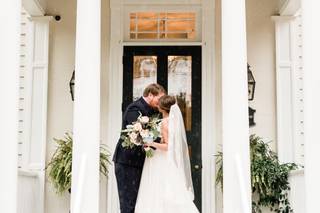 Emmalee S.

Married on 11/23/2019

The Best!!

Jenna was an absolute JOY and DREAM to work with for our wedding. The day was cold and raining and she still managed to capture beautiful, warm images. She was very flexible (even when my mom changed the plan at the last possible minute) and professional. She made me and my now husband feel so confident in front of the camera and took a great variety of images. I cannot recommend her highly enough.

A.J. Dunlap Photography's reply:

This just makes our day :) Jenna loved being part of your wedding so much! So happy you love the images so much!

Julia L.

Married on 07/20/2019

The best there is!

A.J is amazing! She makes you feel so comfortable and captures the best photos! She made our wedding day so special and easy!! Thank you so much!

Kristi

Married on 06/02/2018

Best. Decision. EVER.

This review is way overdue, because I've spent the past few months searching for the words to describe AJ Dunlap and our experience. Apparently, there aren't actual words in the English language to truly describe it, so I'll just have to try my best! Our wedding photographer was probably my biggest decision I made, because to me, having the perfect person there to capture the best day of our lives, mattered more than the color of the linens, the songs played, or the weather outside. And we truly hit the jackpot with AJ. She seriously has one of the biggest hearts I've ever had the pleasure of meeting, and her talent behind the camera?! MY GOODNESS. And on top of that, her turnaround time for photos was impeccable, without sacrificing quality! It was always a happy day when we received a gallery notification from AJ. :) AJ met us in Asheville, NC for our engagement photos at Biltmore, and it was like meeting a friend you've known forever! She also handled my bridal portraits, and it truly was just a glimpse into our fairy tale day. AJ was so patient, kind, and attentive to ideas, questions, emails (trust me, there were many), and she was so organized that I had no concern on our wedding day about everything falling into place perfectly. She was also on board for our potential elopement, as we got closer to the big day and almost decided a trip to elope on the beach might be the ticket. She literally was like a best friend to have during the engagement journey! On our wedding day, her husband Kyle was the second shooter, and let me tell you - they fit into our day seamlessly! Their love and fun demeanor made natural photographs so easy and having them capture our moments was so enjoyable and fun! They truly were one of the best parts of our day to have with us. AJ is also super talented in that she delivered our wedding photos ON MY BIRTHDAY - cue the waterworks!!! I was so blown away by the beautiful images, that at least once a week I scroll through the gallery and find new favorites. AJ was truly our best decision made during our wedding vendor selection process, and I'm so grateful to have her as a lifelong friend. I'm already looking for any opportunity to have them capture our greatest moments again. AJ and Kyle - thank you for being part of our big day. It wouldn't have been complete without you, and we will have those memories captured forever perfectly thanks to you.

Are you interested?

Send a message

Emily

Married on 06/02/2018

The A.J Dunlap Photography team is top of the line! It was definitely an investment that paid off. We were able to have planning sessions and timeline meetings that made me know that I was in good hands. We worked with A.J. and Jenna and they are both the sweetest, down to earth people you will meet! Our pictures came out so beautiful thanks to AJ and Jenna!!

Kristen

Married on 09/10/2016

AJ and Kyle hands down make the best photography team EVER!! From the first time I talked to AJ on the phone, I knew that I had to have them photograph our wedding! She is so sweet, warm and professional! I felt like I had known her for years. She made the entire process super easy and responded to all of my emails and texts the same day I would send them! Talk about organized and super fast service!! AJ and Kyle came to Greensboro several months before our big day to shoot some engagement photos. We had so much fun with them that I could not wait to see them again!
About two months before the wedding, AJ emailed me a "To-Do List" to ensure that everything would run smoothly on our special day. She also created a wedding day timeline which was so helpful and made sure we stayed on track and got all of the photos that were important to us. It was so perfect that I sent this timeline out to other vendors and the bridal party!
On the wedding day, AJ and Kyle arrived to the hotel where we were getting ready ahead of schedule. They both work so well together and are so relaxed that it made taking the pictures fun and even my husband who is not too keen on photos didn't mind taking them (big plus!!!). We also got our wedding photos back much sooner than I anticipated (which I have had many friends in the past not experience with their photographers) and each one is better than the last! I have looked at all of them at least 20 times and see something I love more each time. They all truly captured the emotion and feeling of the day which I absolutely adore reliving!! I cannot say enough positive things about this SWEET and TALENTED couple! They truly went above and beyond for us. Thank you again from the bottom of my heart for capturing memories that will last a lifetime and will be passed down for generations to come!! Y'all are the best of the best in the business!!


Cora

Married on 05/21/2016

Having AJ and Kyle photograph our engagement pictures and wedding was one of the best decisions we made! During the engagement session, AJ made us feel completely at ease. She made it so easy to be photographed.
Every aspect of our wedding day coverage was perfect. We had a small ceremony followed by a private dinner at our favorite restaurant. With only 30 guests, I was worried there wouldn't be a lot to photograph. AJ and Kyle gave us so many gorgeous pictures. From the details, to the ceremony, to family pictures, everything was perfect. Our family even commented on how easy AJ and Kyle made taking the pictures. I can't recommend them enough!!

I cannot say enough wonderful things about A.J. and Kyle as photographers! We were very picky about choosing a photographer for our wedding. Once we saw A.J.'s photographs there was no competition as far as choosing our photographer. We love her style and the quality of her photos. We did our engagement shoot with A.J. about a year before our wedding and had a great time getting to know her. We absolutely loved all of our photos. A.J. was great with keeping in contact with us and letting us know what she needed as well as being well informed about our wedding day. On our wedding day, A.J. and Kyle showed up with the best attitudes! They were very relaxed and helped to make our wedding day effortless! They captured every moment of our day perfectly and we cannot thank them enough for giving us priceless memories of our wonderful day. I full heatedly recommend A.J. and Kyle to anyone looking for an amazing photographers....their photos speak for themselves!!

Samantha

Married on 10/24/2015

AJ Dunlap Photography was an absolute dream to work with. Both AJ and her husband Kyle are phenomenally talented photographers and make everything so easy. From the first moments that I spoke with AJ, I knew her easy-going nature would translate into beautiful pictures and I was right. AJ makes you feel comfortable in front of the camera and that translates into truly wonderful pictures. On top of that, AJ is incredibly organized and good at "wrangling" large groups of people quickly and easily to make sure that all your family shots turn out wonderfully. I was in shock when I saw the pictures and what a great job she did capturing all the moments. AJ delivered "sneak peeks" within days and the full album was in my inbox in under a month - something that few other busy wedding photographers can do! I would definitely recommend AJ to any bride and groom that value the timeless keepsakes that your wedding photos will offer you.

Marie

Married on 08/01/2015

AJ and Kyle make a great team, and we couldn't have been happier with our engagement and wedding day photos! Their creativity and fun nature shone through in our own pictures, and we are so happy we chose AJ Dunlap Photography as our wedding photographer! Thank you so much! You all are amazing!

Erin

Married on 05/24/2015

A.J. and Kyle are one fantastic team! They complement each other perfectly and produce beautiful images! I had such a wonderful and easy time corresponding with A.J. on plans for engagement photos and wedding logistics. She's so lovely, personable, and organized. Oh, and did I mention organized? :) She and I met long before the wedding day to work out a timeline for the day, and we planned out all of the details for how things were going to go. Since this meeting with A.J. was so early in my overall wedding process, I was able to use the photography timeline to structure the rest of the day and other vendor arrangements and timing, which was a blessing and helped to ease a lot of my planning stress. A.J.'s early planning and work really served as the backbone for many other details of the day to fall into place, so I can't thank her enough for all of her hard work. And then on the actual day of the wedding, A.J. and Kyle arrived a earlier than planned (which was not surprising and much appreciated) to get started on photographing the details of the day, and then they worked to stick to the photography schedule amidst all the chaos that a wedding day entails, keeping everything on track for the rest of the day. And I really can't thank them enough for keeping me calm and helping ease all of my nerves for how things were going to go. They were like photographers and therapists all wrapped up into one! :) And, of course, I can't write their review without mentioning the GORGEOUS WORK they actually produced! All of the photos are beautiful, and they captured so many special posed and candid memories that my husband and I can treasure for years to come. I recommend them to anyone in need of professional photography, and I will not hesitate to hire them again if we ever want to have anniversary/pregnancy/newborn/family photos done! Thank you, A.J. and Kyle! You are the absolute best!

Rachel

Married on 05/23/2015

We set our date only five months before the wedding, so it goes without saying we had a lot of trouble finding available photographers. To add to it all, we were getting married on a holiday weekend. A friend had recommended AJ (she'd shot the friend's sister's wedding) and so I crossed my fingers and shot her a note. As luck would have it, our morning ceremony made it JUST so AJ and Kyle could squeeze us into their schedule. I am SO GLAD she was available!!!!!!!!! AJ was amazing from the get go. She's a bundle of joy and so fun to work with. From the moment we met her, my husband and I knew we'd love working with her; we just clicked. Right away she understood what kind of bride I'd be (super relaxed and terrible at planning) and gave me just enough homework to get what needed done and not make me feel stressed. I swore I'd be hard to photograph since I hate taking pictures, and she said "Let me worry about that." She was so right, I've never photographed so well, if I do say so myself. Her husband Kyle was also such a joy to work with. The shots they both got are amazing and we're having trouble picking out favorites. We'll definitely keep AJ in mind for future photoshoots, she's amazing!

Erin

Married on 06/07/2014

So first off, they're a wife/husband team so you get two photographers right off the bat. If you haven't seen their pictures yet, you should go see them because they're awesome. From the first phone call to the wedding day, AJ was upbeat and excited about photographing our wedding. An engagement session is included in the price which allowed us to get to know each other. She was always organized and prepared when we met. She'd come early to check out the area for a session to see what would be the best locations to photograph in. She made us start thinking about the wedding day schedule so that we would have enough time to get all the photographs in that we wanted. And she stuck to that schedule so that we could get to rest of what we needed to do. We received our photos online and on a USB stick in the mail and her turnaround time was so fast. She had some previews up three days after the wedding and then the rest of them were ready a week and a half after that. I was delighted to have her as our photographer and would highly recommend her. Oh yeah, and she photographed our wedding 7 months pregnant. Did I mention she was dedicated?

Kelsey

Married on 03/29/2014

A.J. Dunlap photography was absolutely amazing. I could not have imagined picking a better photographer to capture our special day. AJ and Kyle were so easy and fun to work with. They took incredible engagement, bridal and wedding pictures. They have the whole photographing on your wedding day schedule perfected. It was smooth, easy, and quick. One of the greatest things about them is that they form a personal relationship with their clients and we loved that. They will be life-long friends! Thank you guys for everything!!!!

A.J. and her husband Kyle were absolutely AMAZING. The pictures they took were beautiful, they got them back to us very quickly, and made everything so easy! Highly recommend them :)

Christine

Married on 05/04/2013

One of the best decisions my husband and I made for our wedding was choosing A.J. and Kyle, with A.J. Dunlap Photography, to be our photographers. A.J. and Kyle were recommended to us by a co-worker and we knew they were the right photographers for us from the first time we met. They are extremely personable, more than helpful (whether it is during a shoot or planning for the wedding), and their photos are amazing! For our engagement photos, we were nervous at first because we are not the type of people that like to be in the spotlight. However, A.J. and Kyle made the photo shoot so fun and carefree that we couldn't believe two hours had passed when we were finished.

A.J. was also so easy to work with leading up to the wedding. She was able to address any concerns we had and was very prompt with her responses when we reached out to her. We knew that we wanted to take the majority of our pictures before the ceremony (which I highly recommend) and A.J. helped us develop a very detailed timeline which made the day flow so smoothly. Additionally, A.J. and Kyle worked so efficiently, that we were able to capture all the photos we really wanted. Our friends and family were very impressed with their upbeat personalities and their professionalism.

As far as our photos, we could not be happier! A.J. and Kyle were able to capture every big and small event from our wedding and this is something we know we will cherish for a lifetime. We have also received nothing but endless praises from our family and friends about the amazing quality of our photos. We would highly recommend the A.J. Dunlap Photography team for your special event! We promise you will love working with them and you will forever cherish the memories they capture for you!

Jamie

Married on 12/29/2012

A.J. and her husband Kyle made themselves available to us on a rather short notice wedding- only about 5 weeks from the time I contacted her until our big day! I've always known I wanted A.J. to photograph my special day as I was roommates with her sister in college when A.J. began her photography career. Her natural talent has blossomed over the years with the experience she has gained and now it seems to have rubbed off on Kyle! Not only are they a wonderful couple but a wonderful team of photographers! The quality and value is well worth getting in touch with A.J. for your photography needs!

Kristy

Married on 10/12/2012

A.J. and Kyle Dunlap did our engagament pictures, my bridals, and of course photographed our wedding day. They are absolutly amazing at what they do. They are calm, professional and always positive. They are all around great people and take AMAZING photos. We have gotten a couple pictures back from the wedding and everyone says they should be in a magazine. I can't say enough positive things about them!

Alison

Married on 09/15/2012

When my husband and I were deciding what was most important to us on our wedding day, a great photographer was on our top 3 "must have" list. We did some searching online and came across A.J Dunlap Photography. I am so glad we found them! We initially met with them last fall to take engagement pictures and it was a great experience! With A.J. you get not one, but two great photographers because her husband Kyle also takes photos. They made us feel so comfortable and at ease in front of the camera. We knew after seeing our engagement pictures that we wanted them for the wedding also.
Planning a wedding can get stressful at times, it was so reassuring to be able to get in touch with A.J so easily. She responds super quickly to phone calls, emails, and even text messages. On our wedding day they arrived early to get a look at the set up of the venue so they would know exactly how everything would play out. A.J and Kyle are so personable and friendly, the interaction between them and the wedding party just flowed so smoothly. I am so happy with the amount and quality of pictures that we received from the wedding and reception. They even hosted a "first look" in their home for us so we could see the photos before anyone else. I highly recommend using A.J Dunlap Photography for capturing all of lifes great moments. You will have beautiful pictures to look back on forever!

Amy

Married on 06/23/2012

AJ and her husband, Kyle, make a great photography team. They are personable and fun people who work hard to deliver a great product for a highly competitive price. They were able to capture amazing pictures of all the big moments and little details of our wedding day, all while remaining unobtrusive. Highly recommend!

Erica

Married on 05/27/2012

Truly A.J. and Kyle are the most amazing photographers to ever grace the Earth. Not only are they the sweetest couple and the friendliest people in the world, but their photography is outstanding. I have reviewed my photos with other vendors and they too are truly amazed. AJ and Kyle will work with you on anything and will do any and everything in their power to make your pictures not only beautiful but representative of who you are. We really struggled to pick a photographer, especially because of price, and although they were a little more then we were planning on spending, through their expertise and knowledge of the business we actually ended up saving money. I would recommend them time and time again and should I ever need another photographer (Baby time perhaps?!) they will be the ONLY photographers I will call. Sincerely love these two!

Dominique

Married on 05/26/2012

A.J. and Kyle are amazing!!!! I highly recommend AJ Dunlap Photography!

Melanie

Married on 04/29/2012

AJ and her husband Kyle are very talented photographers and very easy to work with. We were thrilled with how the photos turned out for both the engagement shoot and the wedding. Very professional, managed to be everywhere at once, without seeming like they were getting in the way of the flow of the wedding. AJ takes burst photos so there are lots to choose from. The photos are very well composed. AJ and Kyle are also just so excited about taking photos, which is wonderful. They take a lot of input from the couple, which is also very comforting. They have a bajillion lenses. Again, for people who don't know much about photography (me) they are willing to explain what they're doing.

Also for now they are reasonably priced but AJ is just as talented as the extremely expensive photographers out there (such as luster studios) so book her now before the prices go up!

Final word - the pictures on her website speak for themselves!

Jane

Married on 09/10/2011

I hardly know where to begin to tell you how fantastic AJ Dunlap of A.J. Dunlap Photography is. She and her husband, Kyle, photographed our son and daughter-in-law's wedding, and Bridal portraits, and the pictures are amazing. AJ has all the perfect qualities you would want in a photographer. She is very sweet, warm, easy to have around, outgoing, and extraordinarily thorough in capturing all of those precious moments. AJ was everywhere, but you never felt that she was intruding in the moment. Her creativity in finding those shots that no one would else would even think about is unbelievable. She takes the time to really get to know her subjects so she can capture the "real" people in her pictures. Her passion for her work comes through in the end results of pictures that you will treasure for a lifetime. Use AJ for any important events that you want to remember always, and you will not be disappointed! I can't recommend her highly enough!

Martusha

Married on 05/19/2011

AJ was an amazing photographer! She is very professional, and made me feel confident in her from the minute I met her, but was also very friendly and made me feel comfortable! I loved all of my pictures, and I loved that she was able to keep us on schedule throughout the night- we were never delayed because of pictures. She runs things smoothly, knows how to handle the large groups of family and get all the pictures done, and is so nice and friendly all throughout! LOVE her!

Amy

Married on 03/05/2011

We choose A.J. Dunlap to take our wedding photos after she out reached out to us for the business. Her ambitiousness, excitement, and confidence was what originally captured us. Through her friendly email, website and sample photos, I felt something more about the photographs she captured then the other photographers I researched. So many photographers showed the same uninspiring poses over and over again to the point that they literally blurred together. It was evident in her photographs the exceptional way A.J. seemed to immerse herself into her subject matter. A.J. captures people and moments, even the seemingly insignificant ones, naturally with such ease. A.J. has a rare gift for understanding the personalities, emotions, and underlying feelings of an event. She is very talented and creative. To top it off, she has the most uplifting personality and made us feel at ease! Our families and friends were all quite impressed with A.J.'s warm, friendly, and professional personally. She blended right in with our small wedding party, and it seemed like she was more of a guest than a professional just doing a job. She helped to make our day special and we will be forever grateful for the beautiful photographs!
Are you interested?
Send a message