Wedding details
First I want to say that it is true.  You never know who is watching you and all good things come in time. Ten years ago I began working for a state agency.  My FH had already been employed there for a number of years.  At the time, we were both married so we just went for years exchanging pleasantries as co-workers.  Subsequently, unbeknownst to the other, we each became divorced but the great romance did not begin until eight years after I became employed there.  I should have had an inkling, I should have been aware but I was clueless.  A mutual co-worker came up to me one day on my way out the door and asked "why don't you give my buddy a chance".  I said to him, "I don't date married men" and kept walking, not thinking anything more of it. He went through a rough divorce and although my divorce wasn't rough for me, the relationships that followed took their toll to the point that I decided to just spend time getting to know God and getting to know myself so that I could be a whole person and able to offer to someone what it was I was asking for.  It was a wonderful time of discovery and healing (about a year and a half).which I was enjoying.  But it was almost like I woke up one day and said "I want to be in a relationship".  In fact it's what I said to my best friend one day and about two months later viola!   It took him two years from the time that his friend asked me to "give him a chance" (I'm not even sure he knew the friend asked me because I never asked him if he put him up to it) before he would try again. We work different shifts so I was sitting at my desk when my phone rang.  It was him.  I was taken quite by surprise.  He asked me if he could get my phone number so that we could converse a bit outside of work.  My first words were "I thought you were married, I don't do married" and his reply was "noooo.  I haven't been married for a while".  I said "ok" and proceeded to give him my number.  He said "I'll call you tonight" and I said "I look forward to it" and promptly hung up the phone, asked my best friend who I had been in the middle of an IM with and who is also a co-worker "why was he calling me?" you know as girlfirends do at which she replied "girl you just went from Shzt to sugar" (You'd have to know how well thought of my FH is at work) and then promptly went to the court docket to double check to make sure he had actually gotten a divorce, which he had and then became excited.   He did call that night when he got off work. I was sound asleep at which point I woke right up and we had a very good conversation.  They have been getting steadily better ever since.  All of this, and other things that I have left out in the interest of time, have served to let me know just how sincere this man is about me, about us.  He may not do things quickly, but when he does, when he makes a decision, it is after much thought and you can bet your last penny that he is sure of his decision.  So I knew when he chose me, he wanted it for keeps (just to be sure I told him from the very beginning I was not a "forever girlfriend" and so if he had no plans on ever getting married, he might not want to put us both through a relationship that would end in heartache. I can't wait until we can converse every night, side by side.  
Discussions I've participated in
2,669

Cleveland Brides & Grooms!
Our marketing team may be running a new initiative and may require your assistance! If you're from the Cleveland, Ohio area can you please tell us why you love WeddingWire? It would be a huge help!...
GoneAndMarried,

Aug 4, 2014
14

Did anyone else see the post...
Stacy
, on July 16, 2014 at 10:56 AM
Maybe I'm hallucinating, but I saw a post this morning about a wedding dress... It seems the OP was gifted a wedding dress by one of the lovely ladies on here. Now it seems she's found a dress that...
Are you kidding me?! (rant)
I have been BEGGING my BMs to show me their dresses and to set up a time for them to go in to see the tailor (who is also my FH's uncle). Well my MOH showed me hers and while it needs to be taken in a...
Activity

I uploaded a photo in his_cheri_amor's discussion
1867 days ago
3 pt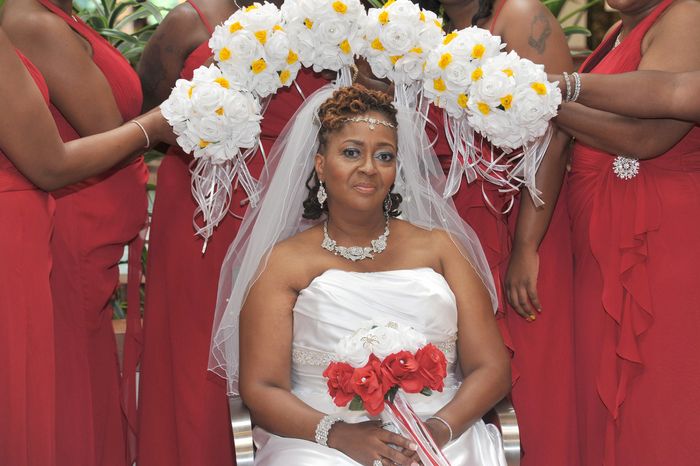 Silk Bouquet!!!!!
Does anyone have pictures of their DIY wedding bouquets made with silk flowers? If so can you post them on here and the website you purchased them from. Thanks!! I'm ordering today and need some help.

I uploaded a photo in Mallory's discussion
1867 days ago
3 pt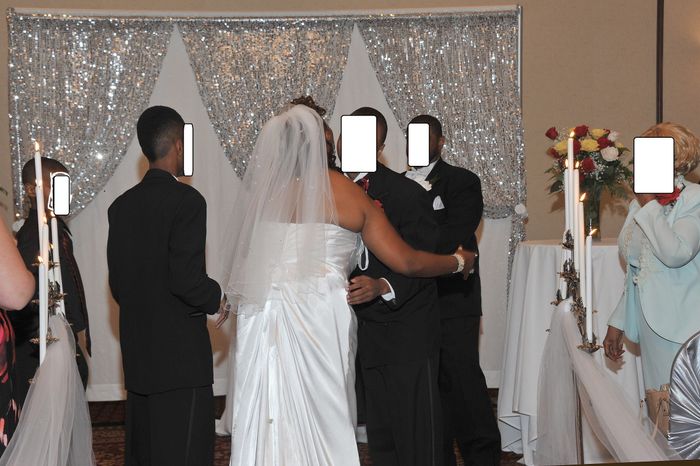 Backdrop Help!
I am wanting to have a backdrop behind my head table at the reception. I am freaking out cause everything I'm finding online is expensive and I really don't know how to make one. What are you guys doing for your backdrops or are you even having one??...

I uploaded a photo in FutureMrs.S's discussion
1867 days ago
3 pt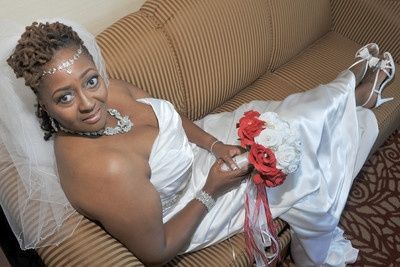 Show me your wedding day hair
What it will be or was! I was thinking this for myself but am not 100 percent sure.
WeddingWire celebrates love
...and so does everyone on our site!
Learn more
Groups
WeddingWire article topics