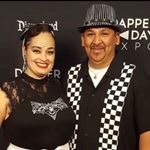 Marissa
My name is Marissa Peña, I'm the oldest of 3 sisters and the second daughter who is getting married. I'm an auntie of two cute kids of my sisters who are... View More
My name is Marissa Peña, I'm the oldest of 3 sisters and the second daughter who is getting married. I'm an auntie of two cute kids of my sisters who are ages 3 years old and 1 1/2 years old. I have 2 loving parents who been married for 35 years and I'm very blessed to have them in my life. I got engaged last Christmas on 12-25-17 and my wedding set to date is October 12, 2019. It took me a while to get used to the fact to be engaged but at the same time I was really excited to start planning my wedding. I work for Albertsons as General Merchandise Clerk and my Fiancé also works with me for the same company that's how we met but he works in graveyard shift. I'm into the retro vintage pinup rockabilly era and I love car shows. Also I'm a Disneyland fanatic of course I love doing DIY crafts stuff when I can find some spare time, just more on jewelry and flowers hair pieces but it's been a while.
Happily married 🎉
October 12, 2019

Feeling nervous and stressed about the wedding
I'm happy & exciting for everything once I got engaged and started planning, but now that my wedding is coming up in 240 days away 8 1/2 to 7 months from now I'm starting to get very anxious and...