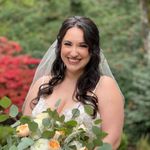 Brittany
I work in LGBTQ+ affirming healthcare and am a professional dancer. I can't wait to get married on our 4th anniversary, the day before Halloween!
🕐 WEDDING COUNTDOWN...
October 30, 2022

Unpopular Wedding Opinions
Do you have any unpopular wedding opinions? Things you see people say over and over that you just disagree with? Mine is that edible wedding favors are pointless. I think if you are going to give out...

Wedding "styles"
Is anyone else disappointed about the lack of options when it comes to choosing your wedding "style" on WeddingWire? I am just curious if any of your weddings really just fit into only one of those...