New Zealand Honeymoons
As a growing destination on countless bucket lists, there's a reason a New Zealand honeymoon is so lust-worthy.
As a growing destination on countless bucket lists, there's a reason a New Zealand honeymoon is so lust-worthy. How come? It's ideal for any type of dynamic twosome. It provides the fuel for adrenaline-seeking couples with plenty of opportunities to skydive, bungee jump or take a jaunt in a helicopter, while also allowing Lord of the Rings fans explore The Shire, firsthand. Add in a budding culinary scene that welcomes foodies and you a few weeks here will go by super-fast. Before you book the long haul flight though, it's important to plan ahead for your New Zealand honeymoon. By touching down at the right time of year and mapping out a schedule that allows you to explore both the North and South islands, you'll reap the most romance - and memories - for your first trip together as a married duo.
Check out our tips for an incredible New Zealand honeymoon.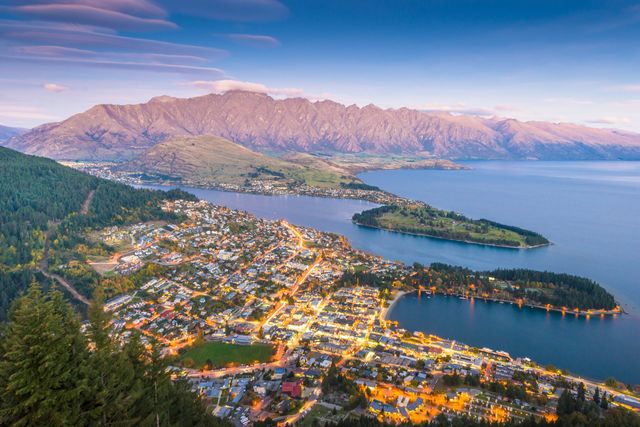 When to Go
Much like the United States, New Zealand experiences all four seasons, except they're opposite of ours. That's why you want to be mindful of when you're touring around these islands for your honeymoon. As a general rule, the highest tourism peak times are during their summer, which falls January through March. Even though typically speaking, you can expect longer days of sunshine and plenty of bright blue skies during these months, the more south you go, the cooler temperatures you'll find, and random snowstorms aren't uncommon, even in the summer. If you visit during their winter in June, July and August, you won't have to battle quite as many lines, but you will need to bundle up! The bottom line? Any time of year is a recommended season for a New Zealand honeymoon, as long as you know what weather you're bargaining for before you board.
Where to Go
Auckland
As one of the major cities in the North Island region, it's likely you'll fly into this hub at some point during your New Zealand honeymoon. A quick glance at the skyline and you'll notice the iconic Sky Tower, that offers big views of the Viaduct Harbor, that's speckled with cafes, bars and restaurants, as well as a myriad of boats and yachts. Here, you should sign up for a volcano tour that takes you around the various beaches and hot spots, including a hike up to see an inactive area. For a day trip that'll leave you feeling tipsy with romance, head over to Waiheke Island to tour around countless wineries, sampling the white wine varieties the country is known for. It's easy enough to venture a few hours up to the Bay of Islands, where you can swim with dolphins in the wild and explore the place where the country was founded. And of course, no trip to Auckland is complete without an excursion to Hobbiton, where you can walk around the movie set that was created for both of the legendary series, snagging a photo next to the hobbit holes and catching a beer at The Green Dragon.
Local dish you can't miss: Maori hangi, a method of cooking by the indigenous settlers of New Zealand, made of chicken, pork, mutton and vegetables.
Wellington
When you envision the country of the Kiwis, it's likely an image from Wellington that comes to the forefront of your mind. At the southernmost point of the North Island on the Cook Strait, this capital city is truly breathtaking. Known for an active harbor, colorful houses that sit atop rolling hills and a waterfront area that's bustling with dining and bars, you'll find it easy to be instantly smitten with this destination. Be fair warned though, no matter what time of year you venture to this area, there's a reason it's nicknamed 'Windy Wellington' - so hold on tight (to one another, of course). While you're there, make a list and check it twice, making an effort to stop by Lambton Quay, take a ride on their cable car and tour through the Wellington Botanic Gardens. Not too far away is Zealandia, an animal sanctuary where you can witness exotic birds - including the Kiwi itself! - in person. Whatever you do and whatever you see, you can't miss the nightly sunsets this region is known for - with a glass (or three) of wine.
Local food not to miss: Though you can find them anywhere for your New Zealand honeymoon, the country is known for its oysters on the half-shell, which ahem, are a natural aphrodisiac.
Christchurch

On the east coast of the South Island, here's where snow-loving couples should stop for their New Zealand honeymoon. Nearby is TranzAlpine, where you can strap on some cold weather hiking shoes to explore remarkable, natural glaciers with a trusted tour guide. In addition to being a one-of-a-kind experience, it gives you the opportunity to witness some of the beauty of this country firsthand, creating a memory you can brag about for decades to come. When you're not wearing layers to make it through the temperatures, take a brisk walk along the Avon River, right into the city center. Here, it's common to rent bikes and explore Hagley Park or the botanic gardens.
Local food not to miss: All of those hikes will probably leave you a tad chilly and mighty hungry, so load up on a New Zealand favorite - roast lamb!
Queenstown
If you and your partner have already made it through plenty of trials and tests in your relationship, your level of trust is already strong. That's why pushing yourself to the limits during your New Zealand honeymoon is recommended, and there's no better - or more beautiful - place to do just that, then Queenstown. It's world-renowned for it's deep immersion and offering of adventure sports. Here's where bungee jumping was first created off of the Kawarau Gorge Suspension Bridge, a 41-meter drop to the water below. You can also easily hire a professional skydiving crew to help you check that must-do off your bucket list, and of course, rent a boat to tour the Shotover or Dart Rivers. For those who are more into skiing and snowboarding, hitting the slopes of the (appropriately-named) Remarkables and Coronet Peak are a thrill, too.
Don't miss this local dish: Manuka honey - topped on anything from yogurt to desert, a natural, super-strong, local staple.
Article by Lindsay Tigar
Flight 3
- Remove Flight
+ Add Flight
Flight 4
- Remove Flight
+ Add Flight
Get access to travel deals when you book your honeymoon through WeddingWire