Cozumel Honeymoons
A quiet island full of Caribbean energy and authenticity, and made for scuba divers, you'll be wowed during your Cozumel honeymoon.
Most people think of Cozumel as stop number one on a cruise, but this Mexican island has much more to offer than meets the eye. Located in the Caribbean Sea, 12 miles of the tip of the Yucatan Peninsula, this small and quiet paradise makes for an incredible Cozumel honeymoon. And we mean small, only about three percent of the 189-square-mile island as been developed. But once you look past the cruise ship ports and hotel district, you'll find lots of Mexico honeymoon delights on offer, including some of the world's most beautiful reefs. The waters off the coast of this island are clear turquoise, and from its white sand beaches divers and snorkelers have a paradise awaiting them underwater, from richly colorful reefs to hundreds of species of fish. On land, the island's only town is rich in Mayan culture and Mexican traditions. Thanks to an abundance of all-inclusive hotels on the island, you can get most of your meals without stepping foot outside your resort.
But while you'll spend most of your time sunbathing on the white sand beaches and enjoying the pleasures of your luxe honeymoon suite, trust us, there's plenty of exploring and nature to see during a Cozumel honeymoon.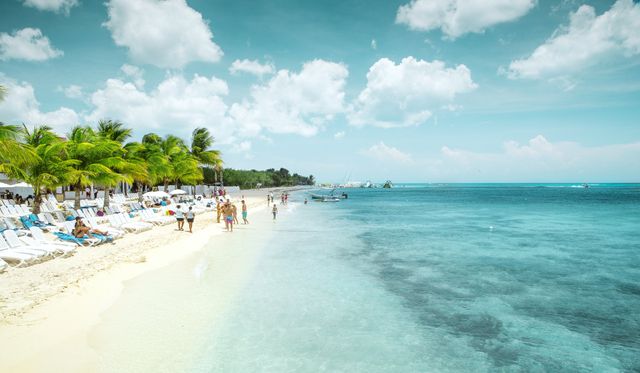 When to Go
Enjoy your Cozumel honeymoon between December to April, when the weather is at its best. Rainy season runs from May through October, with the worst of it—hurricane season—from June to October. Prices are higher in the winter and spring, so if it's a budget you're looking for, consider visiting in May or June, when weather is still on the up and prices tend to lower.
Top Sights and Activities
Go scuba diving: This island is made for diving, so get your open water certification before heading here. There are more than 30 charted reefs you can visit, and dives that range from beautiful reefs to fascinating wrecks. Peak diving season is from June to August.
Stroll the charming Mexican village of San Miguel: The island's only town is San Miguel, but what it lacks in neighbors it makes up in charm. Mariachi bands play in the main square on Sunday nights.
Find fresh seafood in an open-air setting at El Moro: This family-owned restaurant is a favorite among locals—though it can be hard to find.
Go lighthouse to lighthouse: In one day, you can drive from one end of the island to the other to visit its two lighthouses: Punta Sur's Celerain on the South and Punta Molas to the North—such a unique Mexico honeymoon experience.
Take in nature at Chankanaab National Park: Swim with the dolphins at this beach adventure park, or spend the day snorkeling with tropical fish and underwater sculptures. There's also a crocodile farm, sea lion shows, and homemade tortillas at the Mayan house.
Sip cocktails with a view of the water at The Thirsty Cougar: With a waterfront view overlooking the Caribbean Sea, sip on one of the bar's famous concoctions, like the chocolate peanut butter margarita.
Taste traditional fare in a garden setting at La Choza: This popular restaurant offers garden seating and traditional dishes like chicken in mole poblano—a must-visit during your Cozumel honeymoon.
Enjoy the wildlife of Punta Sur Eco Beach Park: 2,500 acres shelter a variety of indigenous species including exotic birds, crocodiles, and sea turtles. You'll also find Mayan ruins and a maritime museum here.
Step back into history at the San Gervasio Ruins: The ancient shrine was frequently visited by women to pay tribute to Ixchel, goddess of love and fertility.
Snorkel with stingrays at Stingray Beach: Swim among rays without fear, their barbs have been clipped so the animals can't hurt you.
See all of Mexico at once at Discover Mexico Park: If your only stop is Cozumel during your Mexico honeymoon, check out this park with scaled models of some of the rest of the country's most popular attractions including the ruins of Tulum and the Metropolitan Cathedral of Mexico City.
Try the Midnight Pork Ribs at Kinta: A local favorite, this restaurant offers gourmet twists to Mexican classics.
Article by Allyson Johnson
Flight 3
- Remove Flight
+ Add Flight
Flight 4
- Remove Flight
+ Add Flight
Get access to travel deals when you book your honeymoon through WeddingWire