Cuba Honeymoons
Enthralling and beguiling, Cuba is a captivating honeymoon destination.
A Cuba honeymoon will be rich with history and culture. Honeymooners will literally feel like they've gone back in time, where classic American cars roam the streets and remnants from the Spanish colonial era remains. Each narrow cobblestone laneway and prominent landmark reveals a story of Cuba's compelling history — making this an ideal destination for history buffs. Whether you choose to traipse across the vibrant open squares of Havana or take a romantic stroll on Varadero Beach, a Cuba honeymoon offers plenty to see and explore.
Rich in culture and unrivaled in colonial grandeur, discover the jewels of Havana by opting for a Cuba honeymoon.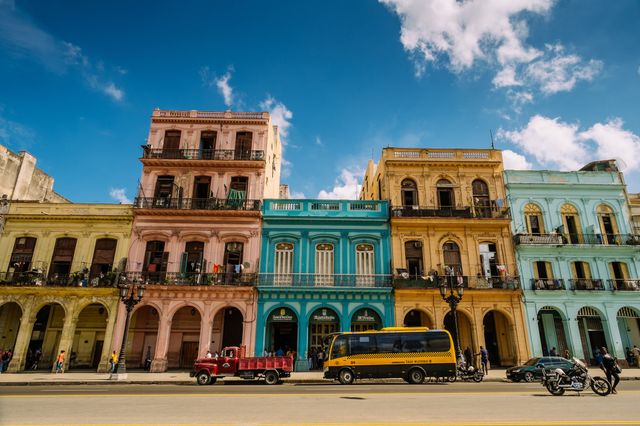 When to Go
Cuba enjoys a hot tropical climate, but the dry season of November to May is the best time to take your Havana, Cuba honeymoon. During these months, couples will be able to enjoy cooler days and evenings. May through October is the wet season, and though the rain is torrential, it is usually short in duration. December through March, July and August are peak tourist seasons, which means planning a Cuba honeymoon on a budget may be difficult.
Top Sights and Activities
Havana Cathedral: Regarded as one of Cuba's finest examples of Baroque architecture, the Havana Cathedral is characterized by asymmetrical bell towers. Time your visit to the cathedral's Holy Mass for an insight into Cuban culture.
Walking Tour of Old Havana: Explore Havana's core, a wealth of architectural gems and open squares connected by a sprawling network of beckoning cobblestone laneways.
Morro Castle: Constructed under Spanish rule, this fortress is strategically positioned at the mouth of Havana Harbour to protect the city from raids.
El Cañonazo de las 9: Observe the changing of the guards at Fortress of San Carlos de la Cabaña, commenced with a powerful cannon fire at 9PM each evening, a centuries- old tradition from Spanish colonial times.
El Malecon: A romantic evening stroll down Havana's seafront to witness its vibrant sunset is a favourite pastime for locals.
Fábrica de Arte Cubano: A former oil factory, this present day chic multimedia venue is Havana's playground for both acclaimed and up and coming artists in the realms of music, photography and painting. Promoting a sophisticated atmosphere, clientele mingle with artists while sipping on cocktails and listening to live music late into the night.
Museum of the Revolution: Once an opulent presidential palace, this present day museum houses exhibits that focus on Cuba post- revolution, inspiring visitors to seek deeper understanding of the nation's political history.
Watch a Baseball Game: Baseball to Cuba is what hockey is to Canada, and what soccer is to South America. Join the locals and observe Cuba's national sport for what is almost always an intense and raucous affair.
Smoke a Cuban Cigar: Highly sought after for its exceptional tobacco quality, Cuba has perfected its cigar manufacturing process through centuries of practice. Indulge in the Havana habit to understand why the Cuban cigar is the world's most exceptional.
Live Music: The streets of Havana are brought to life by the rhythmic tunes of Afro- Cuban, rhumba, and salsa. Feel the beat and join the locals in an impromptu dance.
Playas del Este: Just thirty minutes east of Havana is a string of idyllic beaches for a laid back afternoon of swimming in the aquamarine waters and laying in the powder white sands.
Viñales: An agricultural town of traditional single storey wooden homes, a day trip to Viñales allow its visitors to experience rural Cuba, a striking pocket of the nation that relishes in the laid back pace of life.
Flight 3
- Remove Flight
+ Add Flight
Flight 4
- Remove Flight
+ Add Flight
Get access to travel deals when you book your honeymoon through WeddingWire