Tanzania Honeymoons
Tanzania, located on the east coast of Africa, is perhaps a more off-the-beaten path honeymoon destination, but it offers such a rich variety of attractions and activities.
A Tanzania honeymoon can be the perfect combination of adventure and relaxation. Tanzania, located on the east coast of Africa, is perhaps a more off-the-beaten path honeymoon destination, but it offers such a rich variety of attractions and activities—particularly for couples looking for a classic safari experience and the ability to view lots of incredible animals. You'll also find gorgeous tropical beaches and of course, the highest mountain in Africa—the famed Mount Kilimanjaro.
Ready to experience all this incredible country has to offer? Learn more about planning your Tanzania honeymoon.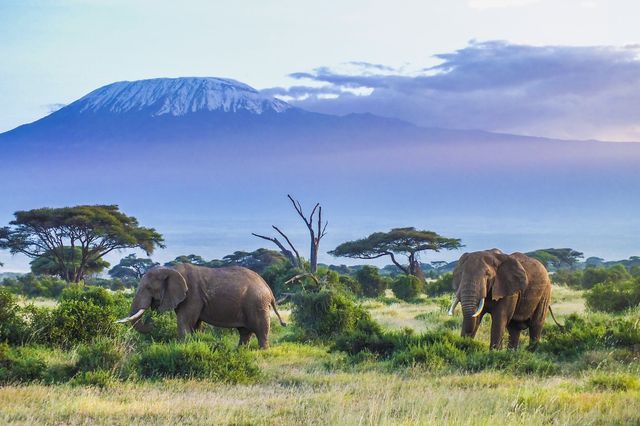 When to Go
The most popular time of year take a Tanzania honeymoon is during the dry season, between June and October. You'll find warm temperatures and barely any rain during these months—plus June and July allow you to experience the wildebeest migration, which is a particularly unique attraction. Rainy season hits its peak in March and April, so those months are thought of as less desirable times to travel to Tanzania.
Where to Go
National Parks
If you and your partner want the true safari experience, you'll want to visit one of the national parks while on your Tanzania honeymoon. Serengeti National Park is the most famous park, perhaps in all of Africa, known for the Great Migration of zebra and wildebeest in May and June. You'll also see lions, leopards, cheetahs, antelopes, and lots of birds, too.
There are other national parks and conservation areas in Tanzania that you may want to visit, as well. These include the Ngorongoro Conservation Area in northern Tanzania, known for its variety of wildlife, including the black rhinoceros. Other parks and reserves include Tarangire National Park, Selous, Katavi, and Ruaha National Park (ideal for those who want to see lots of elephants). If you're a fan of chimpanzees, you'll want to check out Mahale Mountains National Park, a protected area for chimps.
Mount Kilimanjaro
Mount Kilimanjaro is not only the tallest mountain in Africa, it's also the tallest free-standing mountain in the world (meaning, it's not part of a mountain range). Outdoorsy couples who are experienced climbers may want to climb Mount Kilimanjaro during their Tanzania honeymoon. Know that you'll need a guide and that it will take about six days to reach the top. There are also shorter and easier hikes if you'd prefer. If you'd rather just look at the mountain, Mount Kilimanjaro National Park also has lots of wildlife and the scenic Lake Chala.
Zanzibar
Hoping for a more relaxing honeymoon experience? Zanzibar is home to some of the most beautiful beaches in the world including Kendwa Beach, Nungwi Beach, Nakupenda Beach, and Paje Beach. You'll also want to explore Stone Town, Zanzibar's capital, with its amazing markets and architecture (the historic and ornate building doors are totally Instagram-worthy!).
Mafia Island
Mafia Island is an ideal Tanzania honeymoon spot for couples who love sea life. You'll find some of the best diving opportunities in the world, as the waters off of Mafia Island have incredible reefs and lots of marine life to explore. You can also go kayaking, sailing, fishing, windsurfing, and much more. If you'd prefer to keep your feet on land, you can enjoy cycling and exploring the villages and other nearby islands.
Flight 3
- Remove Flight
+ Add Flight
Flight 4
- Remove Flight
+ Add Flight
Get access to travel deals when you book your honeymoon through WeddingWire