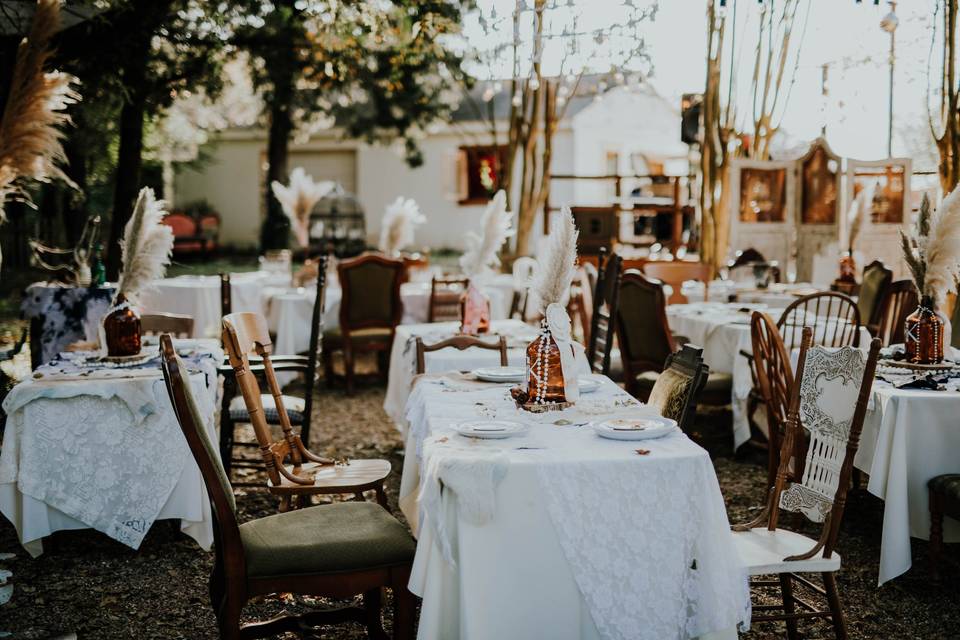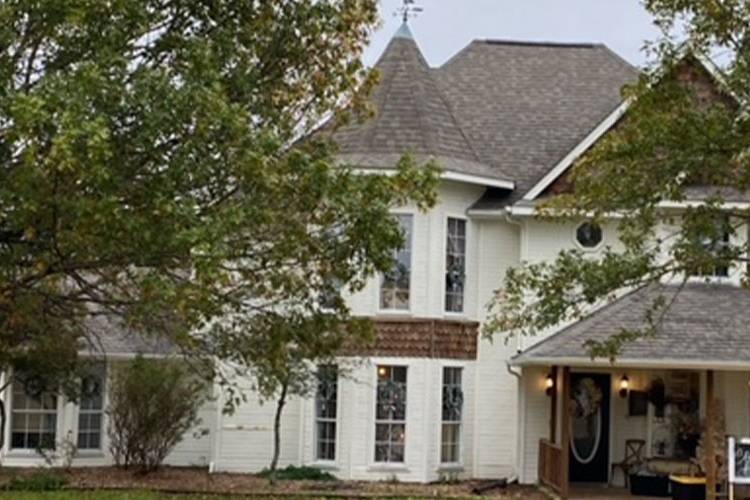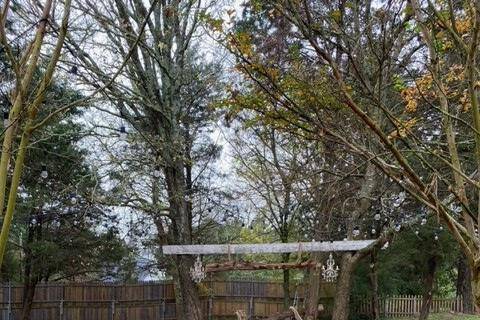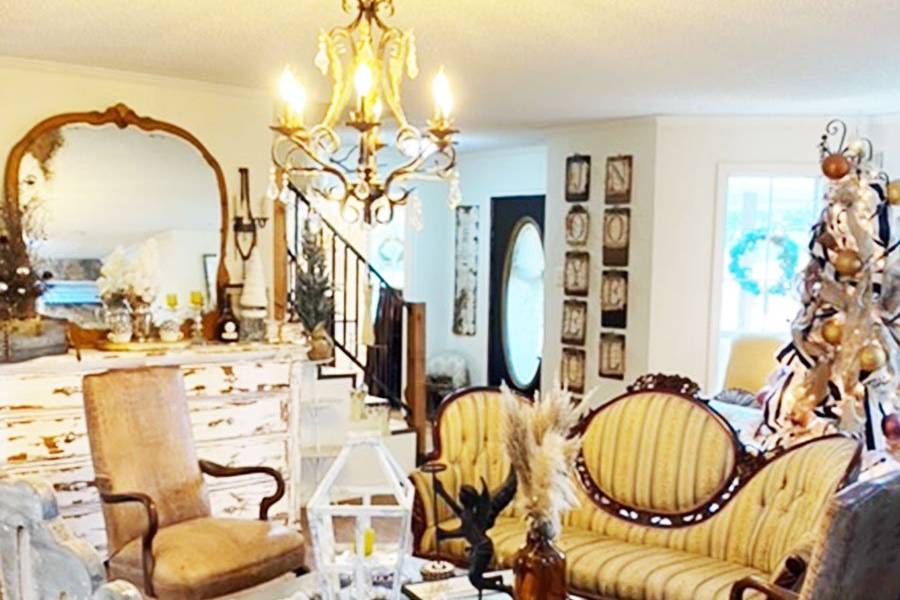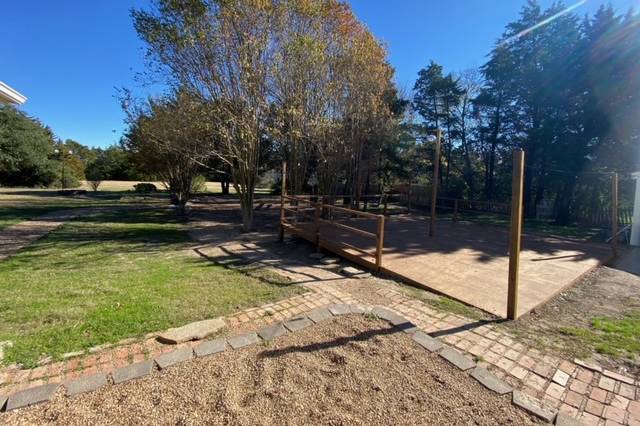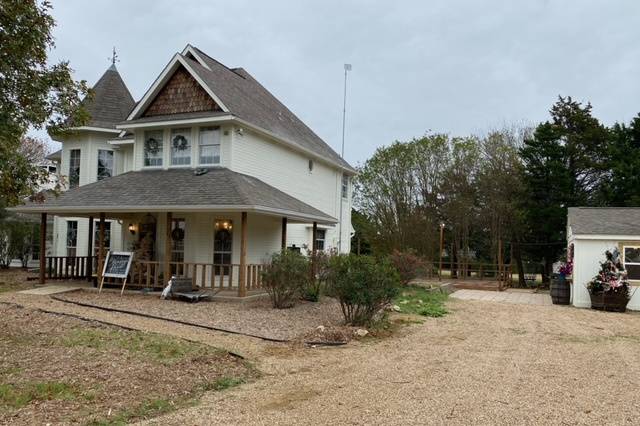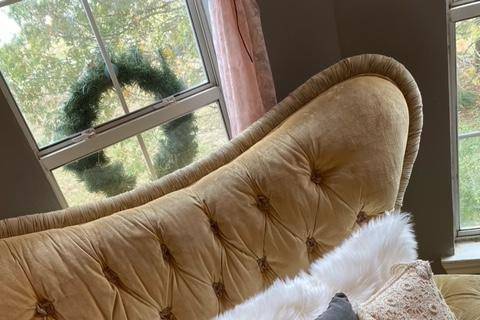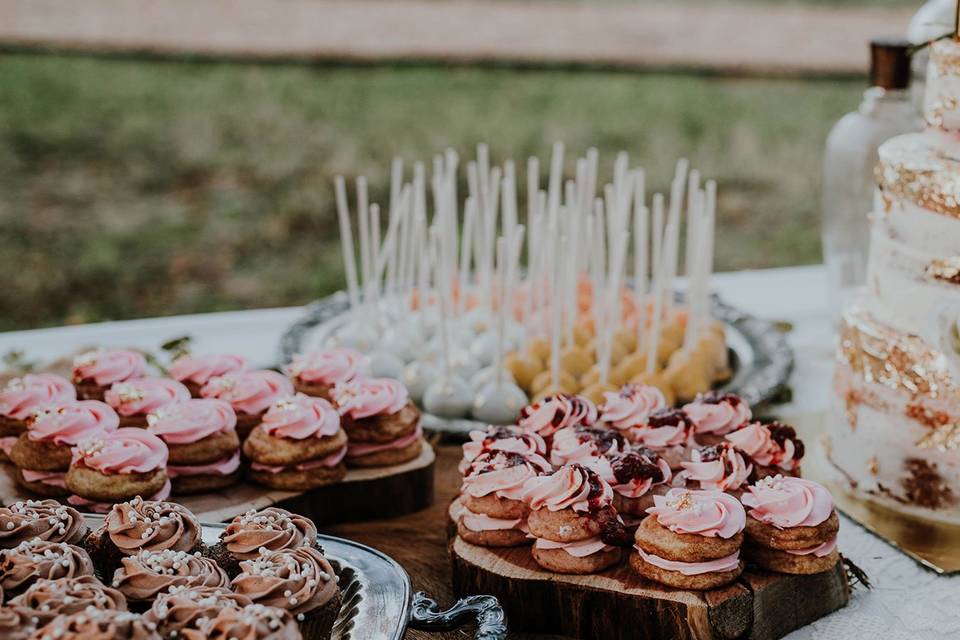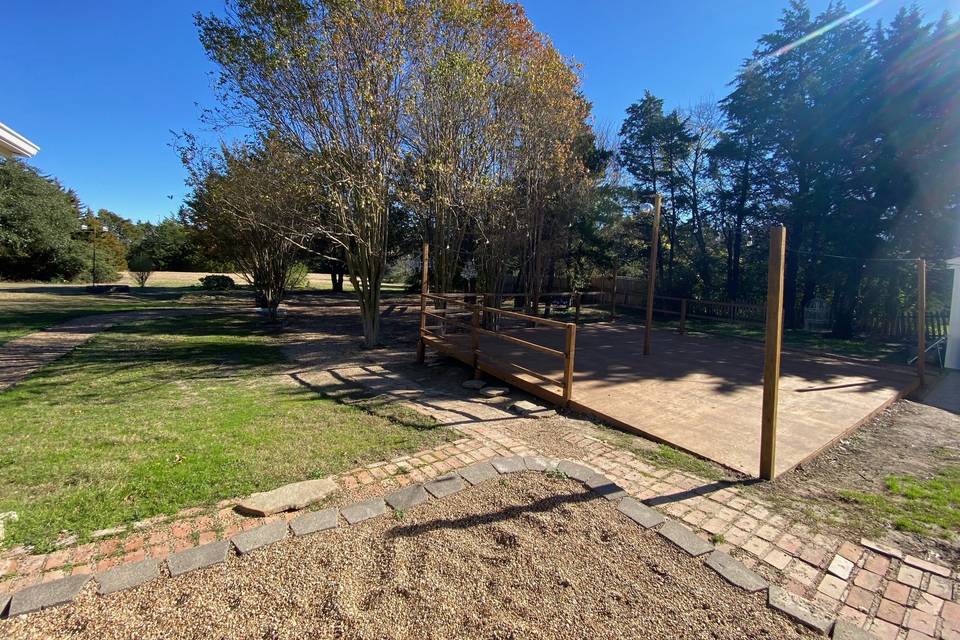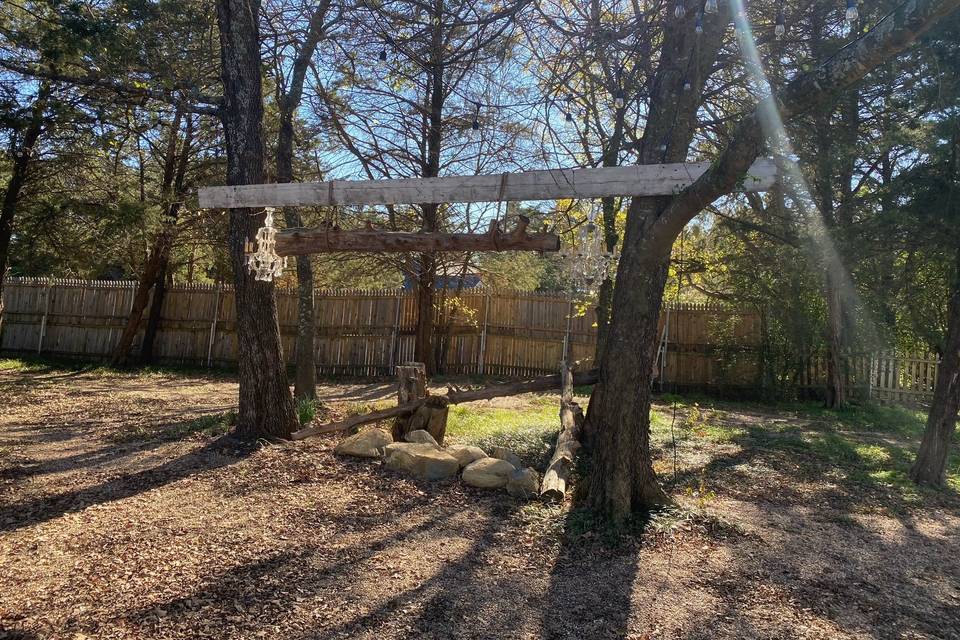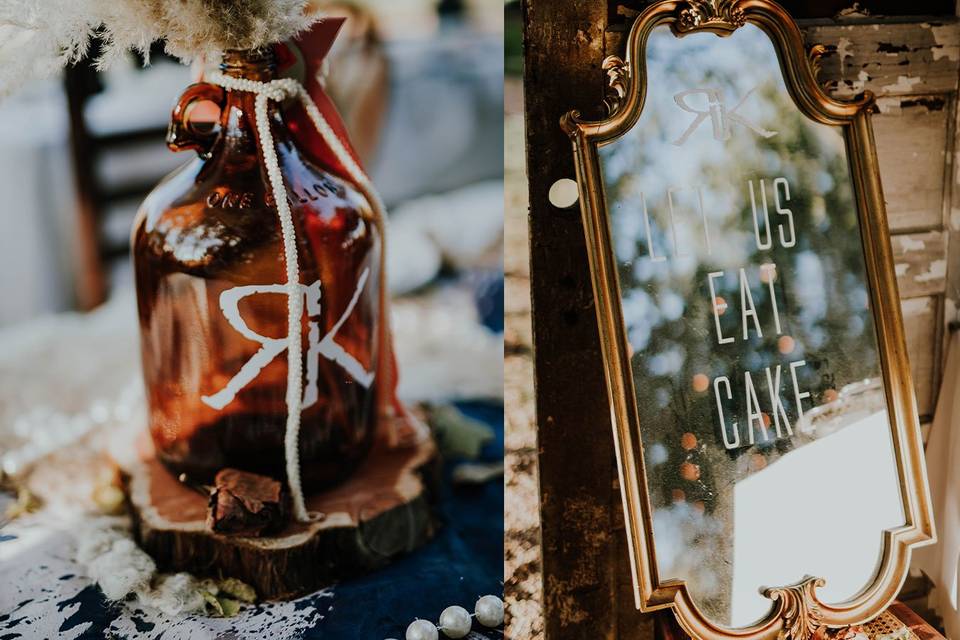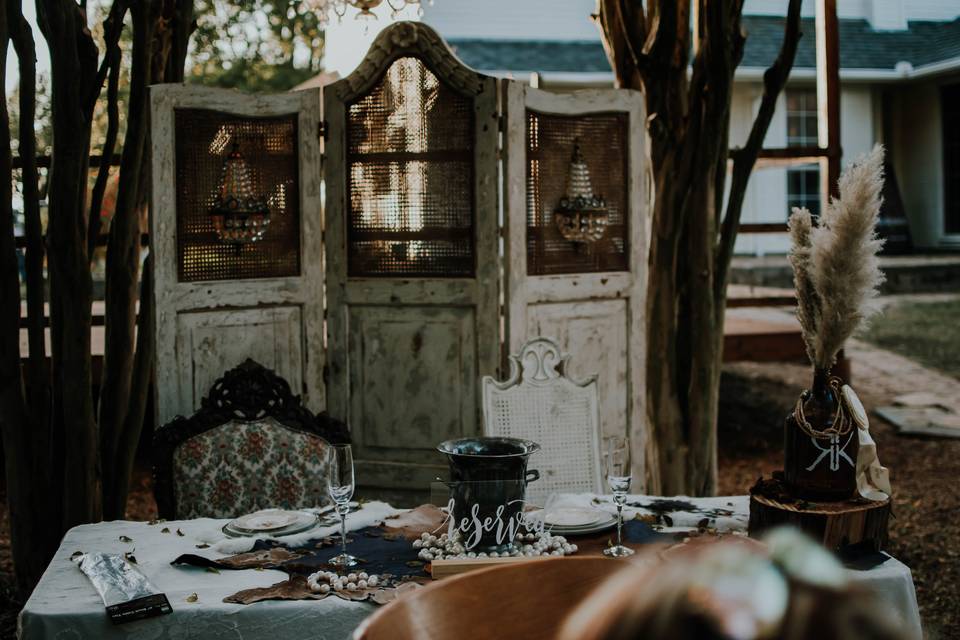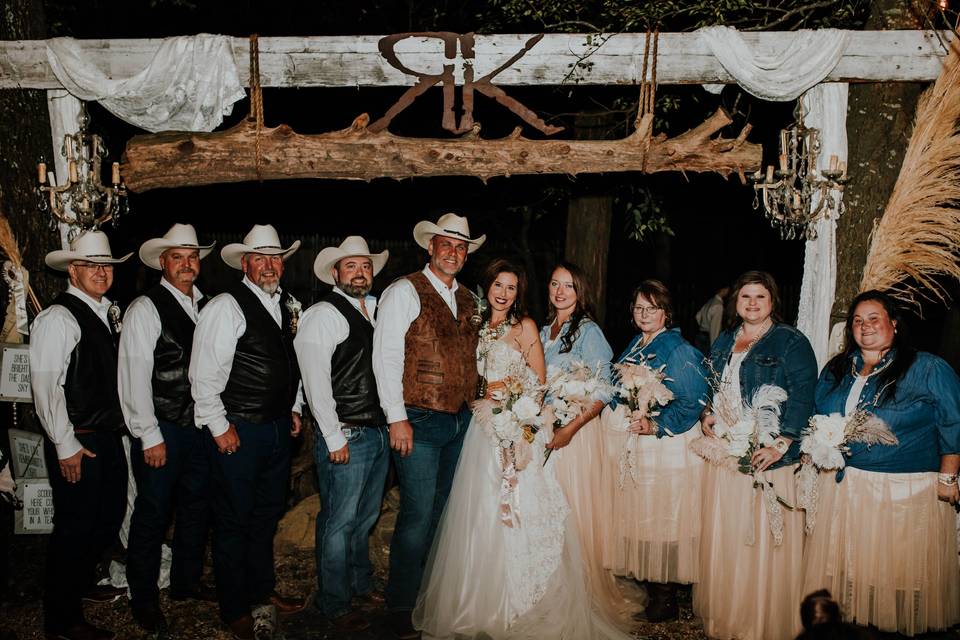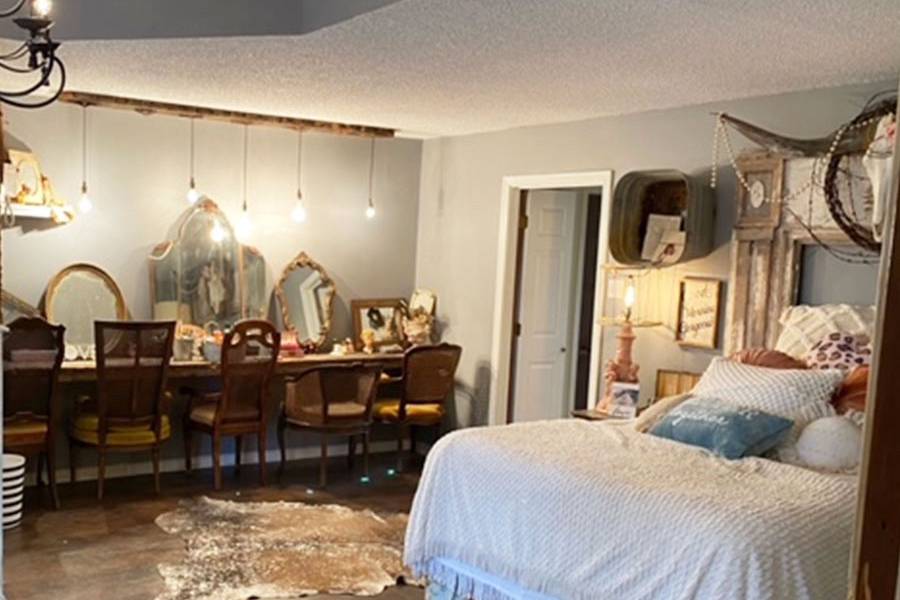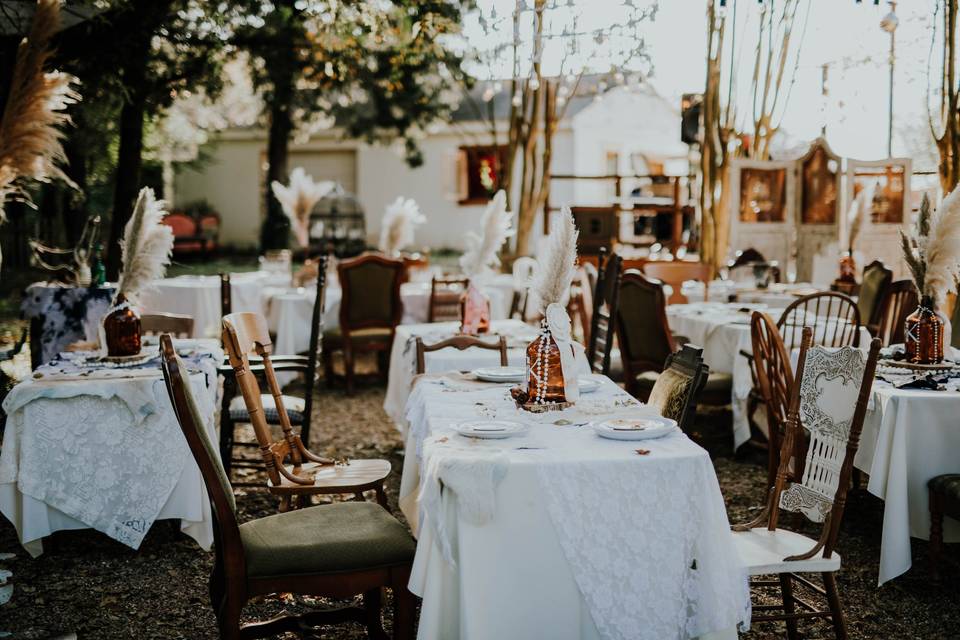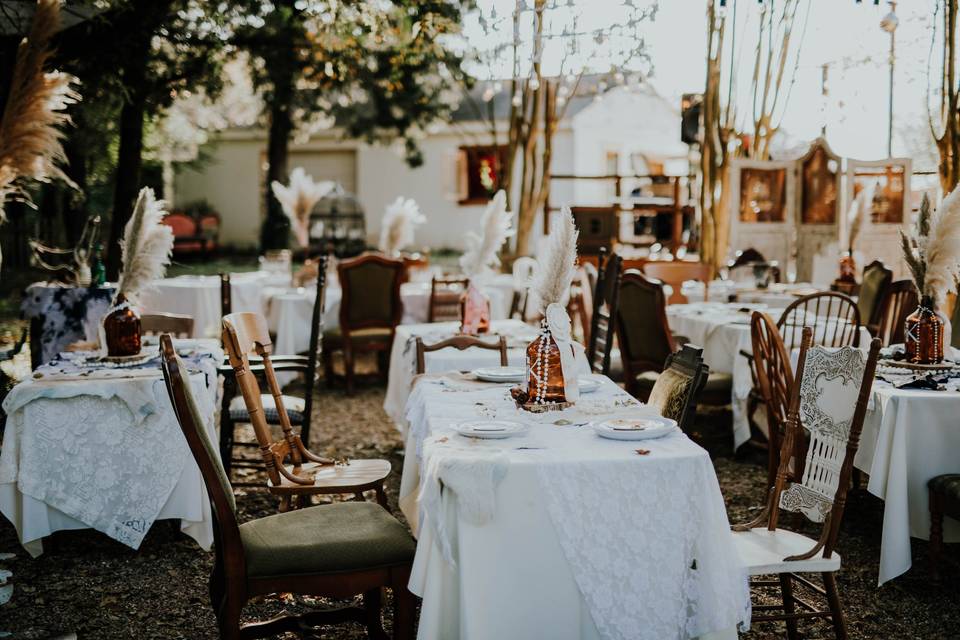 About
THE VIBE
Nestled amid Apple Blossom Trees on 5 manicured acres in Wills Point, Texas sits the almost 2700 square foot CHAMPAGNE RANCH Bed & Breakfast & Wedding Venue. This French Farmhouse retreat creates the perfect backdrop for a Romantic Weekend, a Girl's Weekend, the perfect Wedding or Special Event.
Champagne Ranch offers all the Estate amenities a Wedding Venue needs including a large Bridal Suite and 2 additional bedrooms, our gorgeous Whiskey Gentleman Groom Room – a man den with a wall-to-wall stone fireplace – a formal sitting area with fireplace perfect for standing room receptions, a Sunroom staged with a large farmhouse table, mix and match China place settings, glassware and flatware service and full kitchen.
Grab a glass of your favorite wine and gather around the outdoor firepit-in-the-round. You can step into our back yard, toes up, and get lost in the stars and sounds of nature or turn the firepit into a gathering place for your outdoor wedding on the terrace. CHAMPAGNE RANCH is the best of both worlds – a peaceful country respite only an hour's drive from DFW.
Champagne Ranch is a gathering place. It's a blank creative canvas just waiting for you to paint your perfect wedding, special event or weekend stay. Welcome to our French Country home. We invite you to make it your own.
THE WEDDINGS
You found each other. Now, you are on an epic search for that beautifully out of the box venue that speaks to your forever. You are looking for something different, and if you have been looking long, you know there are plenty of barns and ballrooms.
Enter Champagne Ranch. We are more than just a venue. We design the wedding to your bride and groom style, and we offer turnkey services to totally execute your vibe. We curate your wedding in a way that will not be replicated, and we can bring just about any vision that you have for your special day to life. If you love rustic, bold and boujee, we can handle it. If you dig farmhouse froufrou, we got that too. If you want an all-out circus, we are great ringmasters. And, if you are more traditional, we love that, too. Whatever your style, we work best when we get to break molds, push envelopes and create days that are unique to you. From invitation design to putting on the gown to sparklers at sundown, we are more than just a venue – we're your creative wedding HQ.
Our packages are over the top, as well. Although we are happy to hand you the keys and let you plan it your way, our best weddings are when we get to sprinkle our creative glitter all over it and handle all the details. Need help with what's trending in menus? We not only have exclusive catering packages, our catering displays know no bounds. Want tray-passed craft cocktails? Handled. We even have a menagerie of props and rentals that can really make your day unique. ALL of our packages are consultative, whether you're just renting the venue or handing us the baton. We bring our more than 25 years in wedding and event planning to every detail of your day from 'Will you' to 'I do'.
And, we're EXTRA. This is our passion, not just our daily gig. We're invested. What other venues charge you for, we give you so that we can toast your day with our best crystal. We do not limit or charge you extra for event coordinators, for example. Rather, we staff based on offering the best possible service so that your event is seamlessly executed. At Champagne Ranch our venue and service are above and beyond anything you have experienced. Here, you can have your cake and eat it too.
Cheers to you two! Here's to your new beginning. And we hope it all begins at Champagne Ranch.
THE EVENTS
Events at Champagne Ranch range from Charity Galas to Women's Retreats to Board Meetings, and even Girl's Weekends, Bachelor/Bachelorette Parties, Showers and more. We will rent you the venue and hand you the keys for the day, or we can sprinkle our creative glitter on it and handle the details with our VIP Event Planning Packages & Prop Rentals.
THE B+B
When we're not guiding brides down the aisle, we're doing the Bed & Breakfast thing. And, we're not the pedestrian fruit bowl and OJ B+B…we're outside the box with our menus and amenities. We're different. You'll see. And, our B+B is like a boutique. You may even find things for sale in there. We even have something for the Guys with our Whiskey Gentleman Groom Room/Den. Stay for a Night or Enjoy a Long Weekend. Whether you're coming to Canton Trade Days with the Girls, Hosting a Cigar Board Retreat or Just Relaxing, Champagne Ranch provides the perfect backdrop to relax and unwind.
THE BOUTIQUE – SHE IS WHISKEY IN A TEACUP
We moved our downtown bricks boutique out to Champagne Ranch as well to round out the creative experience. The She is Whiskey in a Teacup Barntique is a clothing and bridal boutique right next to the house, and it can even be a part of your event if you so wish. From custom wedding gowns to funky tees and more, it's the cherry dropped in the Champagne Ranch cocktail.
Map
Would you like to visit?
Request a visit