Ian and Lillie's Wedding in Grand Rapids, Ohio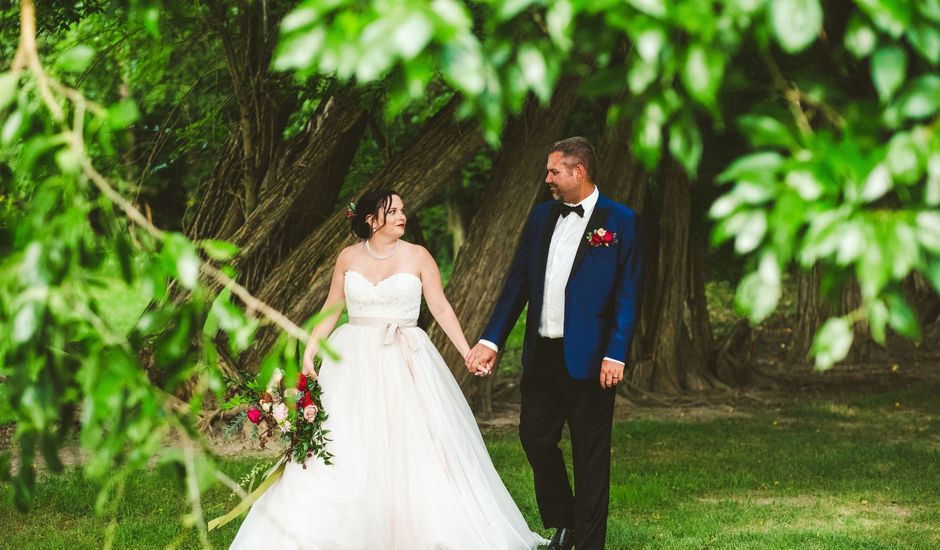 Ian and I met on December 10th, 2011. My friend Anna and I decided to have a girls night out. So we thought that we would head to Miss Cue's to play some billards. When we arrived we ordered some beer and selected a table in the back corner. Anyway we were having a good time playing and goofing around when I saw him.....Ian walked in with his friend Kent and I immediately noticed him. Of course how could I not he's 6 foot 6?! I thought he was good looking and mentioned it to Anna and pointed him out trying not to be obvious. Well to my surprise they got the table right next to us and they were headed our way. So I of course played it cool and continued my game. When Ian and Kent got to their table they introduced themselves and we did the same. We then went back to playing our separate games and to be honest I'm not exactly good at billards. Fortunately for me Ian noticed that fact. Being the gentleman that he is he came over and said I can't let you continue to play like that and he proceeded to show me how to make a shot while asking me if it was okay for him to do so because he didn't want to be a creep. I however still managed to miss the shot but I just shrugged it off and laughed. Later on in the evening Ian asked me for my number but I told him no because I had a boyfriend. Luckily I had a feeling about him I couldn't just let him leave knowing I would never see him again. So after talking to Anna I made the decision to give him my number. I told him that he seemed cool and we could just be friends (I know just want every guy wants to hear.) We ended up texting all night and talked everyday for months. After being extremely patient with me and a complete gentlemen he became my boyfriend!
Continue reading »
Ian proposed on January 1st, 2016. It begin with Ian waking me up New Year's morning. He came into the bedroom, and sat on the edge of the bed and woke me up gently. He said Happy New Year and asked me if I knew what that meant and I said no. He then said it means it's a time for new beginnings and I said okay. I wasn't expecting the proposal at the time. Then he asked if I would like to start a new beginning with him and I said yes. Next was the big question.....Will you marry me? Yes. Ian then asked if I wanted the ring and I said well yeah! He then placed the ring on my finger and we officially became an engaged couple!!!
We were married on September 1st, 2018. Ian and I arrived at Nazareth Hall at 9 a.m. the day of our wedding to begin setting up our decorations. Our tables were already set with our gorgeous green sequined tableclothes and place settings in the beautiful Ladyglen Ballroom.We simply added candles, bowls of mints and coloring books and crayons for our younger guest. Our florist set up our flower arrangements which included vintage green vases we collected from thrift stores and flea markets. I set up our candy buffet while the bestman, my brother-law-, a friend's son and Ian folded our napkins into bows. One of my friends set up our guestbook table, gift table and escort card table. My father and brother-in-law helped me deocrotate our ceremony space down in the Grotto. My father bulit a very pretty arch for us to get married under. while all the decorating was going on all the woman included in the wedding had been getting their hair and makeup done.Ian decorated our bar area. Around 1 pm I joined the girls in the bridal suite to be the last one to get my hair and makeup done.(My sister did my hair) while they got into their dresses. Our photographer arrived around this time and set up their photobooth and began to shoot video and take photos. My mother helped me into my dress. After making sure all the decorating was finished the guys also got dressed. Ian and I had our first look and took and few photos with just the two of us which calmed our nerves. Then we took family and wedding party photos. That took a little longer due to rain but it cleared up just in time for our ceremony. We had our I Do's at 5:30pm and our offficiant was my brother-in-law. He did a wonderful job, he made us laugh and cry. It was a beautiful cermemony. After our ceremony our guest and bridal party went to cocktail hour while Ian and I took photos. This was one of the best times of the entire day because it was just us and our photograhers team and we could just relax and enjoy be married. Our reception started at 7pm and when we sat down for dinner our wedding cake was still being set up. I found out moments before our first look that the cake had been in a car accident and completely destroyed (the drivers of both cars were unharmed.) our bakery tried to rush and have a new cake ready for us, unfortunately the cake we recieved was terrible and not what we wanted and it was even leaning to the side. The rest of our reception ran smoothly and we had a blast dancing and talking with our guest. We finished our night with a sparkler send off. I wore a blush ballgown and changed into a tea length dress at the reception. Ian wore a colbalt blue tux jacket with suspenders and black pants. The bridal party had hunter green dresses and blacksuits. The flowergirl's dress was ivory. Our favorite decor was by far our flowers, they were simply breath-taking. Our florist did an amazing job! Thanks to our photographer we have amazing photos and a great highlight video of our wedding!
Ian and Lillie's vendor team