Post content has been hidden
To unblock this content, please click here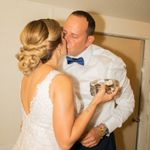 Mai, on May 23, 2021 at 1:30 AM

Posted in Married Life 36
Have you done or considering doing a vow renewal celebration? If so, what anniversary celebration would be?
Have you done or considering doing a vow renewal celebration? If so, what anniversary celebration would be?



Show all
View Quoted Comment

Hi Alexis,

In our vow renewal celebration, we had a friend officiating the ceremony. It was very emotional since he knows us well.

It was beautiful.

View Quoted Comment

Same!! Except we are also having a ceremony, just a vow renewal style one this time around! Have a blast - it will be a fabulous day for sure!

View Quoted Comment

Fun Indeed it was!

Pictures are finally here...

Want to see?

I'm having my vow renewal just me,husband and son then having a meal and one night stay in hotel cause I had the weddding I dreamed of and it was perfect

View Quoted Comment

Everyone celebrate Love in their own way. I'm happy that after a perfect wedding you just want to celebrate privately.

In our case, 10 years ago, we did our dream wedding as well. Now we had the pleasure of including the kids, and it was as beautiful and perfect as we wanted.

I'm personally not a huge fan of vow renewals just to do them - it seems attention seeking to me. Now if a couple has gone through something significant that has tested their marriage then I feel like they can have a unique purpose, but the "let's renew our vows because it's our 10 year anniversary" seems unnecessary. Like, I fully intend for my marriage to last 10 years, so reaching that milestone doesn't seem like a worthy cause for an expensive, wasteful, indulgent party (which is exactly what weddings are, even though they are also a lot of fun).

I don't see us doing a vow renewal unless there is a significant event that impacts our life in a way that really tests our marriage and puts us into unexpected roles to support our family and one another. I'm certainly not planning on having a vow renewal in the future, but if we do hit the 50 year milestone I might reconsider! Although I'm not sure what kind of party we will be up for when we are in our 80s.

View Quoted Comment

Kari,

Every couple goals are different and that's the beauty of it!

A vow renewal is an opportunity for a couple to renew the vows that they made to each other when they first got married. It is a way to commemorate a love that has deepened or matured between a couple. Is not meant to be a second wedding but a LOVE celebration!


In our personal case, we did have a beautiful and magical wedding , except my Mom wasn't there. So having Her by my side this time around was simply a BLESS. My daughter, My Mom and I got together for make up and hair session and it was a dream come true.

And to be honest, we are so strong and in Love that wanted to share the blessing of our marriage with close friends and family. Those, who can be happy for us and see the true feelings for each other.

YES, we are SO lucky to have found LOVE and made it grow with years.

Wish you only the same :-)

View Quoted Comment

I agree. I don't think you have to go through a struggle to celebrate the love between a husband and wife. We want to renew our vows when we hit the 10 year mark because we are not the same people who said those vows. We have become parents(who will be included in our renewal ceremony), we have gone through the challenges of being married. We've been through death of parent, a pandemic, a traumatic birth experience, job loss and we have come out together and I believe in celebrating.

View Quoted Comment

Agree with this wholeheartedly. Wonderfully said.

We're going to do it to celebrate 20 years.

I don't think a couple needs some significant life event to justify a "wasteful" party. Being married itself is the "significant life event."

If anything, I feel like being married is what should be celebrated, even over a wedding. Anyone who can afford the $80 license fee can get married. Staying married after that is the real accomplishment, and accomplishments should be celebrated.

We are not the same as we were when we got married, we've gone through many of life's hurdles (exhausting educations, catastrophic job loss, starting a business, loss of a parent, a pandemic, loss of the business because of a pandemic...) and many of its joys (lifelong friendships, bucket list items, pouring our love into tiny furry creatures...)

I also reread our original vows recently, and while I still feel they are true, I feel like they are also a reflection of who we were then... a couple of kids who had no idea what marriage was about. There are many things that, with the hindsight of 20 years of marriage, I think we should have promised each other. Seems like a renewal of vows is exactly appropriate for that reason. I've already written a first draft of my vows and am very excited to share them with my husband.

View Quoted Comment

J Fly, That's what LOVE is about. Respect, Accept, Support each other through the years. Most important grow up together and make dreams come true, surpassed time and keep moving forward.

Enjoy the Journey!!!!!!

View Quoted Comment

Amen to that!!

View Quoted Comment

Eniale,

Mature is part of the process.

It make me happy to see when a couple can look back in time and see the accomplishment not only as couples but personally as well.

I'm in the same boat. I don't know when we should do it.

My husband and I got married in 2018. We have had a lot going on since then, 2 kids, new business, new jobs, new home, COVID, work accidents.

We feel like we have lost the spark a bit in our relationship and we want that back. We spoke about doing a vow renewal plus we could invite people we couldn't invite the first time.

We want to tell our parents but not sure how to approach it as they are old school and might see this as a stupid idea. Any ideas would be a really big help.

View Quoted Comment

Every Love story is so different but equally worth celebrating!!!!

Dream the day as you wish to happen…then make it a reality. Only you two know when the best time will be.

Don't ask for permission to be happy and celebrate your blessings. Best wishes to you!!!!
WeddingWire celebrates love
...and so does everyone on our site!
Learn more
Groups
WeddingWire article topics