The day goes by so fast, but I felt like I was present and in the moment the entire time. We are both so happy with our wedding day, and don't have any huge regrets or things we wish we could do over. I got to marry the love of my life in a beautiful ceremony, and spent the rest of the night with our loved ones celebrating. We both feel so blessed, and these forums were so helpful! We invited 225, had 125 RSVP yes, and had 1 no show. We used The Knot for our wedding website & Amazon for our registry (both were awesome). We planned on having the ceremony outside and doing a wood branding unity ceremony. Well a huge storm passed through from 2 PM - 6 PM so that wasn't possible, our ceremony was delayed 45 minutes waiting for a guest bus that was stuck in traffic (because of the storm). Our ceremony started at 5:45 PM inside. Luckily, the space was stunning and a lot of guests didn't realize it was our backup space.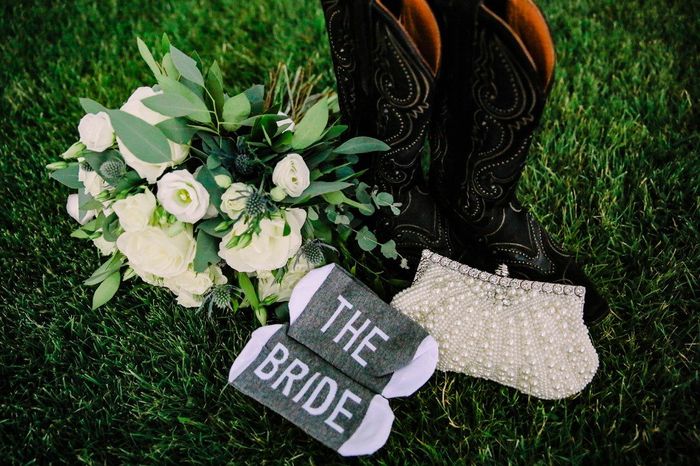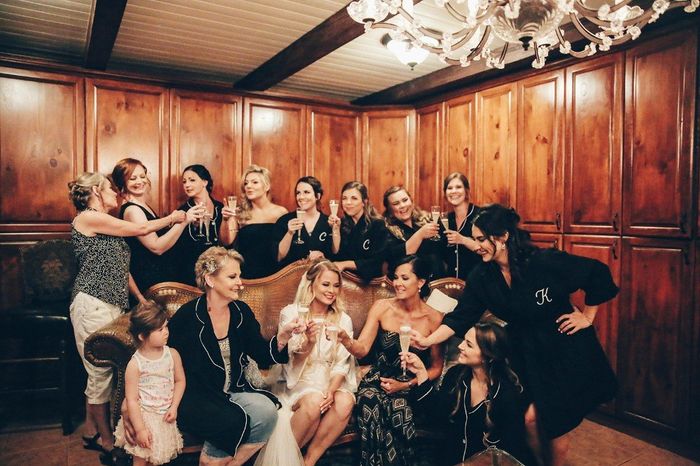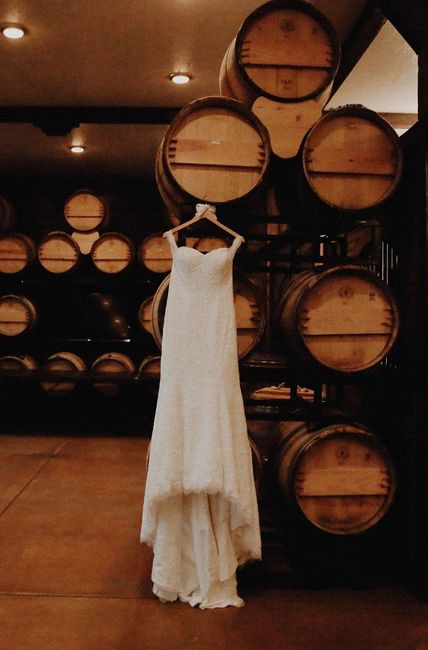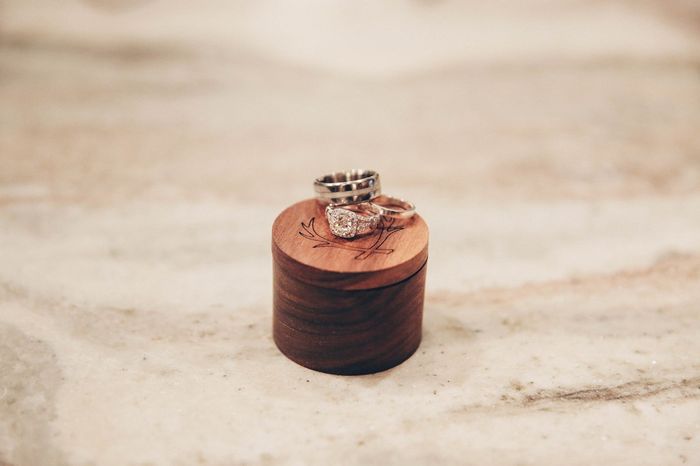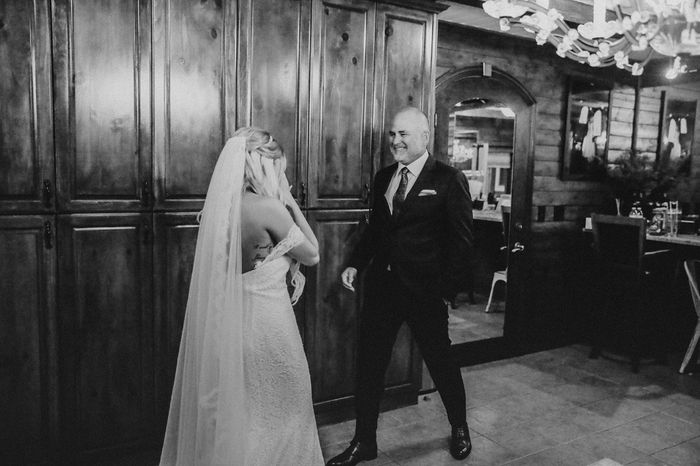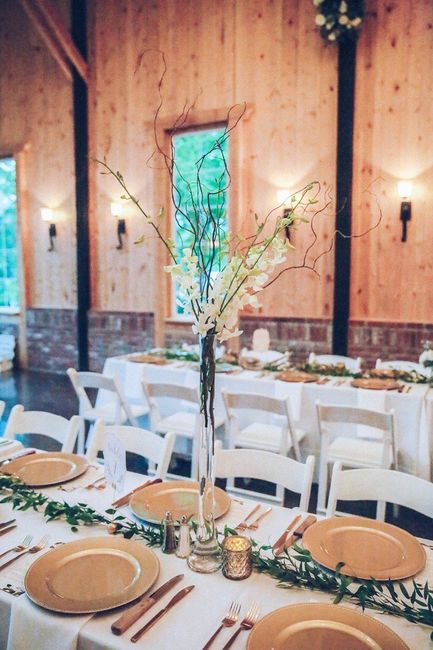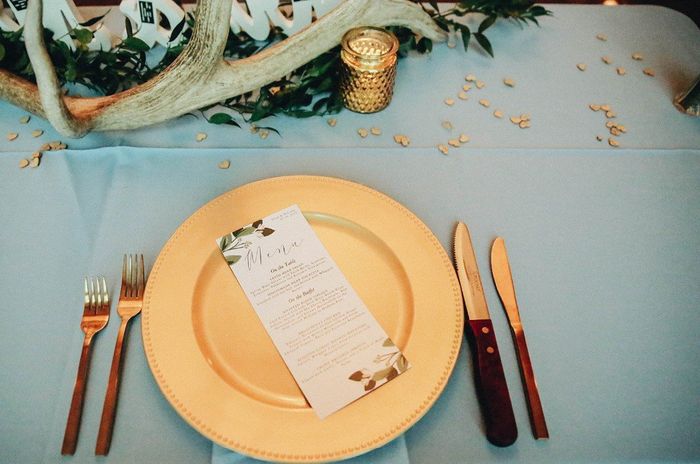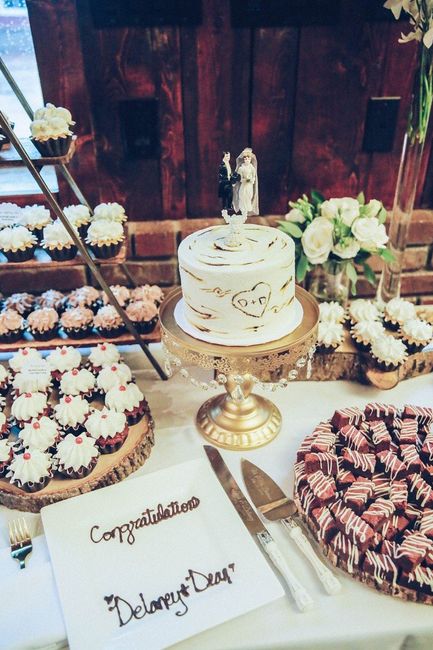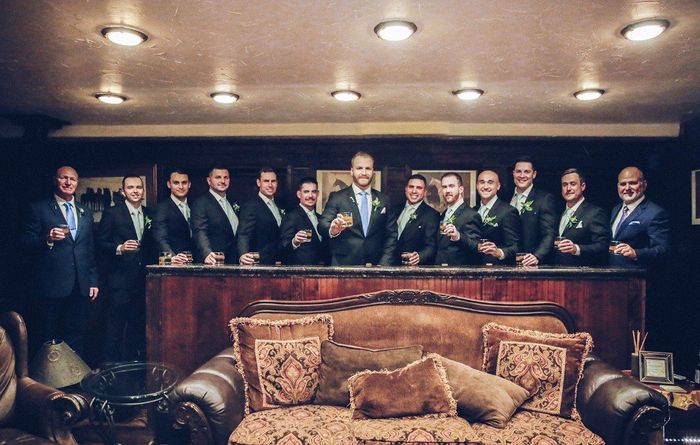 Things I'm Happy We Did...
We let the bridesmaids be themselves.
I picked a color, fabric, and length from Azazie and let the girls pick their own dresses. They had over 100 options from $89-$169 but I told them 14 months in advance so they had a super long time to order and several took advantage of 10%-15% off sales. I skipped the "order within 24 hours for one dye lot" because there was no way I was organizing 9 women to get their dress the same day. All the dresses looked great, I couldn't tell the difference in color. My MOH was in a slightly different blue so she would stand out. I paid for their HAMU (two opted to do their own makeup) and let them pick 100% their own style for both. They picked their own shoes & jewelry. I'm so happy I did that, they looked more like themselves and not like bridesmaid robots. They were unique but still complimentary. I paid for breakfast & lunch from Panera. I gave them 3 options for getting ready outfits (cotton waffle robe, long PJ shirt, or romper) and let each girl pick their own then I ordered it. I also got a chair masseuse for the bridal suite and that was fun for everyone. No one seemed stressed (including myself) which was super nice! I wanted everyone to feel fancy & pampered all day.
We made the wedding a whole weekend event.
Everyone spent time together Friday, Saturday, and Sunday. We made sure to be together for meals, hanging out, at the hotel bar, etc. Everyone mingled and it made for such a beautiful weekend. We had way more than just the wedding reception, which was necessary since so many guests were from out of state.
I over-planned and was meticulously organized.
We spent 19 months planning total. For each vendor, I emailed/called at least 20 people. I read reviews on The Knot, Wedding Wire, Yelp, and Google and asked questions about bad reviews. I sent a lot of emails and detailed schedules and scheduled phone calls with every vendor prior. The day of, every vendor was perfect (besides transportation being late - but that was due to an accident on the Interstate and no amount of phone calls would have changed that).
We prioritized alcohol, food, and DJ.
To us, these are the most important for a great party. We spent a lot of time finding an officiant, and had the most beautiful ceremony. Then after that was done, we wanted a huge party. And we had one! Everyone was dancing & drinking & laughing, and I know a lot of that was due to an open bar, great food, and a fun DJ.
We got a limo & did a grand exit.
I was going to skip these but my fiance insisted. It was nice to have the 30 minute drive to ourselves back to the hotel & arrive 10 or so minutes before all our guests did!
We provided guest transportation.
Both 55 person buses were almost full, which made us super happy! Everyone loved the transportation and most our guests used it (probably 85% of our guests were on it). No one had to worry about drunk driving or getting lost. Our wedding was 30 minutes south of Denver in a very small rural town so no lyfts, ubers or taxis. One bus was late arriving to the wedding (major rain caused an accident and they got stuck behind it) by 45 minutes so that really bothered me since I had advised they take a different way. But everything ended up okay!
We invited kids & hired a nanny.
Our venue had a kids room with a TV & bean bags. We hired a professional nanny service to hangout in there with crafts & games for kids. We included an insert in our invites (to families with kids 10 and under) stating what the kids menu was & talking about the kids room if people wanted to use it. Several parents opted to leave their 1-3 year olds in there during the ceremony. We invited all kids and are so happy we did! They were all well behaved and added such a fun energy to the evening.
Shaggy the Beer Donkey!
We spent $200 on Shaggy, and we are both 100% confident it was the best part of our wedding for so many people hahaha!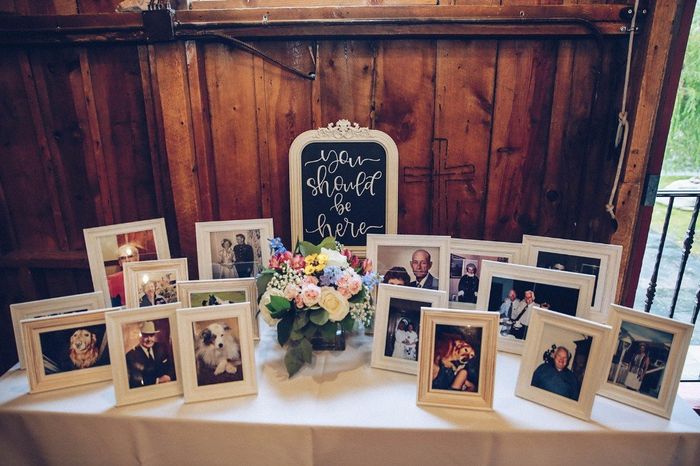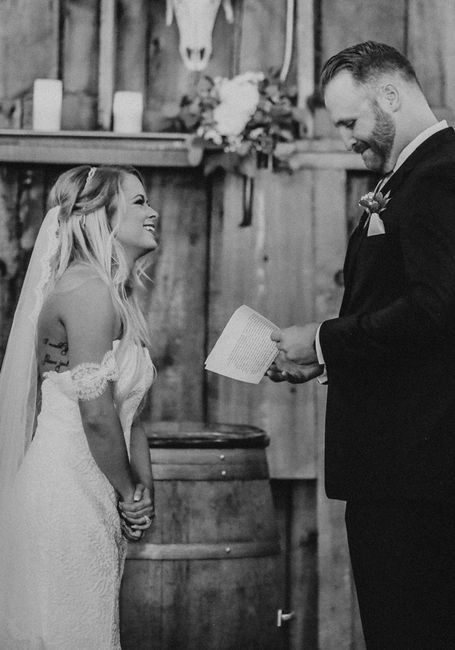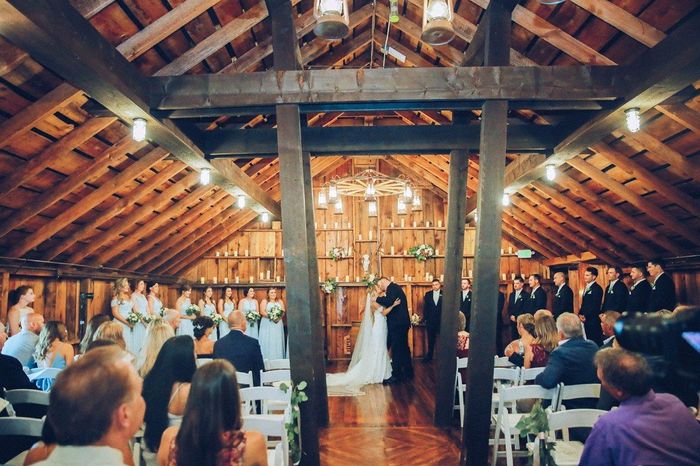 Things I Wish We Did...
Give someone your photo list other than your photographer.
I wish I would have told a bridesmaid or someone "hey, I really want these 3 pictures so make sure I get them". We got a ton of pictures, but I do wish we had taken more posed ones with the entire wedding party and a few more family ones. You'll never get this day again where everyone is dressed up and together, so take advantage of it. I was sitting in the bridal suite for 45 minutes waiting for a bus to arrive, we could have easily been taking a ton of bridesmaid or mom photos together.
We didn't get enough candid pictures with our guests.
Whether it's on a cell phone or with your photographer, do it. We were busy talking and dancing and if we would have taken even 3 minutes to take some pictures, we would have a lot more. I'm a big picture person so that's why it's mentioned so much, it's really my only regret for the entire day.
We totally forgot to plan a welcome speech.
We both said something quickly but it wasn't planned and I wish it was a little more meaningful. We said thank you at the rehearsal dinner and I thought more about that speech than I did the wedding day speech since I had a million other things to be thinking about.
We spent too much on flowers for sure.
We spent $3,900 total and we didn't need to. The flowers on the ceilings cost an additional $900 with flowers & set up & the fact that the florist had to come back for everything to take it down at the end of the night. I didn't even see the flowers for more than 30 seconds, they weren't needed. To be fair, flowers were important to my mom so I let her take the lead but even she realized we did too much.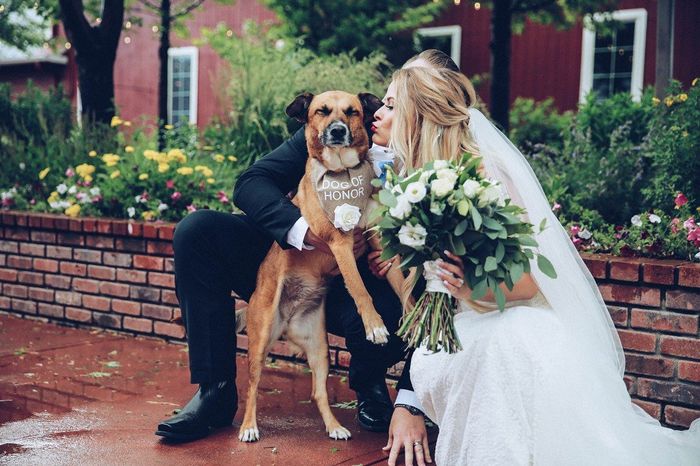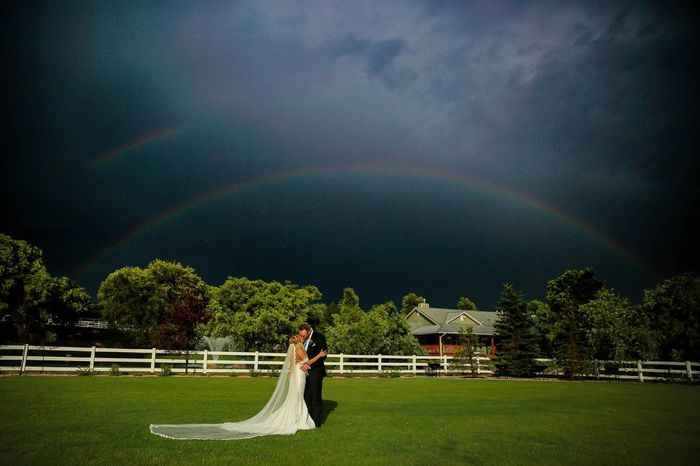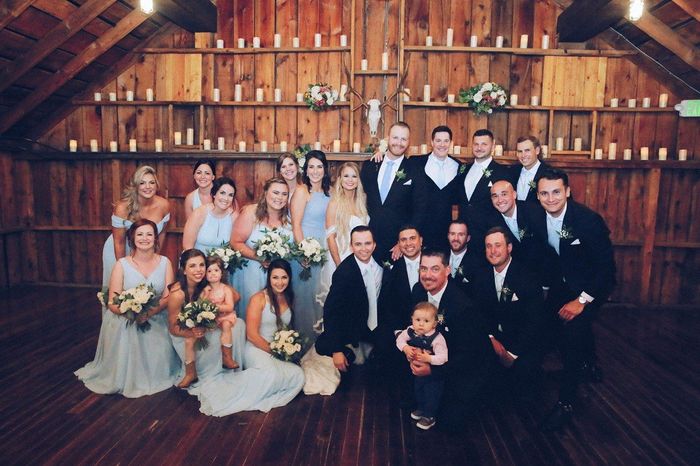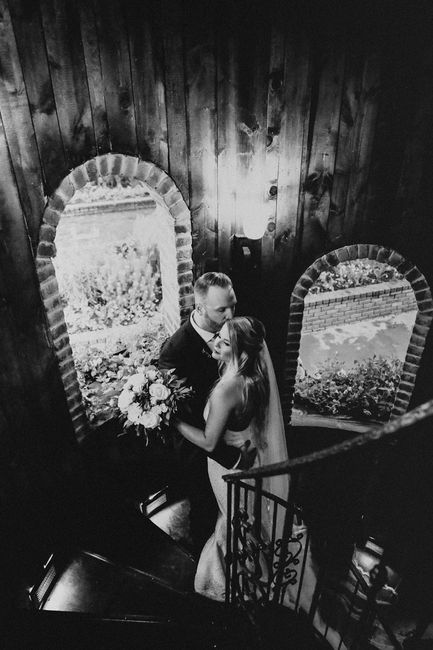 Taboo Things We Did (With No Regrets)...
We had an uneven & large wedding party.
We had 9 bridesmaids, 10 groomsmen, 1 dog of honor, and 2 flower children. It was expensive, but we planned for that. You couldn't tell it was uneven in the pictures or at all, and we were able to include all our closest friends.
All bridesmaids got the same gifts, and I paid for their HAMU and considered that part of the gift.
They all got totes, water bottles, getting ready outfits, socks and their hair and makeup. 4/9 of my girls had never been bridesmaids so the cheesy gifts were something totally new they had never received. Only 1 of my girls was a seasoned bridesmaid and she loves monogrammed stuff so it was fine for her. The other 4 had only been in 1 other wedding, so again, it wasn't like they had 6 totes from being bridesmaids. Several had never got their hair or makeup professionally done and were so excited to have the special treatment. They all like being pampered (like me) so having fancy hair and makeup was fun.
We had tip jars out for our bartenders.
We paid for a full open bar ($5,600) but didn't cover tip. I was pretty tired of spending money (tbh) and thought the bartenders may get more through the guests (especially in cash). No one minded that I know of, we didn't have a money dance or honeyfund or any other reason for guests to pull out cash. We provided transportation too. In our friend group, having a limited open bar or cash bar is more common so the fact that we had a full open bar at all was a huge plus.
We had personalized favors, reception menus, rehearsal dinner menus, ceremony programs, full wedding website, welcome bags, save the dates, and personalized signs.
Not sure if this is "taboo", but a lot of people say it's a waste of time. I didn't think it was. It made everything very meaningful and personalized for us as a couple. We had barely any favors left over, and we ordered extra.
We spent the night before the wedding together.
We both slept super well, and woke up refreshed and calm!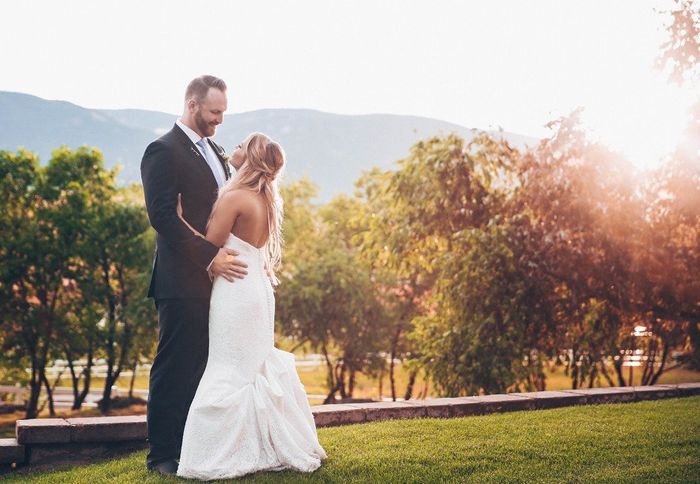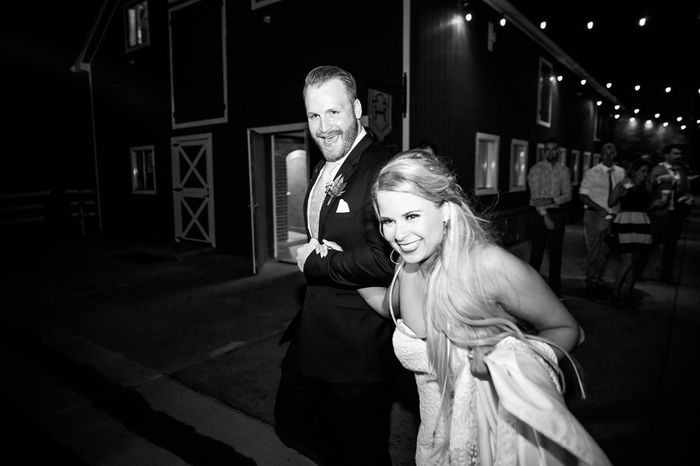 I advise future brides to stay off your phone & social media & wedding wire during the entire weekend of your wedding. Focus 100% on your friends and family, not on your phone. You can post much later, you don't need to post the morning of or right after. Focus on you & your husband!
Overall, it was the best day of both of our lives and we are so happy. You can't control the weather or the transportation delay, so I didn't want to dwell on the 45 minute delay or moving the ceremony inside. I'm overall super happy with the pictures & the whole event. We are enjoying married life & the continued renovation of our fixer upper!
Wedding Wire restricted me to a max of 20 pics, so there are more pics in comments!