First - thank you to the WW fam for your support (of me and of everyone here!). Be kind to each other - we're all going through a lot right now. That includes those moving forward, scaling down, cancelling or attending/ conflicted on attending a wedding event. Make the best decisions you can for yourself and your guests.
Our day was spectacular, although very different from what I imagined. I'm going to breakdown our COVID wedding below, and include some links to templates I made that might help some people out. I'll do a separate post on budget tracking when I lock all that in.
***Event Details:
-September 12, 2020

-Day of: Broadview Events

-Venue: Historic Jordan Springs in Winchester, VA - All Inclusive, including photographers, DJ, catering, bar service and cake

-Bridesmaids Dresses - Azazie (picked the color, they did the rest)

-Bride's Dress - See my post here on my Franken Dress, done by My's Bridal Alterations

-Groom's side suits - Men's Warehouse

***COVID Changes:

-Original planned invite (based on Save the Dates): 154

-Reduced invite list: 115

-Accepted at RSVP deadline: 83

-Declines after RSVP deadline: 62

-Actual attendance: 56

Masking:

-All vendors wore masks - inside and outside

-All bridal party wore masks once inside, but did not mask for the ceremony (outside).

-We provided masks in baggies for people's use, and had the officiant announce that we'd request everyone wear one when not eating/ drinking.

-The DJ announced that if you came on the dance floor, you needed to be wearing a mask. Everyone followed this rule to the letter - I was on the dance floor *all night* and basically stared anyone down that tried to approach sans mask. LOL

Covid Testing and Info:

-We put an insert in our invites, made a FB group where we provided reminders on testing/ masking for the event, and fielded plenty of questions about how we planned to reduce risk.

-Our entire bridal party and their dates got tested within the week of the event, and made steps to reduce outside interactions for the week before - they were all so amazing to take these extra steps for us and our guests! It made us all feel much more comfortable and trusting getting ready together/ going out to eat.

-We offered to pay for any co-pays for people's testing - no one took us up on it, but another ~10 guests did also get tested the week of the wedding.

***Timeline

-Rather than lay this whole thing out, I just took out the name details on my Master Timeline google doc that I made. See the link - feel free to save this for your own use! I made copies of this for the vendors, for our families and for the bridal party. It really helped as it laid out who was getting where/ when (and what car they should be in), the songs to play for each, the shots we were looking for from the photographers, etc.

https://docs.google.com/document/d/1xB3yE_Orn_ZshlJJWt0raVCqDN935RRgVqqppP2k5GA/edit


***FYIs and Tips

-If you need tips on a prep bag, please see this post link. I legit used so much from my prep bag - I had to superglue my bouquet ribbon in place, we had a safety pin issue on a dress, etc.

-Try not to pull any big changes on the day of - I thought bringing a crinoline to put under the dress and cutting it to the right length would be quick and easy. Lord bless my day of coordinator (Leanne) - she was down on her hands and knees up under my dress with both of my bridesmaids helping do this process for almost 45 minutes to cut it so that it still had lift at the back but didn't show from the front. We had the time, but my goodness.

-Hydrate! Get that coconut water and snacks, and just keep yourself at an even keel if you can.

-I highly recommend the Headspace app. I was having sleeplessness and anxiety for a few weeks before the wedding, and listening to the meditation the morning of (at 4am, you know...the usual) was super helpful.

***My Favorite Parts of the Day

-Our ceremony and vows - my partner cried the whole time, and then pulled out a little scroll with his vows to read. They were perfect.

-Watching episodes of The Office with my bridesmaids and eating fried yucca since we finished hair and makeup so early.

-DANCING - you don't even understand. I felt like I led a CrossFit bootcamp out there - the people that hung with me the whole night were troopers, especially masking the whole time!

-Chilling in the hotel lobby with a select few after everything was over - just having beers and relaxing.

-Staying up with my partner and opening the cards and reading them to each other - this may have been the sweetest moment of the day hearing how much people loved us and supported us in this.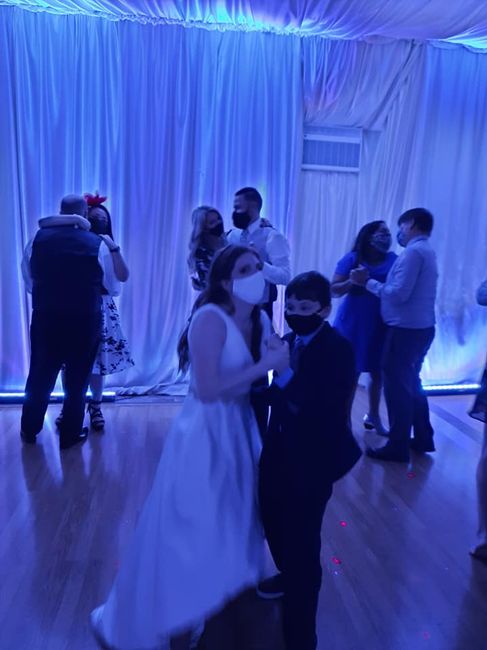 Cheers!