Long post, budget breakdown and pic heavy!

Hello everyone!! It has been a little over two months since my amazing husband and I took the leap and tied the knot. I wish that I could have written this sooner, but we went straight to our honeymoon then moved into one house together.
First, I want to share my crazy week that I had leading up to the wedding day. I went to work Monday – Wednesday (wish I didn't), I was sent to our different locations to work remotely those days, which I do not mind because they are closer to my house. On Tuesday, I was told that there was a staff meeting that I had to be come to that afternoon, so I was a little upset because our main office is 30 minutes from where I was working. Well when I got there I was told that the meeting was in a different room due to remodeling and when I walked in I saw it was my awesome coworkers throwing me a surprise shower. Wednesday flew by then I was off for the next few days leading up to the wedding. I had my final dress appointment to make sure that I could sit in my dress. I had to get the sides taken out because it was uncomfortable to do anything in my dress.
On Thursday, I had my hair appointment to get my hair extension installed, so my hairstylist could do my up-do for the wedding day, then I ran some errands and picked up custom shirts (which never made it to the groom…which is another story). I had to pick up my dress from alterations then had to pick someone up from the airport. When I got home, I started on my vows and finished up my custom signs for the wedding.
On Friday, I thought I was going to have a meltdown. I started that day with a smile on my face with so many things planned to get done. First, we had an appointment for mani and pedi's and at this point I was making last minute changes to our signs that were to be printed at office max. My husband and I then went to apply for our marriage license, which was very easy. We then went and had breakfast and everything was going great…too great. After breakfast, we headed to OfficeMax to get our signs printed. This is where all the mayhem starts!! I walk into OfficeMax with a smile on my face, our signs shouldn't take no more than 20 minutes to print. We had a Super Mario Bros. theme, so I had the characters all over our signs and seating chart. We were unable to get it printed due to copyright. I immediately started to freak out because I was supposed to drop all these off later that evening during rehearsal. We then went to Target to buy a printer and ink. Yes, I walked out of OfficeMax because I was upset to go to Target.
I was able to get some of the things printed off and then it came to my table numbers and seating chart, this was not printing like I needed it to. I kept trying and trying and the time slipped away from me. I still had to stop by and pay the donut shop that was supposed to do our favors for us, get to rehearsal, check in at the AirBnB and pick up a package from an Amazon locker, get back home for rehearsal dinner and finish my vows. I will cut the story short and let you all know that I was late for rehearsal, but I got everything done around 4am.
On Saturday morning, I woke up forgetting that I never got printed pictures for the frames that I purchased, so I had to run to Walgreens to get it printed. I had all my bridesmaid go to my sister's house because the AirBnB had a very tight driveway. I ended up getting everything done that morning then headed to my sister's. When I got there my niece (junior bridesmaid) was nowhere to be found, but for some crazy reason I thought it was best for my make up to be done last. While I was waiting for my niece's makeup to get done, I had my cousin do my hair. She is a stylist, but was freaking out because it was an important day for me and she did not want to mess anything up.
I was supposed to be at the venue by 2pm, I had to send my sister and 2 bridesmaids with my dress, accessories, shoes, etc. so the photographer could get detail shots. I ended up getting to the venue at 3:15pm and started to panic because I was still missing two bridesmaids at the point, but my photographer told me to relax because we had time and she would make sure that we got all the shots we needed. Since I was waiting for two bridesmaids, everyone ended up just getting dressed, so I never got any getting ready pictures, with the robes that I got everyone (which makes me a sad, but everyone loved their robes, so I'm not upset). When my final two bridesmaids showed up, we took our pictures and the day went on.
My husband and I did a first touch and we read our vows to each other. After that I convinced him to do a first look with me and he agreed. So, I asked him veil or no veil and he said veil I want to see the whole look. So, I said okay let me go grab my veil and I'll be back. Well I switched spots with his best friend, who was dressed as Princess Peach lol! Their first look ended up being perfect and he did not expect it at all. His best friend told all the groomsmen about the first look, so when I sent to custom shirts to my husband, they thought it was the Princess Peach costume, so they hid the bags without ever looking inside.
By then all our guest were arriving and then the ceremony started 😊. Everything went well during the ceremony, except my long romantic cathedral veil got stuck in a rose bush and I tried to play it off lol. I thought that I would trip walking down the aisle, but the veil getting stuck in the bush was totally me. It also stopped me from crying, which I was happy about because my MUA had an emergency and had to leave. The day goes by so fast, so I am so glad that we could get a videographer. By the time 9pm rolled around, the fact that I only got FOUR hours of sleep hit me and I was ready to go lol. I ended up asking the wedding coordinator to do the sendoff early, around 9:20ish, so close to our end time. People just don't party late like they used up, our reception was supposed to last until 9:30pm and everyone started leaving around 8:30pm after we cut the cake.
What I would do different: I would have sent my prints off to Vistaprint earlier lol, but besides that ABSOLUTELY NOTHING!! It's over and will be one of the best days of my life. I can't keep thinking about what I should have done or not done. I plan on enjoying our marriage and lives a full and happy life with my husband.
TIPS: When the in-house wedding coordinator tells you that adding an extra hour is not necessary…believe her! Do not stress yourself, if someone is late! If you, your husband and the officiant shows up that's all you need for a wedding. Do not stress and everything will work out 😊.
Good Luck! If you have any other questions for me, please feel free to ask 😊!
Budget: 25,000
Total spent: $24,083.36
Number of Guest RSVP'd: 125
Number of Guest in attendance: 123
Venue (Rose Hall Event Center): $10,660.28
All-inclusive venue included: Tables, chairs, linens, centerpieces, glasses, plate ware, charger, cloth napkin, stainless flatware, sweetheart table with décor, dance floor, bridal party flowers, wedding cake, cake cutting service, appetizer table, sit down dinner buffet, food tasting, non-alcoholic beverages, alcohol, bartender and sheriff, day of coordinator, DJ, set-up and clean up, servers, décor, bridal suite, groom's suite, ceremony site, reception site, sparklers and gratuity.
Bride's Look
- Dress: David's Bridal: covered by parents (Cost: $1,121.48)
- Alterations: $714 (I covered my alterations and my moms, this included rush fees)
- Veil (Etsy): $72.90
- Shoes (Belk): $47.56
- Reception Shoes (Keds): $47.66
- Super Mario garter (Etsy): $36.50
- Jewelry & accessories (Etsy, Claire's, David's Bridal): $335.64
- Hair: $155 for extensions; up-do was free
- Makeup: $85
- Nails (both bride and groom): $125
- Spanx (Kohl's): $39.00
Groom's Look
- Tuxedo rental (Men's Wearhouse): $0 (free because of number of rented tux)
- Hair: $20
Photographer (J. Blanch Photography): $1,685
Videographer (Palmetto Films): $1,000
Cake: (we added some things that were not included in our package): $148.40
Groom's cake: $143.10
Donuts (as favors): $111.24
Up-lighting by DJ: $120
Officiant (family friend who refused payment): $250
STDs & Invitation (made on Greetings Island website and printed at OfficeMax): $51.78
Envelopes & postage (we hand delivered and emailed most with online RSVP): $53.08
Photo Booth (Royal Images Plus, 4 hours): $380
Marriage License (we did pre-marital counseling with officiant): $16
Rings (Zales): $1,835
Wedding Party, bridal proposal & Other Gifts (Etsy, Amazon and custom shirts): $887.94
Custom Unity Lock Ceremony: $77.70
Custom Drop Guestbook: $168.75
Custom Toasting flute and knives: $159.60
Ring bearer pillow: $38.50
Flower girl basket: $17.10
Cake toppers: $37.51
AirBnB for weekend: $293.54
Last minute printer and ink: $117.66
Miscellaneous (Sodas, frames, gift bags, cards, and other things not remembered): ~$500
Honeymoon cabin for a week: $1,652.92
Food and activities during honey moon: ~$1,000
Loss from previous venue non-refundable deposit: $1,000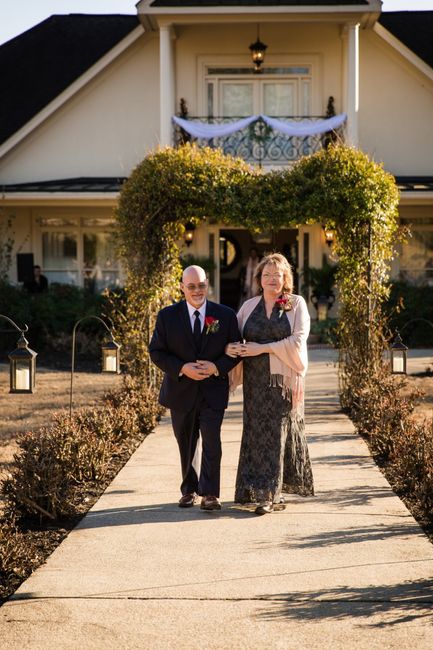 DH parents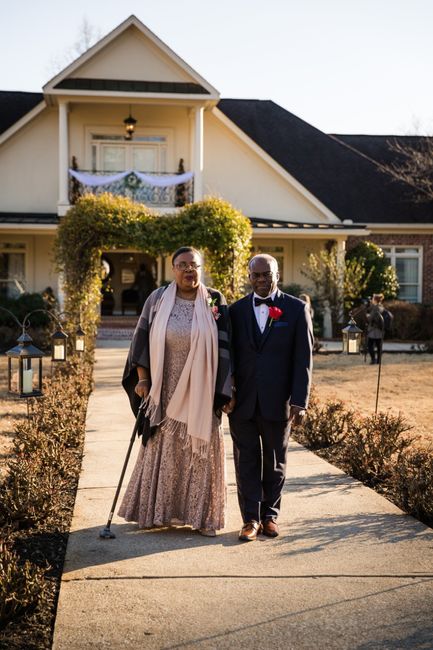 My parents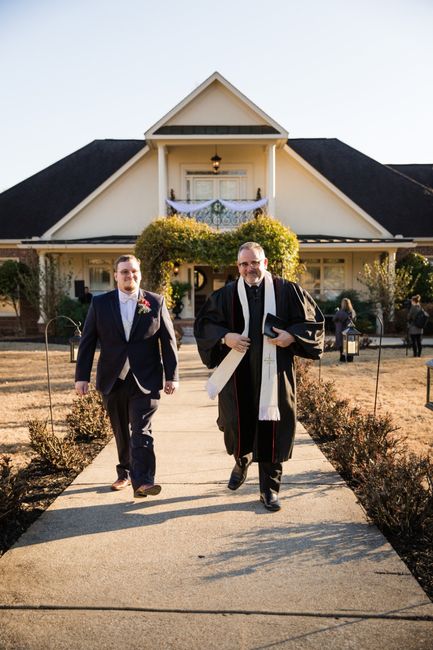 DH and officiant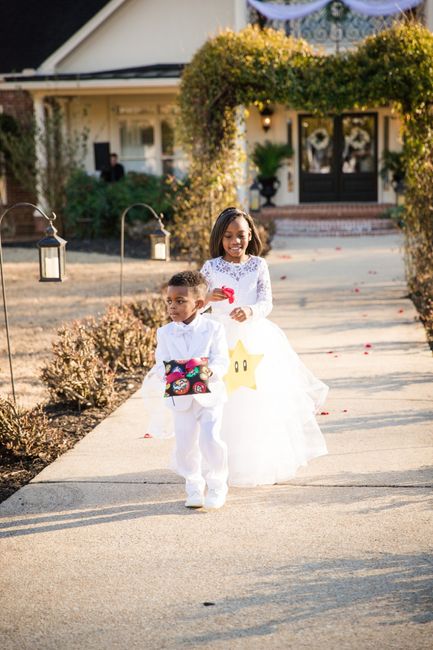 FG and RB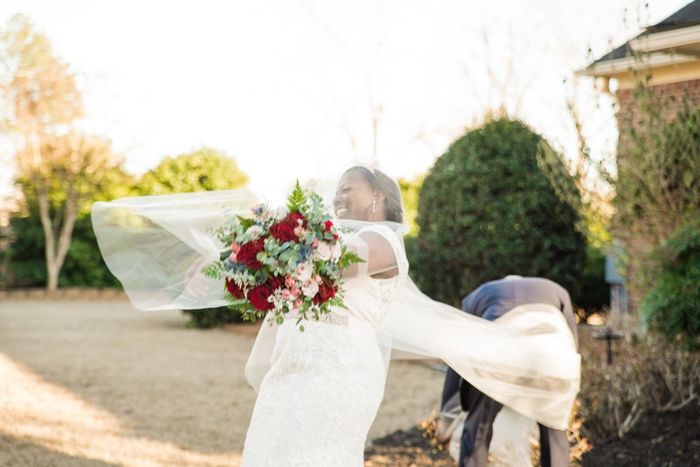 When my veil got stuck in the rose bush lol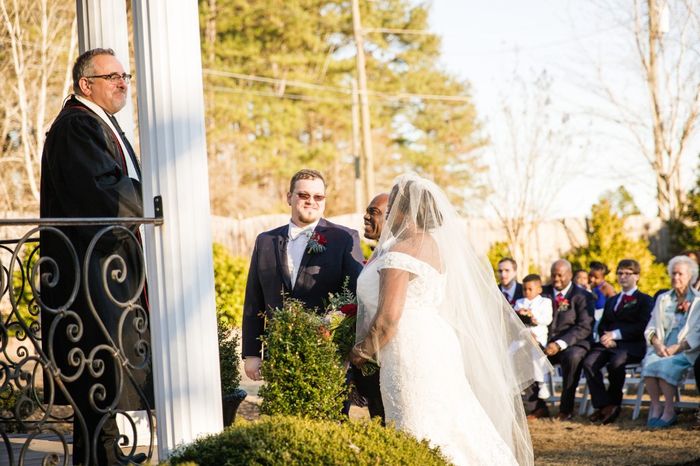 My dad giving me away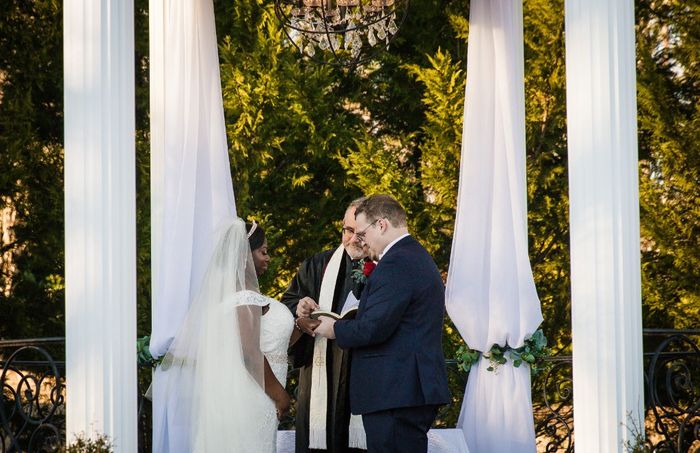 DH putting my ring on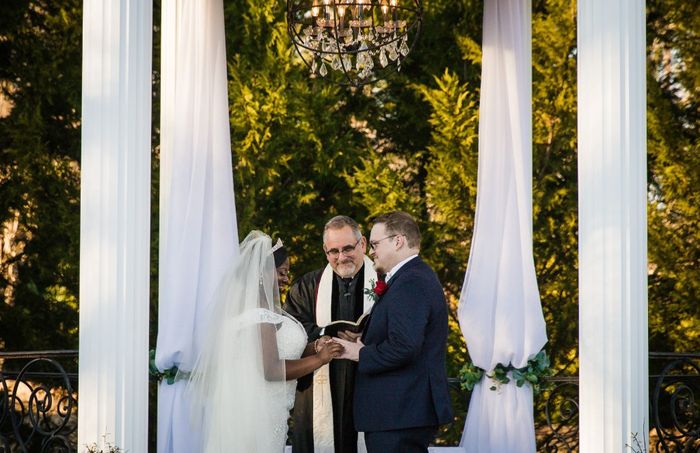 Putting DH ring on
Our custom Lock ceremony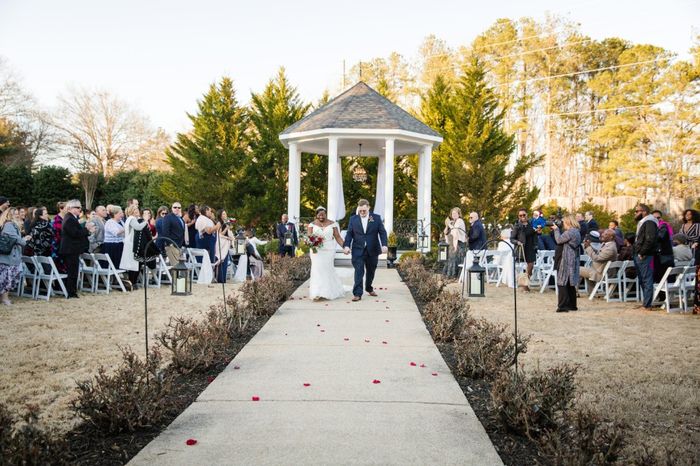 Husband and wife!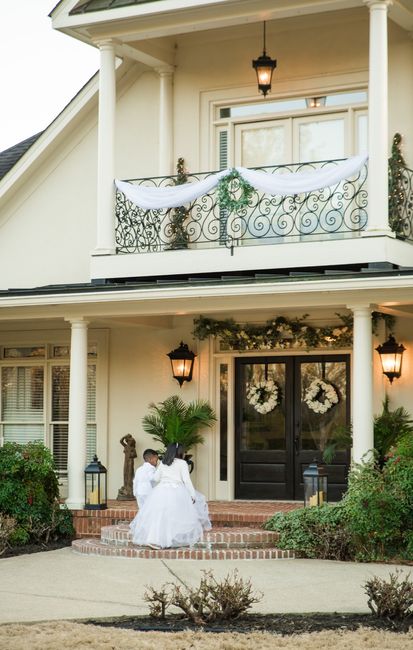 FG and RB after ceremony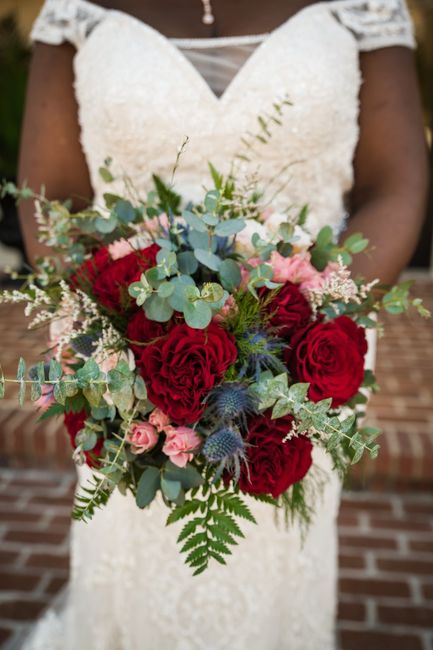 My bouquet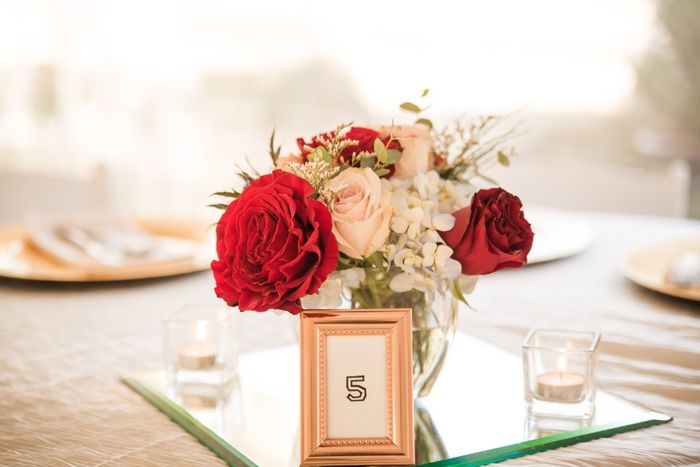 Table number and decor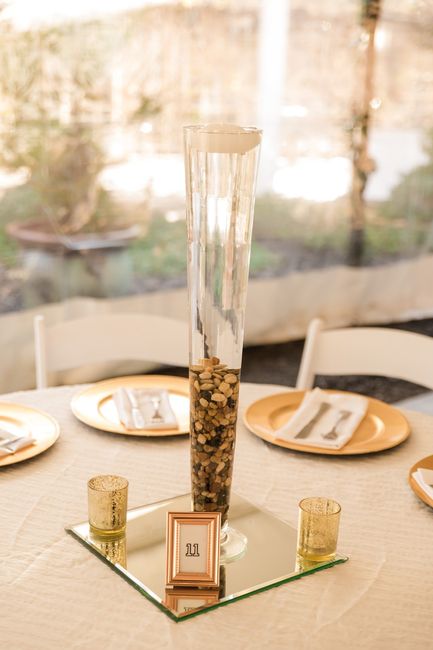 Table number and decor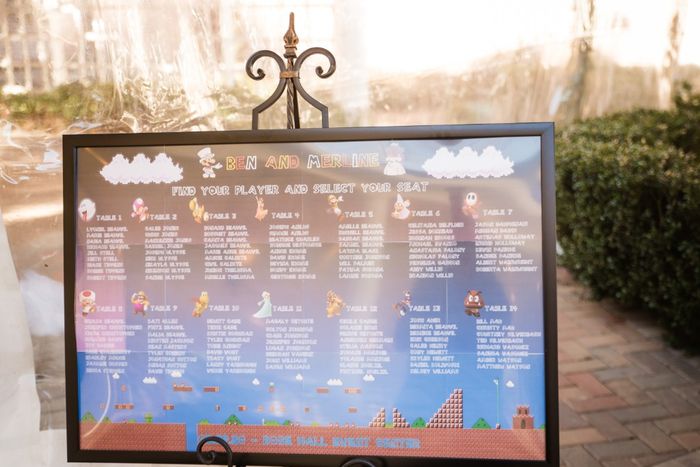 Seating cart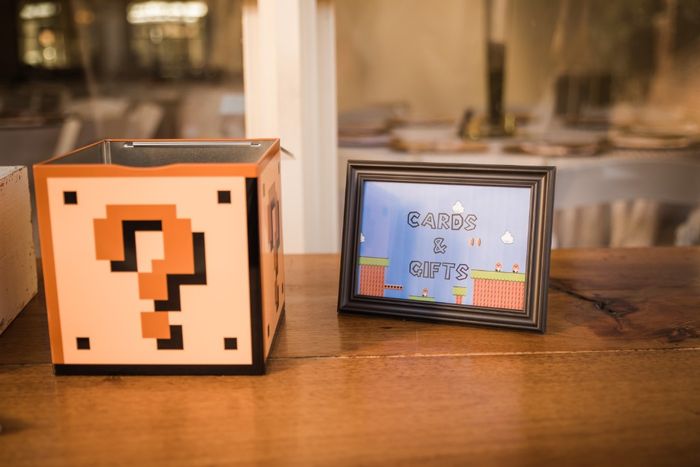 Card Box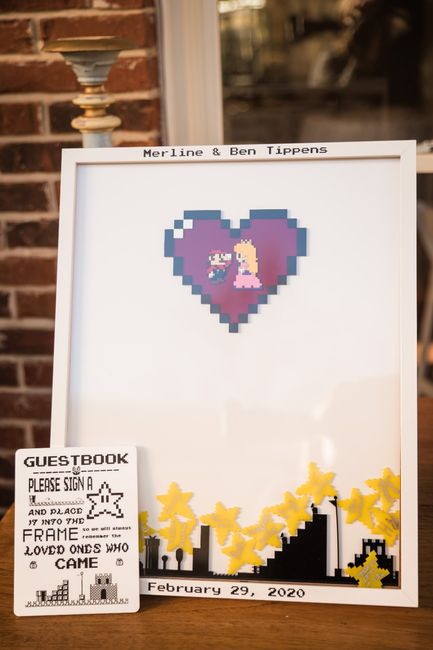 Guest book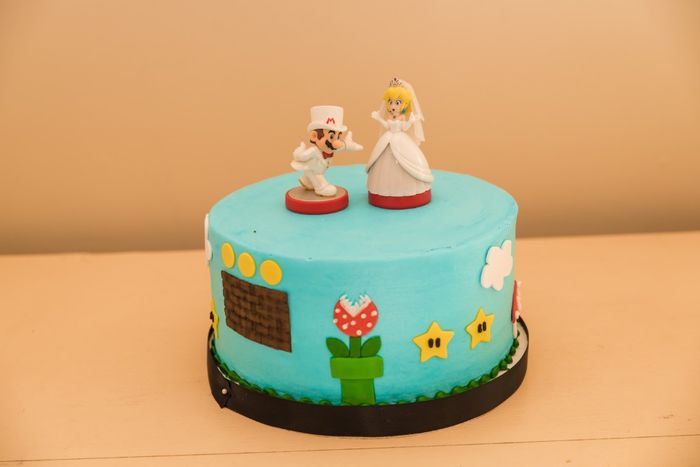 Groom's cake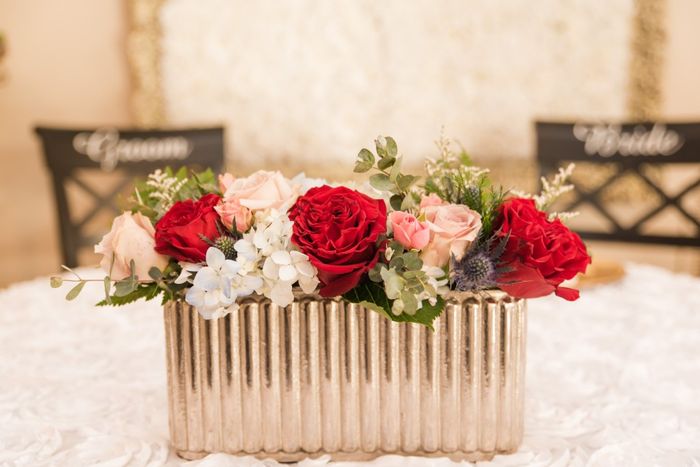 Sweetheart table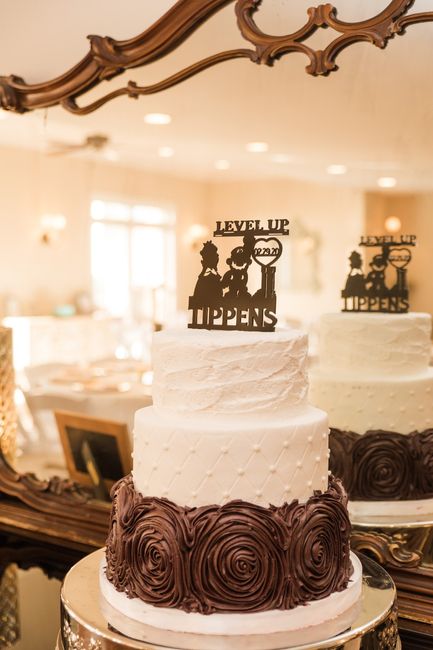 Our cake
After the ceremony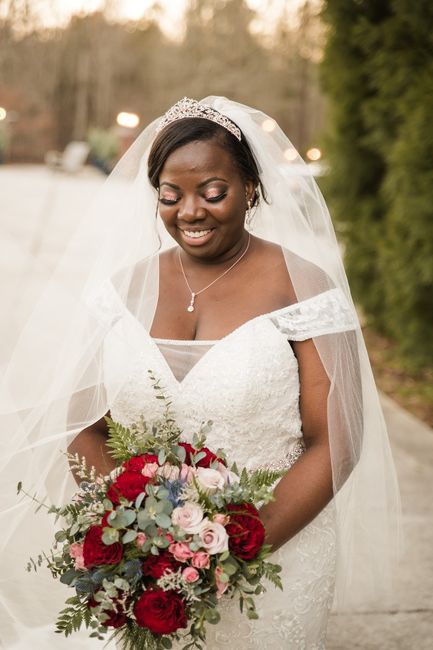 Bridals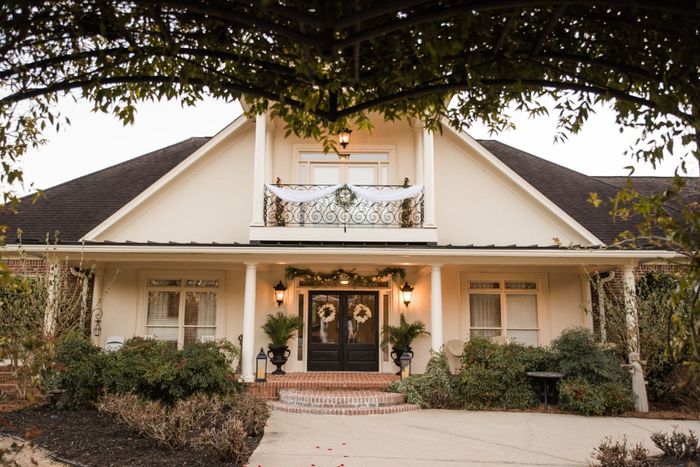 Venue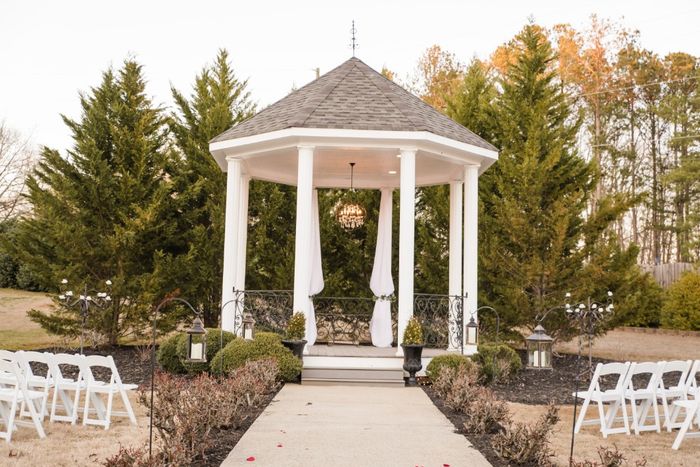 Ceremony site
My jewelry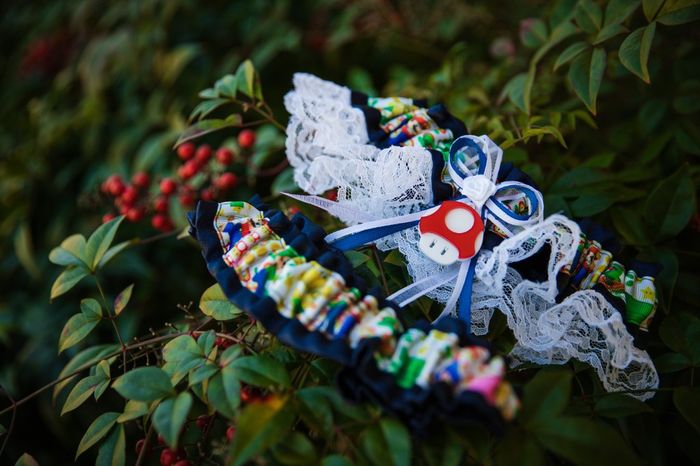 Garter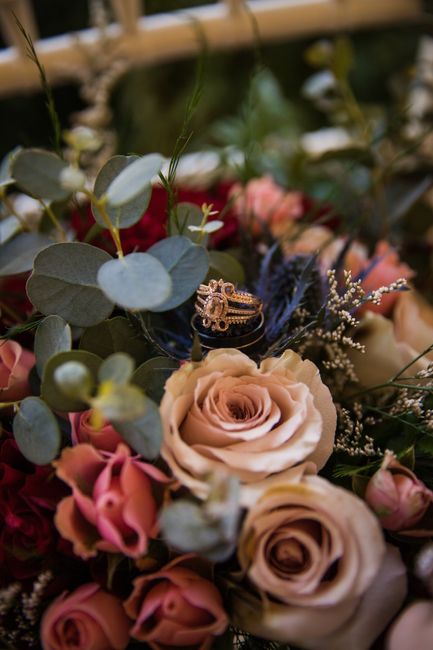 Our rings in my bouquet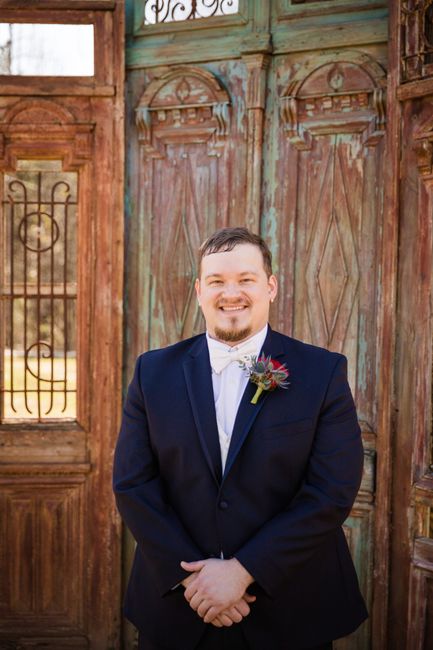 DH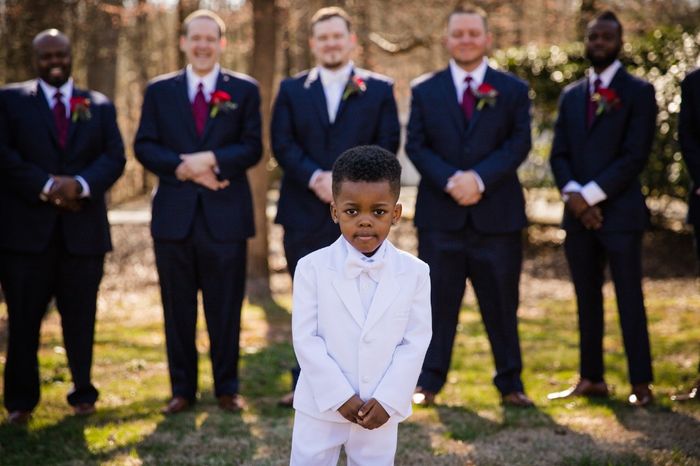 RB taking over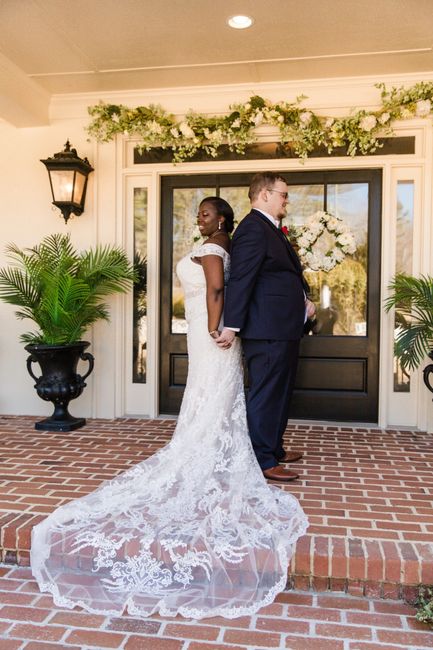 First touch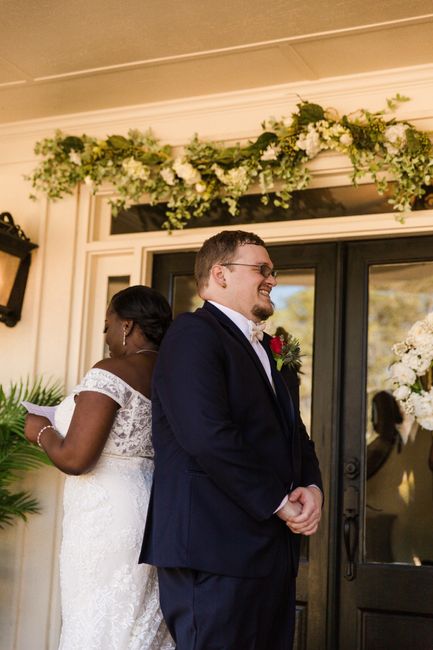 Reading my vows to DH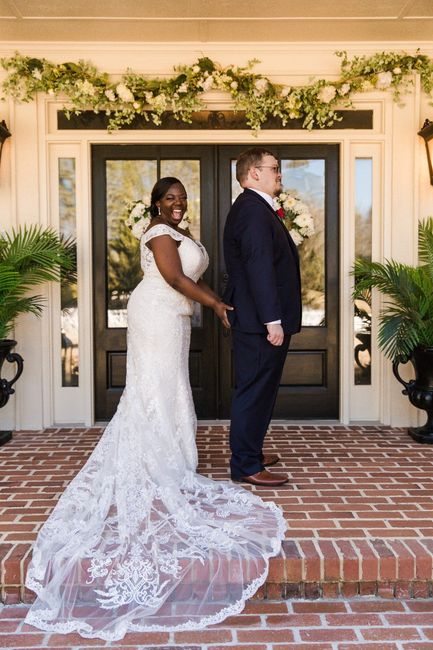 My first touch lol
More pictures in the comments!