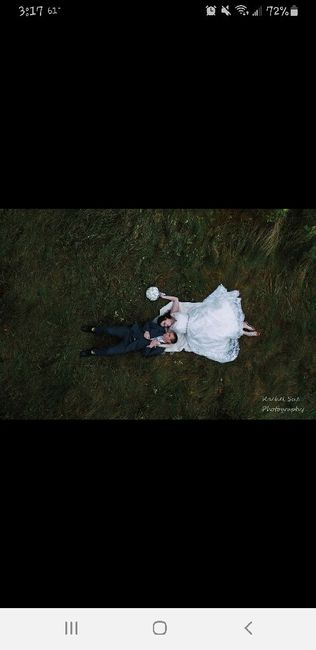 We have gotten 1 photo back so far i love it! Our photographer was amazing!
Our wedding was 9.12.20. The day was amazing! We had 89 people RSVP yes, 84 showed up. The day started off great and moved smoothly the entire day. I was a bit more emotional than I thought I would be right before I walked down the aisle with my dad and I blame him entirely because he started crying while I was doing ok before that lol! Our food was great except for 2 things. The meatballs for cocktail hour were colder than what they should be and so were our green beans. But other than that it was great. My aunt made the desserts and we got a ton of compliments on them! The DJ did good at the beginning but got a bit off track towards the end but at that point I didn't care!
Vendor break down:
Venue: Stoney Creek Hotel and Conference Center. The venue was fantastic! The workers were friendly and professional the entire time. My husband and I are actually sending them and a thank you card and gift card to buy lunch for the employees. We were very impressed! The manager for the event was attentive our needs.
Caterer: Rockman's Catering in Stevens Point WI. food was great. We had for appetizers: crab cakes, pin wheels, shrimp wonton cups, cheese trays, meatballs and chicken quesadillas. Dinner: served garden salad with packets of dressing ranch and French. I hate dressing and they were kind enough to provide raspberry vinaigrette for me. Main course: chicken piccata, roast beef in gravy, mashed potatoes and gravy, green beans. As I said above it was great except meatballs and green beans being cold.
Photography: Rachel Sue Photography out of Nekoosa WI. She and her husband did the photography and they were amazing! We got a ton of amazing shots! Can't wait to see the rest!
DJ: Rewind Entertainment: did a great job, towards the end it got a little slow but a lot of people had left by then.
Bar: provided by venue. We did 2 types of beer on tap. Bud light and spotted cow. 2 types of wine: merlot and moscato. Paid for soda as well. Any hard liquor guests paid for.
Hair: Great Lengths hair salon. My usual person. I paid for all the girls hair and they really appreciated that!
Nothing really went wrong and we had such an amazing time. My now SIL kind of insulted my MOH, because my MOH is pregnant she got married a little over a year ago. My SIL said something to the fact that my MOH got pregnant to fast after getting married. This was the next morning and my SIL's husband told her not to say that which in turn caused another fight between them. But hey it didn't happen at the wedding!
All in all, I barely thought about covid and just enjoyed my day. Im so happy I did. I love my husband and it was the best day ever!!