Reviews
4.8 out of 5 rating
Quality of service

4.8 out of 5 rating

Average response time

4.8 out of 5 rating

Professionalism

4.9 out of 5 rating

Value

4.8 out of 5 rating

Flexibility

4.9 out of 5 rating
97%
Recommended by couples
Awards
55 User photos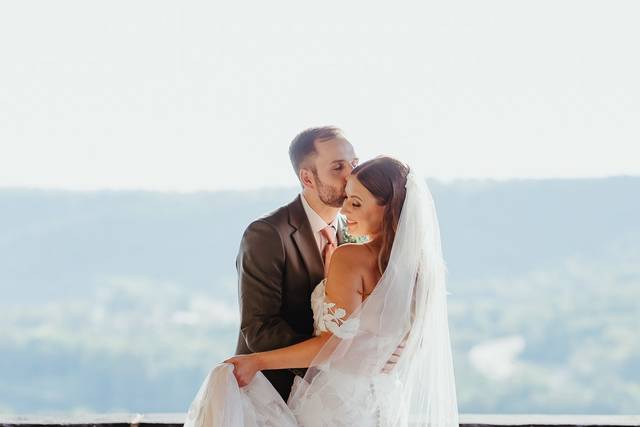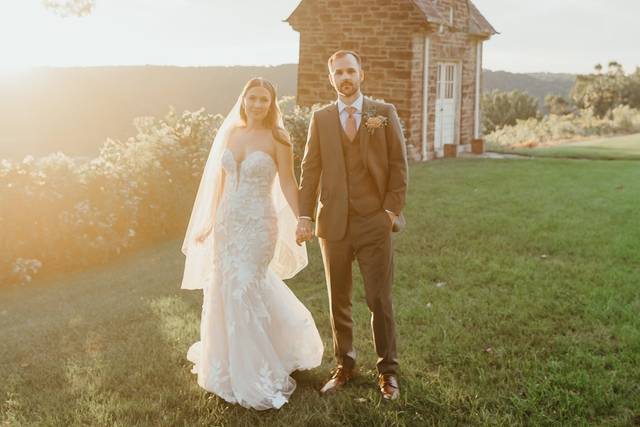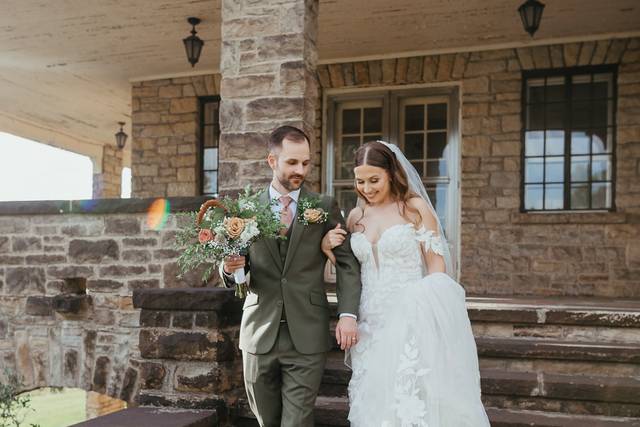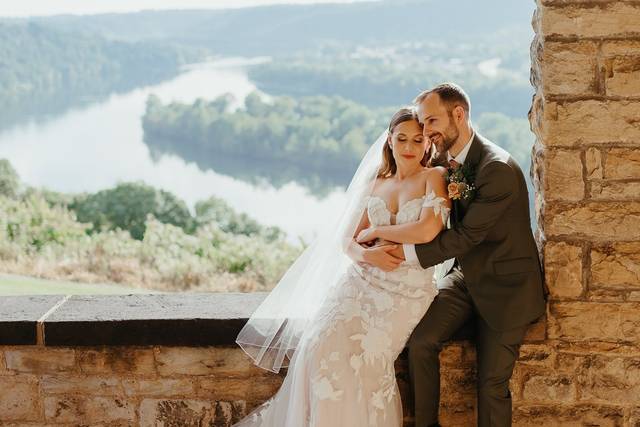 + 51

photos
Julie B.

Married on 09/16/2023

A Dream Wedding Venue!

We had the most incredible wedding experience at Williams Golf and Country Club on 9/16/23, and I cannot recommend this place highly enough! From the moment we drove up to the driveway and saw the beautiful grounds and ballroom, as well as met the event sales director, we knew it would be a wonderful venue for our special day.

The ambiance of the venue was absolutely breathtaking. The romantic crystal chandeliers, beautiful stone building and well-kept grounds, all situated with a gorgeous view of the Ohio River helped us achieve our desired theme of "Earthy French Countryside." It felt like a fairy tale come true, and our guests were equally impressed by the beautiful setting.

The food and beverage service were exceptional. Every dish was not only delicious but also beautifully presented. Our guests raved about the quality of the food, and the variety of options pleased everyone's palate. The bartenders were skilled and friendly, mixing delightful cocktails that added a touch of class to the evening.

One of the standout features of our experience was the outstanding service provided by the staff. The entire team went above and beyond to ensure that every detail was perfect. They were attentive, professional, and incredibly accommodating, making sure that both us and our guests felt well taken care of throughout the night.

We had already booked the venue when they previously did not have "getting ready rooms," but the addition of those rooms as we were approaching the wedding day made our day so easy and comfortable, and made for amazing pictures as well.

We must give a special shoutout to the wonderful event sales director, Carrie Anderson, who helped us think through so many details and provided a fun and humorous energy throughout the whole process. She was an absolute gem! Her expertise, dedication, and calming presence were invaluable. She worked tirelessly behind the scenes, ensuring that everything ran smoothly and allowing us to relax and enjoy our special day without any worries. We are incredibly grateful for her support and guidance.

Our wedding at Williams Golf & Country Club was nothing short of magical, thanks to the exceptional team that made it all possible. If you're looking for a wedding venue that combines stunning ambiance, delectable cuisine, and top-notch service, look no further. Williams exceeded our expectations, and we will cherish the memories of our special day here forever.

Thank you for making our wedding day unforgettable! We are eternally grateful for the wonderful experience and the memories that will last a lifetime.

Warmest regards,

Julie & Gavin Byrum
9/16/2023


+ 17

photos

Elise W.

Married on 08/26/2023

Absolute perfection!

If you are thinking about having your wedding here, do it! Not only is the venue breathtaking, the service is top notch. Carrie is the event coordinator, she is an absolute sweetheart & so easy to work with. She was only a e-mail or phone call away and always had a fast response. The food was amazing, we had guests walk up to us and tell us that we were spoiling them and went on & on about how good everything was. I couldn't have asked for anything more for my fairytale wedding. Thank you Williams Golf & Country Club for going above and beyond!

+ 2

photos

Abby

Married on 08/13/2023

Beautiful venue!!

If you are planning a wedding and haven't checked out Williams country club I highly suggest you do!!! The venue is beautiful as it is and needs nothing extra done to it. The food was amazing and everyone talked about it for weeks! Reach out to Carrie, she's the best!! She was so accommodating and helpful and was always available to answer my questions! 10/10 recommend!!

Are you interested?

Send a message

Megan O.

Married on 06/03/2023

Amazing Experience!

Williams was the top of my list from the beginning. My only concern at the start was the price. It is a higher price point than other choices in the area.....but it is worth it! It's a hidden gem.

The view from the top of the mountain is the selling point. The whole club is beautiful. The kindness and responsiveness of Carrie and the rest of the team is icing on the cake. Carrie is just a text, call or email away.

The food. OMG! I wanted to just smash my face in all of the food. It's so delicious. We got so many compliments. Plates were clean!

I'm so excited to see what Carrie and the team does in the future.

Julie J.

Married on 10/15/2022

Most amazing experience

Perfection. The staff, and Carrie, were so caring, detailed, more than helpful, accommodating, welcoming. Facility is stunning, view is just overwhelming with beauty. Dinner is top notch! My guests stated it was the best wedding food they have ever had. This venue literally catered to me the entire 10 months of my planning all the way through the execution. 10/10 on every level

Abigail E.

Married on 09/24/2022

Love this venue!

Beautiful venue!! Gorgeous views and yummy food!! Carrie is the best, super helpful and always answers right away!! 10/10 recommend this stunning venue!

Bethany

Married on 09/10/2022

Perfect & Beautiful

Planning a big event, like a wedding, can be very overwhelming & stressful. For us, we planned our wedding from NY & I cannot imagine having it anywhere else. Carrie was extremely patient & helpful throughout our entire planning process down to the day.

Ali B.

Married on 10/03/2020

Best People and Location Ever

12 days before my wedding I had to switch venues. With such short notice I was getting no where fast. I emailed Williams, and was responded with; yes we have your day available here is our info; lets move quick to get this perfect for you! That same day I was touring the grounds, meeting with the event planner and the head chef! They were so accommodating and made everything I had planned work out better than I ever dreamed! I honestly am so thankful I had to move venues because I am still amazed at how beautiful, perfect and accommodating the entire staff was!

Francesca G.

Married on 09/19/2020

Our Dream Wedding

We cannot say enough good things about William's Country Club and our event coordinator, Carrie Anderson. Carrie was incredibly responsive and supportive throughout our entire planning process - which included 3 date changes due to the pandemic. She held multiple dates for us simultaneously so we had amazing flexibility and back up planning for our wedding - all without any extra cost or worry. Carrie was always positive and so very kind - she brought so much guidance, support, and optimism to our wedding planning. If not for her, we would not have had such an amazing wedding.

The venue is beautifully vintage with french doors, chandeliers, exposed stone, and does not require much additional decorating - we only had to add our florals! The powder room is an adorable area for photo ops too! The food was incredible and our initial tasting was an intimate and elevated experience. Additionally, the venue has stunning views of the river with a gorgeous stone building for added elegance in pictures. We would recommend this venue to every couple for their special day!

+ 4

photos

Sean N.

Married on 12/14/2019

The Best Day of Our Lives!!

We recently got married at Williams Country Club on December 14, 2019, and the process and day were amazing! First, the wedding planner, Regan, the chef, Dom, and the owner, Mr. Markovitz, were so accessible and easy to talk with. They helped us plan an amazing reception and were always very responsive if we had questions or ideas. Additionally, the venue was decorated beautifully, the food and drinks were delicious, and we were able to use the grounds for pictures, which offered a lot of options. Finally, the staff during the reception were very pleasant and made the guests, and us as newlyweds, feel very calm and stress free. I highly recommend this venue if you are considering it for your special day!

Bethany

Married on 09/28/2019

Wedding Perfection

I cannot say enough positive things about our venue. Our coordinator, Regan went above and beyond to make sure that we were thrilled with every aspect of our wedding, including moving the chairs and set up for the ceremony an hour before the wedding. Regan is so calm and pleasant. Communication was excellent and all staff were friendly and willing to work with us to make sure that everything we needed, we had. I absolutely would recommend this venue to everyone I come in contact with.

Amanda B.

Married on 09/28/2019

Wedding shower

I had my wedding shower here in July. It turned out beautifully. Our guests enjoyed brunch and mimosas while overlooking a great river view. The staff was very friendly and the event planner was great to work with. I would highly recommend having an event here.

+ 2

photos

Bandrea

Married on 09/15/2018

We are so happy we chose to have our wedding reception at this one of a kind club. We fell in love with the history and amazing views, but the staff and the food are equally impressive! At least a dozen of our guests said our wedding was the best they've ever been to. We highly recommend having your event at Williams Golf and Country Club!

Cassandra

Married on 05/05/2018

We could not have asked for a better wedding experience! I always hear so many horror stories about venues but we had 0 complications. Megan was our event coordinator and she took care of every little detail and made the process so smooth and stress free for us! The food was amazing not like traditional chicken and dried up rigatoni you usually get at a wedding and the views are just absolutely breathtaking!! Would highly recommend having your event here! The ease of having the reception and ceremony in the same place and the attentiveness of the staff is so great! They really do make you feel like royalty!

We held my daughters baby shower here. Look no further for a place to hold your special occasion. The food was delicious, the view beautiful and the country club is so charming. Aubrey, the event coordinator, and her staff were amazing. They were on top of everything. Our guests made sure we knew how well they were taken care. We enjoyed the shower because we didn't have to worry about anything.

Chayna

Married on 08/15/2015

My husband and I held our reception here and It was everything that I could have dreamed of and more!!!! I couldn't imagine going any other place. From the beautiful views, the staff, and the elegancy of the venue itself all took my breath away! Not to mention it was some of the best food I have ever eaten!! ( MANY of my guests agree with that statement) A special thanks to the event coordinator, Aubrey, who once told me when I was asking around for available dates that she "would be there for me so much I would think she was going to walk me down the aisle". She was so right. Thanks everyone for making our day so special!!

Sara

Married on 08/01/2015

All I can say about this vendor is WOW! My husband and I planned our wedding from Cincinnati Ohio and I never felt like I didn't know that everything was under control. The coordinator Aubrey is amazing! She worked tirelessly to make our day perfect and succeed beautifully. Even when the power was knocked out by a fallen branch the day of our wedding I had no fear that all would be right with the world and that our event would be perfect. My parents stayed at the club during the weekend so that they would be on hand if needed and she bent over backward to make sure they were comfortable the entire stay.

The natural beauty of this venue is unparalleled to anyplace in Cincinnati or Columbus and the service is the same. When I asked to have a dish that is not on their regular menu served I was told that they would be happy to do that for me. The food is as amazing as their people. Chef Dominick is a hidden gem. His marinara is delicious, the chicken Saltimbocca is to die for and his crab cakes are better than what I have had in Maryland.

I cannot say enough about this venue and their people. I would choose this place over and over again.

Morgan

Married on 10/18/2014

Williams Country Club was a beautiful venue for our wedding. The food was delicious and the staff was helpful and great!

Linda

Married on 07/05/2014

The bride and groom and our entire group of family and friends tood us that my daughter's, Jessica (Cattrell) Dimond, shower was the best shower they ever attended. The food was excellent and plentiful and we had the pastry chef provide cupcakes which were out of this world. The event planner, Aubrey, was very efficient, helpful, and courteous. No question was ever too insignificant to return a call or email. The venue is the most beautiful you can find in the area. Very satisfied and would sincerely recommend Williams Country Club to anyone looking for a perfect venue! Thanks to the management and staff for a memorable event!


Emily

Married on 10/12/2013

We had a beautiful wedding reception at Williams Country Club. The atmosphere of the building is wonderful with amazing views and an elegant setting indoors. The food was great and there were plenty of staff members to serve during our reception. All the people we worked with throughout the planning stages and during the wedding were friendly and professional. I am so glad we chose Williams - it was the perfect atmosphere for a beautiful event.

Bethany

Married on 06/18/2011

The week leading up to my wedding was a nightmare, many things went wrong including Weirton (the town where we got married) had NO WATER. Williams took care of everything, I did not get one phone call from them. They called and complained until the sewage was turned on, they had porta potties as backups just in case. They trucked in tons of bottled water for our guests. The service was incredible, every worker was on top of their game. The food was absolutely incredible! I have an Italian family who are extremely hard to please when it comes to food that is not their own. My family raved about everything! The days leading up to the wedding may have been stressful, but my actual wedding day was perfect. A lot of that is thanks to Williams and all of their workers! I HIGHLY recommend them!

Heather

Married on 06/21/2008

beautiful venue with great service

Ask

Married on 08/18/2007

they were perfect! Everything was wonderful.

Nikalete

Married on 08/18/2007

They arranged everything for me the day before so I could put out favors and decorations. They worked so well with the florist, the DJ, and the Bakery. Everything went smoothly. The food was excellent! The facility was beautiful, with an amazing view of the Ohio River valley. The staff was friendly, the management was excellent. It was the wedding of my dreams.

Cecilia

Married on 07/07/2007

I had my reception here last year. They were helpful in planning. Even though I live in Virginia beach, I am from ohio which is 10 minutes away from the facility, so my mother took care of everything. The place is beautiful for any formal event. The food was EXCELLENT, everyone had 2nd's, 3rd's, and 4th helpings lol and i don't think i've ever seen that at a wedding, I had an outside cake and a cookie display and they were fine with it and they also provided little boxes for people to take the cake home in at no extra cost! They were very helpful, and made my day very special.
Are you interested?
Send a message