79 Reviews
Recommended by 100% of couples
Quality of service

5 out of 5 rating

Average response time

5 out of 5 rating

Professionalism

5 out of 5 rating

Value

5 out of 5 rating

Flexibility

5 out of 5 rating
58 User photos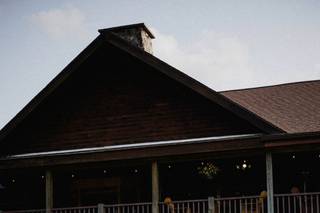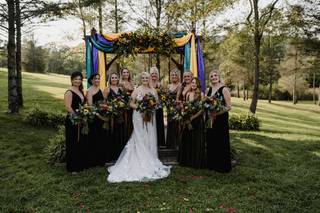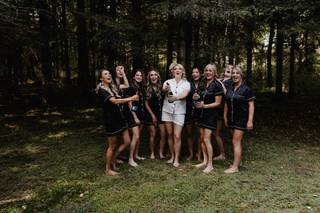 + 54

photos
Samantha T.

Married on 09/24/2022

Perfect Venue!

Matt is amazing to work with and took care of every single aspect of the entire event! The day of the wedding was 100% stress free thanks to Matt and his team!

Erin

Married on 08/27/2022

The best decision we could have made

Matt and everyone at West Branch went above and beyond our expectations on literally everything. They were accommodating, friendly, incredibly kind and helpful. We had a vision, we put that vision with Matt and he made it happen. It was literally the perfect weekend for us and all of our guests. We couldn't have asked for a better wedding weekend and everyone at west branch made it happen. Oh, and the FOOD… absolutely incredible, our guests were so impressed with everything and absolutely everyone raved about the food. We couldn't thank Matt and everyone at west branch enough!!

+ 5

photos

Karen Y.

Married on 08/13/2022

Magical & Memorable!

West Branch Angler Resort made our wedding weekend wonderful and memorable. As outdoor enthusiasts, it was the perfect place to bring our families together in one place without the stress of camping, glamping, or organizing a hotel/transportation. All our guests couldn't stop talking about how much they loved the venue and the event overall. The cabins, the grounds, all of it was so special, and the food - fantastic!

With our 100 guests, the staff was extremely accommodating, relaxed, and super friendly. Nicole was awesome to work with throughout the process, and Matt was great, too. Definitely splurge for the bonfire if you can! You won't have any regrets booking this venue for your wedding. We look forward to returning together on anniversaries in the future.

Are you interested?

Send a message

Robyn D.

Married on 07/23/2022

Best venue in upstate ny

West Branch was an absolute dream venue for the wedding weekend of our dreams. The landscape is gorgeous and peaceful and transforms into an amazing setting for a party. We had bald eagles overhead and deer wading through the river in the distance, truly out of a storybook. Not only were the accommodations perfection, Matt and his staff made sure everything went off without a hitch. We have had ENDLESS compliments from literally all of our 200 guests telling us it was the best wedding they have ever been to. We felt the same way because Matt made sure everything was handled and all we had to focus on was enjoying our day. We highly recommend taking advantage of the cabins so that guests don't have to worry about rides. It is truly an immersive experience, like adult glamping but wedding themed.:) Thanks again Matt!!!

Debora K.

Married on 06/01/2022

This was a magical place for a wedding , Matt was wonderful, cabins were lovely, wouldnt have chnaged a thing.

Absolutely perfect place for up to 185 guests who arrived on friday night. Cabins are lovely with CAC which is great in summer. We also had the rehearsal dinner there outside the pavillion followed by the fire in the woods. While the wedding party got ready on Sat, guests all mingled playing games, dipping in the river just awesome. I would highly recommned this venue.

+ 2

photos

Becca C.

Married on 10/02/2021

A dream come true

Matt and Nicole were incredible and made our wedding weekend an experience to last a lifetime. We didn't have to worry about a thing because they were already 10 steps ahead of us. They were more than accommodating. We gave Matt our decorations and they set them up in such a beautiful way. Everything ran so smoothly. The venue is beautiful, the cabins are beautiful, and spending the entire weekend with your friends and family was truly a wonderful experience. People raved about the food and drinks and many said it was the best wedding they've ever attended. 10/10 recommend!

Janelle B.

Married on 09/25/2021

Best experience!

10/10 would recommend West Branch to anyone looking for a venue. They are extremely hands on and ensure everything runs smoothly. Matt and Nicole are wonderful to work with and take care of things you don't even think about. It is a beautiful and unique venue with fantastic food!

Kelly

Married on 09/18/2021

Book them like yesterday!!

We loved west branch. Matt and Nicole have been more than amazing. Every question or issue was addressed. I felt SO at ease going into the wedding and it was all an easy process. You won't have to worry about a thing, which is amazing. It rained unexpectedly during my ceremony and Matt asked how I wanted to proceed. My family and friends kept telling me how full they were from food and the bar was always busy.

+ 10

photos

Hannah E.

Married on 08/14/2021

Best Wedding Ever

For our wedding, we knew we wanted a camp-like outdoorsy atmosphere but didn't want our guests to really "rough it" and West Branch was the perfect fit! From the Friday night BBQ and bonfire, to the modern, clean cabins, and beautiful grounds and restaurant for our Saturday celebration, Matt and the team at West Branch made sure every detail for the entire weekend was taken care of. We cannot say enough how amazing Matt was during the entire process, making our wedding planning (almost) entirely stress free, even when we had to delay a year due to COVID. Our guests were incredibly impressed by the entire weekend and many told us it was the best wedding they've ever been to. 10/10 would recommend.


Emma

Married on 07/24/2021

Absolutely phenomenal venue

We got married here July 24, 2021 and it was the best venue I could have imagined for what we were looking for. This venue is more budget friendly than anything else I could find in the area for what you are getting. Matt worked with us every step of the way and I was so grateful to have someone with experience to help me with planning. The venue did all of the setup so I didn't have to worry about it and the food was delicious. When all was said and done, I really didn't feel like I had to do that much planning and we got a beautiful wedding weekend where our families from all over the country got to meet and get to know each other and that is an experience I will forever be grateful for. Oh yeah, and I got to marry my favorite guy.

+ 2

photos

Vicky K.

Married on 10/05/2019

Beautiful venue

We got married here this October. West Branch Resort is a beautiful and unique venue. Matt is a true professional and cares deeply about his work. He made eveything perfect. He was helpful every step of the way- from initial planning to the wedding day. He even kept the rain away for us :)
The food was delicious and the Cabins were great-- wish I could move in! We heard only good things from guests that stayed for our wedding weekend.

Julie D.

Married on 08/10/2019

Effortless and perfect

Matt was a pleasure to work with. Every inch of the facility was perfect for our wedding weekend. We cannot stop getting calls from people saying "that was the best wedding I've ever been too" can't wait to head back there for our anniversary

Paige

Married on 07/27/2019

The Wedding of our Dreams!

I have to toast to Matt, the owner of West Branch Resort for helping my husband and I to create the most memorable and fantastic wedding weekend. We had ~100 guests stay on site in cabins for the weekend which I cannot recommend enough! On Friday night, Matt helped us to host a BBQ onsite and then we were led down a tiki torch path to the most amazing bonfire!! Saturday, the day of the wedding, was seamless with Matt in charge. Matt was incredibly flexible with any sort of vision we had, and we ended up having our ceremony outside on the lawn, cocktail hour on the deck, dinner inside the restaurant, and the dance floor on the deck outside covered by a tent! SO BEAUTIFUL and Matt and his team are fantastic. My husband and I wanted a wedding that really was personal and represented who we are, and I cannot thank Matt enough from the bottom of my heart for making that come to life. BOOK THIS VENUE!!!!!!

Andrew T.

Married on 10/20/2018

Exceeded every expectation

From start to finish the staff at west branch was excellent and beyond accommodating. My wife and I could not be happier about how the entire event turned out. Food was great, everyone had fun. It's a special place because there is so much to do while there, including relax. Would recommend this to anyone looking for a venue

Andrew T.

Married on 10/20/2018

Exceeded every expectation

From start to finish the staff at west branch was excellent and beyond accommodating. My wife and I could not be happier about how the entire event turned out. Food was great, everyone had fun. It's a special place because there is so much to do while there, including relax. Would recommend this to anyone looking for a venue

Jessica G.

Married on 09/29/2018

Our experience with West Branch

Our wedding weekend at West Branch was everything we could have dreamed of. We felt right at home. In a quiet town in NY, you feel like you are in another state, on a property that is all yours for the weekend. West Branch is flexible, accommodating, easy to work with and will help you with whatever you need. The owner Matt is fantastic. The venue is beautiful, the food is incredible, and the service is great. I am so happy we chose West Branch for our special day - it was truly a dream come true. I HIGHLY recommend!!!

Courtney

Married on 09/22/2018

Perfect wedding weekend

West Branch Angler Resort absolutely exceeded my expectations for our wedding weekend. We were married there on September 22, 2018. The setting fit our style and outdoor lifestyle perfectly. They were very flexible with all requests through the entire planning process. Getting across to some family members that we were getting married at a fishing resort with cabins was tough, until they arrived and realized these are not rustic cabins with limited amenities cabins. They are very nicely furnished and have everything you need. Except long mirrors, which was not a surprise since it is primarily a resort for fisherman. We had all the cabins rented for our wedding. We had about 80 guests which fit nicely and gave us the flexibility to use indoor and outdoor spaces. The staff were always welcoming and helpful to all our guests. We had a Friday Welcome BBQ near the river with a fire pit for smores. Saturday ceremony was near the river framed perfectly by trees. Our dinner was inside the restaurant followed by live band and dancing on the tented deck and covered porch. This was the perfect destination wedding for our group. Our family and friends are still commenting on how much fun the whole weekend was. Thank you Matt and to the entire West Branch Staff.

Marcy

Married on 09/15/2018

Amazing wedding venue AND weekend getaway

The decision to have our wedding at West Branch Resort was one of the best we've ever made. Manager and owner, Matt Batschelet, took so much stress out of the planning process along with making sure everything went as planned on wedding day. The entire staff at West Branch were extremely friendly and professional, making us feel like we were part of their family by the end of the weekend. As far the venue itself goes... beautiful, clean, secluded. We wanted a venue that made our wedding feel like a weekend away and West Branch delivered above and beyond. They're also dog friendly, a must considering we wanted our two goldens to be part of our special day!
Matt and all the West Branch staff, thank you so much for organizing and delivering our perfect, once in a lifetime weekend!
~Marcy and Shane~
9-15-18

Bethany

Married on 09/02/2018

We just had our wedding here on September 2nd 2018. Both the groom and I as well as all of our guests I could not possibly say enough good things about this then you. The staff is absolutely amazing, especially Matt. You will not be let down if you choose this place as your Venue. It's in an absolutely gorgeous setting, everything is so convenient, and all of the staff is so accommodating. I would recommend West Branch resort to anyone getting married, again and again. We absolutely loved it.

Tanya

Married on 08/25/2018

My Husband and I had our wedding here in August 2018. The place was absolutely beautiful. We had the best weekend with our family and friends. At first we were so worried because we are actually from Michigan and were having our wedding in New York. I will say that Matt completely made us feel like everything was going to be alright. He helped us so much in the planning process. We had many phone conversations and even got to sit down with him in person twice. The staff at West Branch was exceptional they decorated the venue with all our stuff we brought and helped make my visions of what I wanted come true. The Cabins we rented were amazing. I honestly can't say how much I love them. My husband and I stayed in the CEO cabin and I didn't want to leave. If I could have moved there I would have it was so amazing. We rented the pavilion and had the bon fire on the back 40. We are so glad we decided to do it. It helped all our guest relax and get to know each other before the actually wedding night. Before Fridays Party our family has never met eachother do to living in different states. So it was nice to see both of our aunts and uncles and friends all talking around the HUGE campfire and having fun. All in All I can say this was the best weekend of my life. I would recommend this place to literally everyone I knew who was getting married. We absolutely love it and everyone who came with it!!!

Larissa

Married on 08/11/2018

We just had our wedding here on August 11,2018! Matt was absolutely amazing. He worked so hard to give us exactly what we wanted and has been through the process countless times. Giving him the experience to take on anything that came at him. He was very flexible and his main goal was to make us happy. And he did just that! Thank you to everyone at west branch for making this a weekend to remember forever!! We will back !

Tyler

Married on 07/28/2018

Just had our wedding at West Branch a couples weekends ago and it was a dream come true!!! Matt made sure everything went off without any issue. I even gave him a bunch of random decorations and he set them up to look absolutely beautiful! The Friday BBQ was exceptional and the bonfire will be talked about for years to come!! All of our guests keep saying what a fabulous weekend they had enjoying the grounds and activities. I highly recommend having your family rent out the entire place, it was the most fun we all had in a long time! Book this place, you will never forget the most special weekend of your life!!!!

Lindsey

Married on 07/21/2018

We needed a place for our wedding that was affordable, had places to stay, but was still close enough for friends and family to just come for the wedding. West branch was the only venue we visited and I knew right away this was the place for us to have our celebration. The decor of the West Branch matched our lifestyle and we loved the ability to have a full weekend experience starting with a Friday night bbq to welcome our guests to our weeekend. The cabins were beautiful and easily accommodated over 100 of our 165 wedding guests wishing to stay the weekend. Matt was so helpful during the year of planning and went above and beyond on our wedding weekend. The food was exceptional, the staff attentive, and the scenery beautiful. Matt and his staff set everything up for us using the decorations we provided as well as took all of the decorations down. Many of our guests kept asking how we found the West Branch because they were so impressed. There is not one thing I would change from our wedding and wish we could do it ever and over again!!

Megan

Married on 07/06/2018

Matt and his staff were amazing!! They were very responsive to emails/phone calls and made our wedding day very stress-free! I would HIGHLY recommend West Branch to anyone! The views and grounds are beautiful and all our guest kept coming on how lovely the cabins were!

Nicole

Married on 06/30/2018

We had our wedding at West Branch on 6/30/18 and cannot recommend this venue highly enough. We knew we were in for a great weekend, but Matt and his team blew all of our expectations out of the water. From first booking through reservations through the weekend of and even after, both us and our guests were met with a level of service, generosity and kindness that is nearly impossible to find. The weekend was executed flawlessly and our guests are still raving about the venue, the accommodations, the food, the staff and the bonfire (have the bonfire if it's in your budget, you won't regret it!!). Many of our guests are planning their own trips back to West Branch for vacation and even family reunions. We were all treated like family from start to finish and can't wait to return to relive the magic that was our wedding weekend.
Are you interested?
Send a message