79 Reviews
Recommended by 100% of couples
Quality of service

5 out of 5 rating

Average response time

5 out of 5 rating

Professionalism

5 out of 5 rating

Value

5 out of 5 rating

Flexibility

5 out of 5 rating
142 User photos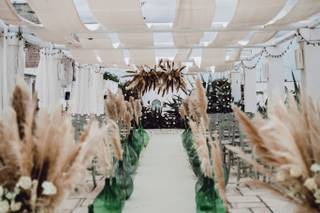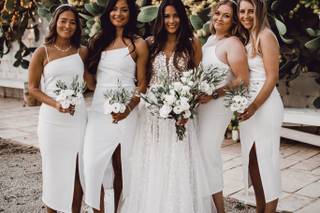 + 138

photos
Shom S.

Married on 10/14/2022

The best in the business!!!

If you're looking for a wedding planner in Puglia…LOOK NO FURTHER. Victoria is absolutely sensational and I cannot recommend her enough.
We are a UK based couple and we got married at Castello Monaci in October 2022. Victoria did the most incredible job and we (and our guests) had the absolute time of lives. She's kind, hardworking, professional…the list goes on and on. She has multiple vendor contacts in the local area and we felt so supported throughout the entire process. Choosing Victoria to help us plan our wedding was the best decision EVER.

Annabelle W.

Married on 09/27/2022

Wedding that surpassed all our expectations

Planning a wedding abroad is no mean feat. Planning a wedding abroad during a global pandemic is another thing entirely. With so many changes and so many emotions involved it could quite easily seem impossible to some. However, thanks to Victoria I have been in safe hands along the way and despite the many challenges I was able to seamlessly have the wedding of my dreams.
I first started working with Victoria in May 2019 and due to the pandemic only finally had the wedding in September 2022. It has been a long journey with Victoria but a beautiful one.
She is highly reliable, dependable, organised and simply fantastic at her job. There is absolutely no way that Victoria will let you down.
Victoria has an experienced team of different vendors that she works with regularly that deliver exceptionally high standards. She will work with you to deliver your vision to whatever budget you have. No details go un-missed.
Puglia really is the perfect place to get married with the weather, the food, wine and the beauty. With Victoria by your side all your wildest wedding dreams can come true.
I feel extremely blessed and privileged to have been able to have a wedding planner as professional and kind hearted as Victoria. I cannot recommend Victoria highly enough.

Teresa S.

Married on 09/19/2022

Victoria is a superwoman and planned a wedding better than we could've dreamed it!

Victoria is truly the BEST wedding planner out there. Words can't express how happy and grateful my husband and I are to have gotten to work with Victoria to plan our wedding weekend. It could not have been a dreamier and more perfect wedding and it was all thanks to Victoria's hard work in the year leading up to it. From the big vision to the smallest details, Victoria truly has the best eye and such spectacular taste. We're still on cloud 9 after it all! If you have the opportunity to work with her, say YES right away!

Are you interested?

Send a message

Mer

Married on 09/16/2022

World-class! Victoria is the best there is!

Impossible to put into words how truly incredible Victoria is. She goes above and beyond with every detail. Communication was always prompt and easy. Her taste is excellent we trusted her implicitly. There was zero stress leading up to the wedding day as we knew she was ready and organized well before. On the actual day everything went incredibly smooth and all of our wedding dreams, ideas and visions came true! Would recommend and highly encourage everyone to use her. Victoria is an incredible human and we hope to stay in touch with her in the years to come. 10/10

Tem T.

Married on 08/20/2022

Victoria represents the very pinnacle of her industry

Victoria, where do we start.

This lovely lady impressed us right from the get-go. We were introduced via Zoom during covid-19 to begin planning details for our wedding, which would eventually have to be deferred for another year. Originally we booked her as an on-the-day co-ordinator, but we soon realised she was a huge asset to the entire process, and would become absolutely key in the run up, and extended the terms.

Victoria's experience shone through from day 1, all the way through to post-event. She made every effort to respond to our many questions, even in the midst of planning over 40 other weddings that season, of which many, like ours, were deferred due to the pandemic. We can't even imagine the stress she would have navigated over the 2022 season, yet she still managed to shield us from it.

We were presented with the option to take a June date, which would have actually been preferable for us as we were hesitant about a wedding in the middle of Puglia's hottest month. However Victoria was already booked on another wedding, and putting it simply, we could not fathom our special day without her at the helm.

She was instrumental in bringing our vision to life, and helped us navigate through limitations with the venue, using her extensive network of suppliers to execute. She was a champion for us throughout, which meant we were able to keep the zones we wanted for each event, and, though the venue limited our original decor vision, Victoria's negotiating resulted in a gorgeous pampas aisle, hanging roses with two arrangements to flank. A beautiful set up.

The dinner was absolutely magical, with hanging tea lights, beautifully laced tambourines, personalised with guest names, and the limoncello in bottles, which she procured for us both for our guest welcome hampers and the speeches. When we needed a photographer last minute for our welcome BBQ, she found one at moments notice. And her precision with timings on the day was a miracle, as she seamlessly navigated the rain, with the aid of walk talkies and assistant, pushing back our ceremony by 30 minutes.

In fact, her timing was so impeccable, that a double rainbow shone from the sky, as I walked down the aisle. Some would call that magic. We call it Victoria ;)

Victoria is a planner, friend, she is THE queen of organisation and towers at the very pinnacle of her industry. We will miss our regular calls and the excitement that she helped to build for us, in the run up to our special day.

We feel entirely privileged that Victoria took us on board, and will be singing her praises for years to come!

Victoria, from the bottom of our hearts, thank you.

Tem & Tommy x

+ 10

photos

Jen O.

Married on 08/01/2022

She's the one for you!

We recently had Victoria help plan our wedding in the south of Italy! We are based in the UK. It was at times a very stressful planning a wedding abroad with the pandemic and a host of other moving pieces!

With so many changes, emotions and details to consider it was a huge task. Victoria was with us every step of the way, she even officiated our special day :)
She was responsive, hard working, honest, open and at the end of the day a friend to my partner and I in this journey.
She see's the human level of a wedding and worked super hard to assure we were happy! In the end not even thunderstorms could ruin the special day Victoria helped plan with us.

Puglia is a dream place to get married and Victoria can assure you make the very most of it.

We cannot recommend Victoria highly enough. It's a huge day, don't make the mistake of choosing the wring planner, choose Victoria!

+ 5

photos

Featured

Cassie N.

Married on 07/30/2022

Victoria must be the best wedding planner in the world...

Far beyond the wedding industry, Victoria is without doubt the best 'supplier/service provider' we have ever worked with, she is quite simply at the top of her game. If there was a nobel prize for wedding planning, she would have one!

If you are reading this and even considering booking her, you are very lucky to have found her – she is honestly worth her weight in gold, and we guarantee it will be the best decision you make for your wedding!

I've taken a while to write this review because it's honestly so difficult to convey in writing quite how amazing and special this woman is.

Within a few months of working with Victoria we immediately became uncomfortable referring to her as our wedding planner as she has always been so much more than this to us. She made every element of planning our wedding (& events - all 6 of them!) seamless and fun and we always looked forward to our calls and our trips to Italy to meet her.

Victoria is a beautiful person inside and out and there are not enough adjectives to describe her: passionate, kind, protective, professional, patient, bright, enthusiastic, expert, tenacious, hardworking, resilient, diligent, methodical, calming, gracious, empathetic, a problem solver, an absolute perfectionist, witty, humorous…the list is endless!

To say she goes above and beyond in everything she does is an understatement. There is no vision too wild and no problem too big and she continually strikes the perfect balance of executing all your hopes & aspirations within the framework you provide.

Her knowledge and black book of suppliers is second to none and every person, place, and thing she recommended was as faultless and immaculate as the last. All the events themselves where meticulously organised and executed like a military operation, watching her and her amazing assistant coordinating everything over walkie talkies was quite amazing and she clearly commands the respect of all the suppliers, vendors, venue staff etc in the area who all trust her implicitly and work together as your ultimate dream team! It was at that moment that we realised what an absolute privilege it was to have met Victoria and witnessed what she does firsthand.

It's important to add that having painted this picture, Victoria also takes no sh*t! So, you are always in the safest hands and no supplier is going to get away with messing you around on rates or service etc! She has an implicit sense of justice and expects everyone to be treated fairly and only works with good people – a sentiment we greatly appreciated, and which shone through.

She moved our entire wedding twice due to Covid and didn't even bat an eyelid, so during what should have been a stressful time we always felt completely in control and supported. Victoria, worked tirelessly to ensure we kept all our suppliers or in unavoidable cases found a suitable replacement. Of course, Covid caused a huge backlog of weddings, resulting in Victoria having a crazy 2022 and barely sleeping – despite this she still always made us feel like her priority and her only couple despite this not being further from the truth.

Words cannot express our gratitude to Victoria for creating the most magical wedding (and supporting events) which surpassed anything we could have ever dreamt of.

Having spent many years tirelessly assisting our guests they were all so excited to meet the 'infamous' Victoria and were not disappointed! They loved her nearly as much as we do, and we lost count of how many guests remarked it was the best wedding they had even been to – and very clearly a true testament to her!

We are deeply indebted to her for everything she has done for us, and we know she will be in our lives forever as part of our extended family.

Victoria, we love you and we can't wait for you to come to London!

Cassie & Max Easton!
(& Henry 🐶)

xxxxx


+ 7

photos

Anh

Married on 06/29/2022

Victoria is absolutely amazing!

My husband and I were looking to plan a simple yet sophisticated wedding in Puglia, which would be able to combine both our traditions while being modern. We fell in love with the region but didn't know where to start. After several calls with different wedding planners, we chose Victoria. She completely understood our vision and helped us organized our special day with our loved ones. My husband and I were in the UK and we managed to organize a wedding with Victoria who was in Italy through facetime, messages and emails.

If you are looking for a wedding planner who is detailed oriented, responsive, listens to you and is there to celebrate love, she is the one! Not only is she kind, calm and makes your wishes come true, she also has great relationships with suppliers in the region and knows Puglia like no other.

Thank you again Victoria and your team for our beautiful day!

Bianca

Married on 06/27/2022

Don't even think about choosing another wedding planner!!!

Words can't describe the love, attention, kindness, dedication and care that Victoria gave to our wedding. Our big day was delayed by two years and Victoria went above and beyond during that time, dedicating so many extra hours to phone calls, rescheduling, and site visits, outside of what the contract said she needed to do. I am beyond grateful for Victoria's support during that tough time!

Not a single detail was missed on our wedding day. I don't understand how but it seemed like Victoria was in 50 places at once. Every time I needed her, she was there, with emergency safety pins or the best hug in the world at the ready. Don't let her kindness, sweet disposition and sense of humour fool you though: she runs a tight ship and will ensure that everything runs smoothly and on time, which was quite a feat with my family and friends! How I made it to the church on time still confounds me.

Planning an overseas wedding is a huge undertaking and I was so lucky to have had Victoria by my side. I literally couldn't have done it without her. Her roster of vendors is very considered - every single one that was hired for our three day celebration did such a phenomenal job. Victoria is such a warm, calming force and I felt at ease knowing she was there on our wedding day.

Run, don't walk, to the booking form for Victoria. My friends and family are still raving about her and you will be too. I wish I could give her more stars - she is literally THE BEST!!!

I'll miss the regular wedding-related interactions with Victoria but we will definitely be staying in touch as I can't imagine not having her in my life!

+ 4

photos

Naomi P.

Married on 05/30/2022

Victoria really is superwoman! Thank you xxx

WOW WOW WOW! What a wedding Victoria planned for us! After having to postpone our wedding from 2020 to 2021 to 2022, Victoria did everything she could to make sure it was as easy and as stress free as possible. She put us at ease when making the decision of postponing and then made everything so simple with the run up to the wedding. She is truly one in a million and made our day absolutely spectacular! She thought of every detail and everything we wanted we got. With us living in UK and her in Italy it was a little bit nerve wracking not knowing how they work however with Victoria by our side and dealing with everything there was no need to worry. She is so professional and organised which again was a dream to see! There was no language barrier and she never made us feel she didn't understand what we were asking for. I am really missing wedding planning with her and feel a bit lost now! We will always recommend her. She made our day the day of fairytales and one that will be talked about for a long time and in our memories for a lifetime. Thank you so much Victoria for everything you did for us!! Xxx

Kaamila Q.

Married on 05/29/2022

Our spirit animal ❤️

Victoria is everything you want in a wedding planner organised, connected, communicative, understanding, knowledgeable and efficient. Most importantly she becomes a confidant and someone you can trust which is ultimately so important for a destination wedding. She is kind, supportive and ultimately a queen. Oli and I affectionately referred to her as my wedding spirit animal because of her approach that suited us so well. She very quickly absorbs the information she needs in the few early calls you have with each other and picks up your aesthetic and vibe immediately. A whole 2 years from when we reached out to her to start planning till our eventual day, despite all the negatives COVID could bring, she was the drive behind keeping our wedding dreams alive.
Both Oli and I just loved all her recommendations and ideas, based on inspirations we have her, and really felt we were able to trust her 1000% in making our dream wedding a reality. The biggest thing that stands out to us was that on the day of the wedding we didn't worry or think about anything, everything was handled by Victoria and her team, we got to experience our day fully in the moment and that is priceless. She planned 3 events for us and as is the case with international weddings, sometimes things don't go to plan e.g. lost luggage, delays, and of course the one and only rainstorm in Puglia, but Victoria made everything run smoothly, calmly and stunningly! We simply cannot recommend her enough, she literally thought of everything, gave us a blueprint to work towards and made every decision making moment exciting and fun. She played a huge part in making our day special. She was our officiant for our civil ceremony and it really meant the world to us! we are eternally grateful to have had her as our wedding planner. Thank you Victoria, we love you! Xxxx

Georgina C.

Married on 05/22/2022

Unbelievable

There are wedding planners and then there's Victoria. From start to finish, Victoria was absolutely amazing and led us through to our most perfect wedding.

What is impressive about Victoria is that she has not only stuck with us through two cancelled wedding dates (due to covid), but she will have had many other clients with the same issue and this has resulted in her having an unimaginably busy wedding season. But no matter how busy she is, she always makes sure that the job is done to perfection.

If you are planning a wedding and need a planner, rest assured that Victoria is an incredibly hard worker & an expert at what she does.

Thank you Victoria.

Kathryn L.

Married on 05/07/2022

Utter perfection

If you are reading this & currently planning a wedding in Puglia, then you need Viktorija in your lives. From initially stumbling across Impression Villas & Weddings via an Instagram post on The Lane, I sent an enquiry message via Instagram. Viktorija responded quickly and we then spent the next 6 weeks messaging back & forth until we had a trip to Puglia planned & shortlist of 8 venues to visit. This preparation and hard work was all done before we had spent a single penny- Viktorija wanted to make sure we thought Puglia was the right place for us & that we found the right venue first- this commitment to doing a great job & belief in her own services showcased to us from the outset we could put all our trust in her and we actually wanted to work with her because of this. When you start planning a wedding- all the choices & the costs especially can be overwhelming- but with the kindness & professional advice we received from Viktorija choosing her as our planner felt right & was one of the easiest decisions we had to make.

From the outset I would say the planning process was actually easy- not something you usually think when planning a wedding for 100+ people in a different country & during a pandemic! But with Viktorija it honestly was. She is kind, professional, a great listener (you only need to tell her something once), a great communicator and instils your complete trust from the outset. Throughout the process & with one postponement, Viktorija has this incredible talent that makes you feel like you are always her no. 1 priority & that she is arranging only your wedding- that's the kind of service you get. In the run up to the wedding- we had many calls, a weekend trip to finalise plans & were constantly Whatsapp-ing- one another to check in. This could be anything from the silliest (& perhaps annoying) questions that I might have.. from 'Does the venue have an irons for guests to use?' to 'can we order in a special brand of whiskey?'. But no request or question was ever too much trouble and I was always met with a fast & friendly response

I must also mention Viktorija's fantastic suggestions & contacts especially of local vendors – this is something that can be a complete minefield when you start planning from another country. We selected our venue, all our music, hair & makeup artists, table favours and our videographers all from her portfolio of suggestions- this was invaluable during the planning process & ultimately helped to shape our wedding. Over the course of our wedding weekend we also saw how the other vendors respected & enjoyed working with her meant everything ran smoothly & was just right.

We (finally) got married earlier this month in Puglia and it literally was the weekend of our dreams. Everything went to plan - literally perfectly (even the weather!) and I can honestly say it was the most magical few days of our lives. I could go on but I would say planning a wedding & working with Viktorija is something special & we will cherish for ever. If you have made it this far in reading this review, then you know what to do.

Viktorija, I also want to say a special thank you from myself & Iwan- I am actually sad the planning process is over but cannot thank you enough for creating such magic.
All our love & thanks times a million xoxoxo

Anja F.

Married on 10/02/2021

Dreams come true...with Victoria!!!

When we started searching for wedding venues in Puglia, we were very lucky and stumbled across Victoria's homepage.
Through her list of recommendations we were able to find our dream location, Masseria Amastuola.
Victoria made us feel very comfortable on first sight and guided us all the way through our wedding preparations, with heart, friendliness, dedication, lots of knowledge, structure, good questions, ideas and recommendations.
Very important, Victoria truly has the best local contacts and can find solid providers and solutions for everything, always keeping in mind your special wishes and budget.
She also managed our wedding day and made sure that everything was working out perfectly. This took a lot of stress from us and made us feel comfortable, safe and very happy.
Victoria, thank you soooooo much for accompanying us throughout this wonderful journey and being the best wedding planner we could have imagined! :)))

+ 8

photos

Sheila L.

Married on 09/29/2021

Pure Passion, no words can describe. ❤️


How to start. No words can describe our feeling.
If you want a person that gives a 1,000% and even more. From the beginning till the end. Then you must choose Viktorija.
Her attention, service, availability, attitude, kindness, passion and all the extraordinary words you can think of, apply to Viktorija. Her passion distingues her. Her professionalism is out of this world. Her heart, no word can describe. Just beautiful. My wife felt at peace every step of the way in this journey. My requests, she accomplished every step of the way. Even shoe shopping for my Tuxedo. Wow what a personalized touch.
Before choosing her, the extra mile she gave us.
Needless to say, every vendor she recommended. Gave that 1,000%, is like if they are all synchronized. We were at peace and joy with gratefulness all over.

Since then we chose her to be part of our lives.

May success always be with you.
If we could do it again, we wouldn't change a thing.

You will always have a place in our hearts.


Whitley

Married on 09/22/2021

Above and beyond!!! Our dream wedding!

Victoria and her team truly exceeded our expectations in every way! Planning a destination wedding is hard, and many things we could not vet ourselves before the day, but Victoria and all of the vendors she recommended far surpassed anything we could have hoped for. We had 3 days of events - and she was there to organize and execute each one! We couldn't believe how amazing everything was on the wedding day and how seamlessly everything flowed. All of our guests said it was the best wedding they had ever been to and how organized and thought-out every element was. Victoria was with us every step of the way for nearly 18 months. We sent countless emails/texts and phone calls, and she was incredibly gracious with her time. Even after the wedding - she is still checking on us! If you hire Victoria you can rest assured your day will be brilliant! I can't imagine how we could have ever done it without her.

Georgina C.

Married on 05/24/2020

Absolutely fantastic. Don't look any further!

I messaged Victoria with less than 1 weeks' notice to tell her we were traveling to Italy from the UK. She worked with the one day we had available and organised us viewings. Although Victoria knew she would not be able to plan our wedding, and therefore would not get our business (as she had another wedding in the diary for our preferred date), she still went out of her way to help us! She met us at our dream venue (which we've now booked) and spent a full 90 minutes walking us round. All of the vendors and staff at Castello Monaci knew exactly who Victoria was and seemed genuinely pleased to see her so if you're looking for somebody well connected - look no further!

Katie O.

Married on 09/28/2019

The most incredible person you'll ever work with.

If you are considering Victoria as your wedding planner, stop reading and book her immediately. There are not enough words to describe how incredible she is.

We were introduced to Victoria and before we decided to have our wedding in Puglia, she was so helpful. Out of 3 planners I reached out to, she was the only one who responded within minutes (the other two took 4 and 6 weeks to respond). We live in the US and she coordinated for my sister to fly over from London and visit several venues before we made a decision. This was all before we had even moved forward with Victoria. From day 0, she went above and beyond.

We had never visited Puglia and were not planning to see our venue until the week of our wedding. We took a huge leap of faith which would not have been possible without Victoria. She understood exactly what we were looking for, made suggestions to add or amend things we may not have considered, was incredibly responsive and not only coordinated our entire wedding day, but the two events we held before (cooking class and welcome event) and recovery brunch / pool party the day after.

Victoria coordinated every guests accommodation, transfers from the airport / train station, extra curricular activities and even provided suggestions for other parts of Italy our guests were visiting!

Victoria was also present at all four of our wedding events. Not just for a couple of hours, but the entire duration (including getting there early to make sure things were setup). On the day of our wedding, she was at our venue before 9am and didn't leave until the last guests left around 3:30am (despite us telling her to go to bed and we'll handle our stragglers!).

I cannot explain how incredible our wedding weekend was and it was all made possible thanks to Victoria. She thinks of everything, she's 3 steps ahead of you and will make your wedding simply perfect. The best decision you can make, ismaking her your wedding planner.

+ 2

photos

Amaline V.

Married on 09/18/2019

We ❤️ Viktorija!

A long overdue review of our incredible wedding planner, Viktorija.
We came across Impression Villas & Weddings by scrolling through Instagram. We noticed most of the images we were saving and loving were put together by Viktorija, so we made contact and it went from there....
After being presented with a number of options to begin with, we arranged a meeting via Skype.
Viktorija heard our dogs in the background and we immediately hit it off with our mutual love for dogs!
Gentle and beautifully spoken, this was the woman who was going to plan our Italian wedding for us over the next 12 months.
I run a bridal boutique here in Australia and consider myself pretty well organised, but Viktorija blew us both away with her willingness to please, organisation, kindness, calm manner, humour and unbelievable attention to detail! This woman worked into the early hours of the morning and went above and beyond!
Just when we thought we had considered every detail, Viktorija thought of a million more things to make the day more special.
She was honest about how Italians operate, what she thought was reasonably priced and what wasn't. We were always presented with multiple options and at multiple price points.
Viktorija even went out of her way to organise a photoshoot for me for work whist I was there.
A true gem of a person and beautiful reminder that there are still so many wonderful, kind and generous people in this world!
We cannot highly recommend this amazing woman and her team enough!!
If you have been dreaming of a wedding in Italy, please look no further than Impression Villas & Weddings.
We are both so happy to have met you, Viktorija (and your puppies) and we hope to stay in touch with you for many years to come.
Much love,
Amaline and Adrian (Australia)
X


+ 11

photos

Lucy H.

Married on 09/07/2019

Beyond perfect: Victoria is a dream to work with & an absolute hero planner. She was the best decision we made for our whole wedding!

We honestly cannot recommend Victoria highly enough: our wedding was the best weekend of our lives and she played a huge role in every aspect of it. We never could have pulled it off without her even if we'd had years to plan it.

Victoria helped us with everything from day one: booking her was the first decision we made (after deciding to get married!) and it was definitely the best decision we made. She understood what we wanted, suggested vendors who were perfectly suited to our tastes, shared her insider knowledge and approached everything with an incredible spirit of warmth, patience, professionalism and calm.

Living in the UK meant having someone we could trust to run things for us in Puglia was even more important. Victoria arranged all the accommodation options for our guest not staying in the Masseria; she booked all the transport for them; helped people book hairdresser and barber's appointments; suggested restaurants... honestly nothing was too much trouble.

We had regular calls with her in the lead up to everything and she also accompanied us on our tasting visit in Puglia which was so helpful. Over the wedding weekend itself, she was on hand for anything and everything and had every little detail covered. Victoria also acted as celebrant for our service and did a perfect job in what was a very personal and emotional service. She was with us from first thing in the morning of the wedding day until the last guests had left about 20 or so hours later. Having her there meant we did not have to worry about a thing and made the whole wedding journey - from the first stages of planning to hitting the dance floor - smooth, stress-free and an absolute joy.

On a personal note, as a bride, I found Victoria a hugely calming presence; honestly a calm look or a big hug from her was so reassuring whenever any nerves or worries arose. All our guests also said how awesome she is to us, and without exception every other vendor we worked with on the wedding told us how much they love working with her. She feels like part of our family now and we honestly cannot recommend her enough. Just book her, it will be the best decision you make!

Jo Debs

Married on 09/04/2019

Incredible wedding planner and now a friend!

Just WOW... no need to look any further than Victoria to plan your wedding. She helped us plan the most incredible 3 day celebration and made all of our dreams come true!
We began planning our wedding in Puglia without Victoria but soon realised that we needed support looking for local based vendors and unique things to bring our ideas to life. We met Victoria 6 months before our wedding when we came out to Puglia to do our food tasting, but months before that we would spend hours on the phone talking about our wedding vision and also allowing Victoria to get to know us. Conveniently, Victoria would allow us to schedule calls in the evenings and weekends, so we weren't having to juggle conversations around work time.
We decided to have our civil ceremony in Italy too and although at first it seemed like quite a long process with all of the paperwork, Victoria made it so easy and also did all of the translations for us.
The logistics of getting guests to and from airports and finding them somewhere to stay was something that I was most worried about but again Victoria made it so easy.
Our wedding day was everything we imagined and being the control freak I am, I was always going to struggle letting someone else put together all the final details such as the table decorations and flowers, but we put 100% faith in Victoria and her assistant and everything was perfect. All our guests said how amazing the wedding was and everyone partied to the early hours of the morning whilst Victoria stayed until the end to make sure everyone got home.
When planning such a significant event in your life it is so important to find the right person to plan it with and Victoria is that person and now a friend!

Victoria A.

Married on 08/31/2019

Victoria is a total Superhero. She will surpass your every expectation and ensure you have the most beautiful day

Victoria is absolutely amazing. She is one of the most organised, professional and disciplined individuals I have ever worked with. Throughout the entire process she kept me regularly updated, was very quick to respond to questions (whatever the time of day or day of week) she always delivered, whatever the request and then the week of our wedding she surpassed every expectation - despite her having already set the bar exceptionally high. She worked tirelessly for 26 hours straight on our wedding day to ensure everything ran like clockwork - and we can safely say that it was down to her that we had the best day of our lives. Never for one second did I worry that Victoria didn't have things 100% under control. I can never thank Victoria enough, and I am so sad to have to say goodbye. Hope to see you again soon Victoria! You are a hero xxx

+ 6

photos

Samina S.

Married on 08/20/2019

The absolute best

It's difficult to describe just how incredible Victoria is. From the first conversation I had with her over the phone I knew immediately she was the one to help plan the biggest day of our lives. Her knowledge, professionalism and attention to detail is like no other. She really listens to your vision and gets to you personally to work to capture everything you want in your day.
Words honestly can't do her or her work justice, she's incredible and by far the best and most respected planner in Puglia. Deciding to choose Victoria will be the best decision you make.
Thank you again Victoria

Karina

Married on 08/16/2019

Surpassed all expectations

Victoria was more than a planner throughout the entire 8 months leading to our wedding. She thought about things we would have never thought of and managed to surpass all of our expectations of what our dream wedding would be. Months later our guests are still talking about our wedding, and we couldn't have done it without Victoria. She was always available to answer any of our questions. We live in Canada and so planned everything through our phone calls and emails with her, which could have been a stressful experience and risky. But she found us the best vendors for what we wanted and at unbelievable pricing. She also helped us plan a recovery beach day which was the perfect event for the day after our wedding. On our wedding day she was the first one there (long before I even showed up) and was well organized and took care of literally everything - all we had to do was show up. Seeing everything just come together so beautifully that day was a dream come true. Victoria was also our officiant and did a wonderful job. We cannot thank her enough for everything and we feel that we were very lucky to have her with us along every step of the way. Like I said, she was more than a planner, and we will always hold very fond our memories of her contribution to the best day of our lives.

+ 13

photos

Nada

Married on 07/09/2019

Great experience!

Our experience with Victoria was absolutely fantastic. The result was incredible and the planning with her was truly enjoyable. Victoria accompanied us through every step of the way of planning our wedding, was extremely responsive, patient and accommodating. We gave her the vision and she implemented it perfectly. Our festivities took place over two days and she remained by our side throughout, ensuring that everything was going according to plan. When rain started pouring one hour before the start of the wedding, Victoria remained calm and dealt with the situation very efficiently and smoothly.

As all our guests came to Puglia from abroad, Victoria was very helpful in helping them arrange accommodation, transportation, hair and makeup and answering their various queries including about activities to do in the area.

We are very grateful to Victoria for her magnificent work. She is a delight to work with both professionally and as a person. It was difficult to say goodbye to Victoria at the end of the wedding as we felt that she had become a member of the family. We look forward to staying in touch, and thank you again from the bottom of our hearts!
Are you interested?
Send a message