86 Reviews
Recommended by 93% of couples
Quality of service

4.7 out of 5 rating

Average response time

4.7 out of 5 rating

Professionalism

4.6 out of 5 rating

Value

4.7 out of 5 rating

Flexibility

4.7 out of 5 rating
48 User photos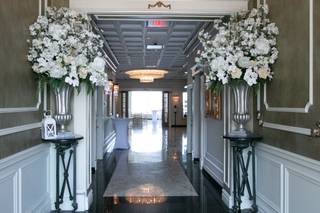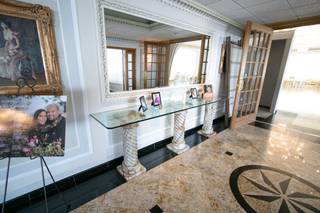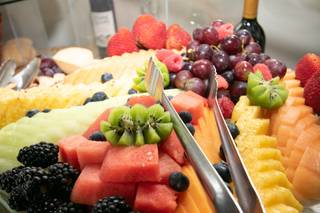 + 44

photos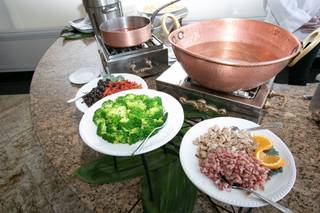 Featured

Darren M.

Married on 03/13/2022

Incredible experience

I can't say enough about the quality of service my wife and I had with this venue. The venue is beautiful, the food is delicious, the entire staff went above and beyond to make our day seamless, effortless and memorable. Your value for money at this place is off the charts. Our wedding was supposed to be in 2020 and Rich and his team worked with us to make sure we stayed within our original budget without having to compromise anything major. I really can't say enough about the quality of service, professionalism and effort we experienced at The View on the Hudson.

Eyonna O.

Married on 05/21/2021

***Update*** Can't Wait!!! It Was AMAZING!!!

As a follow-up to my initial review after we booked and made our deposit, I am happy to announce that we had our wedding on May 21, 2021 and it was EVERYTHING! Not only is the venue beautiful (inside and out) but we had such a beautiful day the weather was perfect for our outdoor ceremony along the water. Rich and Victor were SO helpful with everything; all my questions and emails, they were so attentive and we truly thank them for all they did.

The food...oh the food...people are still talking about it! Starting with the cocktail hour, we had 5 specialty stations and so I keep hearing, nothing was dis-tasteful. Everything was to perfection; and all our guests enjoyed and feasted so much that they were full when it was time to sit down for dinner. The dinner was equally as tasty as cocktail hour.

Beyond the food, the service that we and our guests received was top notch! The team and staff did a great job at catering to all of our guests. We did not hear any negative feedback (and we're a rough crowd) from our guests that anything was wrong or out of place. We really enjoyed everything at the View and I would encourage any future brides and grooms looking for a venue to go and check them out! The facility and space is beautiful! You don't need to do any decorating. The ballroom space is to die for and speaks for itself. Its such a beautiful hidden gem. There are separate bride and groom suites for both parties to get ready and utilize. They only accept 1 wedding at a time, so you have the entire place to yourselves as well as your guests (which my husband and I LOVE). All the attention is centered on your wedding! We would do it all over again at the same place if we had or have (in future tense) the ability to do so.

Lupita, Lupita, Lupita...you were my angel thru everything! I am so grateful that you were around to walk with me so that I didn't fall, carry/hold my flowers, fan out and pick up the back of my dress. You were truly a godsend and so helpful! Future brides, she is THEE BEST! I can't thank her enough for her time and all of her energy.
**********************************************************************************************
We haven't had our wedding yet but we booked the View on Saturday. Everything so far is going great; Vincent has been super helpful with any and all my questions. We love the venue and can't wait for our day! Stay tuned...

+ 16

photos

Karina E.

Married on 03/09/2021

Best Venue!!!!

As soon as I walked into The View on the Hudson, I knew this was the place for us to celebrate our wedding day. I had no idea that everything from the food, to the service, to the way we were treated from start to finish would be as amazing as the venue is beautiful. As soon as our guests arrived, they were greeted with smiles and a glass of champagne accompanied by the amazing breathtaking views of the venue. My guests raved about everything! The cocktail hour food and drinks were delicious and plentiful. We had about five different stations in the cocktail hour alone, ranging from Italian, to Chinese, to seafood and a potato station, among others!
Our guests were impressed with how delicious everything was (which isn't usually the case at weddings), and still today- two weeks later, they're still talking about it when we see them!

My bridal party had two different bridal suites, one for the bridesmaids (which has a beautiful balcony facing the river view) and one for the groomsmen. The servers were extremely helpful and consistently catering to all of our immediate needs. I, as the bride, was assigned my own bridal attendant; and she was amazing! She provided my husband and I with food at our bridal suite and followed us around while we took pictures so that she could help me with my dress at all time (truly, I loved her!)

The View is packed with picturesque settings. The different chandeliers provided for such beautiful pictures! The venue has recently been renovated and it is more gorgeous than ever.

Finally, Vincent and the entire team were amazing to work with! Vincent was supportive, understanding, and attentive to our specific requests. He worked with our schedule and was always quick to respond to our emails and phone calls. He always greeted us with a smile and truly made us feel like we are a part of The View's family. I felt supported and comfortable through the entire wedding planning process. I am so grateful to the entire staff of The View for making our wedding day truly amazing and unforgettable for my husband and I and certainly for all of our guests. On one particular day when Vincent was off, Rich was also extremely knowledgeable and helpful. Their entire team is accommodating, supportive and truly great to work with. I recommend Vincent, Rich, and the entire staff! If we had to do it all over again, there is NO OTHER place we would ever choose. I am so glad this was our choice!



+ 4

photos

Are you interested?

Send a message

Dayna

Married on 08/23/2019

The View on the Hudson will make your (wedding) dreams come true!

If you are still on your wedding venue search, look no further! The View on the Hudson was a wonderful, easy, reliable, relaxed, and top-notch choice! It easily fell within our budget and not only didn't compromising anything, but the staff/service even provided a red-carpet/VIP feel from the spectacular cocktail hour offerings to the new beautiful reception room! The warmest of welcomes (including champagne!) to the planning/multiple visits and then the big day, you will feel at ease and so special. Especially Vincent and the whole team including Al, Lily and others made our dreams come true for our Friday 8/23/2019 wedding! It's with many thanks and much appreciation that I share this, and hope others get to experience the same. Thank you, The View on the Hudson!! Love, The new Mr. & Mrs. Finizio (Mike & Dayna)

Lauren

Married on 08/10/2019

Best Wedding Venue!

BEST WEDDING EVER! We had our wedding reception at The View on the Hudson this past summer and we highly recommend it. We had toured multiple venues before making an appointment with Rich at the suggestion of a friend. After just a few paces in from the front door we knew we had found something special. The layout was open and refined allowing only one wedding to occur at a time. The cocktail room was beautiful and provided breathtaking wall to wall window views onto the Hudson River with the "Tappan Zee" Bridge in the background. Outside the cocktail room was a patio with a riverfront promenade. The ballroom was an equally impressive octagon shaped room with views of the palisades and waterfront. We could immediately visualize how these spaces would provide us with a stand-out reception. Rich was wonderful to work with. We met and followed up with him multiple times and he always made time for us. He is a true professional. He knows the business, he knows the food, and he knows what works and what probably doesn't. He is aware of and prepared for all of the nuances which can make or break the flow and timing of a wedding day making sure every second is maximized for the best experience possible. We feel truly lucky to have worked with him. It was also really important to us that our guests were served top notch food and the The View did not disappoint. The cocktail hour exceeded our expectations and provided a beautiful display with many exceptional food stations – they even had a monogramed ice luge with cucumber shot glasses which was definitely a wow. The entrees, cake, and desserts were all phenomenal. The Maître d' and his team provided our guests with top-class service. Countless guests commented that it was the best wedding they had attended. Our big day went off without a hitch from start to finish. The dance floor was always full and we had the time of our lives. Everything was perfect and we will treasure the day forever. We enthusiastically recommend Rich and his team at the View on the Hudson.

+ 9

photos

Allana G.

Married on 08/03/2019

Amazing Wedding

I have known I wanted to get married here since I was a little kid (different name and owners back then), the location right on the Hudson River is simply breathtaking. When it came time to pick our venue I knew that we had to go to the View and see if it was within our range. We ended up booking for a Saturday daytime wedding in order to fit our budget. Our wedding was simply breathtaking! The views were stunning, and the food was everything you would get for an evening wedding. All of our guests really loved our wedding, from the outdoor ceremony, to the wonderful cocktail hour, to the reception and meal everything was perfect. We worked with Rich and found him easy to work with, responsive, and knowledgable. As the bride on the day of everything was set up beautifully, and I was asked about minor changes and things before they were done. My attendant was also great and always there with whatever we needed. I am so happy that I got my dream wedding at the View, I highly recommend them!

Chin

Married on 07/13/2019

Best day ever!

We recently had our wedding at the View on the Hudson and it was an amazing experience! The wonderful team at the View was incredibly helpful every step of the way. No question or request was too big or too small for the team. Our wedding day wouldn't have been possible without Rich, he was very supportive, responsive and incredibly easy to work with from day 1. We had the ultimate dream team on the day of our wedding. From the bridal attendant ,Lupita, to the Maitre D and Rich's team, we were all well taken care of. We literally did not have to worry about a thing. We cannot thank the View enough for making our wedding the best day of our lives. It's almost been a month and our guests can't stop raving about the amazing food, view, and overall experience they had at our wedding! The View holds a special place in our hearts and we highly recommend them! With gratitude, N & C

Anna M.

Married on 04/27/2019

What an amazing celebration!

I am sorry that this has taken me this long to write a review for our wedding on 4/27/19. This was the second wedding for us and we had a reservation at another venue but that fell through and we needed to find another venue that would accommodate a reception for less than 80 people. We met with Rich, viewed the venue and immediately knew that this is where we wanted our wedding to be celebrated. Rich was knowledgeable, easy to work with and he delivered. The wedding celebration was beautiful and fun. Our guests were amazed at the amount and quality of the food. The staff was professional and plentiful. All I can say is "Thank Goodness" the first venue fell thru. My daughter said " These two know how to throw a party". Rich and his staff made it a day that we will never forget.

Sara

Married on 04/19/2019

Amazing experience!

First I'd like to start by saying that Ken and I got married at The view On The Hudson on 4/19/19
It was an AMAZING day! We were blessed to say our "I do" outside, in the ceremony spot as we wanted, overlooking the Hudson River. Not a drop of rain came down, though the forecast said it was supposed to rain all day! Oh what a gorgeous day it was for us and our family and friends!
Ken and I are ever so thankful for the treatment and attention we received from EVERY person working at the view that day. We are beyond grateful for how caring and kind they were, but I feel like I need to brag about Vincent, who was so warm and kind from the moment we picked our date, to the moment we left the venue that night. Vincent, your heart is a lantern, your professionalisms is on point!
To Lupita and Al, thank you! Lupita was with me till the end of the night, helping me with my dress bustle, with refreshments, my shoes, my bouquet, and I'm beyond thankful for her kindness.
Are weddings perfect? No! Was ours perfect? Yes! This crew of synchronized hard working kind humans made sure that my husband and I were pleased, every step of the way!
Our daughter is 16, and no thoughts of marriage for a long time! But I can only hope that when she finds her soulmate, they can also experience what Ken and I did on our wedding day, at The View On The Hudson. Pure magic!!!
Thank you so much, for an unforgettable blessed and magical day!!!

Love, ❤️

Sara, Ken, Amie, Liam & Luke

Icela

Married on 11/11/2018

Beautiful Location, Awesome Staff!!

We're so excited to write a review for The View on the Hudson that we're not even sure where to begin. The moment we walked in for a tour, we fell in love with the venue. We secured our date a year in advance and throughout the year the staff was incredibly helpful, professional and supportive. As we got closer to our wedding date, the manager, Joe Emenrani, made sure every request and detail was met. On the day-of, our Maitre D (Vincent) and Bridal Attendant (Lupita) were God-sends. They were by each of our sides every step of the ceremony and reception and made sure we had everything we could possibly need and want throughout the day. We cannot thank The View on The Hudson enough for making sure our wedding day went off without a hitch. It's truly a hidden gem and you will not be disappointed hosting any event here! Oh yeah, and the food was ridiculously good! Cannot forget the food!

David

Married on 08/11/2018

The service at View on the Hudson was amazing!!! Rick and Ralph made my bride and i feel at ease. Elegant venue, beautiful view and delicious food. All of our family and friends agree this is the place to have a wedding! The day of our wedding was a dream come true. Thank you again Rick, Ralph and View on the Hudson staff.

Mike

Married on 01/06/2018

From start to finish, the View on The Hudson was a five star experience for us and all of our guests. The service was impeccable, the food amazing, and the professionalism was second to none. We've spoken to pretty much everybody who attended our wedding there on 1/6/18 and they all agree it was one of the best weddings they've ever been too.

+ 5

photos

Lisa

Married on 09/01/2017

A true hidden gem!! I would highly recommend this venue! The location is spectacular - if the name didn't give it away. My guests loved the food and everyone complimented the service as well - they referred to it as "impeccable service". Howard and Ralph were just amazing.

Angela

Married on 08/11/2017

My daughter was married at The View on August 11, 2017. Truly an amazing event down to the very smallest detail carried out by Howard and Ralph and their wonderful staff. The food, service, cleanliness, follow-through was second to none. Superb quality, accommodating staff, delicious food, just wonderful, wonderful, wonderful! The attention to detail, the temperament and professionalism of Ralph, Howard, Noreen and the many wonderful servers made this event a 10 star gala. Our guests were over the top with praise. The food was delicious and every guest felt as if they were the only ones in the room--that is just how terrific The View was. I have one more daughter to marry and we will most certainly be using the View.

Stefani

Married on 07/15/2017

Right from the beginning Ralph was attentive and easy to work with. I cannot recommend them highly enough. They made my daughter's dream wedding vision become a reality

Julie

Married on 03/11/2017

We just had our wedding here this past Friday. We were so happy with The View and Ralph from start to finish. The wedding was a great time. The service was excellent. The venue was beautiful even though it poured rain all day. The venue was just renovated and it really is so beautiful. Definitely check this venue out on your wedding venue search!!

Kathleen

Married on 03/10/2017

I cannot say enough good things about this venue. Ralph, Patty and the rest of the staff were a pleasure to work with. They made planning our reception easy. They were professional, the food was amazing, the decor was breathtaking and the location was simply perfect. I wouldn't change a thing! All of our guests are still gushing over how gorgeous the venue was.

Marik

Married on 12/03/2016

If you are looking for professionalism, attention to detail, out of this world food and a beautiful location... LOOK NO FURTHER! Ralph was overly attentive throughout the process and amazingly so on the day of (he makes sure you eat and drink!) The venue is BEAUTIFUL and the food is DELICIOUS! My guests are STILL raving about the food and overall look of the venue. I can't recommend this venue HIGHLY enough! There is no need to worry about anything, b/c they take care of it all! From where to place that special little knick-knack you want incorporated on your special day to making sure you're "For the Road" goodies are displayed just how you want them! EXCELLENT EXCELLENT EXCELLENT! You get it all at the View... Professionalism, Value, Deliciousness, Beauty, Service and Peace of Mind!

Gianna

Married on 11/14/2015

When we first met with Howard from View on the Hudson we knew that he could bring our wedding vision to life. He has many many years of experience and truly makes you feel like you have nothing to worry about because you know he will take care of everything. He was always extremely professional and gave us his undivided attention. The venue is gorgeous and is maintained and refreshed throughout the year. The food was delicious and there were so many options to choose from. The venue hosts one wedding at a time, so the place is all yours when you are there. We couldn't have asked for a better venue or for better service than what View on the Hudson provided. We highly recommend this venue and working with Howard.

We had a great November 2015 wedding at View on the Hudson! Howard and the rest of the staff were nothing less than amazing !

Mary D.

Married on 09/25/2015

My husband and I got married at The View this past weekend and the entire experience was absolutely wonderful. From our first meeting with Howard Vaz, he assured us that he would make the (crazy) wedding planning experience as relaxed and stress-free as possible- he was right! Howard was ALWAYS available for us and handled all of the details from the big tasks down to the little stuff. We had both our ceremony and reception at The View. The outdoor ceremony was so romantic and beautiful- one of the reasons I HAD to get married there was due to the breathtaking views of the water. The outside was set up with white chairs facing a wedding alter and the river- my guests still will not stop telling us how gorgeous the scenery was. Howard had graciously met with my whole family and wedding party the evening prior to ensure the ceremony was flawless and everybody knew the processional and order of the ceremony (phew!) And the reception was just as fabulous. The staff at the View were FANTASTIC- my hubby and I don't drink and the bartender Mary dug up some energy drinks for us out of her own personal stash! How sweet?! Our waitress Theresa was also wonderful and was always asking us what we needed and if she could get us anything. And Howard spent the entire reception making sure we were taken care of. He was there the entire time!!! He helped us all line up for intro's, and helped organize the first dances and cake cutting.
You know how when a big event ends you often walk away thinking it had gone much different than you thought it was? For over a year I had envisioned my wedding to be the perfect evening, and in the end, it was even BETTER than I had dreamed it would be.

Cheryl

Married on 08/14/2015

The View On THe Hudson was our dream wedding location. It was the perfect distance for our families to travel and has the most picturesque surroundings. Ralph and Howard are the epitome of professionals. We worked primarily with Ralph and he assured my hisband and I every step of the way. I fell in love with the ballroom, the floor to ceiling windows, and the spectacular view. I also loved that they only take one wedding per day. The selection of incredible food was our favorite part of course! We felt as though we were dining at a five star restaurant. Our guests are still raving about the food. The staff was amazing and gracious of our requests. We enjoyed every moment of the wedding planning process thanks to the incredible staff at The View on the Hudson. My husband and I highly recommend this stunning venue and the kind, considerate, and dedicated staff.

Katelyn A.

Married on 08/01/2015

I just recently had a wedding at The View on 7/11/15 and it was absolutely AMAZING! Ralph made our special day perfect and was so attentive and helpful throughout the whole planning process and throughout the actual day of the wedding. There is only 1 wedding at the venue at a time and you are the total spotlight. My guests RAVED about the food and the view of the Hudson River! They also keep complimenting me on how amazing the service was and how attentive all the staff was to them. Cocktail hour is spectacular, the food is plentiful and they have such a wide variety to keep everyone happy! My mother even ripped the back of her dress and the staff helped her sew it up so that no one could even notice.
My fiancé and I actually chose this venue because we went to a wedding there and we were just regular people, no one special to the couple and we were treated like royalty and had the best time. We know our guests felt the same way at our wedding. People are STILL talking about our wedding and how fabulous it was. The View on the Hudson is the PERFECT place for the PERFECT wedding!

Joan

Married on 07/11/2015

I recently had my daughter's wedding at The View on The Hudson on July 11, 2015. From the moment my quests arrived and throughout the entire evening everyone commented about the attention to details and the quality of service here. The food was OUTSTANDING and you can't go wrong with either Maitre D. Both Ralph and Howard are amazing and will do everything they can to make your event the best. Yes the actual View is spectacular.... but it is the people here that give the place that WOW factor. Each server was professional and seemed to really care about delivering a quality experience. Thank you to all of you at The View on The Hudson!

Kelly

Married on 06/27/2015

I would highly recommend this place to everyone! I can't say enough about the venue and Howard. We fell in love when we first saw it and ended up booking it for our wedding. I'm so happy we did. Howard was such a pleasure to work with. Our wedding was absolutely amazing. Weddings are stressful and yet Howard made it so easy and stress free. Everyone kept commenting on how they loved the food and the service. I would recommend this place for any special occasion!!! I can't thank them enough for making our day so special!
Are you interested?
Send a message