75 Reviews
Recommended by 95% of couples
Quality of service

4.8 out of 5 rating

Average response time

4.8 out of 5 rating

Professionalism

4.7 out of 5 rating

Value

4.9 out of 5 rating

Flexibility

4.6 out of 5 rating
1 User photo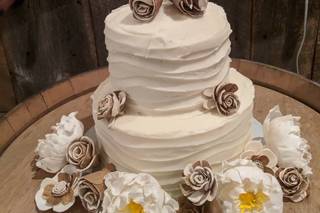 Claudia

Married on 03/15/2019

Scrumptious!

I have had enough cakes to know that something with a lot of fondant is not my cup of tea. I wanted something simple and delicious. Boy did Victoria's Cakery deliver!
My mom recommended them and honestly in the age of Instagram and photos galore, I was nervous when they didn't have a social media presence. I humored my mom and went for a tasting. I am so glad I did. Not only were all the selections delicious, but they were all so nice and easy to work with. And honestly, you cannot beat their prices.
I did not have any cake leftover because people were going back for more. I even got a gluten free cake and that also went quick. I'm glad I listened to my mom and gave them a try.

Steph

Married on 10/12/2018

We loved our wedding cake!

My husband was frantically looking for bakeries to make our wedding cake when his aunt recommended Victoria's. She couldn't stop talking about how she loved the cake and how she had been going there for years. He stopped by Victoria's to talk to an associate because of all the reviews he read online about their quality, value, and service. He was not disappointed. He worked with Ruthie, and he says that she was the friendliest baker he has ever met. She was very understanding, patient, and always had a smile on her face. When my husband brought me in for the tasting, Ruthie was very accommodating and enthusiastic which brightened our moods. We were only a month and a half away from our wedding so both my husband and I were pretty worn down, but we felt listened to and appreciated by Ruthie which was absolutely lovely. They have a catalog of designs for you to choose from, and we found a simple design that we thought was elegant. We chose the almond poundcake and the carrot cake (which Victoria's is known for) as our 2 wedding cakes. Unfortunately Victoria's could not deliver the cakes to our venue on the day of, so we had to ask some friends to pick up the cake for us before they came to the venue in the evening. The cakes we chose for our wedding were absolutely delicious. We got so many compliments on the cake. For the value and quality, Victoria's is pretty hard to beat. We plan to get a small cake on our wedding anniversary from Victoria's every year just because we love the people and cake so much!

Monica

Married on 03/24/2018

We got the "Heaven" and "Strawberry Fields" cakes for our wedding, and it was to DIE FOR! We had ~120 guests, and purchased enough cake to feed 200. I'm glad we saved the top of the cake before serving, because our guests ate Every. Single. Slice. Delivery was prompt and our cake arrived absolutely perfectly. We weren't too crazy about decorations, so we ended up paying $3.50/slice. Well worth what we paid!!

Are you interested?

Send a message

Nicole

Married on 10/29/2016

Our wedding cake was absolutely BEAUTIFUL & delicious! It was just what we ordered. The tier & design was just what we ordered and was incredible. We picked the "Heaven" flavor and it was absolutely delicious. I cannot wait to order our anniversary cake from Victoria's Cakery! They delivered our cake on time and everything about it was perfect. Thank you so much Victoria's Cakery for helping our day be so perfect and special!

Maia

Married on 08/20/2016

My family has been going to Victoria's Cakery for about 15 years now. Each birthday, each anniversary—they are our go-to. We love them! So it only made sense to have them make my wedding cake :)

Shannon

Married on 08/06/2016

We ordered the lemon pound cake with vanilla butter cream for our wedding reception, and our guests are still raving about it! I love supporting small businesses, and Victoria's Cakery is one of the best! Friends who were married 15+ years ago actually suggested them, and I'm so glad they did! We're actually going to use them for future events when we want/need a delicious cake or cupcakes (housewarming, baby shower).

Kathryn

Married on 06/13/2015

I booked Victoria's less than a month before my wedding. I walked in and received fabulous service, immediate attention, and samples! They were able to complete my order and do everything I wanted even though it was very last minute. They were able to make our three tier wedding cake, two side cakes, and a groom's cake exactly as we requested. The process was so easy. They completed our vision and everything looked beautiful and tasted great. We could not have asked for a better experience. I loved using a business from our hometown that we can use again and again.

Christen

Married on 05/30/2015

Victoria's Cakery did a great job of helping me stay on budget with wedding cake. They did a great job of accommodating my wedding date and delivering the cake to Haymarket, Va. They prices are definitely reasonable and the quality of the cake was great! They were definitely the easiest vendor to work with and did an amazing job delivering a great cake!

Thanks, Victoria's Cakery!

Sarah

Married on 05/16/2015

We ordered a simple chocolate peanut butter cake from Victoria's Cakery for our wedding in Old Town Fairfax. The cake was delicious and we absolutely loved it. We are still eating it days after the wedding and it still tastes wonderful. Although our cake was just a plain cake and not specifically a wedding cake, they did a fantastic job and we are very pleased! I would highly recommend Victoria's Cakery for any special occasion.

I knew I wanted a pretty and tasty wedding cake but also didn't want to break the bank for this. I had tried Victoria's Cakery cakes before and loved what I had. They provide a tasting at which you can sample all of their cake flavors. We chose two different flavors for the different layers and were very happy with what we got. We had tons of compliments on how good the cake was and the price could not be beat.

Very affordable, easy to work with and cake was absolutely delicious. The cake was so good and they were so happy to work with us and what we needed. Also, for the taste, for what we wanted and for how many people we needed to feed - price was fantastic.

They were great, they allowed me to print off a design idea from the internet and they were able to make it. Yum!

Meghan

Married on 11/30/2013

The team at Victoria's Cakery is family oriented, and incredibly nice. They had a wide selection of not only flavors and combinations, but the design of the cakes as well. Guests are still raving at how delicious the reverse hug and vanilla almond for our cake was, and we have since picked up a few more since our wedding day- they're that good! They have a very reasonable delivery fee, and the cake was there on time and in one piece. I highly recommend them, as clearly we enjoyed it if we continue to be customers!

Julie

Married on 11/16/2013

Best place for wedding cake! The ladies are kind, funny and very helpful! They helped us stay UNDER budget (what place helps you do that?!) The cake designs are elegant and beautiful. Our guest loved the cake! It's something they are still talking a out!

Austin

Married on 10/12/2013

DELICIOUS. I would not have gone with any other company for my wedding cakes. Victoria's Cakery produced affordable, delicious, elegant, rich and amazing cakes every time we use them be it birthdays or just to have a delicious cake. I have never been let down by this company.

Parastu

Married on 06/28/2013

We loved our heaven cake! We used this bakery for both the bridal shower and wedding! They made our wedding cake look so beautiful and even personally walked it down to our venue at the Old Town Hall! Thanks Victoria's Cakery!

Brandy

Married on 12/15/2012

I have been eating treats from Victoria's Cakery since I was a little girl! Never had tried their weddings cakes, but I must say that the cake was absolutely delicious and beautiful, and the price was right on the money too! I highly recommend getting your stunning cake from Victoria's Cakery!

Martha

Married on 10/27/2012

People still talk about how good my wedding cake was. I planned my wedding from afar, so my mother and sister actually ended up selecting the wedding cake on my behalf. They went with almond cake, and it may have been the best wedding cake I've ever had! I was pleasantly surprised! I was a little hesitant to even have a traditional wedding cake because they seem overpriced, but I have to admit, the cake was beautiful and tasted wonderful, so I was very happy. My mother coordinated with them and bought a blue ribbon to decorate the different tiers to go along with my wedding colors. I was extremely happy with the way everything turned out.

A. R.

Married on 10/27/2012

A delicious and old fashioned wedding cake.
Almond pound cake with white buttercreme icing.
Guests raved about it.
Delicious!

Sarah

Married on 10/06/2012

There isn't a better bakery out there for wedding cakes. My family has gone to Victoria's for at least 15 years, and there was no question of getting a cake from anywhere else. Their cakes are delicious, and very simply, but elegantly decorated. All of our guests raved about the cakes!

Victoria's Cakery keeps it very simple. They make incredible cakes, period. We supplied them with a picture of what we were looking for and they matched it perfectly. The cake tasted unbelievable and numerous guests said it was the best wedding cake they have ever eaten.

We ordered the "Heaven" cake for our wedding. It was so delicious - much better than your typical wedding reception cake! We had our florist decorate the white frosted cake with flowers. It looked great!

Julie

Married on 05/12/2012

Absolutely delicious cake - we were SO happy! A totally no frills experience - so do not go to Victoria's in search of a fancy tasting and lots of pampering. You're there for the cake - the amazingly delicious cake. You cannot go wrong.

Margot

Married on 12/31/2011

The "cakery" is a small operation run by a couple of ladies that make amazing cake. They focus on what's important - the cake. They aren't going to roll the red carpet out when you come for your tasting, they rely on the basic fact that their cake is amazing.

I loved the cake so much that I decided to order 1 three-tiered cake and 4 side cakes to allow guests to choose which ever kind of cake they wanted. Guests were so impressed that they could have carrot cake, red velvet, chocolate, etc. We went with the "Heavenly" type for the three-tiered - it was AMAZING.

If you don't mind cakes being simple, but tasting AMAZING, this is the place. They also cost a fraction of the price of other places. HIGHLY recommend this spot.

Rachael

Married on 12/30/2011

We love the carrot cake at Victoria's Cakery, so it was an obvious choice for our December wedding. The cake was beautiful (a simple but elegant piped buttercream design), and everyone agreed it was delicious. The only negative aspect was that our cheap wedding centerpiece (a plastic Wilton couple) sank right through the frosting! So if you use Victoria's Cakery, use a light centerpiece, such as flowers.
Are you interested?
Send a message