Reviews
5.0 out of 5 rating
Quality of service

5 out of 5 rating

Average response time

5 out of 5 rating

Professionalism

5 out of 5 rating

Value

5 out of 5 rating

Flexibility

5 out of 5 rating
99%
Recommended by couples
33 User photos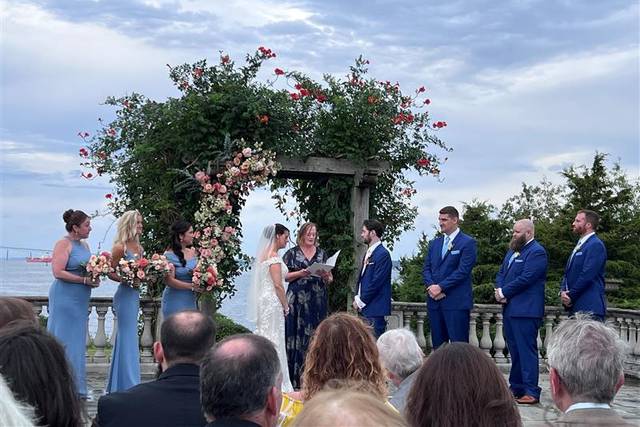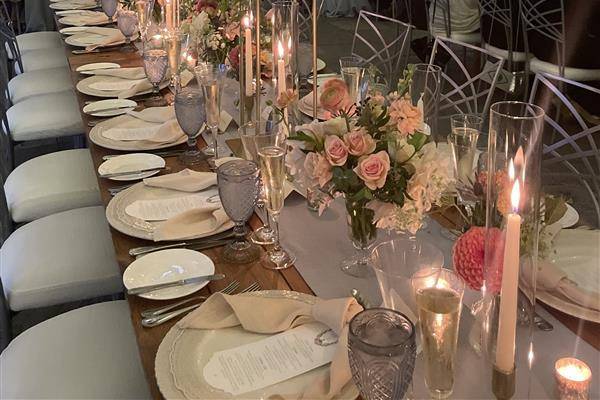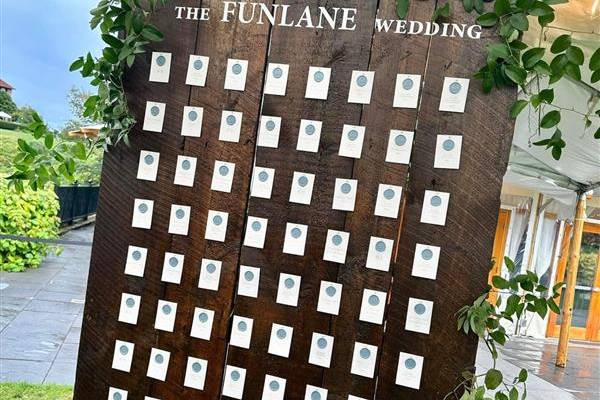 + 29

photos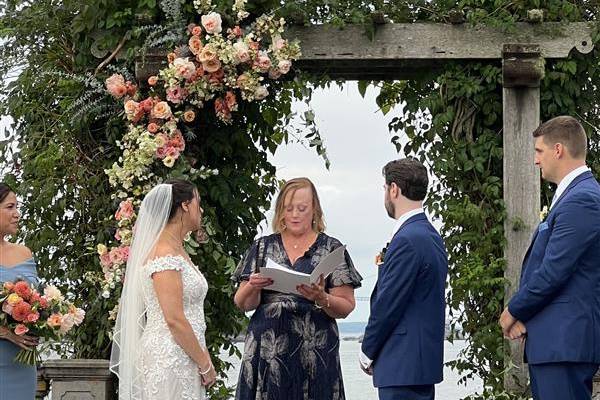 Lynn M.

Married on 10/22/2023

Alexis is amazing!

Alexis helped us create the wedding of my daughter's dreams! She has the best vendor connections and never steered us wrong. She was attentive to every detail and guided us every step of the way- even calmed anxieties near the end. As a very "picky" mother of the bride who wanted every detail "just right" , I can honestly say I highly recommend Alexis and her team to deliver. You simply can not dispute her value- worth every penny and more...

Lauren B.

Married on 10/20/2023

Best Wedding Planner

We could not have asked for a better wedding planner than Alexis! From the beginning she was extremely responsive and knowledgeable. Planning a wedding can be overwhelming but Alexis made the process seamless and stress-free. From the day we hired her to midnight on our wedding, she was right there to help us however she could. Having someone so knowledgeable help us was so comforting as our day went exactly how we planned without a single hiccup. Because of her, we could enjoy our wedding and not have to worry about the small details such as getting items to the venue or bringing them home with us. We both knew exactly what we wanted our wedding to look like and Alexis delivered our dream wedding and more! We had the best day of our lives and it was all because of Alexis!!!

Jo Frances M.

Married on 10/14/2023

Outstanding!! A true professional!

Alexis was a godsend. I could never have planned our wedding without her. She is the consummate professional, and she is warm, engaging, and supportive. She tended to the smallest details, while also keeping in mind the big vision, and she kept me calm throughout the process. She is amazing!! Now that the wedding is over, I miss our regular communications. Can't recommend her highly enough!

Are you interested?

Send a message

Melissa L.

Married on 09/10/2023

Alexis is Amazing!

To say Alexis was a godsend, would be an understatement. I could not have done my wedding without her. She helped me see my vision and executed against it perfectly. I have an insane schedule at work, and Alexis made planning my wedding so easy and I didn't have to think of a thing. She coordinated with all of my vendors and created the master schedule, so everything went flawlessly. If I had a question, Alexis had an answer immediately. She thought of everything. And the day of my wedding went amazingly well due to Alexis and her team. Nothing phased them. I called her my fairy godmother and I cannot thank her enough.

+ 2

photos

E H

Married on 08/26/2023

If you want to relax and enjoy your wedding day, hire Alexis!

Alexis was a tremendous help and easy to work with. She made some great recommendations as we were working through the design phase and provided excellent advice on a host of other topics. The support she provided the week of the wedding made a huge difference in our ability to relax and enjoy the days leading up to and including the wedding day.

B. H,

Married on 08/26/2023

A perfect stress-free wedding day thanks to Alexis

Alexis was a pleasure to work with and executed flawlessly on our wedding day. We appreciated Alexis' attention to detail and expert guidance as we worked through the design and planning process with her. Our venue required a lot of coordination with vendors and Alexis did so much behind the scenes to ensure that we could fully enjoy our day. We received so many complements from our guests on the gorgeous lighting, decor, and ambiance which all came to life by working with Alexis.

Hope M.

Married on 03/03/2023

Your Very Own Fairy Godmother

We hired Alexis as our full service wedding planner and designer and she made all of our dreams realities. She's like a fairy godmother. If an idea popped into our head, she just made it happen. She helped us orchestrate and plan an entire weekend of events, paired us with the perfect vendor team that not only matched our aesthetic but also our personalities, and helped us make design choices that felt like us. Every detail was meticulously planned and catered to who we are as a couple. She helped advocate for us when our venue presented challenges. She embraced our vision and helped us expand it to become cohesive and a full experience. We wanted our wedding weekend to be immersive and for our guests to feel thought of and Alexis guided us to make guest experience oriented choices. Nothing was cookie cutter, everything was tailored to our event. When tragedy struck in our families over the process Alexis was a support system, taking the time to check in on us not just as clients, but as people. Alexis is a passionate, caring, fierce person. If you want someone who will embrace your joy and make it her own, someone who will run with you and your ideas, someone that will fight for you, someone that can make anything happen, someone that genuinely cares, that's Alexis. I'm literally looking for ways to hire her again. She knows what she's doing, she knows the people in this industry, and she knows how to make this entire process the easiest it could be for you.

+ 14

photos

Julie

Married on 11/05/2022

Amazing experience

We worked with Alexis for our wedding design and month of planning. The designs were beautiful, coordinated, and creative. When we got to the month of Alexis kicked into high gear. She was always a step ahead of us and in touch with all our vendors to coordinate last minute changes. The wedding went off flawlessly day of (which we didn't even think was possible). Alexis and her team were by our sides all day anticipating things we'd forget and making sure everything was in just the right place. We couldn't recommend her more highly!

Amelia B.

Married on 09/03/2022

Exceeds expectations!

Working with Alexis was the smartest decision I made throughout the wedding planning experience. She organized my wedding on my parents property and it was perfect in every way. She works efficiently and calmly helped me stay on task throughout the planning process. Her experience and expertise is second to none. Thanks to Alexis, my wedding went without a hitch and exceeded all of my high expectations.

Michael O.

Married on 08/28/2022

The Wedding whisperer

We had an outstanding experience with Alexis. She was always available for our questions and concerns throughout the process. Alexis has the experience and is a true professional. Without her involvement there would have been many details missed. Her real value shines in the weeks leading up to the wedding. Alexis made us feel like we were her only client. At first glance the expense of a wedding planner seems unnecessary, but Alexis is worth every penny. We had a wedding of a lifetime, and Alexis made it happen.

Alison B.

Married on 07/23/2022

Spectacular

Alexis is, quite literally, the best decision we made for our wedding. Because of COVID, everything was harder - hotel blocks, getting in touch with vendors - the list goes on and on. She was our champion and spent countless hours on our behalf, following up and keeping us informed. As a result, we had a DREAM wedding - stress free and FUN!!! Our families haven't stopped talking about how everything was, and we owe Alexis for the perfect set of events a couple could wish for!!!

Larissa L.

Married on 06/09/2022

Nothing short of perfect, so lucky I had the opportunity to work with Alexis!

Alexis provided exceptional service and expertise throughout the whole process. Although I'm extremely organized and was at first hesitant to hire extra help, I truly do not think I would have been able to have the most perfect and incredible wedding without Alexis' help running point on every aspect of the event. In addition, she was a huge ray of sunshine and calmness during what is usually a very hectic day and me and my family and bridal party/groomsmen we're so impressed how she navigated every situation and the entire timeline. Thank you so much Alexis, we were SO lucky to work with you!!

Ali N.

Married on 06/08/2022

Alexis is the best

My wife and I were faced with a massive disruption to our wedding due to COVID and ended up completely upending our original plans on short notice. In the end, we had to plan a new wedding in roughly three weeks.
Without Alexis' support and orchestration this would have been an impossible task. She is thoughtful, proactive, and willing to put in the hard work to make our event incredible. She picks up the phone at night, on weekends, and during holidays. My wife and I are extremely grateful that we had Alexis on our side, and would recommend her to any of our friends.


Leah Z.

Married on 05/29/2022

Amazing Experience and Perfect Wedding

We hired Alexis to help with some smaller details of our wedding before totally changing course to a fully tented wedding that required a full service planner. Alexis was unbelievably helpful, supportive and accommodating to us. She helped created a gorgeous design for our tent, including a unique and stunning lighting design that our guests have continued to talk about. Her attention to detail, and making sure we understood every step of the planning made the entire planning process fun and as stress-free as possible. She was easy to work with and had great relationships with all our vendors. We felt supported and confident in her the whole time and would highly recommend Alexis to anyone in their wedding planning.

Esther B.

Married on 05/21/2022

My wedding was a fairytale!

Alexis was a fantastic planner! My future husband and I planned a 150 person Indian wedding in just under 6 months, which never would have been possible without Alexis. She met with us to create a vision of the wedding we wanted, and helped us select the vendors and decor needed to make our fairytale wedding come true! Alexis is a contract wizard, and helped us ask the right questions and put the right provisions in all our wedding contracts to ensure we had exactly what we wanted. We had some challenges, especially with our venue coordinator changing several times. Alexis ensured she communicated our needs and reviewed our wedding plan with the venue coordinators so it wasn't nearly as stressful an experience as it should have been. During the wedding day, the decor, guest book/present table, favor table, and centerpieces all were displayed beautifully and looked even better than I had imagined. Thank you so much, Alexis!!!

Amy S.

Married on 11/21/2021

Incredible

Alexis was absolutely amazing to work with! She was extremely detail orientated, and was always fast to respond with all the questions we had. Alexis did a great job with providing us recommendations for vendors, and coordinating all the different elements of our wedding which came together seamlessly. During our wedding weekend, she did an incredible job working with our wedding party and hotel director to ensure everything went as smoothly as possible. Our wedding was fantastic, and we owe so much of that to the hard work and dedication Alexis put in! We would highly recommend Alexis to anyone planning a wedding.

Edmund D.

Married on 10/23/2021

Someone to count on to make your wedding go smoothly!

Alexis is a true pro. We really appreciated her expert advice, especially as we navigated the challenges of postponing our wedding during COVID. Having her there the day-of the wedding was invaluable. She was efficient, poised, and kept track of every detail. Whether supplying a box for guests to put cards in, or making sure our room was nice and tidy for us when we came up at the end of the night, she thought of every detail and executed everything perfectly. Our wedding was perfect, and it would have been so much harder and more stressful without Alexis.

James H.

Married on 10/14/2021

Everything we could have hoped for and more!

We hired Alexis right after getting engaged in 2018; little did we know that she would lead us fearlessly through a 3.5 year wedding planning journey during a global pandemic. From the beginning, she was responsive, thoughtful, thorough, extremely organized, and attentive to our wants and needs in the wedding process.

Even when my wife and I were extremely busy and slow to respond, Alexis was the perfect balance of patient and persistent to make sure it all got done well. She anticipated every challenge and decision point we encountered, including many that we would not have known to look for on our own. She was very proactive about communicating with vendors and stakeholders on our behalf on a timely basis.

In times when we needed to negotiate with vendors, we benefitted from Alexis' expertise and advocacy. She made it very clear that she was on our team throughout.

We are truly grateful for the many ways she supported us in making our dream wedding a reality. Her tireless work allowed us to be completely mindful on the day of our wedding and enjoy it fully. Simply put, we would have been lost without her in this process. Thank you, Alexis, for all of your support.

Meghan K.

Married on 10/10/2021

If you're on the fence, let this review be your sign to hire Alexis.

Working with Alexis was one of the best decisions I made for our wedding! From the very beginning, Alexis tailors each part of the planning process to you and provides you with a unique package of services that suits your needs and your budget. In our case, I already had the majority of my vendor contracts in place, but I had made very few of the creative decisions. Alexis and I worked together to choose rentals that perfectly fit my vision for our small backyard wedding. She coordinated with vendors on our behalf, created our wedding day timeline, facilitated our ceremony rehearsal, and did everything in her power to make sure that the big day went smoothly from start to finish (and it did!). Alexis and her assistant, Millie, were so prepared, detail-oriented and professional that my husband and I were able to enjoy the entire day without a care in the world. They even stayed long after many of our guests had left to tidy up so that we had very little to do the next morning (a godsend for a very hungover newlywed couple).

If you're on the fence, let this review be your sign to hire Alexis. You won't regret it!


Gilda L.

Married on 09/18/2021

I would highly recommend Alexis as your wedding planner. She was highly professional, pleasant to work with and her attention to detail was phenomen!

I can't say enough how I appreciated all the hard work Alexis and her assistant provided during my daughter's wedding from the moment she arrived until the very end. She was a pleasure to work with and made everything go smoothly. Her attention to detail during the entire process is commendable! Just the best!

Lisa M.

Married on 09/04/2021

Beyond amazing

We could not have been more happier with the service Alexis and her team gave to us. She went above and beyond for all of us. I would highly recommend her!

Emily G.

Married on 09/04/2021

Alexis is amazing!

We couldn't have managed wedding planning and day of organization without Alexis and her team. She is incredible, prepared for literally any hiccup and can fix it before you even notice anything is awry. I don't know how she does it all so flawlessly!!

Keaton M.

Married on 07/02/2021

Terrific Service!

Alexis was an incredible organizer and was instrumental in creating our special day. She took all the stress off of my wife and ensured smooth transportation and transition from the wedding to the reception. Alexis and her team did an incredible job and I recommend her highly!

Kelly

Married on 06/26/2021

The Best Wedding Planner/Coordinator in Boston

My only regret for my wedding was not hiring Alexis sooner. I originally tried to plan my wedding myself. While my wedding was a guest list of 70 and relatively small, we had pictures at the Boston Public Garden, a mass at St. Cecilias, and a reception at the Hampshire House--so there were a lot of moving pieces. I had no idea what I was doing and very quickly became extremely overwhelmed. Alexis was able to advise on so many issues I hadn't even thought about and saved the day. She is incredibly responsive, and answers emails on nights/weekends. More importantly, she handled everything on the day of flawlessly. She dealt with any issues that came up so I was able to actually enjoy myself. If I could go back in time, Alexis would have been the first vendor I hired--that's how much value she provided to our wedding. We couldn't be happier.

Lucia L.

Married on 06/26/2021

Best decision I made!

We hired Alexis for our 4/2/2022 wedding, midway through the planning process. We were really struggling to reschedule our wedding due to covid, and were so stressed and frustrated. Alexis cheerfully and enthusiastically dove in, and within 48 hours our wedding was back on track! Throughout the planning process, Alexis was prompt to respond and no question was too small. Her years of experience really shine as you work through the details with her - from flowers to logistics to food, Alexis has seen it all and is full of awesome ideas and suggestions. It was so valuable to be able to brainstorm with her, and she did a great job guiding us throughout the process. We live in CA, and Alexis arranged all our vendor meetings so that we didn't have to make a ton of trips back and forth. On our wedding day, her and her team executed to the highest standard. Everything went smoothly - vendor setup, busing guests to and from the church, flower arrangements, food and drink, timeline, decor, etc. Our guests were so impressed! At the end of the night, everything was packed up and tucked into our bridal suite (they even went the extra mile and tidied up from the morning's getting ready frenzy!). It's impossible to include everything she does for her couples in the space of a review, but it's worth taking just a few more lines to mention a few of the things Alexis did that I am extra grateful for from the wedding day: calmly handling a champagne spill on my gown; tucking my ballgown into the car so it wouldn't get dirty; being right there at the church to help me out; sewing a split in one of my bridesmaids gowns (and doing an awesome job); checking my veil and adding extra pins at the church; smoothing my train and veil out for a perfect walk down the aisle; and gently making sure I was getting enough food and water throughout the night. We were able to just enjoy the day thanks to Alexis taking care of all the rest. Thank you Alexis!
Are you interested?
Send a message