49 Reviews
Recommended by 100% of couples
Quality of service

5 out of 5 rating

Average response time

5 out of 5 rating

Professionalism

5 out of 5 rating

Value

5 out of 5 rating

Flexibility

5 out of 5 rating
49 User photos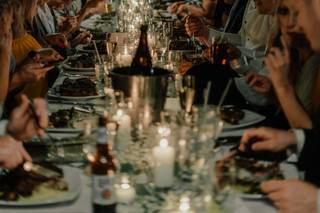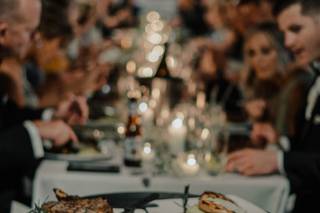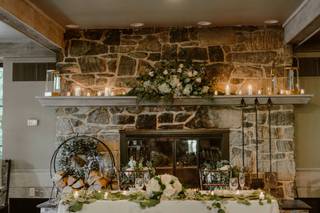 + 45

photos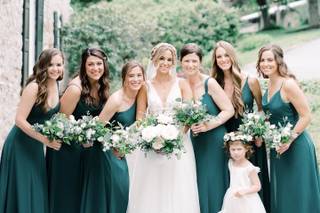 Maggie C.

Married on 08/13/2022

Full service is the way to go!

If you want a stress free wedding planning experience, Unique by Design full service is the way to go. I cannot say enough about how positive the experience was working with Unique by Design for my wedding weekend. We did the full service with Jenna and it was FULL service, over the weekend we did a rehearsal dinner, wedding and brunch for all guest. We were engaged in October 2022 and got married August 13th. My husband and I live in upstate New York and planned to get married on my parent's farm in York Springs, PA, so we needed someone who knew the area. We also both work full time and I am a full time graduate student as well, so I had limited free time to plan. Jenna put together an all star vendor team that put together a dream of a wedding. Jenna's design skill is top notch, she took my colors and thoughts/ideas and turned them into perfection. When I didn't have an opinion on something, Jenna somehow knew what I would want without me being able to express it, this shows how well she gets to know who you are as a person, not just a bride. Jenna thought of little things we would never have thought of and kept everything organized. My father had a lot of "ideas" and Jenna did an amazing job handling him, which is no easy task. She took his ideas into account but also advocated that it was my day. During the week leading up to the wedding Jenna and her team were onsite and making sure everything was done, from the tent set up to bathrooms being delivered. We had food trucks during the rehearsal and one had to back out last minute due to a medical issue, Jenna had a back up plan and another truck was booked and ready to go. During the events Jenna and Julianne ensured everything went smoothly, from keeping the wedding party to the timeline, making sure I ate, keeping everyone calm and everything in-between. There were apparently issues with the tent the day of the wedding, Jenna handled everything behind the scenes as to not stress me out, I did not know about it until the next day. I would 100% recommend Unique by Design for you wedding planning, I do not know anyone in that area but if I did all of my engaged friends would be told to go directly to Unique by Design.

Mark S.

Married on 06/18/2022

Highly competent, punctual, and organized wedding planner.

My wife Lauren and I used Unique By Design for our wedding in June of 2022, and we could not have been any happier with Jenna's attention to detail, competence, promptness, and professionalism.

When we met with Jenna during the planning process she put our minds at ease by explaining exactly how things would unfold, and she impressed us as being very confident and calm.

When the day of the wedding arrived Jenna made sure that everything unfolded as exactly as she had forecasted, and she kept everyone and everything on schedule, which sounds much easier than it was.

Many aspects of our wedding were as successful as they were thanks to Jenna, and we would highly recommend her to anyone just beginning the process of planning their own big day.

Katie P.

Married on 06/04/2022

The best in the business!

Jenna was such an integral part to our Wedding Day. Our church ceremony was about an hour away, so we relied on her expertise to coordinate with our vendors for set up of the reception venue. We had our cocktail hour outside and reception inside, and the transition between the two events was seamless. Unique by Design made our reception venue look like an absolute dream, I highly recommend using this company for your wedding.

Are you interested?

Send a message

Kathleen W.

Married on 05/21/2022

Jenna is the best in the business!

Jenna is exactly the kind of person you want on your team as you are planning a wedding! She is absolutely brilliant at what she does and she is a true blessing to us. We hired her for the full wedding planning package and we are so grateful we did! My biggest recommendation is to not only hire Jenna but to hire her early in the process. Because we did this, we were able to utilize her expertise to help us to choose vendors that not only fit our vision but also our budget! She is absolutely worth every single penny, as I felt confident we made up for the cost in the conscious decisions she helped us make in the planning process and you are paying for the experience and piece of mind of having UBD on your side. On the day of our wedding, Jenna and Julianne were absolutely incredible. Since we had been working together for over a year, Jenna knew exactly what needed to be done and she and her team executed it beautifully leaving me and my now husband to enjoy the day, stress free.

Kaylyn B.

Married on 05/14/2022

Best Central PA Wedding Planner in the biz!

Jenna was so instrumental in helping me feel at ease during the final planning stages of our wedding and was also key in making everything run so smoothly on the day of. I am so happy I had her expertise to run through the list of everything that needed to be done leading up to the last 3 months - I would have surely forgot something. And it was amazing having her take over communication between the vendors - such a stress reliever!! Our day was absolutely beautiful and perfect in every way and we cannot thank Jenna enough!!!

Monica W.

Married on 04/02/2022

Best day ever

Unique by Design was so great and easy to work with! Immediately when I met Jenna she made my husband (then fiancé) and I feel like we were part of her Unique by Design family. Jenna is so kind hearted and it definitely translates into her exceptional services! As an indecisive bride, I gave her my colors and designs I have seen and liked; and she just ran with it! She made our day go smoothly with all her planning, scheduling and tips. She was also so responsive to questions I had about certain purchases or decisions along the way! She made my wedding to be more than I ever could have dreamed up myself! Besides just Jenna, Julianne assisted on our wedding day and she was also nothing sort of amazing! I seriously can't thank Jenna and her team for all their help in making my day; THE BEST DAY EVER! I highly recommend Unique by Design for your special day or event - they are truly worth every penny! :)

Emily G.

Married on 02/26/2022

Must Have Team!!

Jenna and Julianne are an incredible team that made my wedding the perfect day that it was! We hired them for day of coordination which is really month of coordination. Jenna made sure to get down all of our details and truly understand our vision for the big day. She helped out with my last minute vendor changes and rolled with all of the changes we had to make because of COVID. We honestly wish we had hired Unique by Design for our entire wedding planning process. Julianne was more of our point of contact during the event itself. She was there to make sure I was bustled correctly and to escort my husband and I through the different events on the day of. She even carries a little fanny pack with all the necessities you will without a doubt forget on the big day. I wish I could give these two more than five stars because they truly earned them!

Kim S.

Married on 02/09/2022

Unique by Design should be at the top of your list!

Jenna's team of Julianne and Maddie were absolutely wonderful to work with at my son's wedding. They were very professional and took care of everything so that the bride and parents could enjoy the events of the day. I don't know what we would have done without them. They were wonderful and it was money very well spent. I would highly recommend UBD! They are outstanding!

Alex M.

Married on 02/09/2022

Exceeds expectations!

Jenna and her team at UBD coordinated our wedding that took place on 9/26/2020. Although we had over two years to plan our wedding, the process can be overwhelming and stressful, especially when working a full-time job. Jenna made every step of the process comforting and stress free!

I met Jenna a little over a year ago at Heritage Restored's Open House (the venue where our wedding took place). Although I was checking out other businesses that offered similar services, something just clicked that I had to have Jenna be the one to assist us through the wedding planning process. Jenna has a very fun, caring, and personable touch that leaves you feeling confident that she will exceed your expectations!

When planning a wedding, it's typically the first time for some, in which there's many things we don't even think to account for. I felt extremely confident knowing I didn't have to think of every little detail being as though Jenna would walk us through the entire process. Looking back, there were several times when close friends and relatives would ask how something would be handled or how we should go about doing certain things... My response without hesitation was always that "Jenna will go over that with us". In addition, Jenna and her team would ask us questions that left me thinking "I never would've even thought of that" multiple times.

During the year of our wedding, Jenna had to step back and tend to a very important and personal matter. When she informed us that she has since expanded her team and that someone else would be taking over the coordination of our wedding, I was upset at first (that I would not have Jenna there on our wedding day) but extremely confident that the services provided would be just as good. Even through this difficult time that Jenna was experiencing, she never failed to periodically check in to ensure her team was providing exceptional work.

During the weekend of our wedding, we had the pleasure of receiving coordination services from Julianne and Maddy. While most rehearsals are coordinated by the pastor, we did not have that luxury being as though we asked a close relative to marry us. This was one huge area where UBD was able to step in and flawlessly walk us through the rehearsal of the ceremony, leaving us feel reassured for the big day. Not only my husband and I, but our close family and wedding party commented several times on the service that was provided. Julianne and Maddy not only guided us through the day of events, but also brought our vision to life by ensuring we had everything we needed and by decorating our venue more beautifully than ever imagined.

To this day, we are still in awe thinking back and reliving our wedding day over and over again. I can confidently say that we would've been lost without the services of Jenna and her team at UBD! It's been an honor to work with Jenna and I am so thrilled to continue to watch her business grow!

Thank you so much, Jenna and Team!

Al-M

Married on 02/02/2022

Absolutely wonderful team!

We are so grateful to have had Jenna and her team's assistance with designing and day of management for our November 2021 wedding. Jenna eased our stress and anxieties about the wedding throughout the process. Jenna was able to take a blank slate and come up with a stunning design for the space in one planning meeting and made design suggestions that we now can't imagine our wedding day without. On the day of, Julianne and Lydia and went above and beyond to make sure the day ran smoothly and that everything/everyone was taken care of. Julianne and Lydia executed Jenna's design plans wonderfully. Our ceremony and reception space were more beautiful than we could have ever imagined! We truly had a perfect day and would recommend hiring Unique by Design for your wedding – they are SO worth the investment!

Jessica E.

Married on 12/10/2021

Best in the business

What are you waiting for? Book her already :)

Jenna and her team ROCKED IT! Our wedding was on October 24th 2020. I honestly don't know what I would have done without her! We have been working together for about a year and I knew right from meeting her that she was the one to help. I have a lot going on in my life and its hard for me to see the full picture. She ensured me everything would be perfect and gave me ideas that I didn't even think about. Even while having a family emergency she was always one call or text away. I don't know how to ever repay her!! She goes above and beyond for her clients to make sure it is what they want. During COVID we had to change venues three months before our big day! The first one wasn't following the state guidelines and we wanted to make sure everyone coming was comfortable. Jenna was helpful in finding a new place that was less than half of our original venue! When pulling up to the venue and seeing it before the ceremony I was blown away. It was everything I could have dreamed of and more! Her team working the rehearsal and day of was so awesome and organized!! It was nice knowing that things behind the scenes were in good hands! So don't wait, call her right away if you want to have the wedding of your dreams! :) We love you Jenna, thanks for everything!!!

Amanda H.

Married on 10/16/2021

UBD - Wedding Planning MUST

My husband and I recently celebrated our wedding day on 10/16/2021, which was that more special thanks to UBD.

At the start of wedding planning, I hadn't even considered hiring a day of coordinator until a close friend of mine highly recommended Jenna and her team. It was the BEST decision we made by far.

We got engaged in 2019 and booked our venue prior to the onset of the pandemic, which created some unrest in the planning process last year. I remember calling Jenna one day with concern and stress if we needed to consider an alternative plan if worst case scenario would happen as a result of the pandemic. Jenna quickly came to our rescue and offered to attend a venue visit with us to help advocate on our behalf. She did this on her own accord which speaks volume to her dedication, care, and passion for her business.

Leading up to our wedding day, there were multiple check-ins by email, call, and text that gave me reassurance our bases were covered. Like others when asked about specific details, I quickly responded by saying "UBD has it covered" and that they did! Our wedding would not have gone off without a hitch if it weren't for Jenna and her team (shout out to Mary and Ellen). If you are considering UBD for your special day DO NOT THINK TWICE. It will be the best investment you make that also helps give you and your future partner more time to fully embrace the wedding day and enjoy every single minute of it.

I cannot thank Jenna and her team enough for their support to help make our wedding a dream come true. Their customer service is unmatched and you can trust your investment with be worth every penny. I will be sure to recommend UBD to any future bride-to-be.

Ashley H.

Married on 10/09/2021

Absolutely wonderful wedding coordinator!

I cannot say enough good things about Jenna and her team. Our wedding weekend was everything we had hoped for even though a few things did not go our way. Jenna took care of every tiny detail and gave me suggestions on changing things I had not even thought of and then loved even more than my original plan. She was very responsive leading up to the wedding and we were so relieved to have her run the show. We loved every second of our wedding and a lot of that was thanks to Jenna and her amazing team!

Nicole S.

Married on 09/25/2021

We couldn't do it without UBD!

We hired Jenna for our wedding in September of 2021. Even though we hired her as a 'day-of' coordinator, Jenna provided us with a great deal of support, recommendations, insight, and answers throughout the entire wedding process. Jenna was always there to answer any questions we had about logistics and planning and she was able to provide recommendations of other vendors and ways to structure our day. As the big day approached, Jenna played an even larger role in the planning process including creating our day-of timeline and seating arrangement, reaching out to all the vendors in the week leading up, and attending the walkthrough and rehearsal. During the walkthrough, we described to Jenna how we wanted our decorations and extras to be placed around the venue, and we had full confidence that Jenna and her team understood our vision and that we were in good hands - just one less thing to worry about during the wedding day! On our big day, Jenna assisted at the ceremony by greeting guests and making sure everything was set up properly while her team (Julianne and Alex) were setting all of our decorations and extras up at the reception. Everything at the ceremony and reception was placed exactly how we described and done beautifully. Julianne and Alex were there for us the entire night during the reception and were extremely attentive and supportive of whatever needs we had. At the end of the night, they helped load everything up in the cars which was another thing we did not have to worry about. Overall, Jenna and her team were extremely helpful in both planning our wedding and achieving our vision!

Larsenks134@Live.com

Married on 09/18/2021

FANTASTIC wedding planner and event coordinator

Jenna gave us the wedding experience of a lifetime. She planned an extravagent wedding weekend that surpassed even our wildest dreams. The weekend was flawless and she made it look easy. From the day we interviewed Jenna, we knew she was going to give us a celebration for all to remember. From planning, to executing, to follow through, Jenna met and exceeded our expectations. We are looking forward to hiring her for our next event, because the celebration doesn't end at the wedding.

Courtney S.

Married on 09/17/2021

Breathtaking, magical & family oriented

Joey and I want to thank Jenna for all the time and effort into putting together our magical wedding. It was everything I ever dreamed it would be. When I first met Jenna I felt a huge connection and knew this would be a continuing friendship for us and know I wanted her help in coordinating our wedding. She had the best ideas and made me super comfortable in ever meeting we had together. I was less stressed during the build up to Joey and I's wedding knowing she had everything under control. Joey and I found out we were expecting a sweet baby boy during this process and I had to move our wedding up to a sooner date. Well Jenna was going to enjoy her anniversary in Jamaica but she had Juliann "her right" manage our wedding and it turned out absolutely breathtaking and everything I ever imagined it would be and better. I highly recommend Unique by Design Wedding and Events. You will not be disappointed and the girls are both gems♥️ Thank you for everything Jenna and Juliann!! We love you xoxo

+ 8

photos

Naomi G.

Married on 08/14/2021

Best Decision You Can Make for your Big Day!

I truly cannot say enough wonderful things about Jenna and her team. They made our entire wedding day stress free and allowed us to enjoy our time with our friends and family. When I realized our place cards weren't going to arrive in time the week of the wedding, Jenna arranged a solution and was able to get them made for us just 2 days before the wedding! She has a great eye for decorating and made everything look so beautiful and exactly as we had imagined. She made lots of recommendations every step of the planing process. Jenna led our rehearsal and made sure everyone in the bridal party walked on cue. She and her team had drinks for my husband and I ready at cocktail hour. At the end of the night all of our decor was back in the boxes and ready for us to take back home. They mitigated every bump in the road without us even noticing. Jenna was so reassuring the morning of the wedding and took all my stress away! We cannot say enough good things about Jenna and her team and recommend them to all our friends and family!!

Kristen K.

Married on 07/17/2021

Professional and perfect

There isn't enough praise I could give to Jenna and her team. She is professional and kind and she will do her best to make sure your wedding is perfect! I was a summer 2020 bride that had to postpone due to the pandemic to summer of 2021. In a very stressful and uncertain time she remained calm and optimistic and I knew I was in good hands. She was always available to me from the day I hired her as my coordinator to even days after my wedding. She was there to run the rehearsal the day before the wedding and made everything seem so effortless! She took care of contacting and coordinating with all my vendors so I didn't have to worry about a thing the day of. Her and her assistant were rockstars on my wedding day. They took all my decorations and Pinterest like visions and turned them into a reality and it was perfect! Her assistant even helped my sister in law bustle my complicated dress before introductions! If you are getting married at Bluestone Estate like me or any where else you need Jenna and her team there. I couldn't have imagined our wedding going half as smooth without them! Love you Jenna and your team at UBD, you helped make our day one to remember!

John S.

Married on 07/03/2021

Exceptional Experience

We are so grateful for choosing Jenna and her team for planning, designing, decorating our daughter's wedding day, what a true blessing. Jenna and her team are professional and passionate about making your day the perfect day. Their attention and vision to all the details for your special day is amazing and they will provide you with recommendations and ideas along the way. We loved her entire staff, an absolute pleasure to work with. Jenna and her team are very responsive, whether it be a txt, phone call or email away, they responded quickly and made you feel important. Thank you Jenna, Julianne and Mary for everything you did for us, especially on the wedding day, they make you feel like family and are there to assist you with anything you need and they truly make your day the perfect day! I highly recommend Unique by Design Wedding & Events, you will not be disappointed.

Abby W.

Married on 06/19/2021

Excellent Team

Jenna's team was a huge help in the planning process and on the day of our wedding. They eased any concerns and were well-organized. They were easy to reach during the planning process and supportive every step of the way on the day of the wedding.

Emma E.

Married on 06/05/2021

Perfect Wedding Planner

I have nothing but absolutely wonderful things to say about Jenna and the Unique By Design Wedding Team. When our original wedding plan was canceled due to COVID, I knew that we needed a wedding planner to help pull off our new plan for an elegant backyard wedding. I found Jenna through all of her glowing reviews and she far surpassed our expectations. Jenna's passion for her work and genuine kindness shines through in everything she does and working with her made our wedding planning process enjoyable and exciting! Her responsiveness, dependability and attention to detail is unmatched and I would recommend her without hesitation. I cannot thank Jenna and her Unique By Design Wedding team enough for a lovely wedding planning process and an even better wedding day!

Marti S.

Married on 05/08/2021

Jenna is the best!

Jenna is the best! We interviewed several wedding coordinators before we met Jenna, and we knew immediately she was the person we wanted to work with. She was organized and handled the entire coordination process with poise. There were several hiccups during my wedding day with the weather and Jenna was quick to come up with the new plan and keep the day moving without sacrificing my vision. Her staff was phenomenal as well! I highly recommend Jenna's services for a full wedding package - I only did the "day of" and she was great, but I wish I had her input and her assistance throughout the whole process. She is knowledgeable, friendly, creative, and assertive - all qualities that help make a wedding run smoothly. If you're looking for a wedding coordinator, look no further and Unique By Design with Jenna and her team.

Alison D.

Married on 09/12/2020

Thank goodness for UBD!

TLDR - Jenna and Julianna are amazing. If you have any doubts about a wedding planner/day of planner - take the leap - you will not regret partnering with UBD. Multiple times in the lead-up to "the BIG DAY," something would happen and I'd be like "THANK GOODNESS for Jenna." On the wedding day, it was a similar chorus:  "THANK GOODNESS" for Julianne!" There's no way we could have *smoothly*  pulled off our day without the UBD team.

 The moment that Jenna responded to my inquiry for a day of wedding manager, I felt my stress subside, thanks to her speedy and thoughtful response. She had read between the lines and was ready to help.From that day onward, Jenna and Julianne went above and beyond to help us finish design details and keep our sanity with a lot of last-minute changes and open questions with our venue due to their ongoing COVID changes. 
On the day of the wedding, Julianne was an absolute ninja ROCKSTAR, keeping us on time, and making sure that we were unaware of the inevitable bumpy parts. She and Mary had everything covered. And they HUSTLED. From ensuring that our reception space was beautifully set-up, corraling all our amazing vendors (and guests), golf-cart chauffering- I even saw her helping with wine service - which was definitely not part of her job description. It was also 90 degrees and our wedding was outside.
My now-husband(!) and I both do a lot of program/project management as part of our jobs, so at the beginning of our wedding planning process, we felt we would be able to manage. 
In hindsight, there is NO way we could have pulled it off and stayed sane, in a way that made sure both us and our guests had fun, without Jenna's guidance and Julianne and Mary's day of help. All of Jenna's vendor recommendations were fabulous, saving my partner and I lots of time and stress. Her existing relationships with contacts at our venue helped keep us all moving in the same direction. 
We had such an amazing wedding day. And we have had only rave reviews from our guests. Thank you again, Jenna, Julianna & Mary! 

Katie E.

Married on 09/12/2020

Having UBD on your vendor team is a must!!

Jenna and her team were a breeze to work with and helped ease the stress of my wedding day! I chose to have Unique by Design provide day of coordination for my wedding. Jenna was available from the start to help with any questions I had about how the wedding day would be laid out. Jenna offered support even through a family crisis she was having, which spoke volumes of her dedication to her business and the couples she serves! We had to change our venue due to Covid-19, and Jenna was so helpful and flexible through the process. She offered lots of insight and helped us make the best decision for our situation.

While Jenna provided support and did all of the "behind the scenes" planning, Julianne and Jamie provided support and coordination the day of. They made our outdoor venue look spectacular and exactly how I had envisioned! The day went smoothly and I felt like I didn't need to worry about a thing. I can't imagine not having them there to take care of any hiccups. Julianne also helped work out all of the bumps with the ceremony rehearsal and was able to get it done very efficiently!

Leading up to the wedding when our budget was getting tight and I needed to cut some things, I considered whether or not I really needed the day of coordination. I am SO SO SO glad I didn't. I can't say enough how grateful and relieved I am that Jenna's team was there to make sure the day was exactly how it was supposed to be and STRESS FREE!!

Jackie

Married on 08/29/2020

Best Wedding Planner EVER

Jenna and her team went above and beyond in helping us plan our wedding! Our wedding day would not have been as amazing and flawless without their help. Due to covid and new state restrictions, we had to replan our wedding four weeks out from our wedding date. As stressful as it was, Jenna handled everything for us! She literally planned an outdoor wedding in 30 days! It involved hiring several new vendors and coordinating all of the details with them. She was also always available to text or FaceTime despite going through a scary family emergency. Any time we had a wedding thought or concern, or were in panic mode, she was there for us and always assured us everything was under control- which it was! Our wedding day was better than we ever expected despite the pandemic and we owe SO much of that to Jenna and her team. We'll always be grateful for everything they did for us and we cannot recommend them enough!
Are you interested?
Send a message