Reviews
4.7 out of 5 rating
Quality of service

4.7 out of 5 rating

Average response time

4.7 out of 5 rating

Professionalism

4.8 out of 5 rating

Value

4.7 out of 5 rating

Flexibility

4.7 out of 5 rating
94%
Recommended by couples
Awards
11 User photos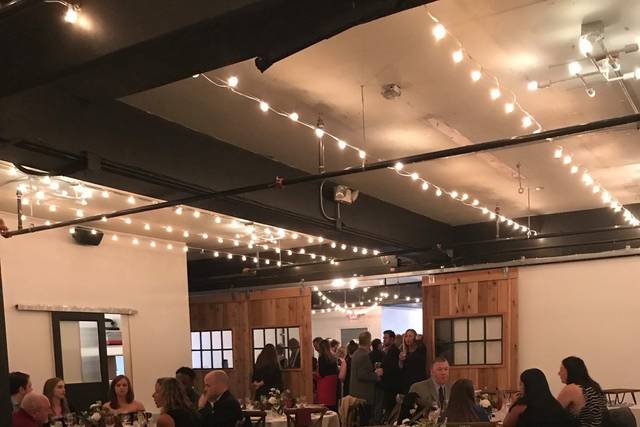 + 7

photos
Kathryn C.

Married on 10/15/2023

Cozy, Friendly, Flexible - The Best Venue in PDX!

Union/Pine was the first vendor we booked for our big day and was truly the most beautiful venue we could have ever imagined for ourselves. It has a rustic farmhouse charm while also having an industrial feel - the best of both worlds! We hired Cassy of Ashwood Design Co. (one of the venue's managers) to execute our event design and are so glad we did - she was so knowledgable about the venue specifics and it made the process a breeze. Cassy was also our main point of contact for the venue throughout the planning steps and was always quick to respond with any answers to our questions. Union/Pine is beautiful, spacious, affordable, flexible, and unique, and we loved the open catering + vendor policy allowing us to truly customize our event to suit us best as a couple. In addition to the main venue space, we rented out The Loft upstairs for getting ready that morning and our wedding crew absolutely loved how big and well equipped it was. We highly recommend renting either or both of these spaces for your next event! You will not regret it.

Ivy M.

Married on 08/12/2023

Union/Pine was perfect!

Our wedding was amazing! Everything went so smoothly from start to finish. We heard from our guests so many compliments that the space was beautiful, and everyone felt it was the perfect space to make it feel more intimate.

Courtney R.

Married on 04/07/2022

Lovely wedding venue!

We held our wedding in early April at Union/Pine, and had such a wonderful time! We began planning the event in early 2021, with help from both Cassy and Gabby, and they both went above and beyond throughout the entire process. The space itself has an open, industrial vibe that leaves room for endless possibilities of theme and design. We hired Ashwood Avenue Design to help us with color palates, layout, ceremony + reception details, and so much more, and everything turned out beautifully–our guests kept raving about how lovely everything was and how the atmosphere + style were so representative of myself and my husband. Union/Pine is a unique, accommodating space in the Central Industrial district, is a great value for a venue in the Portland area, and has kind and professional folks at the helm. Highly recommend, and thanks again to the crew at Union/Pine!

Are you interested?

Send a message

Peg A.

Married on 10/25/2019

Gem of a Venue

We recently used Union Pine for a wedding. It was perfect for our event. The size provided the wedding and reception to be held in the same place yet feel very intimate and personal. The upstairs loft was perfect for the bridal party to do hair and make-up and there's a parking lot that can be rented for guest parking close by. The uniqueness of the venue is perfect for weddings to business meetings and working with them was a pleasure.

Alix L.

Married on 09/06/2019

Unique + Nostalgic

SUCH a unique venue! I am a wedding photographer, and have shot a few weddings at Union/Pine. It's one of my favorite venues to shoot at! The lighting coming in through the windows makes for beautiful photos. The wood floors + brick walls give the space a nostalgic vibe. The space feels intimate and cozy. There are also tons of good areas for photos both inside and out. Love this venue!

Kaylani W.

Married on 09/01/2019

Everything I dreamed!

Union/Pine made it soo possible to have the beautiful (yet affordable) wedding of my dreams. The venue set up itself is beautiful and takes very little to dress it up for occasion. I kept my decorations real simple, y'all and did not use a planner and still had everybody swooning. The flexibility with the vendors also made it easy to stay within budget. Cassie was so great to communicate and go over details with and the day of manager was easy to get ahold of. SEAMLESS. We had so much fun. 10/10 would recommend.

+ 6

photos

Heidi M.

Married on 08/17/2019

We loved our wedding at Union/Pine!

This was the perfect space for our wedding and reception. Planning a wedding can be stressful and from another country, even more so! But Cassy & team made our planning and special day so easy! There are so many options for layout, furniture/props (some included, some for rent) and an open catering policy. Cassy was so accommodating every time I made the trip home to Portland, she made sure I could be in the space and patiently answered all 5 million questions I asked. I highly recommend Union/Pine for your next event!

Shannon

Married on 10/20/2018

U/P was exactly what I was looking for!

Working with Cassy was an absolute DREAM. Union/Pine was everything I was looking for in a reception venue. It allowed us to make it "ours" while also remaining industrial and loft-like. We had a dedicated dance floor, a fun ping pong table and then long dinner tables in the back room. It was everything I could have asked for and would absolutely recommend U/P to any future brides!

Annie

Married on 10/07/2017

It was a pleasure working with Cassy for our October wedding at Union Pine. Union Pine was immediately our first choice of venue & I'm so happy to have had such a special event there!

The space itself is a beautiful blank canvas - warm & with a vintage feel - & is divided into three areas that flow seamlessly. We had our ceremony (60 guests) in the sunken living room, cocktail hour in the bar area, dinner in the back room, then karaoke back in the living room.

We used several of the items available at Union Pine (couches, chairs, etc.) & completed the look with outside rentals & floral. I worked with Cassy & several other people for over a year as I planned & they were always responsive & helpful.

Union Pine was the only venue for us. I'm so grateful!

Samantha

Married on 09/24/2017

I don't know how I stumbled upon Union Pine but I was searching for the perfect venue anywhere in the country and when I saw Union Pine I knew it was the one. I think I sent them an email in the middle of the night (I work night shift) and they got back to me the next day saying they had our date (6 months away) open!!! So I booked them without even seeing it in person. Working with Cassy was extremely straightforward. She always got back to me right away and answered any questions I had. I live in california and I never made it up to Portland to see the venue until the day before my wedding and when I walked in to Union Pine, completely empty, I was stunned at what a great space it is. It is simple but it is styled and designed in such a way that we didn't need to add much. I honestly dont think there is a more perfect venue and the price was amazing. Every single guest who had asked us "why Portland?" understood when they walked in to Union Pine exactly why we had chosen it.

Emma

Married on 09/09/2017

Union/Pine was the first venue my husband and I looked at during our wedding planning and we are so happy that we found it. Communication with Cassy was straightforward and we were impressed by her responsiveness to our questions as well as her organization and suggestions during the planning process. She coordinated our table and chair rentals at no extra charge and they were setup and taken down promptly and at their scheduled time. The wedding looked beautiful in the industrial setting and our guests had a great time mingling, eating, and dancing at the venue. The only slight downside we had was that the back room during the dinner was quite loud, however we had 110 very joyful and talkative people in the space! We are so appreciative of the Union/Pine team and are so happy with our decision to have had our wedding there!

Emiie

Married on 03/04/2017

We just had our wedding at Union/Pine and it couldn't have been a better experience. We worked with Cassy the whole time- great communication, flexible, kind and personable. Through all the wedding hiccups along the way she was fantastic!

As a venue, they're so EFFICIENT to work with! They keep weekly and monthly check ups and communications leading up to the event day. If you pick vendors from their list of recommendations (Lamb's Table Catering, Classic Vintage Rentals is what we chose and LOVED) it's even easier of a process. Never even communicated with Classic Vintage because U/P did it all for us! They have a great variety of in-house things you can rent (couches, tables, decor) that are both complimentary and available for rent. You submit a layout and they do the rest for you!

The location is fantastic and the price is definitely right. I loved bragging on the Union/Pine- it's used for many different events and like I told everyone, it's the best blank canvas for creatives. Such a beautiful venue, you really don't need to do much to make it your own and stunning in your own way.

5/5 for Union Pine! I'm telling everyone to get married here!

Jessie

Married on 10/14/2015

Union Pine has been great for my wedding. Their in-house planner Megan is super sweet, smart, and extremely helpful. The venue is amazing, and I love the setup. A great place for people looking for an all-in-one solution for the ceremony & reception. They have a bunch of great furniture and rental ideas, and the planner Megan does floral as well. Super convenient and made my life A LOT easier! They are pretty busy, so I would recommend booking your date ASAP.

Natalie

Married on 04/25/2015

Union pine is a beautiful space. We spent very little on decor because the space has so much character of its own. It's the most affordable venue I found too. If you decide to use the space I highly recommend the on site coordinator, Megan. SHE IS THE BEST. She straight up sewed an eyelet from her bra into my dress when we discovered mine had fallen off, 10 mins before the ceremony. I'm honestly kind of sad I don't get to hangout with her anymore. All the staff at UP were so helpful and made everything flow so smoothly. I have nothing negative to say about this place. I mean, sunken living room ceremony, need I say more?

Alina

Married on 06/21/2014

Union/Pine is such a beautiful and unique venue. We loved it from the very start and our guests felt it really embodied the Portland spirit.

We enjoyed working with the staff and found the whole experience very positive. We highly recommend this beautiful gem!

Sara W.

Married on 10/01/2022

Union Pine was the perfect venue for our Day

We found Union/PIne by Googling "Wedding Venues in Portland." We toured it, loved the vibe and aesthetic, and the price was right! Wedding venues can be ridiculously expensive, and Union/Pine fit nicely into our budget. It was great that they have no vendor restrictions, and let us bring in our own beer and wine, which our catering company served. Cassy was fantastic throughout our planning process and worked with us to make sure everything was in place for our big day. Union/PIne also has a great upstairs space where the bride and bridesmaid could get ready, as well as a room for the groomsmen. A huge plus is that they have a parking lot you can add-on so your guests have an easy time parking downtown. Union/Pine was magical and I cannot imagine having my wedding anywhere else.

Kimberly

Married on 07/24/2016

My husband and I got married at Union/Pine last summer and are very happy with our experience! The space was the perfect size for us (65-70 guests) with a "modern industrial" kind of vibe that fit our wedding perfectly. The price was good for a Portland venue, highly customizable to our needs, and doesn't require any particular caterer. Our wedding was on a Sunday so there was free street parking, but we did opt to pay to rent the U/P parking lot which is a few blocks away. We worked with Via for the whole planning process and she was very responsive and helpful, especially in confirming that we had the layout arranged and all the vendors on the same page. Maybe most importantly, we had a late morning wedding and coupled with the installed twinkle lights, there was plenty of light for our photographer to not need to use flash, so all the indoor photos turned out lovely! Via coordinated with Classic Vintage Rentals for our benches and we used NW Event Rentals for our tables and non-food catering needs. Lastly, if you're looking for a place to stay the night before or night of, there is a gorgeous little studio-condo just 2 blocks down the street that was cheaper and easier than a hotel, that we found on Airbnb. Overall we're very happy with our Union/Pine experience and are happy to have had such a great looking place to be captured in our wedding photos!

Allison

Married on 09/11/2016

This is a great venue if you are looking for something smaller! My husband and I loved that we did't have to worry too much about decor because it is such a beautiful venue with special touches that add character!

Jennifer B.

Married on 07/29/2023

a nightmare

Quality of service: POOR
Responsiveness: POOR
Professionalism: EXTREMELY POOR
Value: POOR
Flexibility: EXTREMELEY POOR

Union/Pine's reply:

Other than the complimentary furnishings and discounts that we have extended to you, if is there anything else we can offer you at this time to ease your frustrations, just let us know. We're sorry we missed the mark with you to the point of eliciting this onslaught of anger and reviews from you and your family and friends, and continue to wish you all the best as you move forward in this difficult time.

Less than 1 month notice for other vendors might be 'pretty good notice', but for a venue, it is not. The likelihood of being able to book a wedding or event with that short of notice is incredibly unlikely. This is why some vendors might have some wiggle room on cancellations fees, but most venues do not. And this is why contracts protect this - because we can't afford to block a date for a year, and then lose that income in the event of a last-minute cancellation.
Are you interested?
Send a message