26 Reviews
Recommended by 100% of couples
Quality of service

5 out of 5 rating

Average response time

4.9 out of 5 rating

Professionalism

5 out of 5 rating

Value

5 out of 5 rating

Flexibility

5 out of 5 rating
5 User photos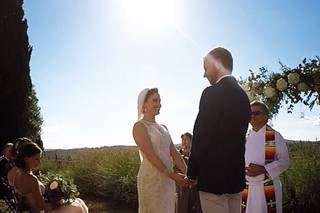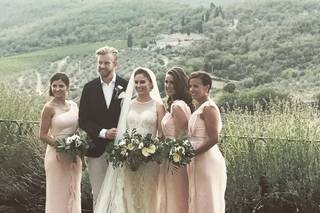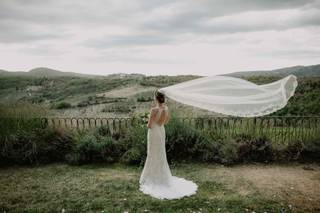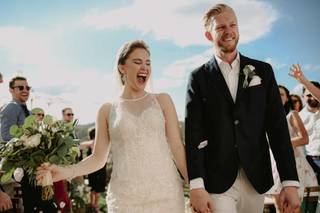 M G

Married on 10/06/2020

Perfect wedding planner for our Tuscan dream wedding

Over more than a year of wedding planning, Laura has grown from our wedding planner to a friend. She did a fantastic job in all the important aspects: First, in sourcing highly experienced and professional partners from the region through her extensive network, second in managing the administrative side of getting married in a foreign country both civil and religious and third in coming up with creative ideas and solutions to accommodate all our wishes. All in all, she did a fantastic job and through her all the small details came together beautifully to a unforgettable wedding.
Thank you for everything, we look forward to keeping in touch!
Christina & Max

Tuscan dmc Unforgettable Weddings in Italy's reply:

Overwelmed by all these beautiful words..
We will be forever friends and Tuscany will be forever your second home! Waiting for you to come this year too ;)
Hugs from Siena

Lauren

Married on 09/22/2018

Laura is wonderful!

Laura is such a wonderful person and made our wedding experience unforgettable - it was exactly as we imagined and we had the most amazing wedding weekend in Tuscany!

Adam & Lauren xx

Lorna S.

Married on 06/29/2018

Thank you so much

Dear Laura!
I just wanted to email you now that we're back at home to say thank you so much for everything you did for our wedding, it really was an amazing few days and everything went perfectly. Everyone had such an amazing time and people can't stop talking about it still now. It was everything I hoped it would be and more and you made it all so easy and so thank you so much again for everything.

Thank you
Lorna and Josh

Are you interested?

Send a message

Tracy

Married on 06/29/2018

'Lorna & Josh's Wedding '
Have just returned from the most amazing wedding, and whilst I know I can say that because it was that of my eldest son and new daughter-in-law, I completely feel that our experience was made so much more special and personal because of the fantastic organisation, that was carried out by Laura, over the whole three days,
I can honestly say that Laura interpreted the dreams of the Bride and Groom for their perfect wedding and turned them into an actual reality. She took on their ideas and liaised with them offering both her local knowledge and business expertise to ensure they achieved everything they wanted and more.
Laura was so supportive in the run up to the wedding and on the day she was there every step of the way, nothing was too much trouble for her, she went above and beyond what was expected of her. This was also supported by the services and staff that she help Lorna and Josh engage for the occasion, from celebrant, photographer, caterers, florist and hair & make-up artist.
Every single member of the wedding party is in agreement that it was a beautiful occasion and we cannot thank Laura enough for everything she has put in to making Lorna & Josh's wedding day the day that they had dreamed of. We all had the time of our lives, thank you xx


Lisa

Married on 06/27/2018

I was put in touch with Laura by the villa company through whom I booked the villa for my wedding celebration. She was amazing and made my dream wedding come true. I can not say enough about how valuable she was and how every single thing she recommended was perfect. From the florist to the photographer to the caterers and food selection, everything was absolutely wonderful. I could not have done this without her, and highly recommend her to anyone planning an event in Tuscany. Brava, Laura!!

Bryan

Married on 10/22/2017

Laura was the perfect person to coordinate our destination wedding in Tuscany. My wife and I live in the US, so we put a lot of faith in her decisions, and our faith in her paid off!

She was very communicative throughout the entire process, which was about one year of planning. She kept us on track every step of the way with what we needed to book, what's decisions we had to make, etc.

Every aspect of our wedding was perfect - the decorations, the table settings, lighting, and the FOOD. OMG the food. The caterers she chose are masters of their craft and the wait staff were so friendly and professional.

If I were planning a wedding anywhere, not just in Italy, I wouldn't hesitate to hire Laura. She is an amazing, lovely person, who my wife and I will be forever grateful. She created the perfect wedding for the happiest day of our lives. We love you, Laura!

Suzanne

Married on 09/16/2017

Suzanne!! I didn't know you had a surgery I hope everything is ok!!Please let me know that you are fine and when you'll come back I really want to hug you..
Thank you for the wonderful words...I have had the goosebumps!!

This is the link where you can edit it but if you have problems with it just let me know..

https://www.weddingwire.com/biz/tuscan-dmc-unforgettable-weddings-in-tuscany
_______________________________________________________________
Laura Nicolelli Fulgenzi
Tuscan dmc
www.tuscandmc.com
Via san Girolamo 17
53100 Siena/ Italia
+39 334 2969 129
The wedding planning services that Laura offered our family were superb. Outstanding in every way. Laura has a great sense of humor and a very steady calmness and thorough knowledge of the entire wedding process...she earns a top rating of 5 stars out of 5.

There was one bride in Copenhagen , a mom and a dad in Tuscany and a groom traveling around the world that needed to plan and agree on all things wedding related. Not so easy with distinct personalities and imaginations. Laura just took all of us by the hand individually and collectively in person, by phone, video or messaging to offer advice, schedule appointments and encourage decisions. We were lucky, we would have 5 days of wedding celebrations as over a hundred guests were arriving from around the world. We live in a beautiful little Tuscan hill town and all of our venues were selected and felt great. One of the first remarkable requirements Laura gave us was to figure out a Plan B. No one wants to use a Plan B when everything on Plan A seems pe

As the father of the bride, I can say that Laura was extraordinary. I completely recommend her. Professional, diplomatic, intelligent, fun, experienced and far beyond helpful.

Alicia

Married on 09/01/2017

Laura was the perfect wedding coordinator. We could not have asked for a better person for the job! From day one, she was extremely helpful supplying choices for vendors and communicating quickly and clearly. Laura's bright and caring personality really shines through in her job. You can tell she loves what she does it truly makes a difference. James and I had the MOST PERFECT wedding day and we have Laura to thank for that. In the planning stages she went above and beyond. For example, she made the 40 minute journey to be with us during our menu tasting and she did this without us even asking her! She wanted to make sure she could help us with the details/select the most appropriate items for the day. She also attended my hair and make-up trial the week before the wedding to ensure all of the details I wanted were clearly communicated to the hair and make-up team. On the day, I literally did nothing. Laura handled absolutely everything. She knew which vendors needed to be where and at what time and she knew when everything needed to happen down to the minute. She had clearly reviewed our timing plan and spoken with all of the suppliers to ensure everything would be running smoothly. I had the most relaxed morning – drinking prosecco and getting ready with my best girls. ; ) My husband James also had a lot less on his plate thanks to Laura's expert planning and organization. Several family members who had interactions with Laura told me how lovely she was and that she was a huge asset to the day. I cannot thank Laura enough for her efforts in making our day so special. I would highly recommend the services of Tuscan DMC. I know we will certainly be using their services for other events in the future. Throughout the whole process we felt like we shared a strong personal connection with Laura, and I can truly say that we became friends. =)

+ 2

photos

Thank You for all the great work You did for our Wedding. We had a great day and so did all our guests. Hope You are satisfied as well. Thanks again for everything.

With love from the newly weds
Anne and Andre

Laura thank you very much!! I am sure that was not easy to work with a nervous bride ihihih but our wedding was simply fantastic and what a great location!! My friends are still talking about that!! Amazing and unforgettable!! Thank you again!...valentine&andrew

Lauren

Married on 10/11/2014

Laura Nicolelli Fulgenzi was an absolute joy and professional to work with. She is very organized and her attention to detail made our experience planning a destination wedding an absolute pleasure. She made suggestions that we had never considered and ended up really making our celebration spectacular. She answered every question we had along the way planning and eased our concerns at each step along the way. She even went beyond to make suggestions for our trip to Tuscany truly once in a lifetime. Every person that was recommended by Laura far exceeded our expectations. She has an incredible eye for talent as evidenced by the people whom she suggested. It is obvious that Laura is truly passionate about her work. She treated us and our guests as family. When we think back on our special day, we will forever be grateful to her for making our dreams come dream.

Dear Laura, Thank you so much for all your advices, hard work and for being not only our planner but also a friend. We have had the best day of our lives only because of you. We truly recommend Laura if you are searching for a great wedding planner in Italy. Elena and David

Nathalie

Married on 04/13/2014

I really recommend Laura because she is amazing! Our wedding was even better than our dreams with good ideas and excellent services she recommended us. She is always attentive to your needs and offers solutions tailored to your desires.

Je recommande vraiment Laura car elle est incroyable ! Notre mariage était encore mieux que dans nos rêves grâce à ses bonnes idées et aux excellents prestataires qu'elle nous a recommandés. Elle est toujours à l'écoute de vos souhaits et vous propose des solutions adaptées à vos désirs.

Mary

Married on 03/14/2014

Laura is a very talented and professional wedding planner. She listened to all our needs and our specification. We have had a great day and all our friends and relatives really enjoyed it. I highly recommend Laura, and all the service she provides for. If what you want is a stress free unforgettable wedding choose her!

Gwen

Married on 09/20/2013

Laura is amazing!!!!! I surely recommend her and tuscan dmc For your wedding and for any special day. She' s a great person and most of all, professional! Everything was absolutely perfect so thank you so much Laura...we'll never forget it!


Gilles

Married on 09/13/2013

I wholeheartedly recommend Tuscan dmc to every single couple. Laura thought about all the paperwork, she found an amazing venue for us and she did an incredible job. She perfectly knows the location which suits you better and the best vendors. Our wedding day will always be unforgettable for us and for our guests too: everyone has said that it was the best wedding they've ever been too!

Valerie

Married on 08/03/2013

Tuscan dmc turned into reality our perfect day!
Laura is patient and understanding, working with you to make sure you get what you want. She knew our desires and she gave us precious suggestions. My husband and I immediately understood that we could rely on her: she was always promt to respond to our emails and she updated us on progress before I would even have a chance to ask.
Thanks to Laura and her passionate work every single detail was just what my husband and I always talked about!

Michelle

Married on 06/21/2013

Laura was incredible. We felt so at ease knowing that she was in total control fulfilling our wedding requirements. She pointed us in the right direction for vendors, that we would ordinarily never have found. Not only did she make our day spectacular, we have made a friend for life!

Marzia

Married on 05/24/2013

you gave us the greatest day of our lives, thank you so much Laura

Michelle

Married on 12/18/2010

Laura managed to make our wedding a success even under the most difficult circumstances. It never rains but it snows, and snowed it did on our wedding day. Florence was totally blocked, even the airport was closed, but Laura managed to change church, help our guests and make alternative arrangements for the reception at the very last minute. Ours was an unforgettable wedding for everyone and three years on our guests still talk about it. But it is indeed thanks to Laura that we managed to get married that day.




Catherine

Married on 08/22/2009

If you wish to have a dream wedding and would like to spend your special day in the beautiful Tuscany then I definitely recommend you use Laura at Tuscan DMC.

My day was everything I dreamt of and Laura made it all happen. She was able to understand what was important for me after the first time we met and paid incredible attention to all the details I wanted her to focus on.

On the day everything was perfect, starting from the reception before the ceremony started (Laura suggested this as I would have never thought of it but everyone was grateful as it is incredibly hot in August and it is customs that the bride arrives slightly late so drinks and nibbles were very well received!), the ceremony it self, the reception following the ceremony, the dinner (with our own personal moon and the most beautiful display of Italian cuisine including our own baker preparing our cake throughout the evening in front of everyone) and the after party!

She negotiated a flat fee for the drinks and I am soo glad she did as at the end of the evening we were told that more than 800 drinks had been served...but we hadn't to worry thanks to Laura and her negotiating skills! And let's not forget the ice cream van!!!

So my advice is to meet her, tell her how you wish your wedding to be and expect her to make it al come true!

Marco

Married on 07/09/2016

If our wedding worked out like clockwork large part of the merit goes to our wonderful planner Laura. We could not have had a more relaxed wedding day, notwithstanding multiple venues, international guests, cultures to juggle and a million potential pitfalls: she and her team took care of literally everything, we did not have to think of a single organizational aspect on the day. Laura promises and delivers wonderfully on all the reasons for which people say you should have a wedding planner! In the months beforehand, while we were a continent away from Siena, she supported us in a non-intrusive, personal and laid back way. Once we arrived, she was just amazing, calm and discreet and with a smile for everyone. If you want to enjoy this precious time and have nothing to worry about on the day, Laura is your planner!

Laura is simply an amazing wedding planner. If you want a dream wedding in Tuscany then seriously, look no further than Laura. Thanks to Laura we had a dream wedding and this is not an exaggeration.

Laura is extremely creative and passionate about her job. She is very efficient and responds promptly to emails and totally adapts to any situation. She is highly professional. Many of my guests commented on a) how amazing the wedding was b)how amazing Laura was! So, I have no hesitation in highly recommending her, you won't regret it.



We had a wonderful wedding thanks to Laura. Compared to other service providers we approached, she was listening to what we wanted and had in mind and was not trying to push for "what people usually do" so we were able to create with her the perfect event that matched what we wanted: simple but beautiful and fun.
Are you interested?
Send a message