60 Reviews
Recommended by 98% of couples
Quality of service

5 out of 5 rating

Average response time

4.9 out of 5 rating

Professionalism

4.9 out of 5 rating

Value

4.9 out of 5 rating

Flexibility

4.9 out of 5 rating
17 User photos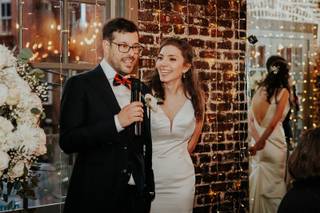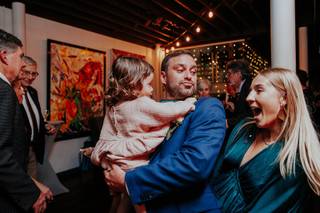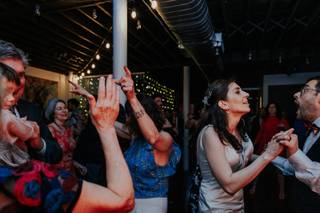 + 13

photos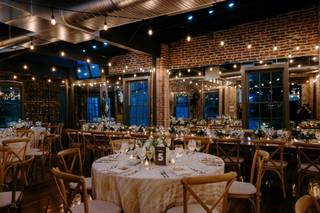 Sanem

Married on 10/01/2022

The first and only venue we toured!

We got married at Toolbox October 2022 and I can't believe how much we lucked out with the perfect wedding venue. We still have compliments coming in on how Toolbox is such a chic and unique space and you feel that the moment you walked in. We kept our wedding decor subtle because the beautiful art and space itself are all you need.

Aside from the gorgeous aesthetics, the team is the main selling point of Toolbox.

From the moment we stepped in, Alex was incredibly kind and helpful. He answered all of our questions without hesitation and you can tell he and his wife really put a lot of care and thought into Toolbox, appreciate its history, and have pulled in beautiful pieces like the bar and architect's table to bring it up another level. And Toolbox's day-of coordinator, Oli -- words aren't enough to express how brilliant she is. She's an organized and flexible calming presence. Everything went off without a hitch, and she was the conductor behind it all. The couple weeks before the actual wedding day seem to be the most stressful, but the second we saw Oli for our final walkthrough, that all floated away.

Tl;dr: book Toolbox, you won't regret it

+ 2

photos

Valerie M.

Married on 07/23/2022

Perfect venue & day of coordination for our wedding

Toolbox was recommended to me by friends who had looked at it for their wedding. It was exactly what we wanted: centrally located, vibrant setting, and a good price. Our wedding was 85 people which was perfect for fitting everyone in the main room for dining, but you could easily have them spread out all over the top level for up to about 125 comfortably. Alex was easy to work with and very accommodating, Oli was a superstar in getting everything ready for the big day. Everything went off without a hitch!

The space is a little unique, but Alex has some suggested vendors. There is no kitchen on site, so having a caterer who has done the space before helped ease my mind (Main Event was recommended & awesome). I was paranoid that the air conditioning would break for our July wedding, but it stayed cool the whole time. No guests had problems finding the venue that I heard about. Couldn't have hoped for a better venue

+ 2

photos

Vanessa

Married on 12/10/2021

Professional and Patient!

I recently had the pleasure of working with Alex and Olivera to plan my upcoming wedding. They were recommended to me by a friend and I'm so glad I went with them. They were so professional and patient with my fiance and I. We didn't do much research and had a lot of questions but they really put me at ease and walked us through everything. I feel so confident now and highly recommend them!

Are you interested?

Send a message

Eric V.

Married on 03/12/2020

Highly Recommend

We fell in love with Toolbox on our first tour, and our experience only got better from there. The venue is beautiful and it's in a great location. The staff at Toolbox is incredible. Alex and Ollie were an absolute joy to work with. They made sure everything was perfect down to the tiniest detail – coordinating with vendors, offering ideas for decorating, and making sure the wedding ran perfectly on time. Alex, Ollie and the rest of the team at Toolbox made sure our day was perfect and totally stress free. We cannot recommend Toolbox highly enough.

Meghan H.

Married on 12/28/2019

Absolutely Perfect

We truly cannot say enough kind things about the Toolbox or the wonderful people who work there. Alex was absolutely fantastic and made us feel so welcome and assured that the wedding would go to plan. The space is absolutely gorgeous and so well decorated. The art on the wall is absolutely beautiful and our guests raved about the space! It was especially nice that it was all indoors and our guests never had to go outside as we had a winter wedding. The day of ran so smoothly and Ollie, Eva, and Alex helped in every way they could. They gave wonderful recommendations for the other venders but never made us feel pressured to take them. We had just under 90 guests and the space was filled perfectly. Thank you so much, Alex and team! We cannot thank you enough and we certainly will recommend you to other engaged couples every chance we get!

Alyssa

Married on 10/26/2019

The most magical wedding day!

We could not have asked for a better wedding day, mostly because of Toolbox. The minute we saw the space, we know it was perfect for us. The small art studio is modern, intimate, centrally located, and simply beautiful. We held both our ceremony and reception for 120 guests at Toolbox.

Alex was *fantastic* to work with throughout the planning process. He was super communicative and went far above and beyond to ensure we had a perfect day, helping out with everything from logistics surrounding decor to selecting great local vendors. Olivera, our day-of-coordinator who frequently works with Toolbox, was absolutely AMAZING. She ensured every single minute of our wedding day went smoothly. She coordinated with all of our vendors, set up our decor perfectly, swiftly rounded up our guests, and made sure we ate :) Between Alex and Olivera, no detail went unnoticed.

If you're looking for a beautiful, modern venue in the middle of the city, look no further than Toolbox!

James

Married on 10/05/2019

Wonderful venue, wonderful people

We absolutely loved having our wedding at Toolbox. It's a beautiful space, and between the art and the atmosphere, it feels really special. We had ~80 attendees and - while we definitely could have fit more - it was a nice, cozy space for that group.

Alex was fantastic throughout the process, and had a ton of great suggestions. He put us in touch with most of the vendors we ended up using, and all of them were great. Olivera was our day of coordinator, and she was very organized and helpful. With her help, and because everyone had worked together before, everything went off like clockwork. If we had it to do over again, we'd do the exact same thing in a heartbeat.

Matt

Married on 09/14/2019

Perfect Venue for our Big Day

We had viewed a few other venues before walking into Toolbox, and once we did we immediately put down a deposit and canceled our other appointments. The space is very industrial, filled with art, and just had a feel that we didn't see anywhere else. The owner, Alex, was amazing to work with. He would respond to questions within a few hours, gave us some great vendor recommendations, and was really committed to making sure that we loved the space as much as he does. The wedding felt intimate while still being big enough for people to spread out and enjoy the space. When we think of our wedding it's impossible not to think of the venue being a significant part of it and we're so happy that we decided to have our big day at Toolbox.

Emma O.

Married on 09/07/2019

Toolbox was stunning and easy to work with

We loved our wedding reception at Toolbox. Alex was easy to work with, and the art gallery was great for guests to view while we partied all night. Highly recommend.

Laura B.

Married on 06/15/2019

Beautiful venue, super easy to plan

We saw tons of fancy DC venues, but we only got really great vibes from Toolbox. It's a beautiful, unpretentious, fun space, and Alex will make you feel right at home. I really liked that Alex was flexible with what we could do with the space and encouraged us to be creative. I recommend hiring a day of coordinator through Toolbox - Olivera was super nice and helpful. She was organized day of and I was never bothered with any issues what-so-ever! Also, go with all of Alex's recommendations for vendors and hotels. They know the space well and will treat you royally. Overall, the experience with Toolbox was really enjoyable and made wedding planning much easier than I think it could have been.

Erin

Married on 03/30/2019

Hidden Gem in Dupont

We cannot think of a better venue for a DC wedding than the Toolbox. The space—with modern art, brick walls, wide-plank wood floors and twinkle lights—is to die for. Owner/manager Alex was a joy to work with. And Olivera, our day-of planner, was super kind and made sure to take care of every detail so we could just enjoy. We cannot say enough about the whole experience! Thanks Alex!

Fantastic venue, fantastic service!

We worked with toolbox for our February wedding and could not have been happier with our decision. They were professional, helpful, and accommodating every step of the way! Alex helped us envision the layout of the event and had so many creative and fun ideas. His team was tremendously helpful on the day of the wedding and we did not have to worry about a thing! He even communicated directly with our vendors to make sure there would be no logistical snags and that things would flow smoothly. We were so happy to get to work with the Toolbox team and can't recommend them enough to any couple planning their big day.


Jennifer

Married on 02/11/2019

The most beautiful venue and staff!

I got married at the Toolbox last month and people are still talking about how beautiful the venue was. I have to agree - it was my dream wedding. The Toolbox's Day-of-Coordinator helped me with planning from start to finish, even suggesting other great vendors and recommending little design details. I didn't have to worry about a thing and ended up with a perfectly orchestrated wedding. If you're looking for an intimate and beautiful venue and a talented staff, this is the place. You won't regret it!

Katherine

Married on 12/01/2018

Beautiful, Unusual Soace

We had wanted an "all in one" space for our wedding and reception, that was unusual, and the Toolbox provided it. It can be slightly difficult to find, but it was a gorgeous space and totally worth it!

Alex (the owner) and his family take the time to give you ideas, they do amazing work at the space to make it feel beautiful and special, and the vendors the suggest give you a leg up on the wedding planning while.providing exceptional service.

Leah

Married on 06/23/2018

Toolbox is a unique, beautiful venue, and I couldn't be happier we chose it for our wedding day.

From our first meeting with Alex, I knew we were in good hands. He is so responsive, and takes lots of time to answer questions, and is continuously in contact from the visit until the wedding day. He really understands his space, and knows what will work perfectly to make it a beautiful day.

Lana, our day-of coordinator, was a huge asset as well. We did not have a wedding planner, but hiring her to coordinate on-site the day of the wedding was such a good decision. She was really involved with everything going on, and her preparation at our rehearsal on Friday made everything go smoothly. She worked seamlessly with all of the vendors, and as I told her, if anything was going on behind-the-scenes, I had no idea about it! It was all perfect, and her help was a major part of that.

I would highly recommend Toolbox to anyone planning a wedding in DC. The staff and the space will make for a wonderful wedding day that your friends and family will be talking about for a long, long time.

Sunny

Married on 11/11/2017

I don't even know where to begin with all these good (and only good) things to say about Toolbox. Irina was the event manager we worked closely with was simply amazing to work with. On our first meeting, she was providing information about the venue and walking us through a some of the successful weddings & events they've had. After we saw the venue, we canceled venue visits we had planned and immediately booked Toolbox. Throughout the 1 year period of planning, we've been in touch with Irina and Alex several times and they were so helpful and patient with us each and every time. We also ended up booking the DJ and Caterers they recommended and the wedding day was absolutely flawless in every sense. We hired Irina to be our day of coordinator. My bridesmaids were amazed with Irina's proactive attitude and how in-tune she was with our vision for decorations and set ups. I walked in to the venue for the ceremony, and then once again for entering cocktail hour feeling overwhelmed with joy. All throughout reception, our guests had raving things to say about how unique and beautiful the venue was. All I can say is, my dreams came true and I had a wedding day even more perfect than what I ever imagined. I wish I could plan another wedding or other big events at Toolbox just to re-live that day. I will forever thank Irina for having such a help in creating the best day of my life. Thank you, Toolbox. <3

Andrew

Married on 10/07/2017

We had an incredible experience with the Toolbox from the moment we stepped in the door more than a year ago. First of all, the space is just beautiful and requires almost no additional decoration. It's cozy, comfortable, and versatile. We had 88 guests and it felt just right, but could easily have accommodated more without feeling overcrowded. It's also cool that food trucks can pull up outside, which we did for dessert. But what really sold us on the Toolbox was Irina Batchelor. Even before we decided to hold our wedding there, she was sharing tips and wedding planning advice to use anywhere. Throughout the yearlong planning process she was incredibly responsive, knowledgeable, and helpful. She made us feel confident that everything was coming together as it should. We so little stress about our event thanks to her! If you pick the Toolbox, also hire Irina as your day-of coordinator. You won't regret it. Everything will go smoothly and you'll have much less to worry about.

Krista

Married on 09/30/2017

This was the most dreamy, modern, fantastic venue! If you don't want the quintessential DC stuffy columns and lots of ornate carpeting and drapery, this is your place! It's magical and can be a blank canvas for anything you can imagine. I also had the pleasure of working with Irina, who truly made the experience for me. I can never thank her enough for making my wedding day come to life and go off without any problem. Love the Toolbox, book this venue!

Emily

Married on 09/16/2017

Toolbox was perfect! The venue is unique and beautiful and everyone had a great time. Irina is amazing and made sure everything ran smoothly for us the night of. They also provided us with a list of vendors they like, but aren't required, and we used everyone they recommended.

Mary

Married on 09/03/2017

I don't even know where to start. The whole team at Toolbox made us feel like our wedding was the utmost importance. We also really appreciated the great advice, troubleshooting, and consultation from Alex and Irina. The toolbox is a piece of art in and of itself so very little decorating is needed. We opted for a day of coordinator through Toolbox. We are so happy we did because Crystal Nkwocha was a life saver before, during, and after the wedding. Thank you so much for making our special day so magical!

Ashley

Married on 07/01/2017

Best wedding venue EVER! Pretty sure every single one of my guests commented on how unique it was, how beautiful and elegant the brick walls and cafe lights were, and how awesome all the bright artwork is (and it gave guests something to look at pre-ceremony and during cocktail hour!). It is extremely easy to customize your wedding at this venue--mine was really small (but neither floor felt empty even with only 60ish people), but with two floors and three rooms, it would be easy to do a larger event. The brick walls and hardwood floors go with whatever style of decor you want and you can choose all of your own vendors. They have a wide array of existing relationships with caterers, party suppliers, etc and each of my vendors said something to the effect of "Oh yeah, we love working with the staff at Toolbox." The staff at Toolbox itself is amazing--Irina in particular, but Alex, his wife, the bodyguards on-site during the event, etc are all so nice. Irina had so many suggestions and worked really hard to make my sometimes difficult multicultural vision come to fruition. I totally trusted her to be constructive and honest (about her opinions, style, and about pricing and vendors). She helped us save money with our vendors by suggesting a lighting place online and she set up the lights herself and by connecting us with wholesale alcohol (Ace Beverages). The venue itself is pricey, but very much in line with venues in the DC area and you absolutely get your money's worth because they provide many tables, linens, and some decor and because Irina has great suggestions to help budget. The preparation was so collaborative and everyone was on the same page in advance, during the rehearsal, and most importantly, day of. Please note the venue is bit tricky to find, but is beautiful and charming and easily accessed from the metro. I put a map on my wedding website to help guests find it.

Nicole

Married on 05/28/2017

After looking at a ton of gorgeous, traditional wedding venues, I was feeling really confused and stressed out about finding a wedding venue that felt right for my husband and I. The second we walked in to Toolbox I was sold.
The Toolbox is a really cool, industrial space that is hidden in Dupont Circle. Irina gave us a tour of the space and ended up suggesting that we consider doing a partial seated dinner with seating for 60% of guests. We didn't want to deal with seating charts and doing all of the traditional wedding motions and Irina was key in facilitating that. She had some fantastic ideas as to how to help the night run smoothly and everything ended up being perfect. The venue was gorgeous and the upstairs area sat 130 guests comfortably. The whole night was perfect. I absolutely recommend this space to anyone looking for something unique!

Kasia

Married on 05/20/2017

We could not have asked for a better venue for our May 20, 2017 wedding!!! If you've been, you know the space is beautiful and far from your typical ballroom. Toolbox was perfect to bring our industrial glam look to life!

Alex, Irina, and Crystal were a dream to work with! From day one - all the way through wedding day - their focused was on us, ensuring everything was perfect! They were always sharing wonderful vendors and ideas, but also allowed us to bring a lot of our own unique ideas to life. No matter how crazy the idea, they did everything to make it a reality. Our ceremony and reception would not have been uniquely ours, if not for Team Toolbox!

We could not give a higher recommendation for those looking at Toolbox for a wedding, or any other type of event!!

Tara

Married on 05/13/2017

Toolbox Art Gallery was high on our list when looking for a wedding venue in DC because of its location, its having two floors to work with for different parts of the reception, and because we wouldn't need to do much decorating as the space is great on its own. Once we visited Toolbox, it was catapulted right to the top of the list! The reasons were:
1. The space is awesome - warm and inviting with a bit of an edge (at least for DC) and great art.
2. Irina (works there, we hired her to be our Day Of Planner) - friendly, relaxed, accommodating, and on point! She cares about the space and about your party being a great time for everyone. I didn't have a moment's hesitation in trusting her to take care of everything and have our reception run smoothly. And on the day, everything ran beautifully and everyone had a great time and neither my husband nor I had to worry about a thing.
3. Irina - she is super supportive, responsive, and informed; gave us great suggestions throughout the planning process on important points like other vendors, timing, and how to move guests from one space to another without dividing the crowd; took care of details needed for the other vendors; and even created lovely centerpieces for the cocktail hour and dinner!
4. We were able to have the cocktail hour on the first floor and enter from the stairs above which was fun. For dinner, Irina gracefully moved everyone upstairs to a beautifully decorated room and tables, then back downstairs for dessert and dancing.
5. One of the things The Olds really liked was that on the first floor, even with the dance music going full blast, people were able to talk easily at the other end of the room by the bar...something for everyone :)

Throughout the evening, people kept commenting to us on what a great space Toolbox was and how they wished they'd known about it before. Basically, we would choose Toolbox again in a heartbeat!

Carole

Married on 05/06/2017

Fantastic venue for our daughter's bat mitzvah party!! Everyone at Toolbox was so incredibly helpful and responsive. We can't imagine a better value or experience. We highly recommend Toolbox for your special event!!!

Are you interested?
Send a message